
Table of Contents

About the Author

Related Posts
Free | How to Record Full Screen on Windows 10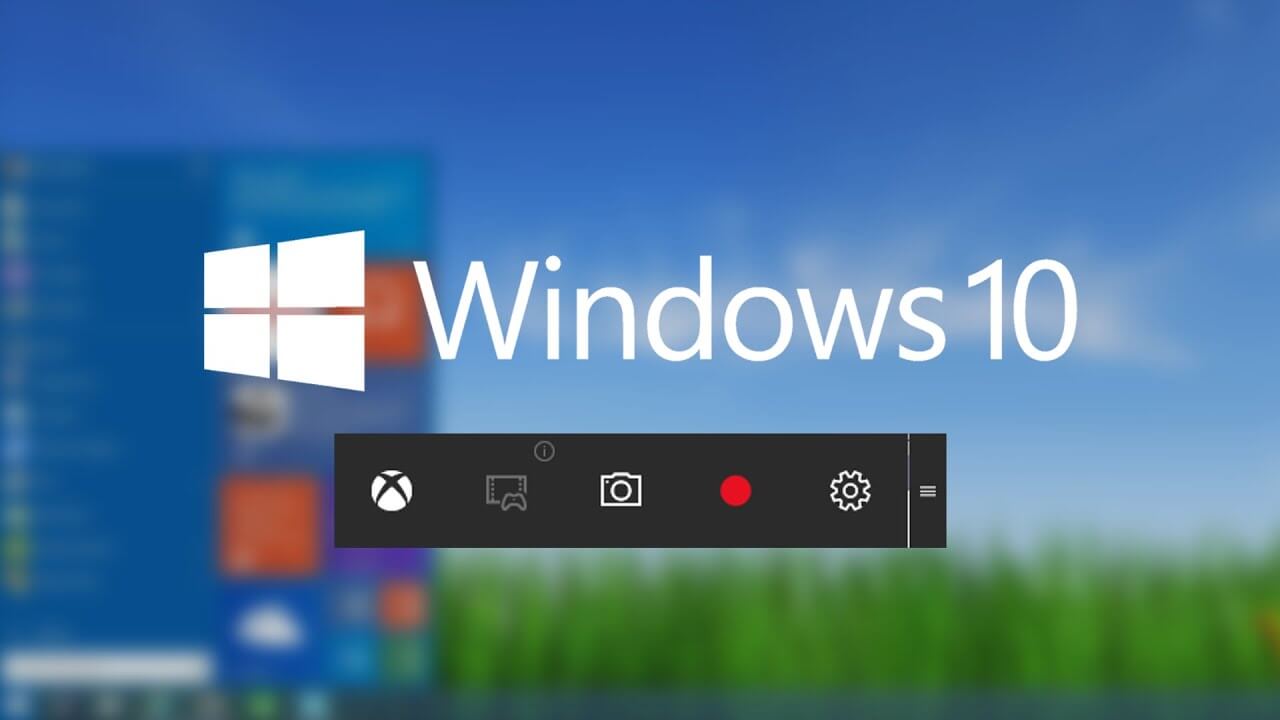 How to Screen Record in Laptop:
Step 1. Press Windows + G to launch Xbox Game Bar.
Step 2. Agree "Yes, this is a game." to open the Game Bar.
Step 3. Click Windows + Alt + R to start and stop recording.
 Notice:

This built-in recording tool can only capture the active app. If you need to record everything on your screen, this method is available. >> Detailed Steps to Record Full Screen
When you want to share something interesting on your screen, the easiest way is to record it as a video and share it with your friends. But how to screen record in laptop or desktop computer with the Windows operating system? A powerful screen recorder is what you need.
However, if you search for the best free screen recorder on Google, you may get thousands of search results that will make you feel dizzy. To save your time, we will introduce the best full-screen recorders for Windows 10 and offer you details about how to record full screens on Windows. 
How to Record Whole Screen Windows 10 with Windows Game Bar
Do you know Windows 10 has a powerful built-in screen recorder named Xbox Game Bar? It is a user-friendly recorder for Windows 10 users. This software can help you if you want to record a game or a specific app that is in full-screen mode. But if you're going to record several apps simultaneously, this recorder is not the best choice, and another recorder can help you. >>Detailed Steps to Record Everything on Your Screen
Windows Game Bar Record Whole Screen (when the app you want to record is in full-screen mode):
Before using this software, you should make sure this program is open on your Windows 10 computer. In general, this software is enabled by default. If you want to open it, the first step is to click the start button to search "Setting" and click by "Gaming" > "Game bar" button to turn it on.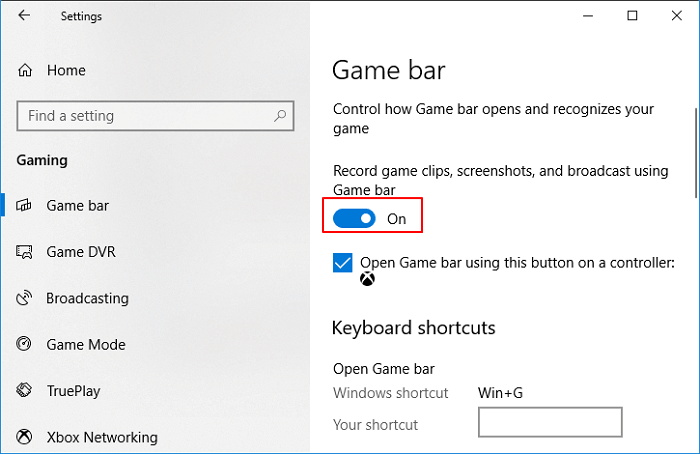 Step 1. Press Windows + G to open the Game Bar. You may see a new window on your screen to ask you whether to allow this software to record your entire screen. If you do, click the "Yes" option.

Step 2. Then you will start recording, and if you finish recording, you can click the "Stop" button to stop recording or use the keyboard shortcut Windows + Alt + R and save the full recording video on your computer.

Tips: If you use this software to record your full-screen game, there are some game recording settings you may need to set.
In the "Settings" >"Personalization" tab, you can customize the "theme," "animation," and "profile" of your recordings according to your needs.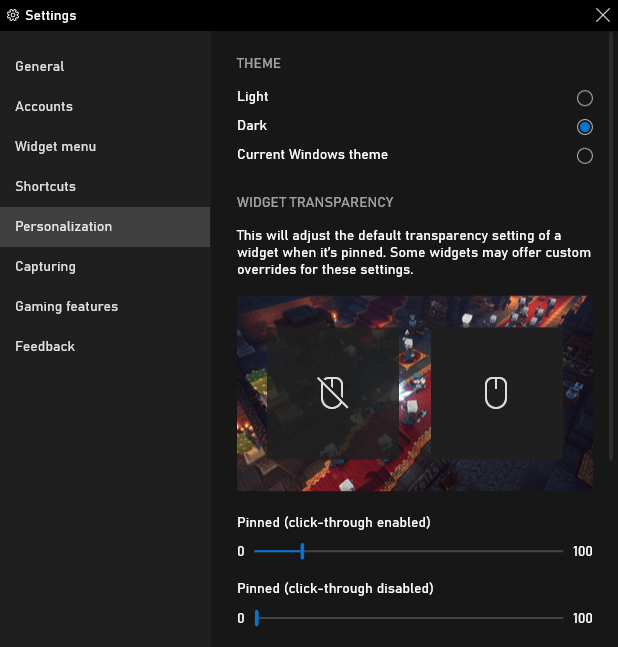 Commonly used keyboard shortcuts in Xbox Game Bar:
Windows + G: Open this software
Windows + Alt + R: Start/stop recording
Windows + Alt + T: Show/hide recording timer
How to Record Full Screen on Windows 10 with EaseUS RecExperts
Windows Game Bar only provides limited recording functions, so if you want to record screen and webcam or some others, we recommend an excellent Windows 10 screen recorder - EaseUS RecExperts.
Like Game Bar, it allows you to capture the entire screen with simple clicks. But in addition to capturing the whole screen, you can also customize the recording region and record part of screen easily. It's worth noting that the quality of the output video can reach 1080P/4K, which means every detail on your screen will not be missed. 
Except for the recording function, this software also supports editing the recorded video clips by trimming. If there are some unnecessary parts in the video, you can cut them off directly without downloading any other tools. And there is a built-in media player that enables you to preview the video with ease.
Key Features:
All-in-one video & audio recording software
Record the entire screen in 4K/1080P
Schedule recording to record automatically
Support more than 10 output formats
Offer built-in media player and file trimmer
If you want to record the whole screen of your Windows desktop computer or laptop, this reliable recorder is worth trying. No registration is needed. Click on the button to download it.
How to Screen Record on Windows 11/10/8/7 Easily:
Step 1. Launch EaseUS RecExperts. There are two different options for screen recording, i.e., "Full Screen" and "Region". If you select "Full Screen", you will capture the whole screen.

Step 2. If you select the "Region" option, this software will ask you to customize the recording area. Make sure that everything you want to capture is within the bounds of the select box.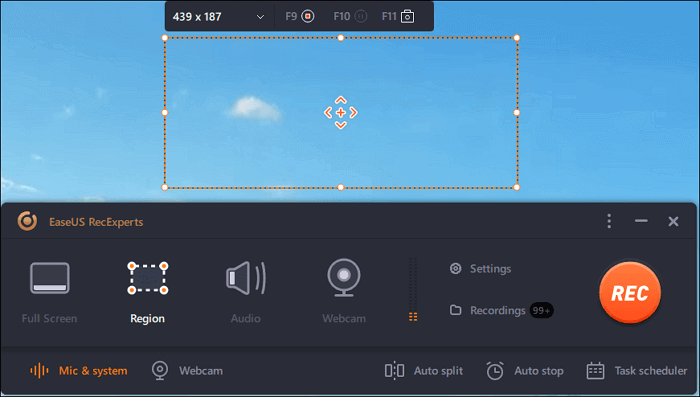 Step 3.  Tap on the button at the bottom left side of the main interface, and there will be many options you can select. This recorder supports recording microphone and system sound separately or simultaneously. The "Options" button is for you to adjust the volume and microphone device.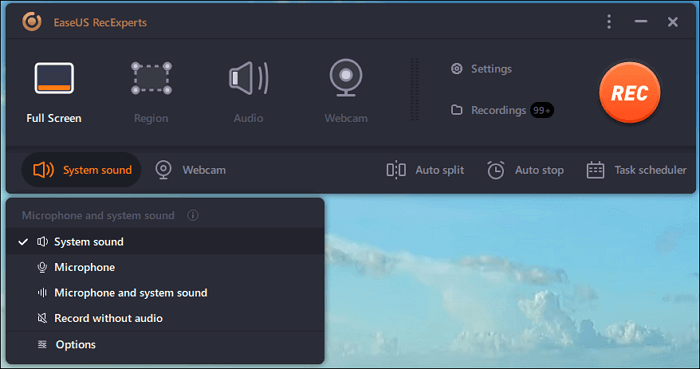 Step 4. To record the webcam simultaneously, click on the "Webcam" icon at the bottom of the interface. Tap on the button to enable the webcam recording, and there will be a drop-down menu to select the recording device. Click on "OK" to confirm your settings.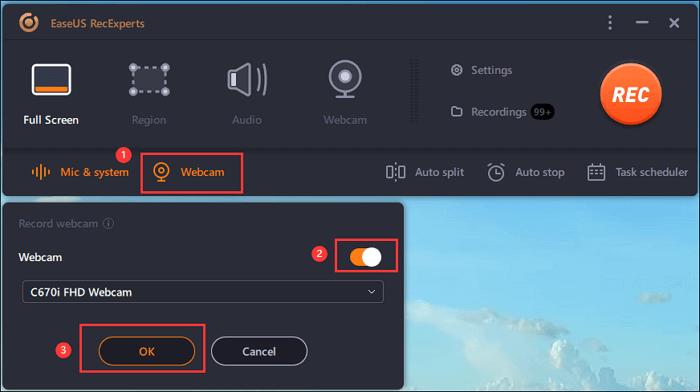 Step 5. When you turn back to the main interface, click on the "REC" button to start recording. A floating toolbar offers you buttons to pause or stop the recording during the recording process. In addition, the camera icon can be used to take screenshots, and the timer icon can help stop it automatically.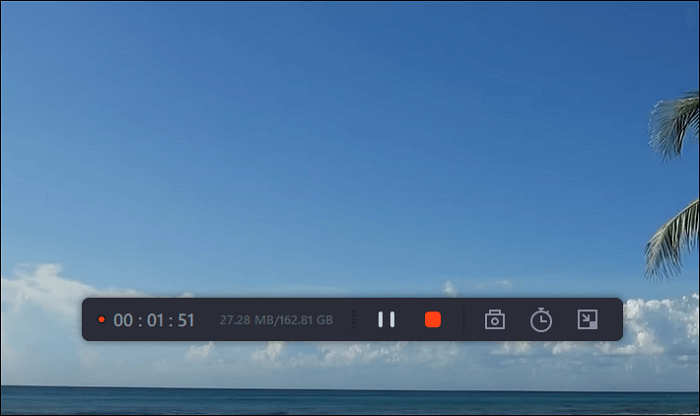 Step 6. The recorded video clips will be saved on your computer. When the media player appears, you see a set of tools you can use to trim the recordings, extract audio, and add opening title & closing credits to the savings.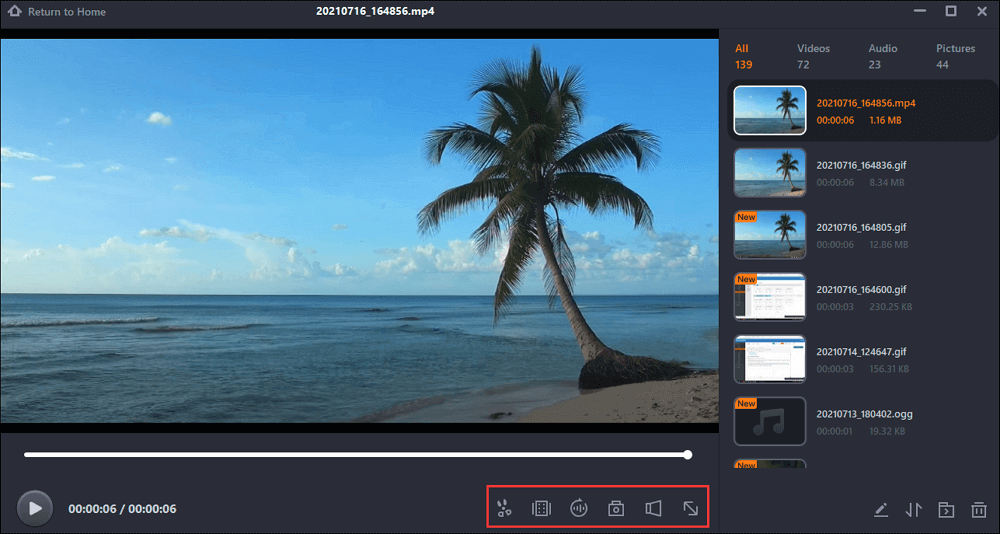 How to Record Whole Screen Windows 10 with PowerPoint
Microsoft PowerPoint is a popular office tool designed to make slideshows and nail presentations. You may do not know that PowerPoint has the feature to record your screen. With this tool, you can capture the entire screen on Windows 10 easily.
If you have already installed Microsoft PowerPoint on your PC, there is no need for you to download any other recorders, and you can save a lot of storage space. Recording a screen with PowerPoint is especially suitable for laptop users as it won't slow down the speed of your device.
How to Screen Record in Laptop with PowerPoint:
Step 1. Open PowerPoint on your Windows 10 computer, and go to "Insert" > "Screen Recording."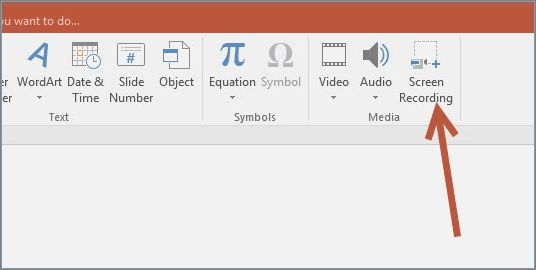 Step 2. Click the "Screen Recording," you will see a new window. Choose the "Select area" button and the entire screen of your computer. Alternatively, you can press Windows + Shift + F to select the whole screen for recording.

Step 3. Once you have done it, the "record" button will be available. Click "record" to start and stop the recordings.
Step 4. When the recording ends, you can right-click on the video displayed in PowerPoint and select the "Save Media As…" option to save your recordings on your computer.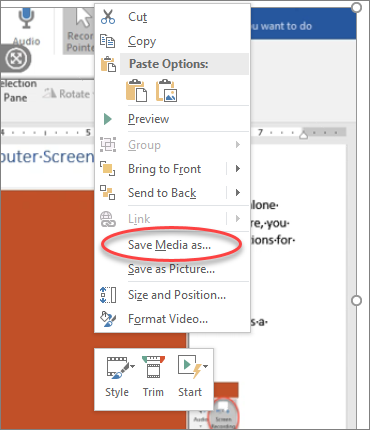 How to Record Entire Screen Windows 10 with OBS Studio
How to screen record on Windows with a more advanced recorder? First of all, a professional-level recording tool is what you need, such as OBS Studio.
OBS Studio is a streaming video recorder that lets you record the entire screen Windows 10 or a specific area on your computer. Furthermore, this Windows 10 full-screen capture software 10 is free and open-source to all users with a straightforward interface. You can capture the entire screen on Windows 10 easily and efficiently with it.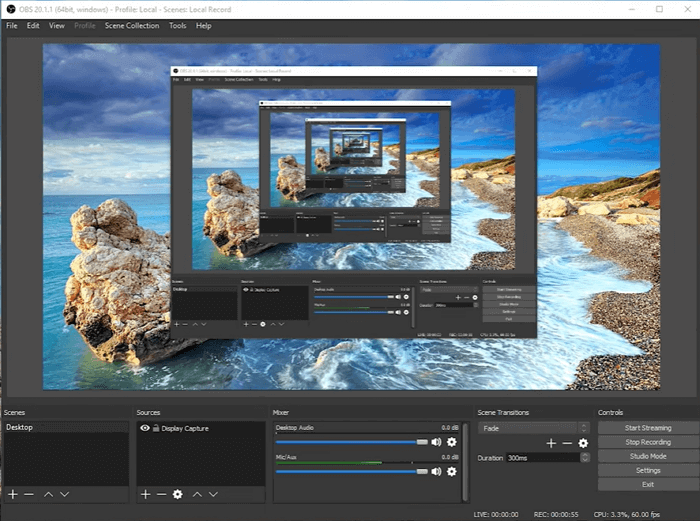 The Tutorial of Full Screen Recording Windows 10 with OBS:
Step 1. Download and open this software on your Windows 10 device, and click the "+" in "Source" on the left corner.
Step 2. Click "Display capture," give a name to the new recording under "Create New," and click "OK."
Step 3. After that, a new window will pop out. The default setting of the recording area is full screen.
Step 4. Click on the "Start Recording" button to start recording and click on the "Stop Recording" button to stop. When the process is completed, you can find the video by clicking "File."
Comparison of Full Screen Recorder Windows 10
You have learned 4 ways to record the whole screen on Windows 10. Some people may ask which one is the best. Here we summarize the pros and cons of the 4 Windows 10 full screen recorder software we mentioned above so that you can choose the most suitable one.
Product
Pros
Cons
EaseUS RecExperts

Easy-to-use
Multiple recording modes

Xbox Game Bar

Built-in software in Windows 10
Easy-to-operate

PowerPoint

No locked-window function
Support mp4 output only

OBS Studio

Record streaming video
Support lost of OS
Conclusion
In short, this post shows you some full screen capture software on Windows 10. You can choose one of them according to your demand. We recommend EaseUS RecExperts as the best one for its helpful recording modes, practical built-in tools, and high output quality. Everyone can enjoy it, whether you are using a desktop computer or a laptop.
If you don't know how to screen record in laptop, download this recorder and have a try. This lightweight screen recorder won't slow down your device.
How to Record Full Screen on Windows 10 FAQs
Here we collect several frequently asked questions about screen recording. You can scan these questions and answers since it may help you when screen recording to a certain extent.
1. How to record screen on laptop?
If you are using a laptop with Windows OS, EaseUS RecExperts can help you. The tutorial below will teach you how to screen record on laptop with this software. Follow those steps to record full screen Windows 10.
Step 1. Launch EaseUS RecExperts and choose "Full Screen" as the recording mode.
Step 2. Click on the button in the bottom left corner to select the audio source.
Step 3. Click on the "REC" button to start recording. When you want to end the recording, click on the red button.
Step 4. If you need to trim the recording, there is a built-in trimmer. And the built-in media player will enable you to view the recordings.
2. Which is the best total screen recorder or free screen recorder on Windows 10?
Top 1. OBS Studio
Top 2. FlashBack Express
Top 3. EaseUS RecExperts
Top 4. Apowersoft Free Online Screen Recorder
Top 5. ShareX
Top 6. Movavi Screen Recorder
Top 7. ActivePresenter
Top 8. Monosnap
Top 9. Bandicam Screen Recorder
3. How to full screen on pc?
When you browse the websites on your Windows PC, you may need to screen the window to simplify some things fully. There is a keyboard shortcut that can be helpful, and it's F11. In the full-screen mode, you will not see something like the address bar and other items so that you can focus on the contents you need.
4. How long can you screen record on Windows 10?
It depends on which screen recorder you use. Many screen recorders allow users to try their trial versions with free 5-10 minutes of screen recording. And their pro version may have no time limit.
5. How do I record a zoom Meeting screen?
Recording a zoom meeting has become a common need in recent years. It is not a difficult thing if you choose a sound screen recorder. You can read the article: how to record zoom meeting to learn more about this topic.
About the Author

With the interest in English writing and computer technology, Vanessa chose to be an editor in EaseUS. She is professional in video and audio topics, including video & audio editing, converting, and recording. Vanessa will keep writing to help people solve problems.