
Table of Contents

About the Author

Related Posts

Best Audio Recording Software
The Easiest Way to Record Video on Windows 10
While watching some live streaming videos on your PC, you may want to save them for later enjoying. It's easy to take a screenshot on Windows PC since you can directly press the print screen key on the keyboard to do that. But what would you do if you want to record video clips? The easiest way is using free video recording software, which can help you capture different kinds of videos on your Windows PC in high quality. 
For Windows 10 users, both the built-in and third-party recorders are available. However, as everyone knows, each recorder has its own unique features, so how to pick out the best one from all the options? This post will introduce some powerful Windows 10 video recorders to you and walk you through each step to record video on Windows 10. Keep reading this post if you are interested in the tutorials.
How to Record Video on Windows 10 - Recommend
EaseUS RecExperts is a full-featured but lightweight Windows 10 video capture software. It helps you record what's happening on full screen or a part of the screen. This program offers you three levels of video quality to choose from, i.e., 720P, 1080P, and 4K. Whether you want to lower the video quality to save storage space or improve the image quality to make the video clearer, this tool can meet your needs.
If you need to record some things periodically, like online classes, you can set a schedule recording task, which can start/stop the recording automatically. EaseUS RecExperts even provides you with a media player to preview the recording and a trimming tool to cut off unnecessary parts in the recordings.  
EaseUS Windows 10 Video Capture
Here's how to record videos on Windows 10:
Step 1. Launch EaseUS RecExperts. There are two different options for screen recording, i.e., "Full Screen" and "Region". If you select "Full Screen", you will capture the whole screen.

Step 2. If you select the "Region" option, this software will ask you to customize the recording area. Make sure that everything you want to capture is within the bounds of the select box.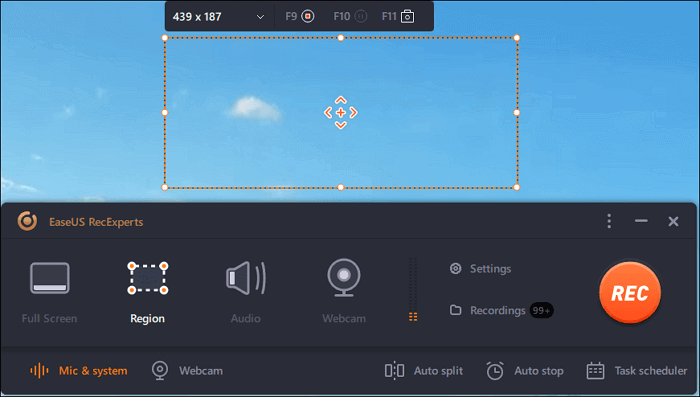 Step 3.  Tap on the button at the bottom left side of the main interface, and there will be many options you can select. This recorder supports recording microphone and system sound separately or simultaneously. The "Options" button is for you to adjust the volume and microphone device.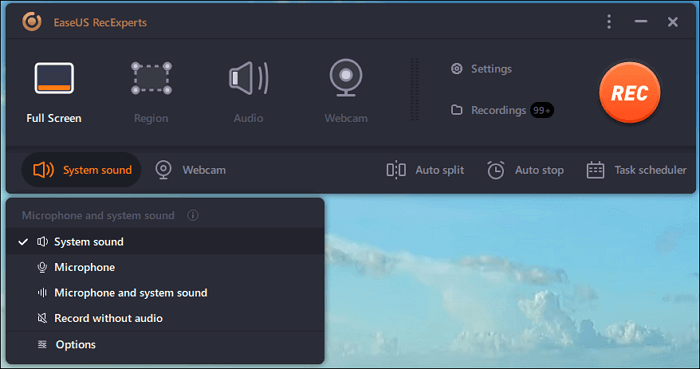 Step 4. To record the webcam simultaneously, click on the "Webcam" icon at the bottom of the interface. Tap on the button to enable the webcam recording, and there will be a drop-down menu to select the recording device. Click on "OK" to confirm your settings.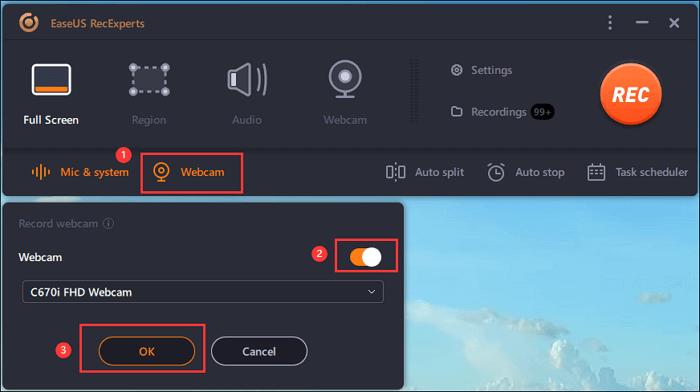 Step 5. When you turn back to the main interface, click on the "REC" button to start recording. A floating toolbar offers you buttons to pause or stop the recording during the recording process. In addition, the camera icon can be used to take screenshots, and the timer icon can help stop it automatically.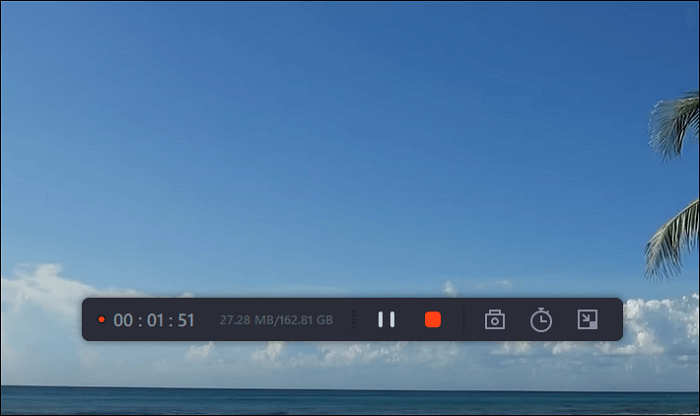 Step 6. The recorded video clips will be saved on your computer. When the media player appears, you see a set of tools you can use to trim the recordings, extract audio, and add opening title & closing credits to the savings.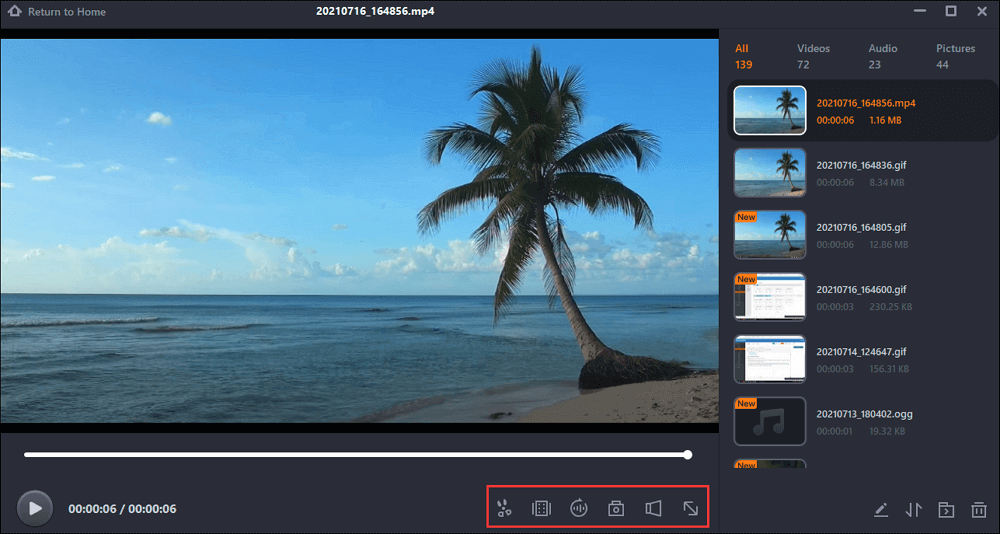 How to Record Video on PC Windows 10 with Game Bar
Recording videos on PC with Windows 10 OS is a straightforward task if you don't need to spend time finding video recording software. Does Windows 10 have a screen recorder installed beforehand on the PC? Of course, Windows 10 OS provides you with a built-in video recorder named Xbox Game Bar.
Game bar is a pre-installed tool for Xbox players to capture game screenshots, game videos, etc., for free. Although its name may indicate that this application is designed to capture gameplay clips, it can record nearly all screen activities. Now let's check how it works for video recording in Windows 10.
How to record video in Windows 10     using Xbox Game Bar:
Step 1. Go to "Settings" > "Gaming" > "Game bar" to turn it. When you need to use it, press "Windows" + "G" to open the Game Bar. Click "Yes" if you see a prompt asking if the highlighted application on your screen is a game.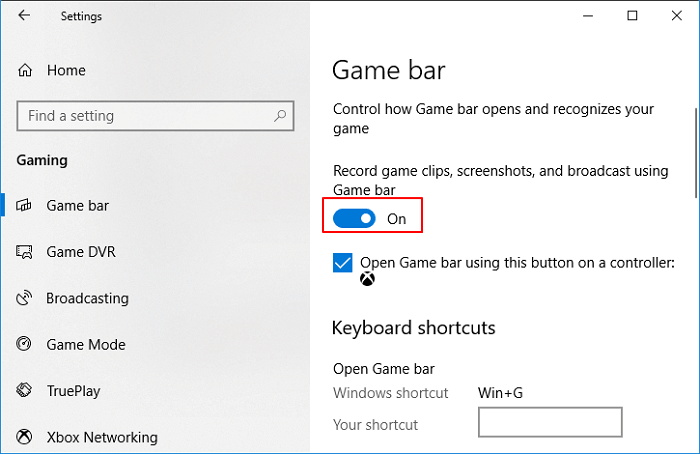 Step 2. Click the Start/Stop Recording button or press the "Windows" + "Alt" + "R" keys to start or stop the recording process. If you need to turn on the microphone, click the "Microphone On" button.

Step 3. When the recording is finished, on the "Show all captures" in the "Capture" widget. Then you will see a list of video clips you recorded, and you can click the video to play it.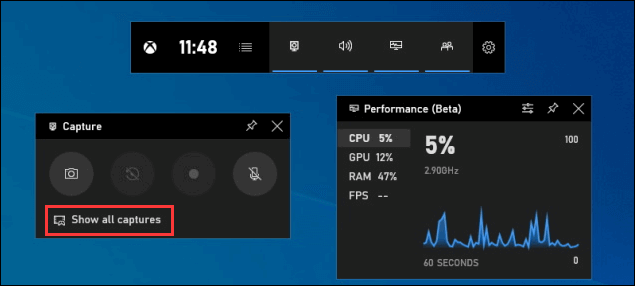  Notice:

Game Bar is free for Windows 10 users, but it only offers basic screen recording features. If you want a more advanced recording toolkit or recordings editing tools, you can try some excellent third-party screen recorders.
Other 6 Video Recorder for Windows 10
Apart from EaseUS RecExperts and Game Bar, there are many other video capture software for Windows 10. This part will share other Windows 10 video recorder software.
1. Icecream Screen Recorder
Icecream Screen Recorder is an innovative Windows 10 video capture software that supports users to record anything on a computer or MacBook. It helps you flexibly customize the window size and video resolution without much effort. Besides, it also supports recording a Skype call, games videos, video tutorials, live streams, and more for free. 
Steps to capture video on Windows 10 PC:
Step 1. Install and run the Icecream Screen Recorder. Click the "Capture video" button and set the window size you want to record on your PC.
Step 2. Drag the center of the recording window to the desired region on your computer. Click "Rec" to start recording screen movements on your computer. You can also reset the recording frame to other sizes, such as full-screen 1920x1080, 1366x768, etc.
Step 3. When you finish the recording, press F8 or click on the "Stop" button to save the video clips.
2. Flashback Express
Flashback Express is designed to help users of Windows 10 record video easily. Even you don't know how to capture video on PC, and its intuitive interface will guide you to complete the recording task effortlessly. Morever, this Windows 10 video capture software allows users to add webcam footage to the screen recording, record videos with no watermark. The recorded video can also be easily shared on YouTube. 
How to record video in Windows 10 with Flashback Express:
Step 1. Install and run Flashback Express Recorder on your PC. Select the Record mode - Fullscreen, Region, Window.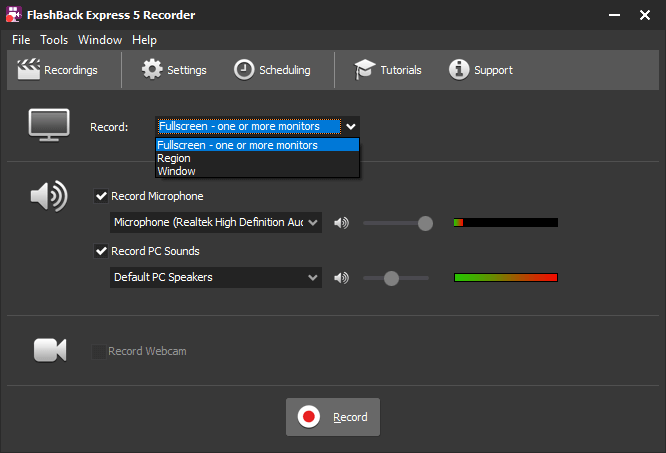 Step 2. Adjust the window size and location, and click "Record" to start.
Step 3. When you finish recording, click the red square button to stop. Click "Save" to save the recorded video. After this, you can play the recorded video on your computer with the Flashback Express Player.
3. Movavi Screen Recorder
Movavi Screen Recorder is a wonderful Windows 10 video recorder capable of recording videos quickly in one click. Because of its powerful functions, you can use this recording tool to record webinars, Webex meetings, and online classes. Various other events on your screen can also be captured so that you can use these materials to create videos freely.
Since this software supports many audio and video formats, so it's convenient for you to upload videos to many platforms like YouTube and Google Drive and then share with others easily. How to clip on PC with this tool? Here is a tutorial for you.
Steps to start video recording in Windows 10:
Step 1. Launch the Movavi Screen Recorder, and there will be a "Record region" button on the main interface. Then, choose the window that is playing the video you want to record as the recording area.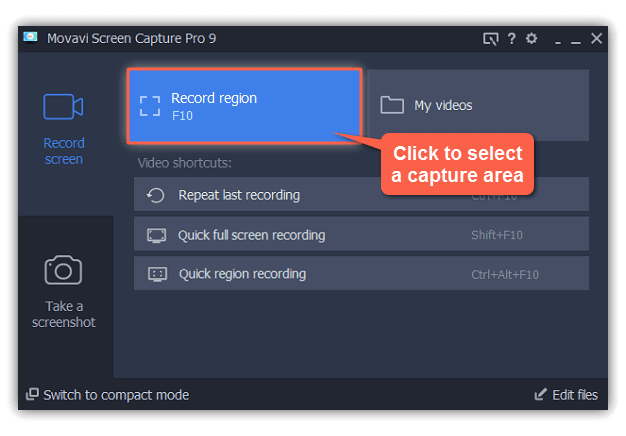 Step 2. Click the red "REC" button on the right side to start the recording. Three seconds later, the video you need will be recorded. 
Step 3. Click on the "Stop" button when you want to save the recorded video. You can choose the output format, the file name, and the location if it's necessary. Finally, you can download the video to your computer. 
4. Camtasia
TechSmith produces Camtasia for professional users to record onscreen videos and edit videos with annotations, behaviors, animations, cursor effects, etc. With a built-in recorder, you can easily record videos on Windows 10 PC with ease.
Check out how to video record on Windows 10 using Camtasia:
Step 1. Install and run Camtasia. Click "New Recording" to continue.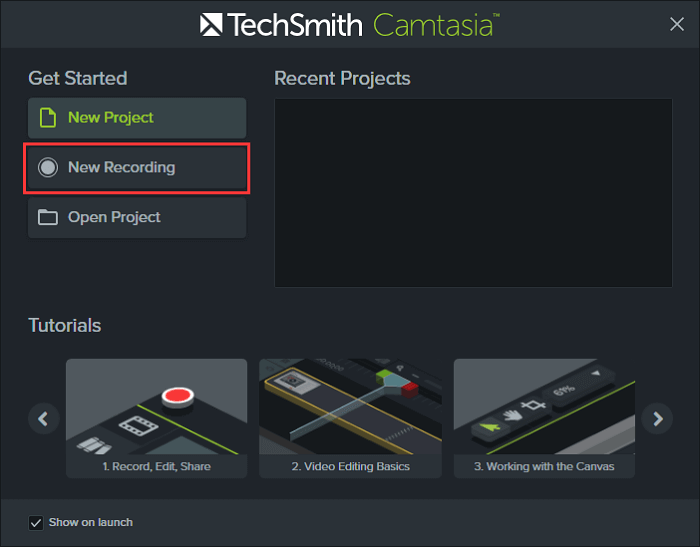 Step 2. Drag the window center to the desired region, adjust the window size, and dimensions from the pane below. Click the red "rec" button to start recording.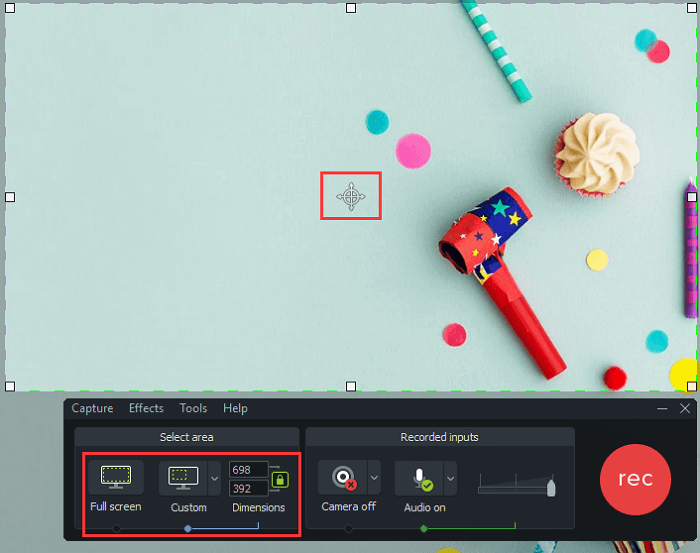 Step 3. When you finish the recording, click the "Stop" button to complete. 
After this, Camtasia will load the recorded video, and you can play the video or add more effects to the video there.
5. Screen App
This online screen recording tool is effortless to use. As the icons on its main interface indicate, you can only use those three browsers to utilize it: Google Chrome, Firefox, and Opera. You don't even create an account and log in to that website; all the on-site operations are easy enough for beginners to use.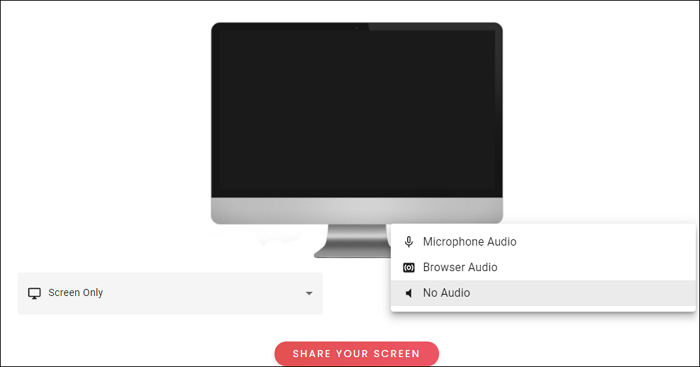 How to Record Video Windows 10 with online recorder:
Step 1. Click the"Get Started" button on the main interface. 
Step 2. Choose the audio source from three options, "Microphone Audio," "Browser Audio," and "No Audio."
Step 3. Click on "Start your Screen," then there will be a red button for you to "Start Recording," select it to continue. Then, click "Stop Recording" when you captured all the contents you need.
Step 4. Under the words "Your Video is Ready," there is an icon you can click to download your video on your left side. It's worth noting that you can only save the video in WebM format. 
      
6. Clipchamp
Although it may have fewer features than the best video recording software on Windows 10 PC, Clipchamp can be considered one of the most versatile video recorder online tools. For instance, you can use it to record a video on a PC at the resolution of 360p, 480p, 720p, or 1080p. In contrast, most online recorders can only record 720p videos. Clipchamp can fully satisfy the needs of people who have high expectations for video resolution.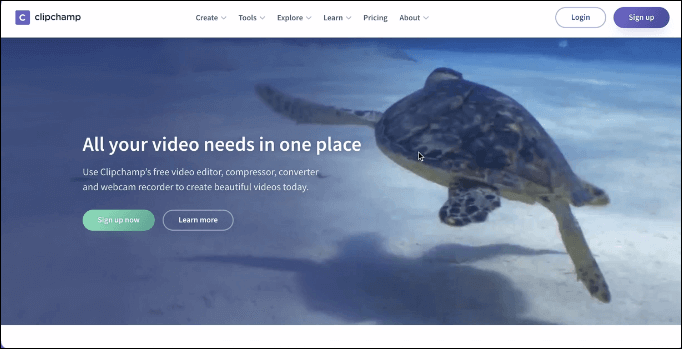 How to record a video on Windows 10:
Step 1. Open the page, and click "Record a video now." 
Step 2. You need to sign in to continue the following steps. Then, click "Create a video" and choose the most suitable size of your recording. 
Step 3. When you enter the video editing interface, two options are available: "Record webcam" and "Record screen." If you want to capture the video on your screen, choose "Record screen."
Step 4. Hit the recording button and share the window and audio you want to capture. When you stop sharing and click "Add to project," you can download the recording in WebM format. 
Conclusion
This page is for people who don't know how to record video in Windows 10, and it covers 8 methods of recording videos on a PC. If you want to find the best Windows 10 video capture software, don't miss EaseUS RecExperts, as it enables you to record whatever is on your screen as a video. If you want to record a webcam, it's free to record the webcam as a video or use the webcam as a video overlay on the recordings.
About the Author

Jane is an experienced editor for EaseUS focused on tech blog writing. Familiar with all kinds of video editing and screen recording software on the market, she specializes in composing posts about recording and editing videos. All the topics she chooses are aimed at providing more instructive information to users.