
Table of Contents

About the Author

Related Posts
How to Record Google Meet Without Permission As Participant
These days, video conferencing and virtual calls have gradually replaced in-person staff meetings. Since not everyone can attend every scheduled meeting in the real world, the online meeting is more and more needed. In addition to that, the online meeting gives users the ability to record it and check the playback whenever they want. 
How to record Google Meet? Can you record Google Meet as a participant? More and more people are troubled with those questions. If you are one of them, this post is for you. No matter which operating system you are using, an appropriate tutorial for you can be found here. Follow the steps to capture the sessions you want to keep now.        
Related Article: >> Google Meet vs. Zoom: Which is Better? 
How to Record a Google Meet on Windows 
EaseUS RecExperts is a full-featured but lightweight screen recording program compatible with Windows 10/8.1/8/7. The main functionalities of this Windows screen recorder can be divided into three categories: recording PC screen, recording audio, and recording webcam. The "Region" option enables you to customize the recording area freely, which means that you can record the Google Meet area without cropping the recorded video afterward.
Before recording audio, don't forget to customize the sound source. You can record the system sound, the microphone sound, or record both of them simultaneously. To record yourself in Google Meet, this software allows you to record webcam connected to your computer as well as the built-in one. 
There is a detailed tutorial on recording Google Meet using this recorder, and it will walk you through the steps effortlessly. Before you follow it to capture what you need, you can click the button and download this software for free.
How to Record a Google Meet on Windows: 
Step 1. Launch EaseUS RecExperts. There are two different options for screen recording, i.e., "Full Screen" and "Region". If you select "Full Screen", you will capture the whole screen.

Step 2. If you select the "Region" option, this software will ask you to customize the recording area. Make sure that everything you want to capture is within the bounds of the select box.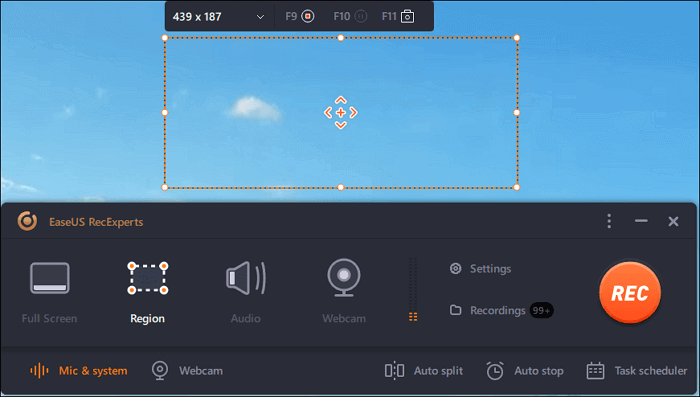 Step 3.  Tap on the button at the bottom left side of the main interface, and there will be many options you can select. This recorder supports recording microphone and system sound separately or simultaneously. The "Options" button is for you to adjust the volume and microphone device.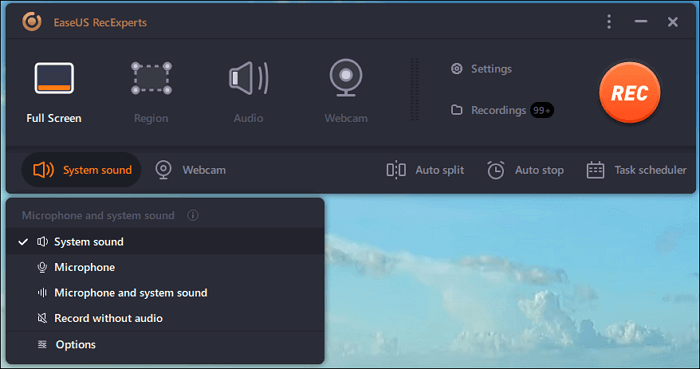 Step 4. If you want to record the webcam simultaneously, click on the "Webcam" icon at the bottom of the interface. Tap on the button to enable the webcam recording, and there will be a drop-down menu to select the recording device. Click on "OK" to confirm your settings.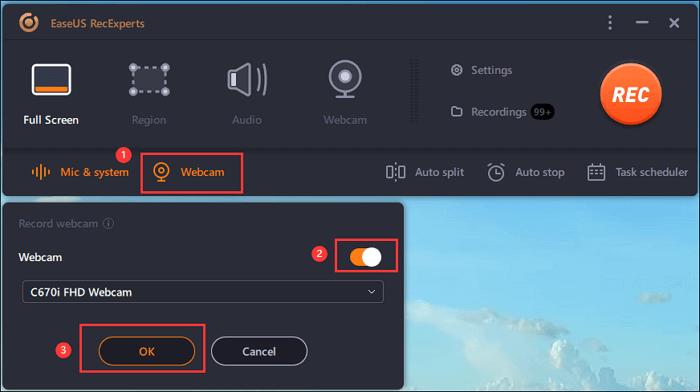 Step 5. When you turn back to the main interface, click on the "REC" button to start recording. A floating toolbar offers you buttons to pause or stop the recording during the recording process. In addition, the camera icon can be used to take screenshots, and the timer icon can help you stop recording automatically.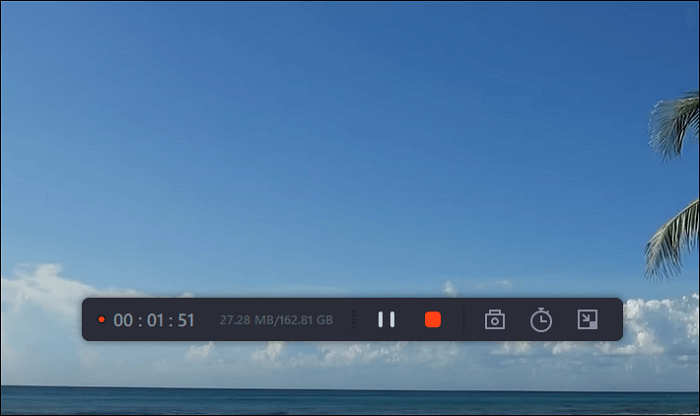 Step 6. The recorded video clips will be saved on your computer. When the media player appears, you will see a set of tools you can use to trim the recordings, extract audio, and add opening title & closing credits to the recorded video.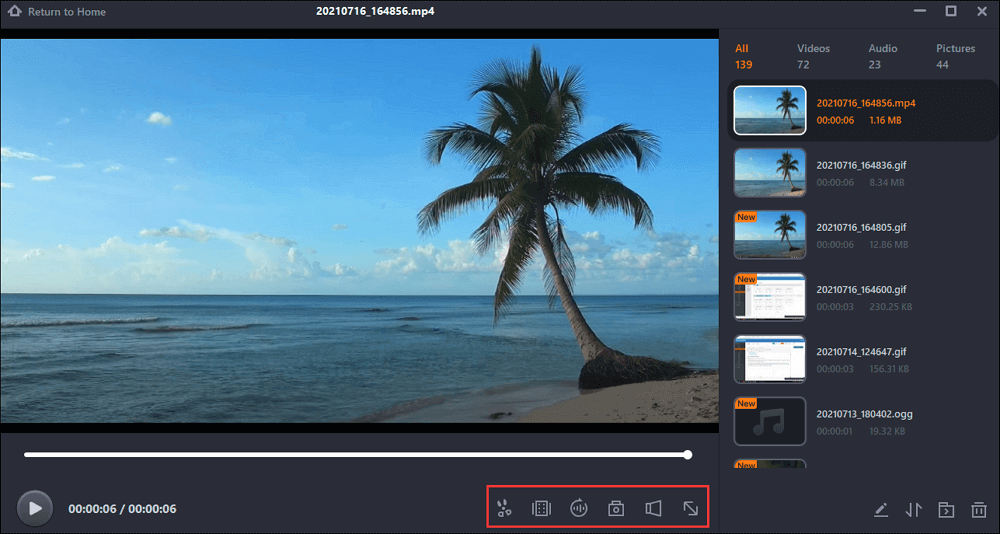 How to Record a Google Meet on Android 
Google Meet is a new video conferencing service released by Google that offers a completely free-to-use package along with top-of-the-line features. Google Meet also offers you the ability to join in via a phone call, as well as the ability to present your screen instead of your video feed.
In the "Meet" window, click on "Join Now" to join a meeting. If you join the meeting on your phone, you can still use the PC or desktop for the video while the phone can be audio. To record the Google Meet on an Android, you don't need any third-party applications. You only need to record it with the built-in recording function.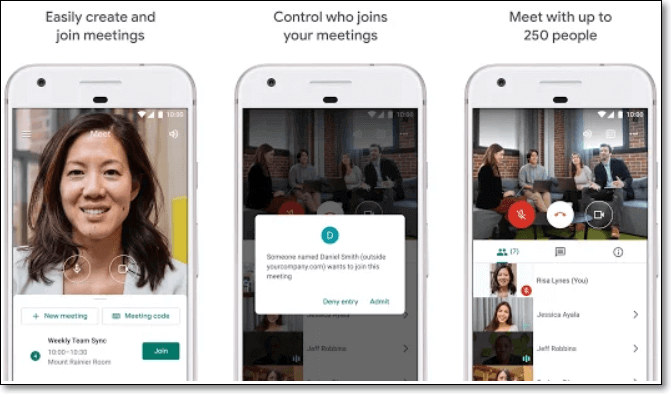 How to Record Google Meet on Phone with Audio:
Step 1. Make sure that you are recording to the cloud. If your account is set to record locally, you will not see the "Record Meeting" button.
Step 2. Start a meeting from your Android device.
Step 3. Tap the "More" icon in the lower toolbar and click "Record Meeting."
Step 4. To pause or stop the recording, tap the "More icon" in the lower toolbar and click "Pause Recording."
Step 5. The meeting recorded will be available in your "Meeting History" tab once the session has ended.
Bonus Tips:
Share the meeting code with new participants, copy the joining info and paste it on a messaging app.
Send an invitation by email, click on "Add people," enter their name or email address, and then click on "send invite."
For inviting someone by phone, click on Add people and then click on the call option.
How to Record Google Meet on iPhone 
Google Meet isn't just limited to using the cameras on your iPhone to replay video. If you want to give live presentations, showcase ideas, train employees, or do just about anything that involves screen broadcasting, Google Meet makes that more than possible. But how do you record and share your screen in Google Meet on the iPhone and iPad?
Before you start screen recording in Google Meet, it's always a good idea to take potential privacy-related issues into account. Since Google Meet will broadcast everything on your screen with no exceptions, plan your screen-sharing sessions well in advance so that you don't share personal data accidentally with other participants.
To avoid disturbance, you need to turn on the "Do Not Disturb" option. You can use the Control Center to turn on/off the "Do Not Disturb" option, but it's also best to verify that the feature is set to work even with the screen unlocked. Once you've started or joined a Google Meet meeting, screen sharing on the iPhone is quite easy as long as you know what to do. Let's check out both methods below.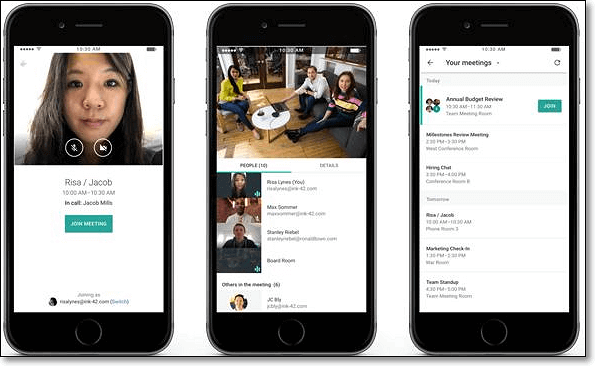 How to Record a Google Meet on iPhone:
Step 1. Make sure that you are recording to the cloud.
Step 2. Start a meeting from your iPhone device.
Step 3. Tap the "More" icon in the lower toolbar and click "Record Meeting."
Step 4. To start sharing your screen while you are in a meeting, start by tapping the video pane.
Step 5. On the menu that shows up, tap "Present Screen" and tap "Start Broadcast."
Step 6. Whenever you are about to join a meeting after inserting a meeting code or starting a scheduled meeting, tap "Present."
Step 7. You will come across a screen with a brief description of screen sharing. Click "Continue."
Step 8. Tap "Start Broadcasting." Google Meet will start a countdown from three to zero before beginning the broadcast.
After you finish broadcasting your screen, head back to the Google Meet app, and tap the "End Presentation" button. That will end the presentation, but you will still be connected to the meeting, which you must manually leave should you want to.
How to Record on Google Meet on Mac 
Besides the Windows version, the EaseUS RecExperts for Mac is also highly acclaimed. The neat and user-friendly interface makes it extremely convenient to utilize this recording tool to capture whatever happens on the Mac screen. Whether you are a novice or an experienced user, you can quickly find the button you need to click and record the video and audio freely. 
When you plan to record Google Meet that will start at a certain moment, a built-in task scheduler can help. You don't need to stay beside the Mac, and the screen recorder will start automatically and perform the preset task with the help of this schedule recording tool. 
Don't miss this wonderful screen recorder for Google Meet recording on Mac. Download it and record the meetings using the method below.
How to Record on Google Meet Using a MacBook:
Step 1. Start or join an online meeting, then launch the recorder on your Mac computer. Click "Screen" under the Video tab. After that, click the "Size" option to select the recording area.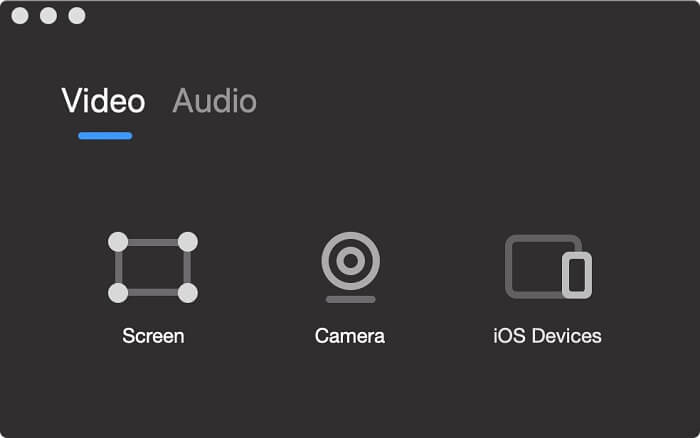 Step 2. Next, you can adjust the audio sources, quality, and voice volume of your video recording.
(Optional) If you need to record the meeting at a specific time, you can create a scheduled recording task by clicking the Clock icon at the bottom.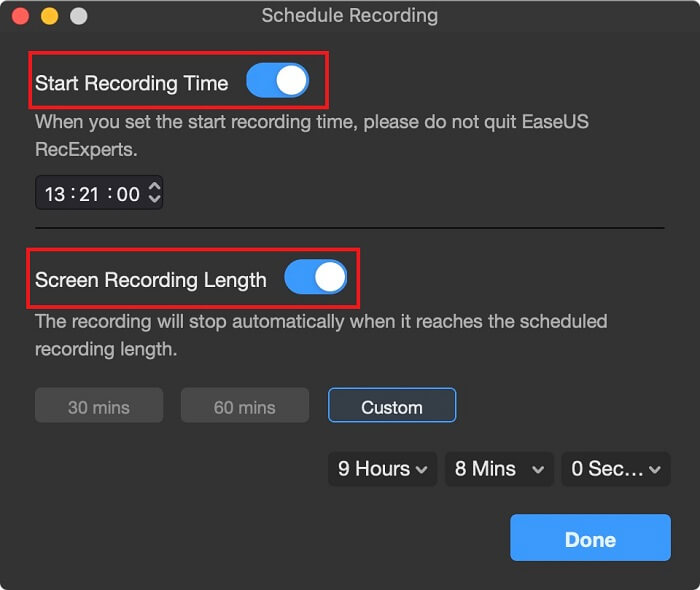 Step 3. When the meeting begins, you can click the big red circle button, and the program will start recording. During the meeting, you can pause or stop the recording.
Step 4. Once done, you can preview the recorded video. And you can export it to an MP4 file or animated GIF.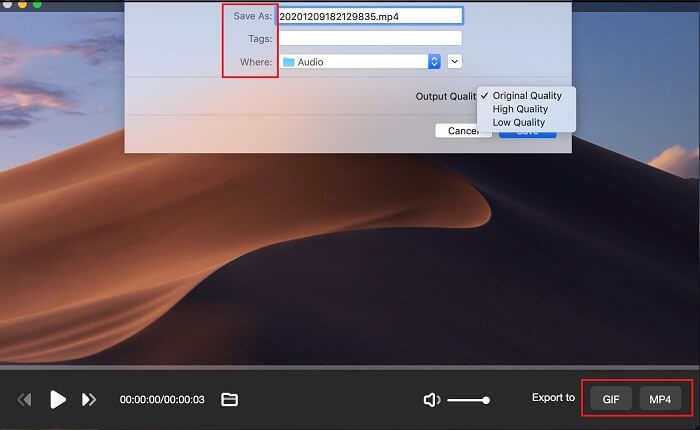 Conclusion
In a word, if you want to review the content of a Google Meet meeting, the best way is to record the meeting while it's going on. Google Meet has a built-in recording function. However, you need to change the settings of your device to use this inbuilt function. If you don't want to change the settings, you need a third-party recorder.
For both Windows and Mac users, EaseUS RecExperts is definitely the best choice. This screen recorder is full-featured and easy to use since it is designed mostly for beginners. If you don't have much experience in recording a Google Meet meeting, you should try it. Download and install the software by clicking the button.
FAQs About Google Meet Recording 
This part is for those who still have questions about recording the Google Meet sessions on different platforms. Come and find the best solution to your problems.
1. How to record Google Meet on phone as a participant?
If you want to record a Google Meet as a participant, you can choose to download and install a third-party screen recorder that can help you capture both the video and audio during the meeting. For instance, you can use AZ Screen Recorder to do that. 
Step 1. Launch AZ Screen Recorder and tap the gear icon to customize the settings, such as the frame rate and the output video's resolution.
Step 2. Open the app you want to record and tap the red button to start recording.
Step 3. When you finish recording, pause or stop recording in the A-Z notification.
2. Can you record a Google Meet?
Yes, you can use many methods to record a Google Meet on many operating systems. And you can click here to get the detailed tutorial about how to record Google Meet on the phone. 
3. Where do Google Meet recordings go?
You can find your Google Meet recordings in the organizer's "Meet Recordings" folder in My Drive. Or you will receive an email with a recording link. Choose from different options, and you will download the recording, share it, or play it.
About the Author

Jane is an experienced editor for EaseUS focused on tech blog writing. Familiar with all kinds of video editing and screen recording software on the market, she specializes in composing posts about recording and editing videos. All the topics she chooses are aimed at providing more instructive information to users.