
Table of Contents

About the Author

Related Posts
Does Windows 10 Have a Screen Recorder? Ways to Record Screen on Your Computer
Record the screen has become a common need for many people. With this operation, people can share anything on the screen with their families and friends. Moreover, many game players can make a live show regarding their game playing with the screen recorded during playing games. Therefore, many people may want to know how to record the screen. We have noticed that many people are asking a question: Does Windows 10 have a screen recorder? In this article, we will give you the answer to this question. Moreover, we will offer you tutorials on how to record screen on Windows with some screen recorders.
Part 1. Does Windows 10 have a screen recorder
Many people might be surprised that Windows 10 has a built-in "Game Bar" for those who want to capture their game clips and screenshots. However, this Game bar can be used to record apps only – it cannot record a full screen or a specific region. This makes sense as it is designed only for game capturing. Although the Game bar is available on all Windows 10 PCs, to record game clips and screen, your computer's video cards must meet the hardware requirements. Record your screen with the Game bar is easy by following these steps: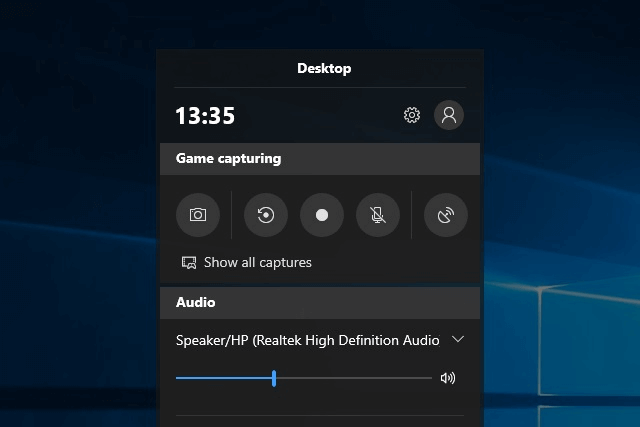 Step 1. Press "WINDOWS+G" to open the Game bar. If required, select the "Yes, this is a game" checkbox.
Step 2. Press the "Start/Stop Recording" button to start/stop a recording. Use the "Turn Microphone On/Off" button to toggle the microphone if you wish.
Step 3. After recording, trim your video or rename it in the Xbox app. Your video will be saved in the "Captures folder", which by default is in your "Videos" folder.
Part 2. How to Record Screen on Windows 10
If you want to record the screen, you can use EaseUS RecExperts. This is a full-featured yet lightweight screen recorder that can record your screen. 
With this program, you may record the full screen or record a selected area. And it also enables you to capture the audio along with recording the screen. The optional audio sources are system sound, microphone, and both of them. You may follow the steps below if you want to record your screen in Windows 10.
Step 1. Launch EaseUS RecExperts. There are two different options for screen recording, i.e., "Full Screen" and "Region". If you select "Full Screen", you will capture the whole screen.

Step 2. If you select the "Region" option, this software will ask you to customize the recording area. Make sure that everything you want to capture is within the bounds of the select box.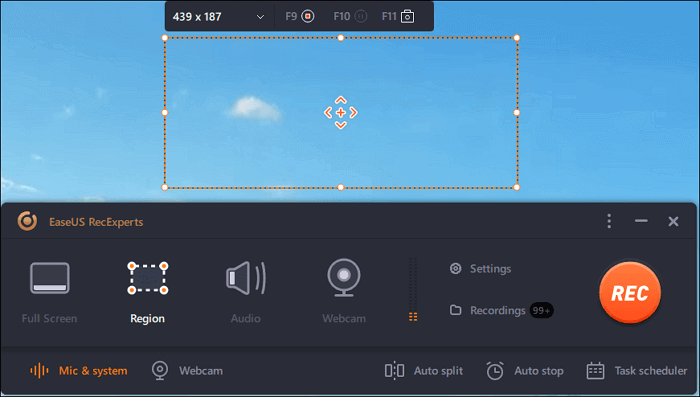 Step 3.  Tap on the button at the bottom left side of the main interface, and there will be many options you can select. This recorder supports recording microphone and system sound separately or simultaneously. The "Options" button is for you to adjust the volume and microphone device.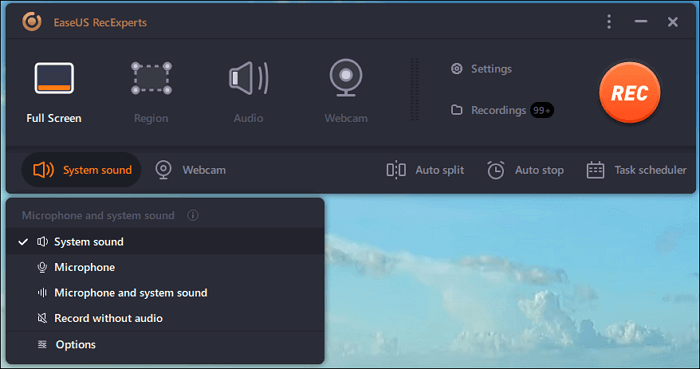 Step 4. If you want to record the webcam simultaneously, click on the "Webcam" icon at the bottom of the interface. Tap on the button to enable the webcam recording, and there will be a drop-down menu to select the recording device. Click on "OK" to confirm your settings.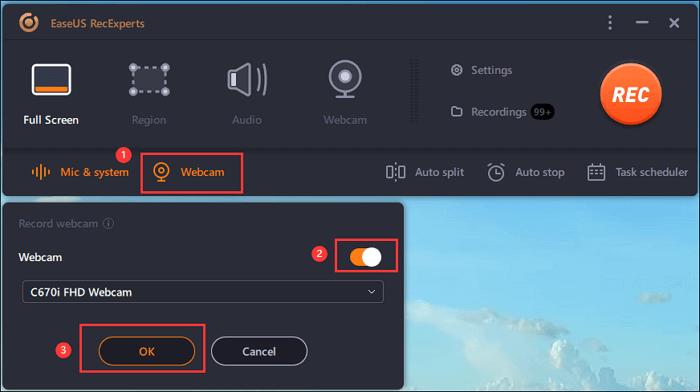 Step 5. When you turn back to the main interface, click on the "REC" button to start recording. A floating toolbar offers you buttons to pause or stop the recording during the recording process. In addition, the camera icon can be used to take screenshots, and the timer icon can help you stop recording automatically.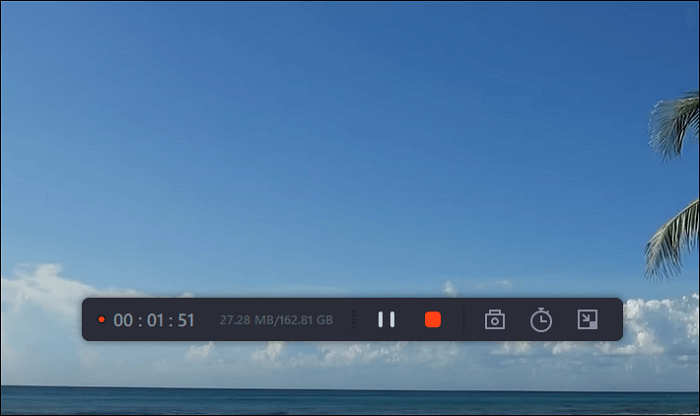 Step 6. The recorded video clips will be saved on your computer. When the media player appears, you will see a set of tools you can use to trim the recordings, extract audio, and add opening title & closing credits to the recorded video.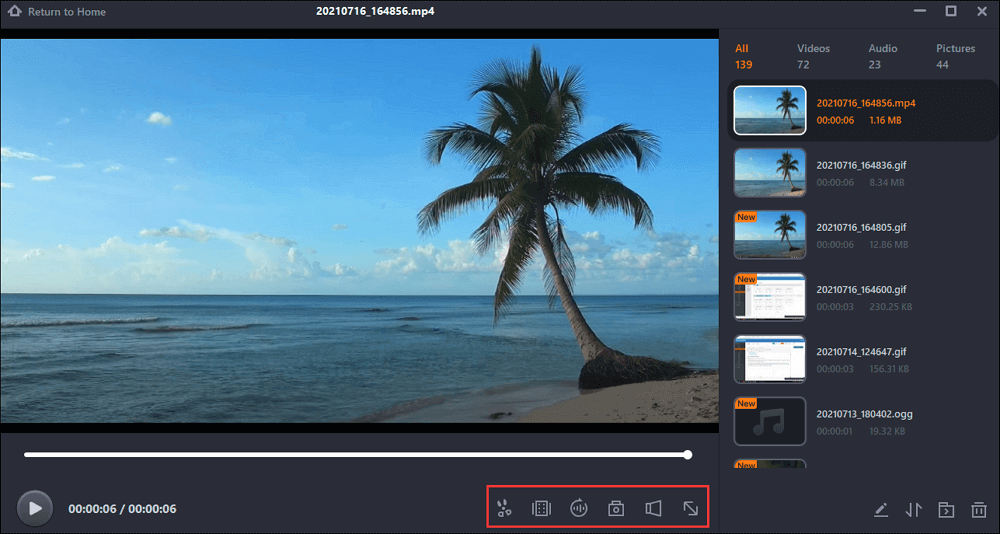 Part 3. Best software for Recording Screen
If you are in need of some useful screen recorders, this is what you want. Here we listed five effective screen recording programs. Let's have a look at them.
When it comes to recording screen, EaseUS RecExperts is undoubtedly the No.1 program. With this APP, you can not only complete regular tasks, like recording screen, recording audio, recording webcam, but also something irregular – recording gameplay. The recording of gameplay is a great demand among game players and those who want to make gameplay live shows. Therefore, EaseUS RecExperts is the best choice for them. You may gain a basic understanding from the information below.
Features:
Capture the entire screen, a specific screen, and webcam
Record system sounds and narrator voice with a microphone
Enhance video with text, lines, arrows, images while recording
Set up the time and duration to make a scheduled screen capture
Advanced editing functions like Spotlight, Zoom, Screenshot and Annotate during recording
Upload and share the recorded video to YouTube, Vimeo, Dropbox, etc.
Save video format up to 10 types, and audio format up to 6 types
Compress videos without losing the original quality of the video
Speed up/slow down, add watermark, set opening and ending effects to the recorded video
Support online and offline recording
ActivePresenter is an all-in-one screen recorder and video editor. It has virtually all the features and effects you may need to record screen and edit videos. The free version of ActivePresenter is free of charge with no watermark or time restriction. After the capture phase, you're allowed to trim, cut, split your recording, change the speed and volume, add closed captions, and more. More advanced audio and video editing features are available to create impressive videos, and software simulations are available only when you upgrade to the paid version.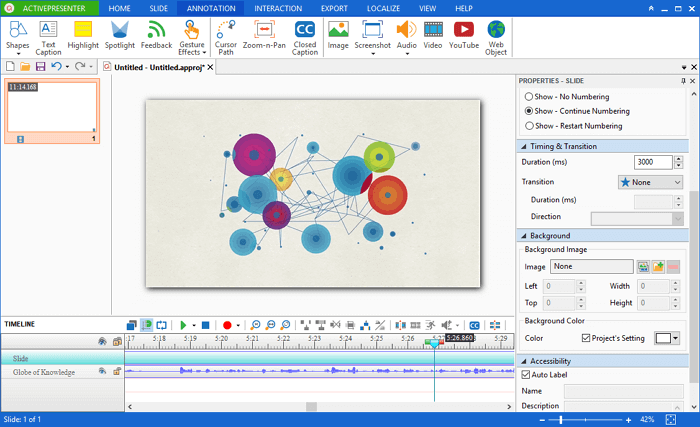 Pros
Record full screen, window, region, webcam, microphone, computer sound
Feature a video editor to edit captured videos as well as imported videos
Publish videos directly to YouTube
Cons
Not allowed to schedule recordings
No video cropping feature, though there is a workaround
Support 64-bit only
OBS Studio is a free screen recording software for video recording and lives streaming without a watermark or time limit. Using OBS Studio, you can capture not only the entire display or a window but also from webcam and microphone. When it comes to streaming, the program lets you select which desktop applications and audio sources to be shared, as well as create layered videos for the webcam.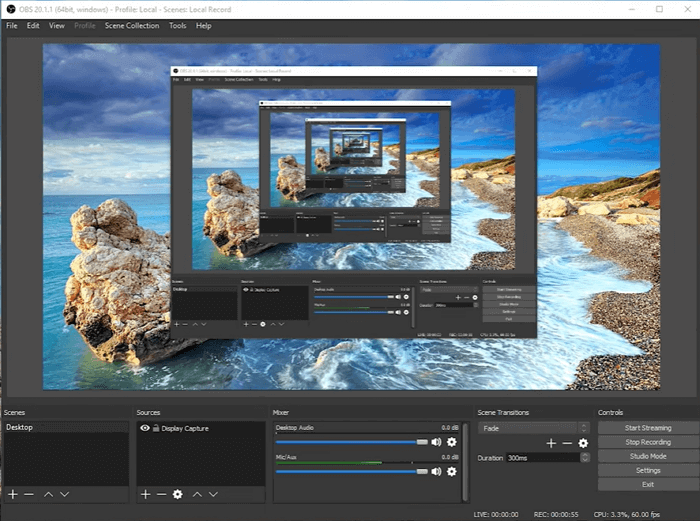 Pros
Record full screen, window, region, webcam, microphone, computer sound
Stream to Twitch, YouTube, Mixer, DailyMotion, and more
No watermark and time limit
Cons
No stopping during recording
No built-in video editor
Beginners may find it hard to use
Flashback Express is a free screen capture software that can record screen, webcam, and sounds. It neither sets a time limit on recording nor stamps watermark on the output videos. You can either record screens across multiple monitors or limit capturing to a single monitor. You can also make use of scheduled recordings to start and stop recording at scheduled times or when a specified application is launched. The free version doesn't include any video editing features, annotations, or effects. After recording, users can save videos like MP4, AVI, or WMV and directly upload videos to YouTube.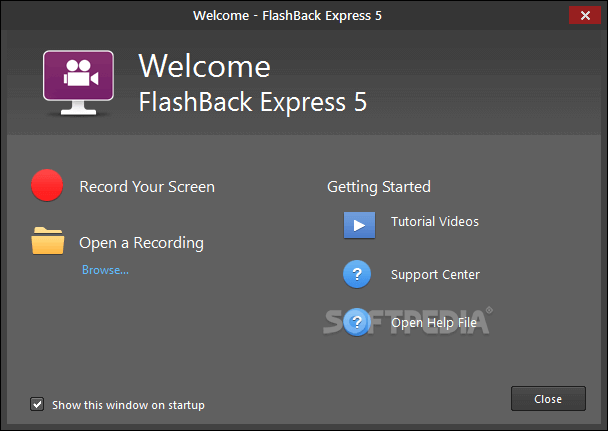 Pros
Record full screen, window, region, webcam, microphone, computer sound
Record multiple monitors
Scheduled recordings
Cons
Not allowed to record webcam alone
Output formats limited to MP4, AVI, WMV
No built-in video editor
Camtasia is one of the highest-priced screen capture software at present. As an all-in-one screen recorder and video editor, Camtasia comes with a collection of brand-new video assets such as customizable intros, outros, etc. It also includes a number of themes to maintain a consistent look and feel across a series of videos. You can edit a video directly after you finish recording with basic video editing functions. A 30-day free trial is available with watermark added. If you want a more comprehensive service from it, you need to upgrade to a paid version.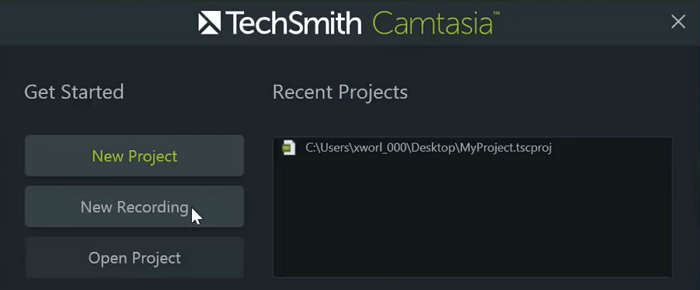 Pros
Record full screen, window, region, webcam, microphone, computer sound
Feature a video editor to edit captured videos as well as imported videos
Video editing features: trim, cut, split, change speed/volume, add zoom-n-pan, annotations, multimedia, animations, transitions, audio fade in/out, green screen effect, and more
Cons
Relatively expensive in comparison with other screen-casting software
Support 64-bit only
The operation is relatively difficult
Conclusion
To sum up, Windows 10 has a built-in screen recorder, and we gave you the detailed steps of operating it. You may use it directly to record the screen, or you may use some other screen recorders to record the screen and make more advanced editing to the recorded files. Among the recorders recommended, EaseUS RecExperts is definitely the best choice for Windows beginners. You may go to the official website and download it.
About the Author

Jane is an experienced editor for EaseUS focused on tech blog writing. Familiar with all kinds of video editing and screen recording software on the market, she specializes in composing posts about recording and editing videos. All the topics she chooses are aimed at providing more instructive information to users.