
Table of Contents

About the Author

Related Posts

Best Audio Recording Software
3 Speedpaint Recorder | How to Record Speedpaints Easily
Speedpaint is a painting technique that requires painters to complete their works within a limited time. This drawing form is popular among digital artists who want to practice their skills and increase creation efficiency. To check every detail in the drawing process, they usually need to record the whole process and review it later.

When digital painters draw on Mac, Windows PC, and iPad, a speedpaint recorder is needed to capture the process. Here, you learn the best speedpaint recording software and how to record speedpaints effortlessly.
How to Record Speedpaints on Windows 10
There are 2 recommended tools for PC users, including EaseUS RecExperts and OBS Studio. Both are efficient. 
Option 1. Capture Speedpaint on Windows 10
Finding a versatile screen recorder for speedpaints and supporting capturing your drawing process is not difficult since many recording tools are compatible with the Windows operating system. One powerful screen recording software for speedpaints is EaseUS RecExperts. It allows choosing the recording region flexibly. For example, you can capture the whole screen or record part of screen as you like.
Besides, this speedpaint recorder offers a basic video trimmer that enables you to remove unnecessary clips. It also allows setting the custom hotkey to operate the speedpaint recording tasks easily. 
Key Features:
Catch this chance to download this screen recorder! No registration is required. 
How to use speedpaint recording software on Windows 10:
Here is a tutorial about recording speedpaints on Windows 10. Follow it to record your drawing process.
Step 1. Configure the Screen Recording Options
Open EaseUS RecExperts on your computer and click "Full Screen" or "Region" to choose the area on your screen that you want to capture. Then select an audio source by clicking the Sound icon at the bottom left of the panel. If needed, click the "Webcam" icon at the bottom to add an overlay of your webcam footage to your screencast.

If you want to split the recorded file after recording, click "Auto split", and then your recording files will be split automatically according to file size or recording time that you have set. 
Step 2. Specify Recording Settings
Once you have configured the basic recording options, you might want to configure the advanced settings. 
Click "Settings" to open the menu. On the following menu, select a format for your screencast and specify other options as you feel appropriate. Then click "OK" at the bottom to save your settings.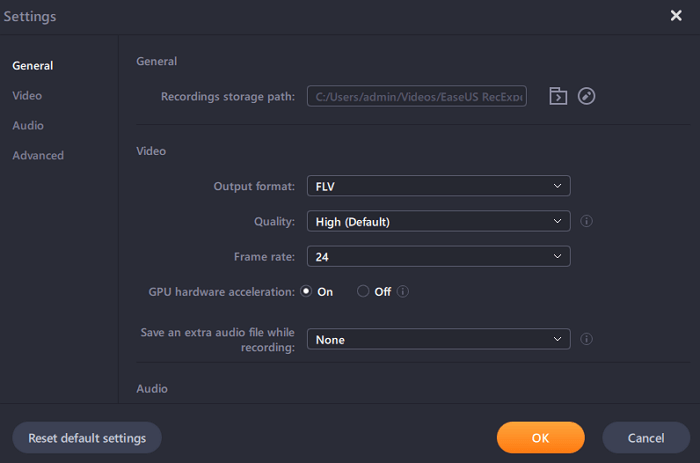 Step 3. Start and Stop Making a Recording
You should now be back to the main interface. Open up the screen that you want to capture, and then click "REC" in the software. Then it will start recording everything that is displayed on your screen.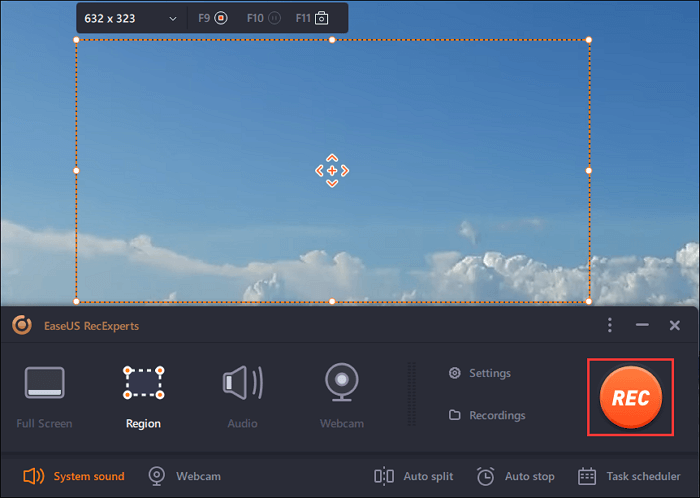 Then you will see the toolbar where you can pause or stop the recording, take screenshots while recording, or set a specific time to stop the recording.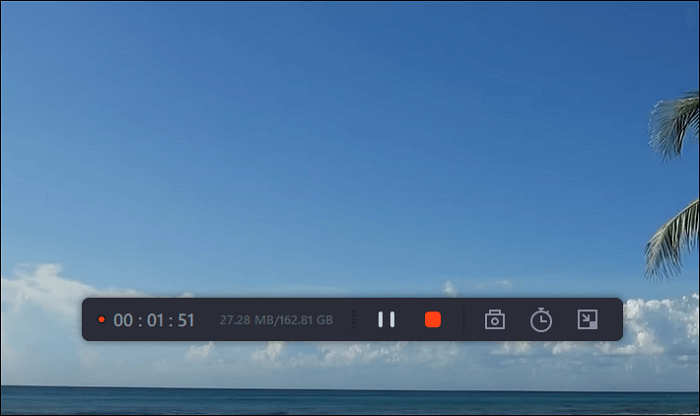 Step 4. View All Your Recordings
Once the recording is done, this software keeps all your recordings at a single location for you to view. You can preview and edit the recorded file here.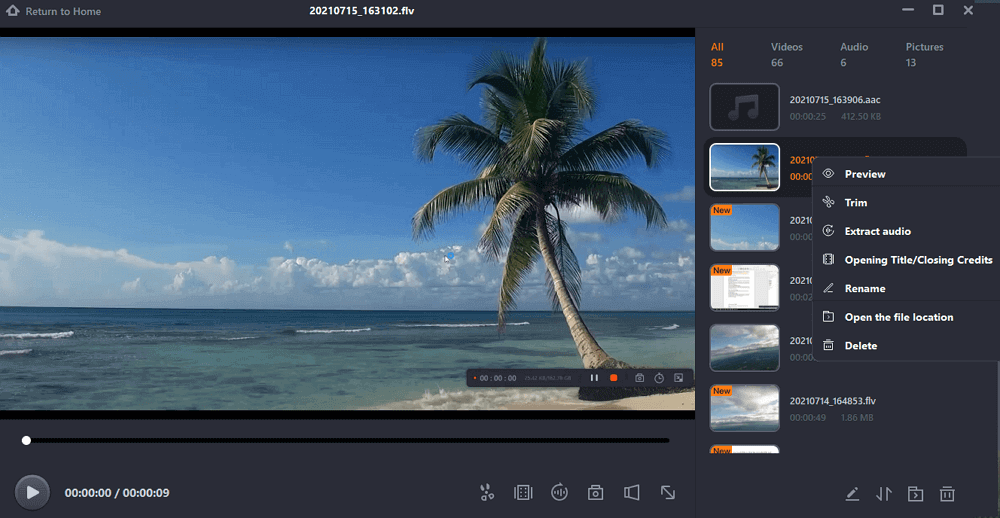 Option 2. Record a Speedpaint with OBS Studio
OBS Studio, or Open Broadcaster Software, it's one of the most famous free and open-source programs for video recording and live streaming. Even as freeware, it provides fantastic video and audio recording tools for users ranging from novices to professional video producers. 
OBS Studio can capture media files from various sources, including videos, audio, browser windows, etc. Also, its powerful compatibility makes it available on Windows PC, Mac, and Linux computers. Thus, you can use it as the speedpaint recording software, no matter which operating system you are using.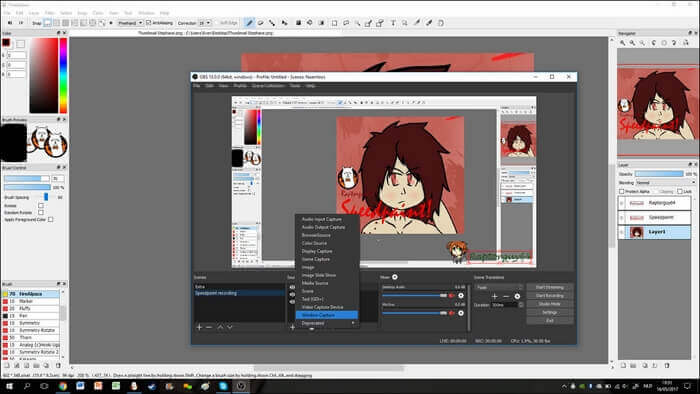 Key Features:
An effective speedpaint recording program
A wide array of configuration options are available
Customize hotkeys freely
How to record a speedpaint with OBS Studio:
Step 1. Launch OBS Studio and the digital drawing program you want to record.
Step 2. Hit "+" under the "Source" tab, and then choose the "Window Capture" mode. Select the program you want to record as the video source.
Step 3. Choose "Start Recording" on the bottom side. Click that button again to stop recording speedpaints.
How to Record Speedpaints on Mac 
If you are accustomed to painting pictures on your MacBook, there is an easy-to-use and lightweight digital paint recorder available on your device, and it's EaseUS RecExperts for Mac, as well.
This speedpaint recorder is featured by its user-friendly interface, making it easy for users to record what they want on the screen. You can effortlessly record the drawing process with audio from the microphone. Thus, you can record your speedpaints and background music simultaneously to make the recordings more impressive.
Sometimes you may want to capture only a few moments of the drawing process and export it as a GIF. Since this recorder perfectly supports GIF format, you can record a GIF conveniently.
Main Features:
Don't hesitate to download this powerful speedpaint recording software! Capture what you are painting now.
How to use speedpaint recording software on Mac:
Step 1. Download and launch EaseUS RecExperts on your Mac. To capture the whole screen, click on the "Full Screen" button from the main interface. If you want to customize the recording area, choose the "Region" button. 

Step 2. To record the screen with audio, hit the Sound icon from the bottom left side of the toolbar. The audio resources can be your external sound or system audio. Based on your needs, enable the target option.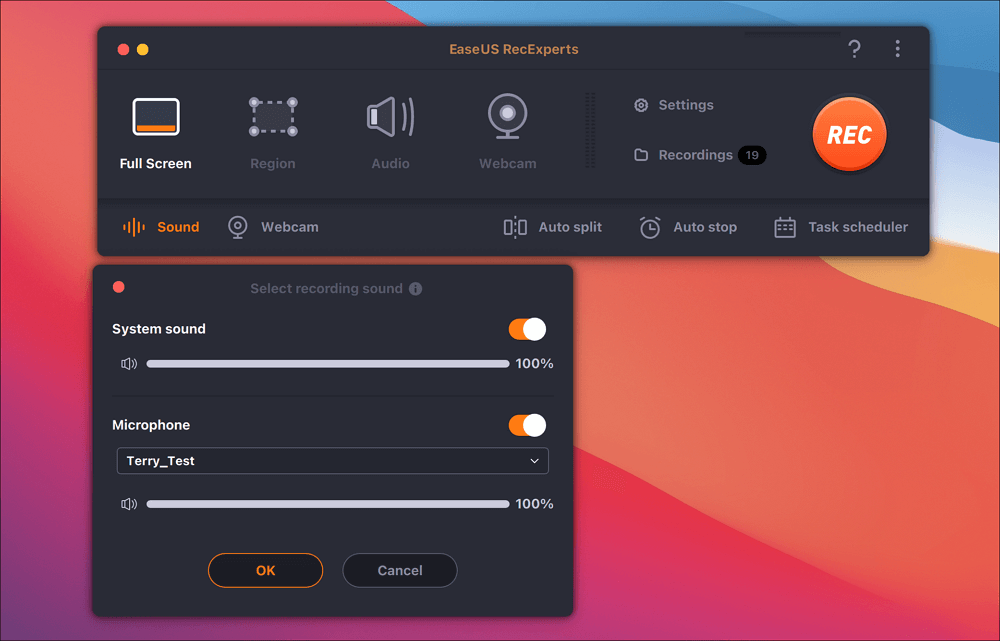 Step 3. Before capturing, you can change the output format of the recorded video by clicking "Settings" from the main interface. Then, scroll down the menu of Output format for Video. Choose the output type as you like.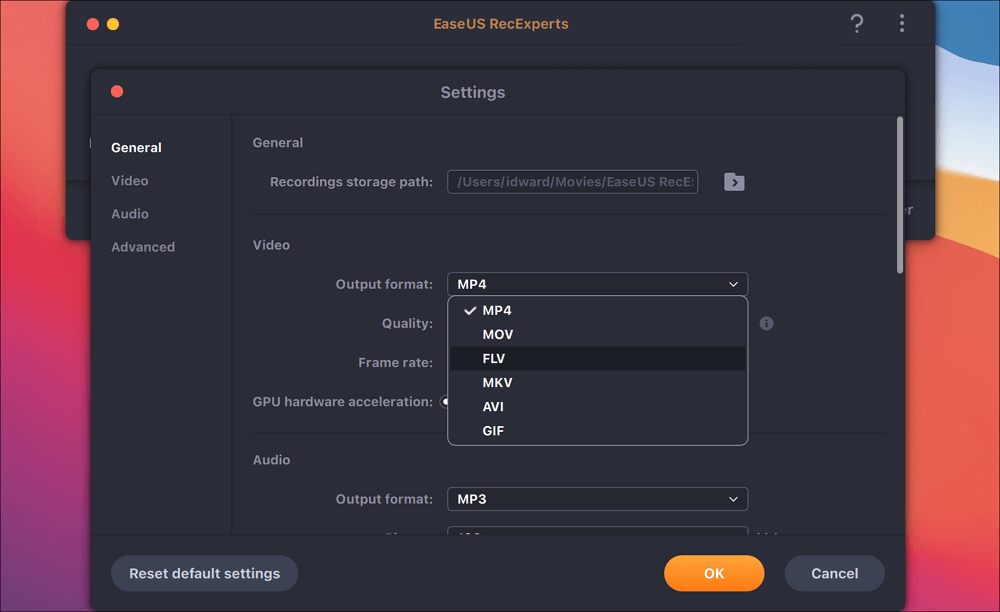 Step 4. Once done, click the REC button to begin recording. It captures anything displayed on your Mac screen. When you are done, click the Stop button. Then you can watch the recorded video from "Recordings".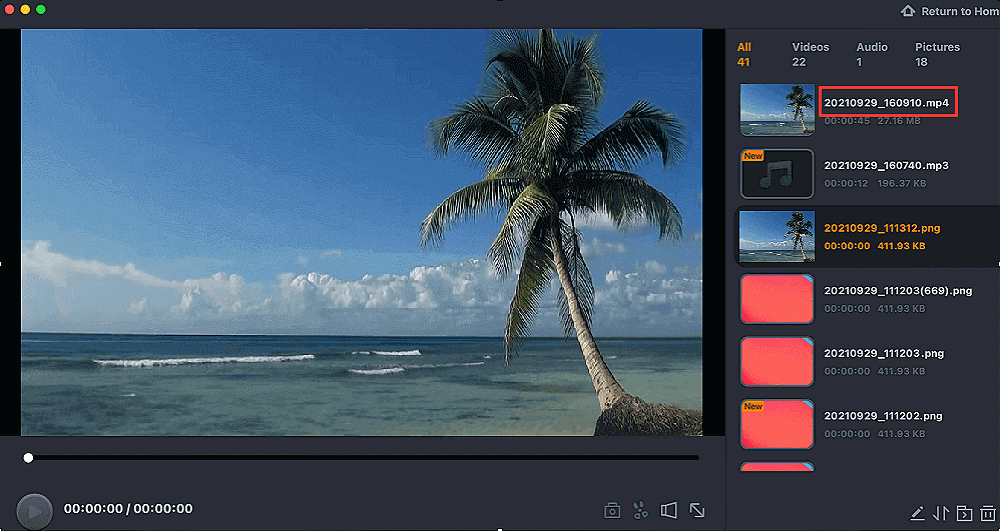 How to Record Speedpaints on iPad
When you want to draw pictures on an iPad/iPhone while recording the whole drawing process, try the iOS screen recorder. If you have tried this built-in recorder on your iPhone, it's the same operation to open this software on an iPad. After recording, you can find the project on Photo. Below is a guide for capturing the digital drawing.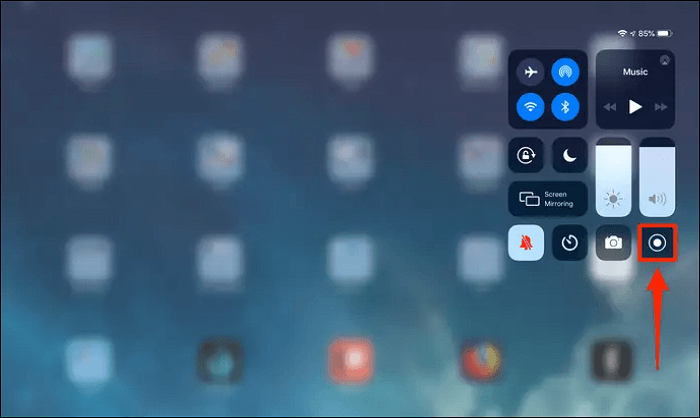 Record Speedpaint on iPad, using the iOS recording software:
Step 1. Open the Control Panel on your iPad, and then you see the record button. If you cannot find it, enable this option from Settings. Hit "Settings" > "Control Center" > "Screen Recording". 
Step 2. To record the Speedpaint, tap the Record button. And it will start the recording after a few seconds. 
Step 3. When you want to finish recording, hit the red top bar to stop it.
Conclusion
Nowadays, more and more artists prefer to create their works on the computer, iPad, or other digital devices. It gets more convenient to record their drawing processes to review every detail in the drawing process. 
Whether you are using a Windows PC or MacBook, EaseUS RecExperts can help you a lot. Choose this versatile speedpaint recorder that can satisfy all your basic needs of recording digital drawing. Click the button below to download it for your speedpaints! No registration is required. 
About the Author

Melissa is a sophisticated editor for EaseUS in tech blog writing. She is proficient in writing articles related to screen recording, video editing, and PDF file converting.