
Table of Contents

About the Author

Related Posts
How to Record Streaming Video on Windows 10/Mac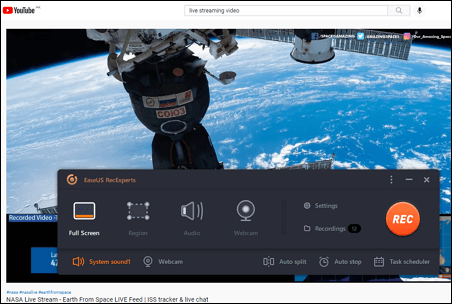 Quick Access - How to Record a Live Streaming Video on Windows 10?
Step 1. Download the video recorder and then open the online streaming video.
Step 2. Click "Region" to adjust the capturing area. Next, click the sound icon to select the audio resource.
Step 3. Once done, click... >> Read More
Live streaming shows can be found almost everywhere on social media platforms like YouTube, Facebook Live, etc. You can watch those videos for a certain period. But if you want to view it again or enjoy it offline, the best solution is to capture it with a streaming video recorder. Then how to record streaming video? This post offers 4 reliable solutions for capturing it on Windows, Mac, mobile devices, and Online. 
How to Record Live Streaming Video on Windows 10
For Windows users, there are various options. Here, the best free video recording software is introduced to you. It includes EaseUS RecExperts and VLC media player.
1. Capture Streaming Video with EaseUS RecExperts (Functional) ★★★
EaseUS RecExperts for Windows is a beneficial tool for recording a streaming show. With a friendly interface, you can capture a screen, record computer audio, and even deal with a webcam with a few clicks. 
Also, to capture it at a specific time, its schedule recording function helps a lot. All your need is to add a new task and set the duration. Then, it captures your favorite shows as a high-quality saving video. It's extremely helpful when you are not at home. After capturing, it allows editing the saving streaming video with a built-in trimmer.
Stunning features of this best streaming video recorder:
Capture the full screen or a selected area
Choose to capture the system audio or a microphone sound
Export the video in various formats, like MP4, AVI, MOV, etc.
Split the recording videos automatically
Record YouTube video and other social media platforms
Before following the below steps to capture streaming videos on Windows 10, download this powerful tool now!
Step-by-step guide on recording a live streaming video on Windows 10, using EaseUS RecExperts. 
Step 1. Launch EaseUS RecExperts on your computer. The first option, "Full Screen", can help you capture everything on your screen. If you play the streaming video in full-screen mode, this is suitable for you.

Step 2. If you play the streaming video in a window, it would be better to select the "Region" option to record only the specific area.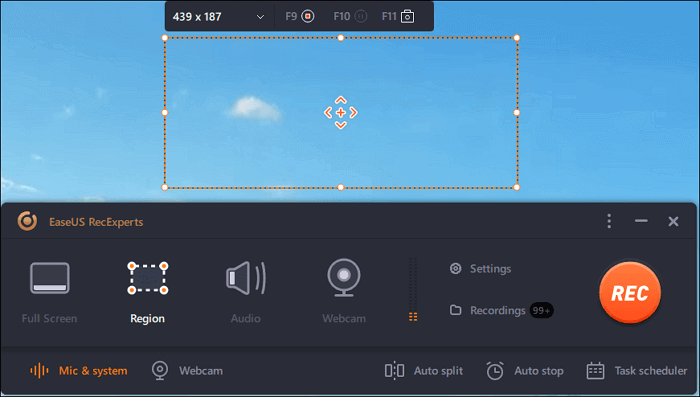 Step 3. Make sure that you are in "Region" mode. Then, click on the button in the bottom right-hand corner to select a suitable sound source and adjust the volume. After that, you can click on the "REC" button to start recording.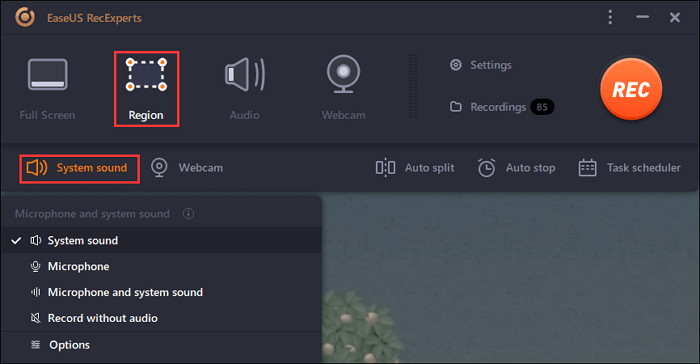 Step 4. There will be a floating toolbar on your screen when you are recording the video. The two buttons on it can help you pause or stop the recording.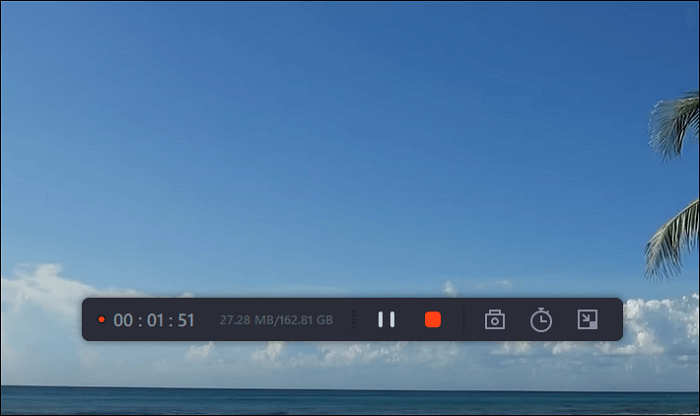 Step 5. If you click on the red stop button, the recording will be ended, and the captured video will be saved on your computer. When the built-in media player pops up, you can view the recording and use tools to trim it, extract audio from it, or add an opening and ending part.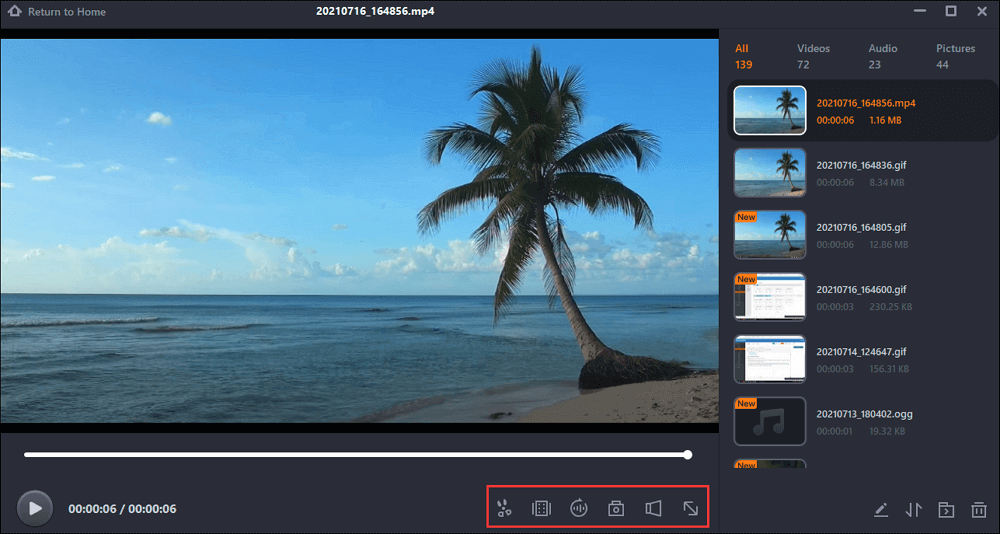 2. Record a Streaming Video via VLC Media Player
VLC Media Player is a free and open-source media player, which helps play and convert media files on Windows and Mac. Besides, it helps to capture audio and streaming videos easily. 
To capture an online show in this stream capturer, you are allowed to use a URL. When entering a network URL into its Network Protocol, it will record while synchronizing the live broadcast. 
Followed is a guide for capturing online streaming shows from YouTube with VLC Media Player: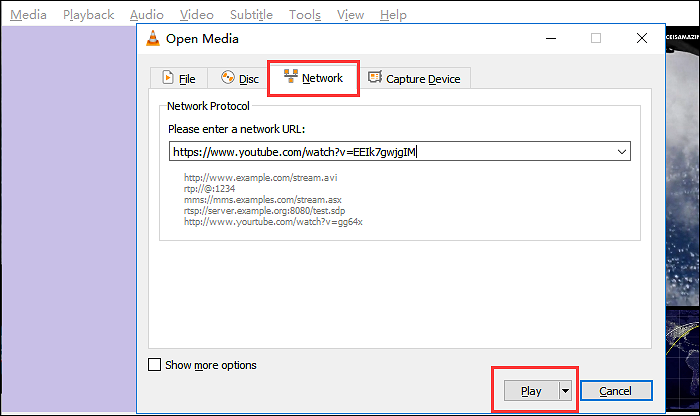 Step 1. Launch VLC and open it. To record the show from social media platforms like YouTube, click "Open Network Stream" > "Network".
Step 2. A new window appears, and you need to paste a URL of the streaming show that you want to capture in the box and click "Play".
Step 3. Click the red button to start your capturing task. Once you want to stop it, click the same button again.
Step 4. Choose "Media" > "Open Recent Media". Here you view the saving streaming video on your computer.
How to Record Streaming Video on Mac
For Mac users, there are also two helpful streaming show recorders. One is the default tool on macOS, and the other is a third-party program. The second one is more beneficial as it can deal with system sound on Mac. 
1. Capture Live Streaming Show through QuickTime Player
This tool is a versatile program as you can play different media files and achieve basic formats conversions effortlessly. Also, there is a fantastic function in QuickTime Player - record screen with audio on Mac. 
It allows recording your live streaming program without effort. The only limitation is that it's hard to capture system voice when using it. Next, let's see how to rip the streaming show with QuickTime Player on macOS.
Saving a streaming video with QuickTime Player on Mac:

Step 1. Open the video that you like and perform QuickTime Player. Then click "File" > "New Screen Recording" and the screen recording controls will appear.
Step 2. Click on a triangle to bring up the options menu. From the drop-down menu, choose the "Built-in Microphone", and you also can choose the destination where your recorded video will be saved.
Step 3. To deal with your streaming show, click the red dot in the middle of the screen recording box. Besides, you can adjust the area that you want to capture.
Step 4. Once done, click the stop button. Next, click "File" > "Export" to save your recorded video.
2. Record Streaming Show via EaseUS RecExperts for Mac (Support System Sound)
To better capture the screen and audio on Mac, one helpful tool is introduced to you. EaseUS RecExperts for Mac is the lightweight video and audio recording software designed for common users.
When you plan to save a streaming video, you only need to select a suitable recording area and an appropriate audio source, and then start the task by clicking "REC". Meanwhile, there are more features you can explore.
Key features of this streaming video capturer on Mac:
Record audio on Mac, including internal and external sounds
Capture screen of iOS devices on Mac via AirPlay
100% no watermark
This rich-featured tool is appropriate for multiple occasions. Use it at work, for entertainment, or your e-learning. In the trial version, you don't need to register an account. Try it!
How to capture streaming show from the Internet on Mac:
Step 1. Open the streaming video that you want to capture. Then launch EaseUS RecExperts to get used to its interface on your Mac. If you want to record the whole screen, you can click the "Full Screen" option. If you want to customize the recording area, hit the "Region" option. Then, select the recording area with your mouse. 
At the same time, to record the screen with audio, you just hit the Sound icon in the lower left corner.

Step 2. Click "Settings" to apply more options, including changing the output format of a video, etc. Then, go back to the main interface and click the "REC" button to get started.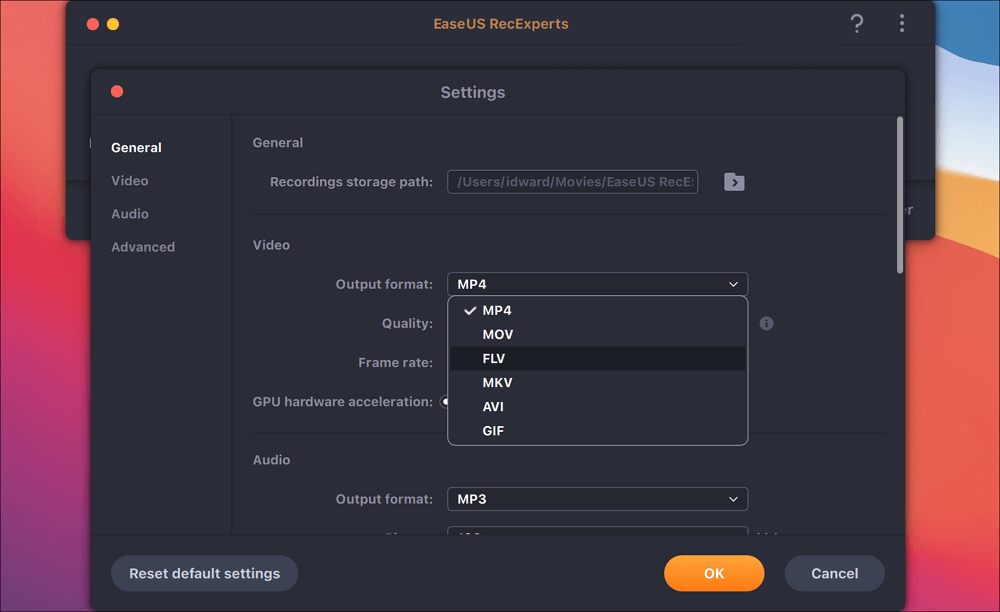 Step 3. During the capturing process, you can take a screenshot of the recorded screen. To finish recording, hit the Stop button from the toolbar. 

Step 4. Then, you can watch the recorded video in "Recordings". The button can be found in the main interface. You can review the target recording from the lists.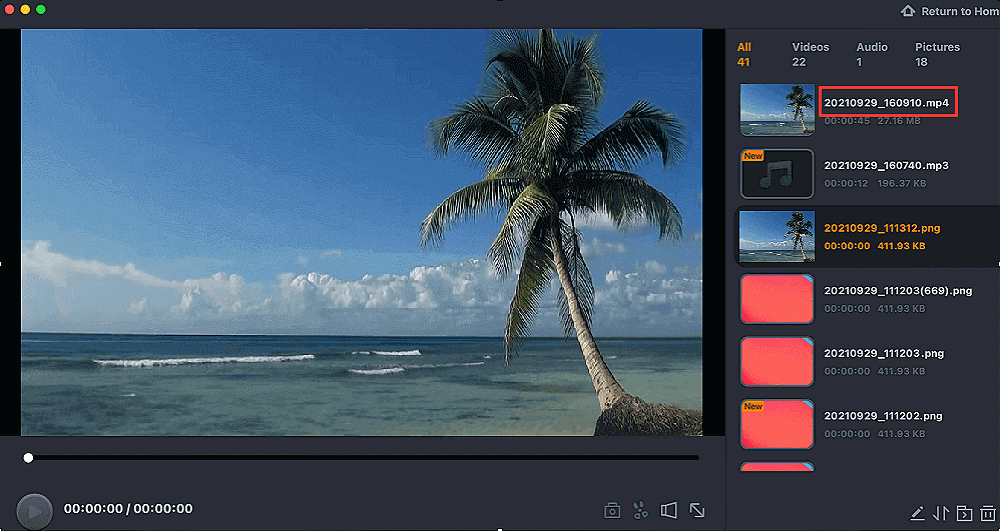 How to Record Streaming Videos on iPhone/iPad
To do this task on your iPhone, you can choose the built-in iOS recorder. Make sure your iPhone or iPad is running the iOS 11 or above versions. The saving live streaming show will be saved on its Photos. 
Before capturing, you need to install this tool from Settings. Check the below image to find it.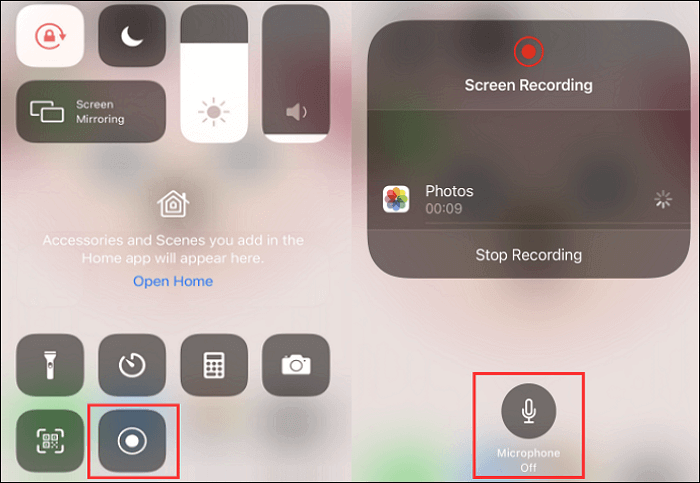 How to capture an online streaming video with the iOS screen recording:
Step 1. For iPhone X or above versions, swipe down from the upper right corner. Press the Screen Recording button. If it turns red, it indicates that the screen recording is enabled.
Step 2. Also, to capture the sound, you turn the Microphone on. Then, open a live video that you want to capture.
Step 3. To stop it, hit the red button at the top. And the recorded video is saved on the "Photos".
How to Rip Streaming Video Online
Video Grabber is an outstanding video streaming ripper. With its help, you can download streaming shows from nearly all the popular video hosting platforms, like YouTube, Vimeo, etc.
The steps are easy, and you only need to copy the video's URL. This tool can analyze the link and download the related video. Even if it failed to download, a built-in tool would capture streaming video online. 

Using the streaming video downloader to capture videos:
Step 1. Copy the URL of the live streaming show that you want to save.
Step 2. Open Video Grabber, and paste the URL into the input box.
Step 3. Click "Download". Select the desired quality option and hit "Download" on the pop-up window. 
Conclusion
We have discussed several live streaming recorders to help capture your favorite streaming videos on this page. For capturing videos on Windows 10, EaseUS RecExperts is your best choice.
You can capture any video and audio with it. Besides, it supports many formats, which means you can play the recorded videos on most players and devices. 
FAQs About How to Record Streaming Video
There are some related questions. If you want to learn more about it, go on reading!
1. How can I record streaming videos for free?
You can use a free screen and audio recorder for free. 
2. Can I record streaming video on my computer?
Yes, you can record it on your computer with the screen recording software. You can deal with the screen, system sound, and an external voice like a microphone. Go to Part 1 for detailed information.
3. Can you record a streaming show?
Yes, you can do it on Windows PC, Mac, iPhone, or iPad with the streaming video capturing software.
About the Author

Jane is an experienced editor for EaseUS focused on tech blog writing. Familiar with all kinds of video editing and screen recording software on the market, she specializes in composing posts about recording and editing videos. All the topics she chooses are aimed at providing more instructive information to users.