
Table of Contents

About the Author

Related Posts
How to Record the Screen with Audio on Your iPhone
There are various reasons to screen record with sound on your iPhone. Maybe you want to record a video call you are having with someone on your device? Or, maybe you want to record a video that is currently being played on your device. But right now, it is time to put aside your specific reasons and focus on finding a handy recorder to achieve this goal. No worries, this guide will solve the problem by explaining how to screen record with sound on iOS devices, along with a recommendation of desirable iPhone screen recorders. Ler's dive in. 
How to Make Screen Recording with Sound Using AirPlay on Mac
Some of you may never hear of this tricky way to record iPhone, which I mean is an approach to record the iPhone screen with AirPlay on Mac. This amazing function is pre-installed in every iOS device, and it allows you to mirror your phone's screen over any AirPlay-supported device. Usually, target objects come to Apple TVs. Some apps on the market have been inspired by this technology and developed features to record the iPhone screen directly on Mac.
One of these apps is EaseUS RecExperts for Mac. This app can record your iPhone's screen in just a few easy clicks on your Mac by detecting your iPhone as a screen recording source. Then all you need to do is clicking on a button in the app to begin the recording. A great thing about this program is that it works over both wireless as well as wired connections.
If you do not want to be involved in the mess of cable management, you can use AirPlay from your iPhone to record the screen too. If you prefer a cable way with a screen recorder, there is a tutorial of how to use the screen recorder mentioned above, and before that, some of the key features of it are listed below: 
Key Features
No time restrictions for recording
Record sound from computer and portable devices
Support video resolution of 1080p and up to 4k
This recorder is a wonderful GIF recorder
Work on both iPhone and iPad
Schedule record your iPhone screen
Self-tailored hotkeys to manipulate the whole recording process
Now you can download and try this quality recorder by hitting the button below:
How to Screen Record Your iPhone using EaseUS RecExperts for Mac
You could have encountered those notorious ones with complex interfaces and none user-friendly operations. EaseUS RecExperts is not one of them, and this one has the neatest and cleanest user interface that you have never seen.
Also, the app does not occupy much of your CPU power, which means that you can lead a multi-task work style with every program in its stable performance. 
Now that you know this program's capabilities, the following are the steps on how you can use this app for recording iPhone with sound on your Mac.
Step 1. Make sure the iOS device and the MacBook are connected to the same network. Then, launch EaseUS RecExperts.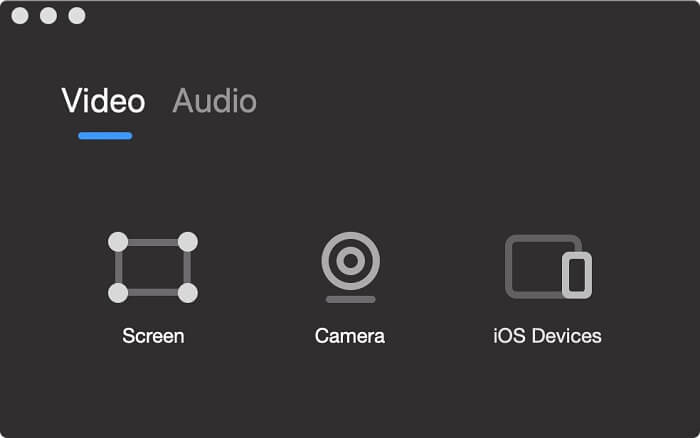 Step 2. On your iPad or iPhone, tap on the control center and click on the "Screen Mirroring option." It will open another window where you can see the MacBook on which the recorder is running. Tap on it to connect.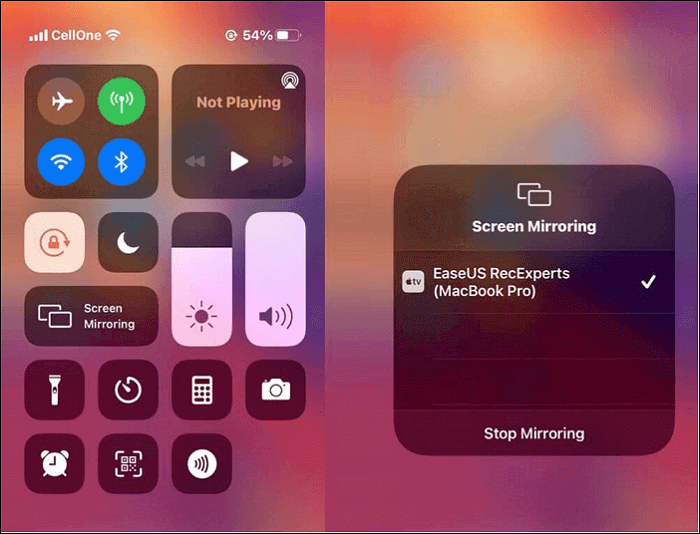 Step 3. After that, whatever you open on your iOS device will also appear on the Mac screen, and you can open the application you want to record.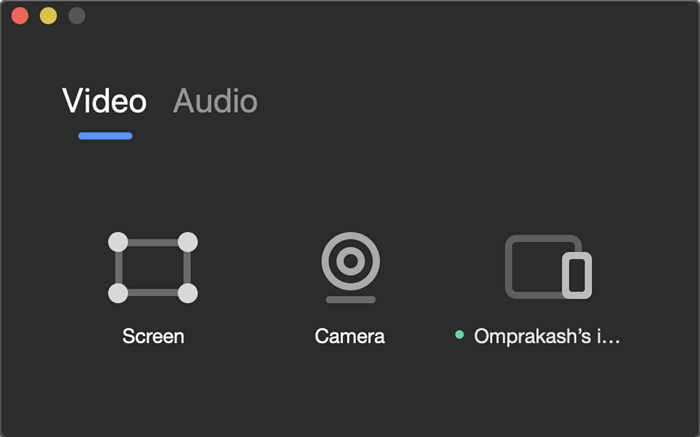 Step 4. Click on the red color record button, and it will instantly start recording. Now start playing the game while the recording happens on your MacBook. Once done, click on the stop button, and the recording will be available on the list.

How to Screen Record with Sound on iPhone [5 iPhone Recorders]
If you would like to try out other apps to record your iPhone's screen, here are some of the good ones you can use with your iOS device. Keep in mind these apps run on your iPhone and not on your computer.
1. The Built-In iPhone Screen Recorder
The iOS devices are all born with built-in recording features, with which you can make whatever kind of recordings with audio on your device. This indigenous tool requires no installation.
To record an event on your iPhone, all you need to do is turn the option on and nothing else. Here are the specific steps to record with the default recorder on iOS devices.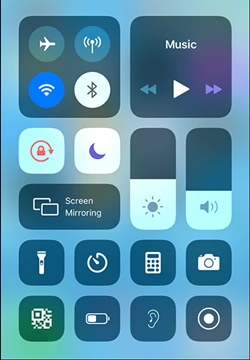 Step 1. Launch the "Settings" app, tap "Control Center," select "Customize Controls," and tap the "Add (+)" sign next to "Screen Recording" to enable the screen recording option.
Step 2. Tap the recording button and record the iPhone Screen.
Step 3. Stop recording and go to the "Photos" app to check your files. 
2. DU Recorder
If you have ever looked up the web for a screen recorder, you have likely seen DU Recorder. This screen recording app allows you to record your iPhone's screen with various options. The app is straightforward to use and nicely integrates with the iOS operating system.
This app basically replaces your built-in screen recorder and helps you use the same approach to make new screen recordings. If you are unsure about how to use this app, the following instructions should help you.
Step 1. Add the Recording Option to Control Center, head into "Settings > Control Center > Customize Controls" on your iPhone, and tap the "Add (+)" sign next to "Screen Recorder."
Step 2. Pull up from the bottom of your iPhone's screen and choose the recording option. Then, select "DU Recorder" from the list to use this app for your screen recording.
Step 3. Tapping on that notification will open the panel where you can see your iPhone screen recording.
3. TechSmith Capture
TechSmith Capture is a screen recorder that is available for both desktop computers as well as smartphones. With this app on your iPhone, not only can you create some amazing screen recordings, but you can share your videos with other apps easily. This app supports transferring your recordings to the apps on your computer over a WiFi connection.
If you have previously made any recordings with the built-in recorder, you can import them into the app to better manage all your recordings. This makes it easier to find any of your recordings on your iPhone.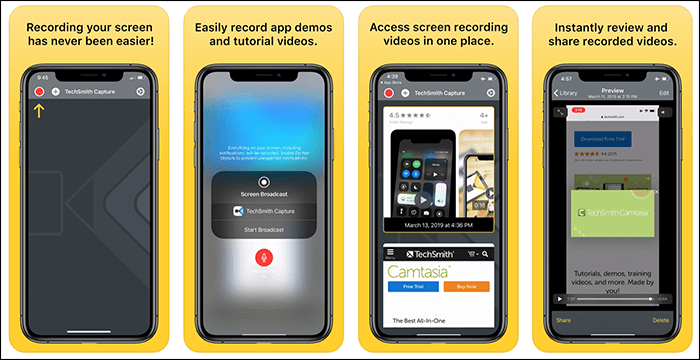 Step 1. Turn On iPhone Screen Recording by going to "Settings > Control Center > Customize Controls" on your iOS device and tap the entry that says "Screen Recording."
Step 2. Open the "Control Center" by swiping up from the bottom of your screen. Then, tap the recording option and choose "TechSmith Capture," then, you can set up the options for sounds.
Step 3. Tap the "Start Broadcast" option when you are ready to start recording your screen.
4. Record It
If you want to edit your recordings after making them on your iPhone, Record It is an excellent app for you. This app lets you make screen recordings, and it helps you to edit your videos as well. You can add many items to your videos after being made, and this feature needs no computer interference.
The app integrates with your iPhone like other recording apps, and it is then just a matter of a couple of taps to start a new screen recording.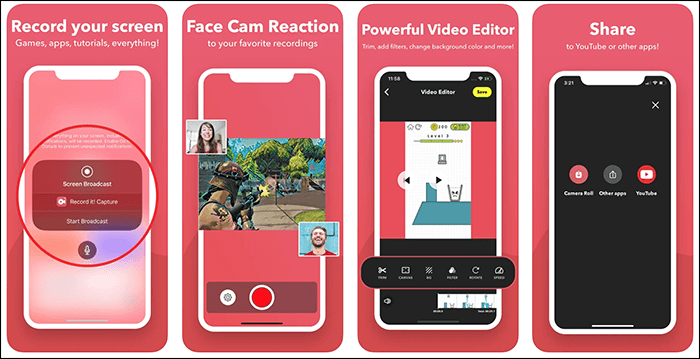 Step 1. Configure the resolution, bitrate, and framerate for your recording.
Step 2. Tap the large record button in the middle of the screen, press the "Start Broadcast" option, and start recording.
Step 3. Stop recording and edit the footage. You can also share them on other platforms.
5. Go Record
Go Record enables you to create all kinds of screen recordings on your iPhone and share them across various mediums right from your device. You can use this app to make app tutorials, record your gaming sessions, and even record your video calls. The app offers the ability to record sound from other apps on the device.
You can add your own reactions to your recordings using the face cam feature. This adds a small overlay of the footage coming from your iPhone's front camera. To make your recording experience more intuitive, you need to turn on the notification option so that every time your mission is completed, you will be informed instantly.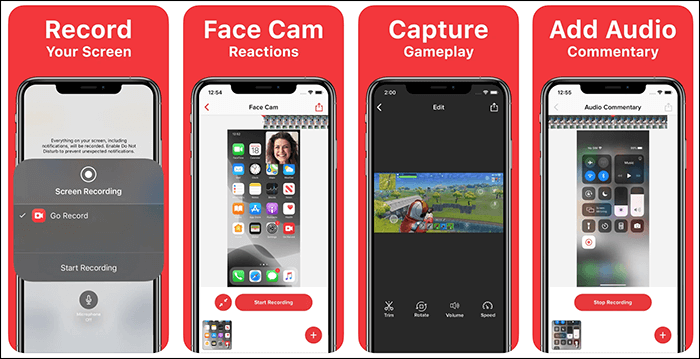 Step 1. Head back to the main interface to record your screen.
Step 2. Tap the "Start Recording" button in the top-right corner, enable the mic option, and tap the "Start Broadcast" option to start recording your screen.
Step 3. Tap the "Stop Broadcast" option to stop your screen recording. You can edit or save your video file later.
The Bottom Line
With so many apps listed above, I believe there must be an ideal recorder of your choice. But EaseUS RecExperts for Mac is the solution with more functions and options. If you want to fill your videos with flexibility, this is the optimum choice for you. 
About the Author

With the interest in English writing and computer technology, Vanessa chose to be an editor in EaseUS. She is professional in video and audio topics, including video & audio editing, converting, and recording. Vanessa will keep writing to help people solve problems.