I'm new to the Surface Pro and am still trying to figure somethings out, I would like to transfer a note I wrote on my iPad to my Surface, but I have no idea, does anyone have any suggestions?
How could I transfer all notes from iPad 4th generation to my Dell computer?
Nowadays, Apple users usually take notes on using Note App built-in iPad/iPhone to record the memories or keep something really important in their lives. Suppose you've taken notes on the working plan on your iPad before going to bed yesterday, you forgot to take your iPad to your office where you could only use your computer, what's your feeling? You may think that you should transfer notes from iPad to computer before, but how? In this tutorial, we'll show you some ways to do this task.
Method 1: Transfer notes from iPad to computer via Email
1. Open your Note App on iPad.
2. Choose which are the notes you want to transfer.
3. Tap on the share icon at the top right of the menu, and select Mail.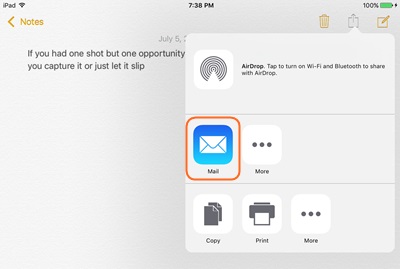 Method 2: Transfer notes from iPad to computer via iCloud
1. Go to Settings > iCloud > Enter your Apple ID and Password.
2. Turn on Notes option and then iClould will upload automatically those notes on your iPad.
3. Login your iCloud on the computer with the same Apple ID and select Notes.
Method 3: Transfer notes from iPad to computer via a free iOS data transfer software
Though your notes could be transferred with iCloud, it needs to the same Apple ID, and you are not allowed to receive selectively the notes on your computer. On the other hand, using email to transfer might so much inconvenient which costs too much time. So we'il offer you another way to transfer notes from iPad to computer with the world's first completely free iOS data transfer software - EaseUS MobiMover Free which can also import videos from iPhone to the computer. Let's start the tutorial. Please note that MobiMover only allows you to export or import notes on iPad, which is running iOS 10 or earlier. If your device is on iOS 11 or the later versions, the notes transfer feature is disabled.
Step 1. Connect your iPad to your computer, launch EaseUS MobiMover, then unlock your iPad and click "Trust" in the prompt asking for your permission. To transfer notes from your iPad to computer, choose "Phone to PC" > "Next".
Step 2. Select "Notes" among the options and click the default path to set a custom storage path for the notes to be transferred if you need to. Afterward, click "Transfer".
Step 3. When the transfer process has finished, you can go to view the notes on your computer.
Tips: If you want to transfer photos iPhone to computer, you could follow the same steps.