Want to view and edit your iCloud Notes from your PC? No worry, you can make it by visiting iCloud.com. The method is quite easy. To make sure the process goes smoothly, you have to ensure that you have set up iCloud Notes on your iPhone or iPad. If you haven't set it up, you can read Part 1 to know how to turn on iCloud Notes first. Then go to Part 2 to learn how to access your iCloud Notes from PC. While if you are interested in the way to access and view your iPhone Notes on PC without using iCloud, you can go to Part 3 instead.
Part 1: How to set up iCloud Notes on iOS device
iCloud services can be quite useful if you want to sync some content among your iOS devices. You just need to turn it on and make your devices connect to Wi-Fi.
1. Go to "Settings" App on your iOS device.
2. Tap on your name and choose "iCloud". (In iOS 10.2 and earlier, choose "iCloud" directly.)
3. Switch on "Notes" option.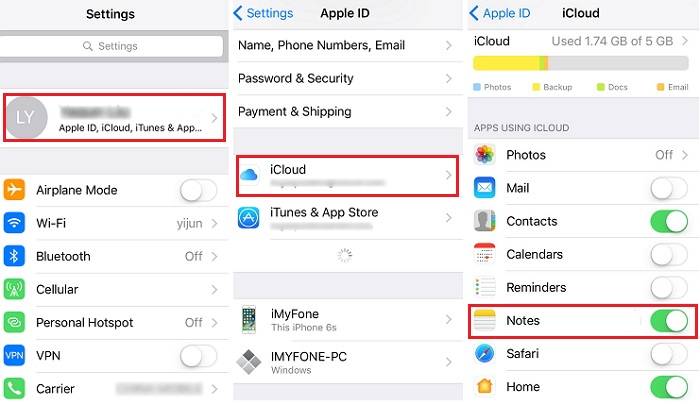 When you use iCloud to back up your iPhone/iPad content, you may have problems like "iPhone can't back up to iCloud". If so, learn how to fix it first before you continue.
Part 2: How to access iCloud Notes on PC via iCloud.com
If you have turned on iCloud Notes on your iPhone, you can access them from your PC as long as you have the network connection and browser available.
1. Go to visit iCloud.com on your PC.
2. Enter your Apple ID and sign in to iCloud.
3. Tap on "Notes" to view and manage your iCloud Notes.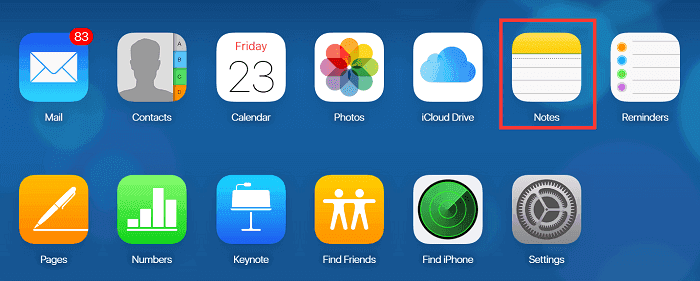 For you who like to use iCloud, it's likely that you may be interested in how to make iCloud backup faster.
Part 3: How to access iPhone notes on PC without iCloud (Free Tip)
Using iCloud is not the only way that enables you to access and view your iPhone notes on PC. An alternative way to make it is to use MobiMover Free, an iPhone data transfer tool, to import your iPhone notes to PC and then you can access and view them as you like even without network connection. And that's just one thing MobiMover can do for you. You can also transfer files like photos, videos, music and more between PC and iPhone/iPad or between two iOS devices (iPhone/iPad) with MobiMover. And unlike iCloud just with its first 5GB free, you don't need to worry about the storage will be taken even if you have extra large files to transfer as long as you have enough space on your PC. Follow the steps below to learn how to use MobiMover to solve your problem.
Notice

Due to the limitations of the iPhone operating system, notes cannot be transferred from the iOS device that's running iOS 11 or later. However, if you want to transfer other file types or transfer notes from devices running iOS 10 or earlier, you can still use MobiMover to get things done.
Click the button below to safely download and install EaseUS MobiMover Free on your PC running Windows 7 or later.
Step 1: Connect your iPhone to your PC (running Windows 7 or later) and run EaseUS MobiMover Free. When a notification pops up on your iPhone asking you whether to trust this computer, tap on Trust to continue. Launch EaseUS MobiMover Free and choose the iDevice to PC mode on the main screen.
Step 2: MobiMover will read and list all the supported data on your iPhone, including photos, audios, videos, contacts, voice memos, and notes contained in the More box.
Step 3: keep Notes only by unticking other data boxes. MobiMover offers the 1-click solution to transfer notes all from iPhone to the computer at once.
Step 4: In this step, you can move your mouse to the top-right corner and find the Folder icon, which enables you to set the storage path on your computer for exported notes.
Step 5: Now, click Transfer to transfer iPhone notes to the computer at an amazing speed. When the process finishes, you can view and edit the downloaded notes as you need.
If you have tried this tip and installed MobiMover on your PC, you can do things like transferring photos from iPhone to iPhone and transferring contacts from iPhone to iPhone the next time you buy a new iPhone with MobiMover without worrying about how to migrate data from your old iPhone to the new iPhone anymore.