Introduction
Nowadays almost everyone is a smartphone fan, especially for iPhone users. You may have many kinds of important files stored on their iPhones, like music, videos, contacts, messages, books, and more. At this time, you need a user-friendly iPhone file manager to keep and organize the data primely.
When comes to how to do it, you can't avoid iTunes and the File app equipped with iPhone in iOS 11 or later.
iTunes: Apple's official tool to help you organize and enjoy the music and movies you already have. Besides, you can use it to transfer and sync iOS data on Windows and Mac computer. But its biggest drawback is that it will erase the existing files on your iPhone while syncing. Moreover, iTunes syncing is too slow. And it's not so easy to operate.
File application: You can use this program to browse and organize all the files in one place on your iPhone directly. For instance, moving iCloud Drive files, adding a tag, managing the tags, etc.. However, it can't allow you to transfer data between the iOS device and the computer or manage iPhone contents on Windows or Mac.
So If you don't want to use iTunes or File app due to their shortcomings, you can use a reliable alternative to do iPhone file management in an easier way than ever by using EaseUS MobiMover Free iPhone Manager. It's a full-way iPhone file manager for iPhone and iPad that can make your iOS life much simpler.
The tools you will need
1. EaseUS MobiMover free iPhone manager that can be downloaded by clicking the button below(100% clean and safe). If you want to install it on PC/laptop, choose Download for PC; and for Mac, select Download for Mac.
2. An iPhone or iPad contains all the files you want to organize.
3. A USB cable to connect your iPhone/iPad to the computer.
4. Make sure your computer has been equipped with iTunes to access and read iOS data.
How-to tutorials
With EaseUS MobiMover Free iPhone Manager, it's easy for you to view and manage all the files saved on your iPhone, including contacts, messages, music, videos, photos, Safari bookmarks, notes, voicemail, and so on. You can use this tool access iPhone photos on Mac/PC, delete all the music on iPhone with a click, add ringtones to iPhone to personalize your iOS device.
Click the button below to safely download and install EaseUS MobiMover Free on your computer if you haven't done in the previous part. Then follow the steps to start managing your iPhone content. (Take deleting contacts on iPhone as an example.)
Step 1. Connect your iPhone to your computer, either Mac or PC, with a USB cable. Launch EaseUS MobiMover and click "Content Management > Contacts".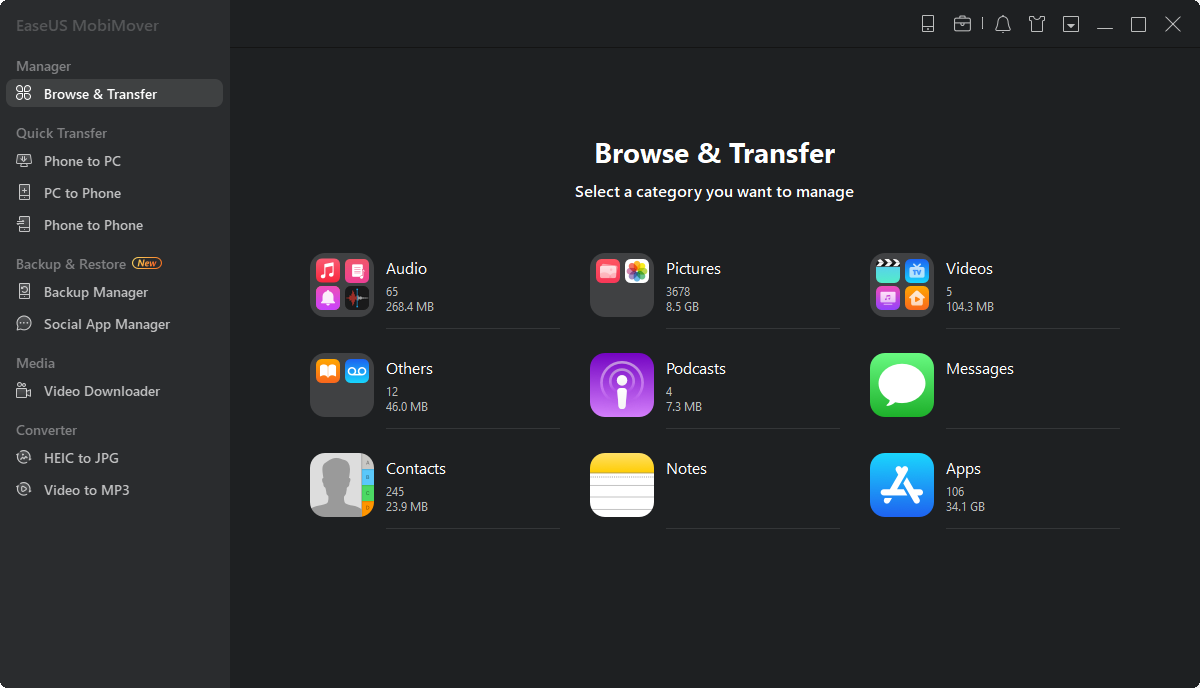 Step 2. Click "Select All" to select all the contacts on your iPhone or tick the checkbox next to the items you want to remove to choose specific items, then click "Delete" to delete the selected contacts from your iPhone. (Before you remove these files from your device, you are recommended to make a backup of them by clicking "Transfer to PC".)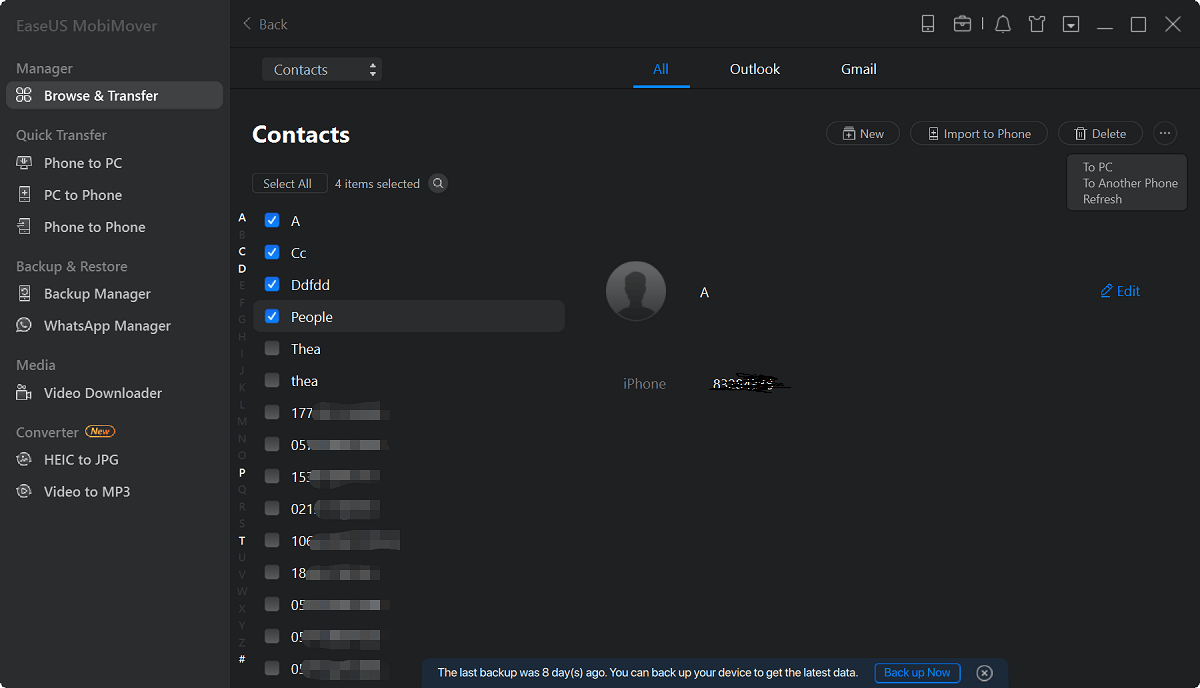 Step 3. After clicking the delete button, you will see a new window asking you whether to delete the selected items. Click "Yes" in the window to confirm your deletion.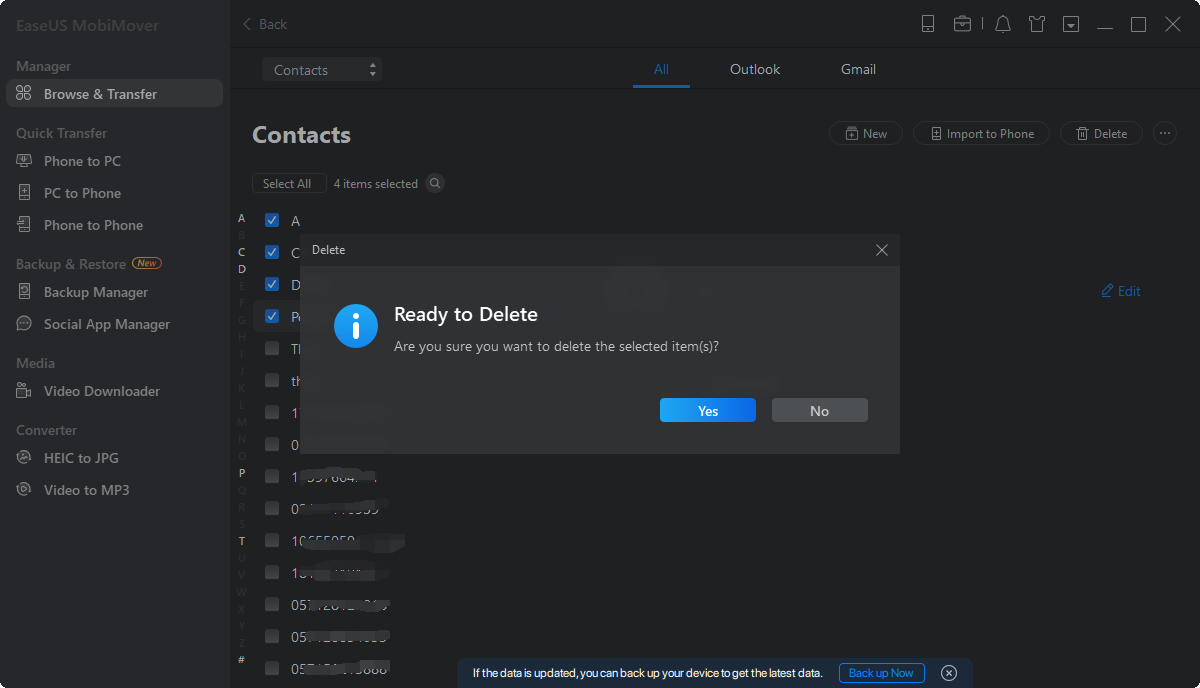 See more
It's quite easy to use MobiMover to manage iOS files, right? Above all, it's FREE, and you can keep it for daily usage. If you want to know more about MobiMover's other function, you may check the complete user guide.
In addition to the file management features, MobiMover is also equipped with data transfer functions, which means you can transfer data between two iOS devices (iPhone/iPad in iOS 8 or later) or between an iOS device and computer using MobiMover without any cost or limitation. Thus, when you want to export photos from iPhone to Windows PC, transfer contacts from one iPhone to another, put music from the computer to iPhone or do things like, you can easily get it done with MobiMover. Don't hesitate to give it a try.