Applies To: Any iPhone/iPad running iOS 8 or later
Watching TV series is gradually shifted from the TV screen at home to mobile devices. It's a great way to enjoy TV shows offline on your iPhone or iPad wherever you are and whenever you go. Commonly you can find a lot of episodes in iTunes and sometimes need to subscribe or purchase the videos in iTunes Store. In addition to buying TV shows from iTunes Store, you can also download series to your iPhone/iPad by saving videos from websites or transferring the videos from the computer using the FREEWARE for video download, data transfer, and file management, EaseUS MobiMover Free.
Read on to get the details.
Part 1: How to download series to iPhone/iPad for free with EaseUS MobiMover
Method 1: Save TV shows to the iOS device from websites
If the videos (TV shows/movies/music videos) you want to watch offline are from the video sites, like YouTube, Vimeo, MySpace, Break, Dailymotion, Metacafe, and more, you can use the video download feature in EaseUS MobiMover to download TV series/movies to your iPhone or iPad directly.
---
The Video Download Feature of MobiMover

With EaseUS MobiMover installed on your Mac or PC, you can save videos from any supported websites to your computer, either Mac or PC, or to your iPhone/iPad. Other than the ones mentioned above, there are other common sites that you can download videos from, including Facebook, Twitter, Instagram, Break, BBC News, Veoh, and Flickr.
Note: You may fail to download some videos that are not available for download, like private videos, paid videos, and password-protected videos, with this tool.
---
Now, click the button below to safely download and install EaseUS MobiMover Free on your computer running Windows 7 and later or OS X 10.7 and later and follow the steps to download TV shows/movies to your iPhone or iPad.
Step 1: Connect your iPhone or iPad to your computer (Mac/PC) and open EaseUS MobiMover Free. To download online videos to your iDevice, choose Video Downloader in the tool and click the device icon to select your iPhone/iPad to save the video.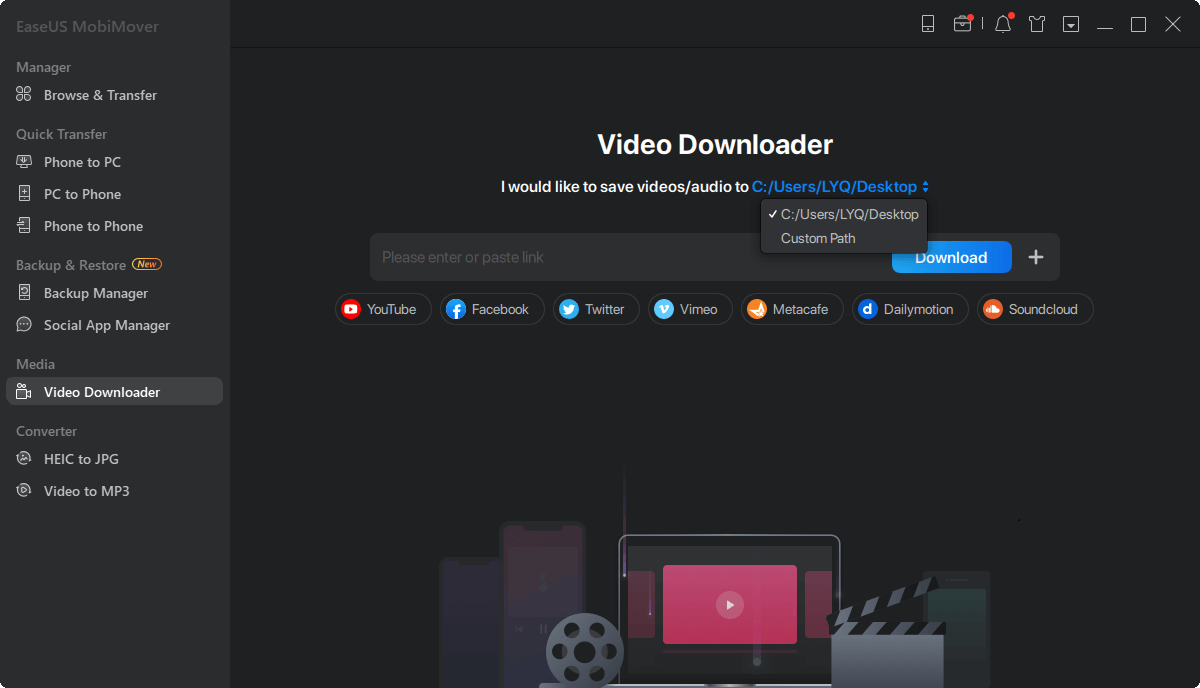 Step 2: Copy the URL of the video you want to save to your iPhone/iPad, paste it into the bar in MobiMover, then tap Download. (You can click the logo of the video site at the bottom of the MobiMover window to visit the website.)
Step 3: After you click the Download button, MobiMover will quickly analyze the URL and download the video to your iPhone/iPad. When it has finished, you can watch the video on your device (TV > Library > Movies) offline whenever you want.
Method 2: Download TV series to iPhone/iPad from computer
If the TV shows you want to download to your iOS device are stored on your computer (Mac or PC), you can use the data transfer feature of EaseUS MobiMover to transfer the series to your iPhone/iPad from the computer and enjoy them on your mobile devices.
---
The Data Transfer Feature of MobiMover

You can transfer files from computer to iPhone/iPad. Whether you want to transfer videos to your iPad or put music on iPhone from the computer, you can do it quickly via MobiMover.

Do you want to back up your device to your computer? Using MobiMover enables to your export videos, photos, audio, contacts, messages, and more from your iPhone/iPad to the computer all at once or selectively.

You can transfer contacts from iPhone to iPhone, sync photos from iPad to iPhone, copy music from iPad to iPad and more.
---
After you collect your favorite shows on the computer, it's so easy for EaseUS MobiMover Free to import movies and TV shows from computer to your iPhone/iPad and play them with or without a network connection. Here are the steps to do it.
How to add TV shows to iPhone/iPad for Free?
Step 1: Connect your iPhone/Pad to your computer via USB cable and tap Trust This Computer on the device's screen to move on. Run EaseUS MobiMover Free and go to the main screen.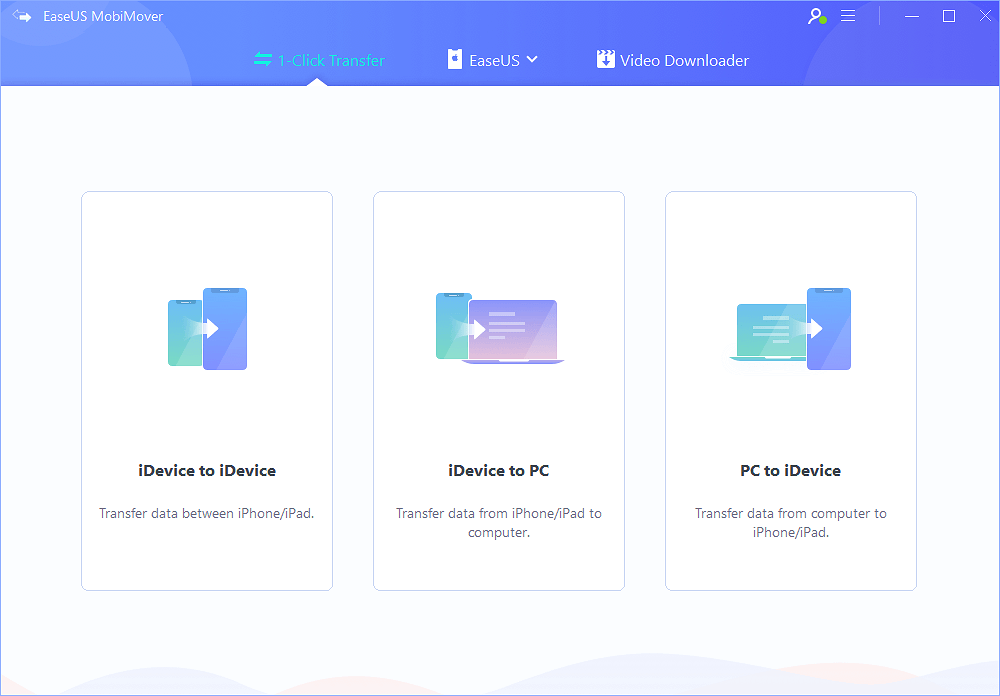 Step 2: To transfer TV shows from computer to your iPhone or iPad, you can either use the custom transfer feature by clicking your device name and choosing TV Shows as shown below or use the 1-Click Transfer pattern. With the custom transfer, you can transfer batches of TV shows from computer to your iPhone/iPad all at once or optionally.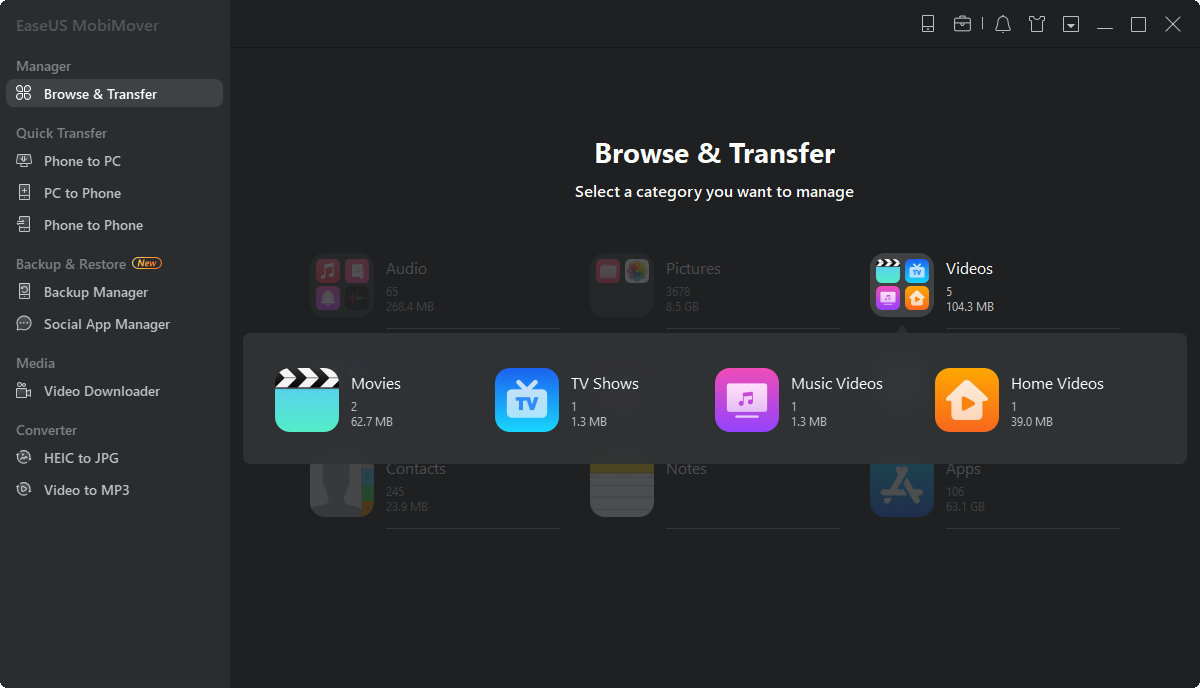 Step 3: Choose TV Shows, and click the Transfer to This Device button as marked in the image below.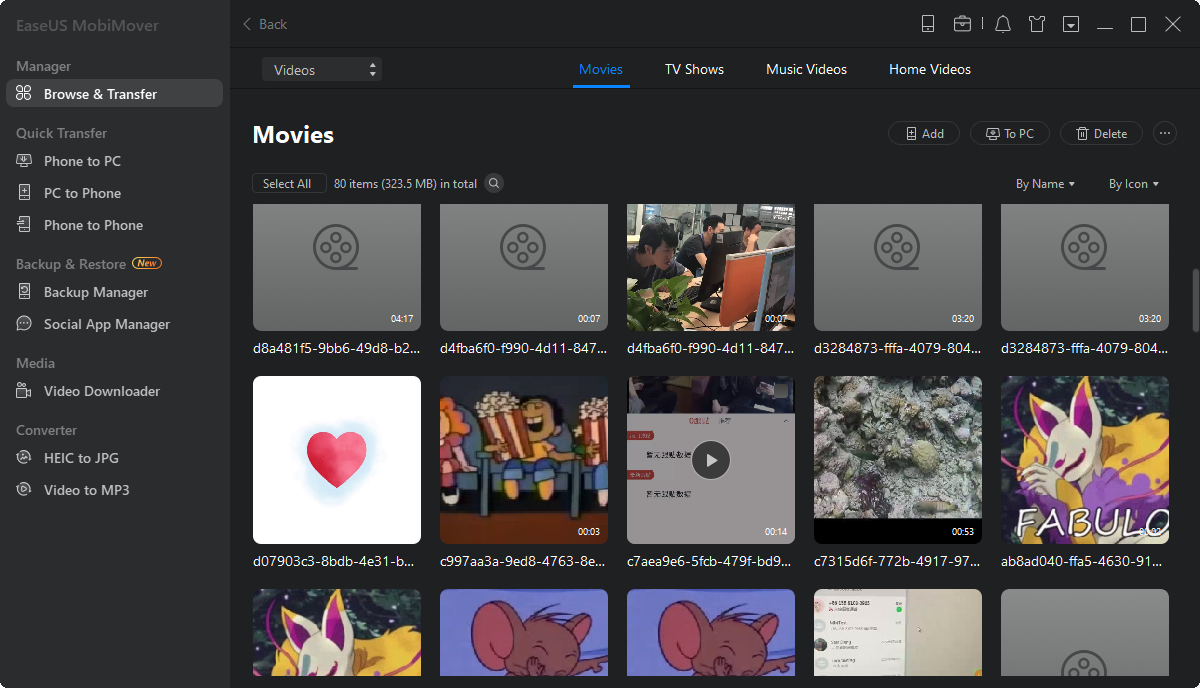 Step 4: Now you need to select the TV shows you want to download from computer to your iPhone/iPad. Videos formats, including MP4, MOV, M4V, WMV, RM, MKV, AVI, and FLV, are all supported by EaseUS MobiMover. Once you click Open, MobiMover will start transferring movies from PC to your iPhone/iPad. When it has finished, go to the Videos app on your iPhone/iPad to check the items.
If you need to, you can also transfer TV shows from iPhone to iPad to share the series between your iOS devices or delete TV shows from iPad to free up space with MobiMover.
Part 2: How to download TV shows on iPhone/iPad to watch offline
If you don't have a computer/USB cable available or want to download series/movies on your iPhone/iPad directly, you can purchase TV shows/movies from iTunes Store and get them on your device to watch without an Internet connection. There are two kinds of situations:
If you want to buy and download new videos:
Step 1: Open iTunes Store on your iOS device.
Step 2: Find the TV shows/movies you like.
Step 3: Click the item to view the product page.
Step 4: Click the Buy price and enter your Apple ID when asked.
Step 5: After purchasing the TV shows/movies, tap Download to get them on your iPhone/iPad.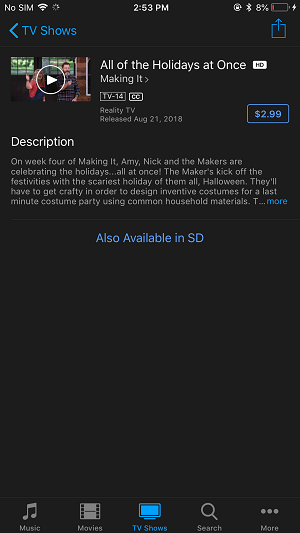 If you want to download purchased videos:
Step 1: Run iTunes Store on your iPhone/iPad.
Step 2: Go to More > Purchased.
Step 3: Choose TV shows/movies and click Not on This iPhone/iPad.
Step 4: Select the series you want to download to your iPhone/iPad and tap the download icon next to it.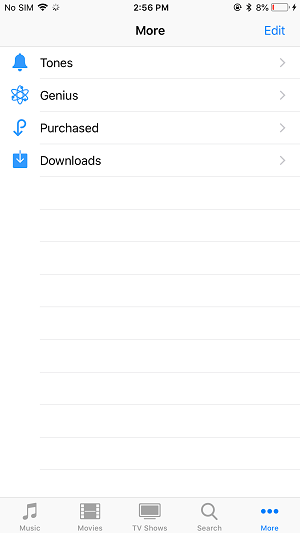 The final words
All the methods offered in this article can succeed in downloading TV shows to your iPhone and iPad. Carry out the method best suited to your needs.