Quick navigation to the part you are interested in:
Why do you need to backup iPhone text messages?
The text messages on your iPhone always carry good memories, moments of happiness, or some important information. What if you lose your iPhone or the text messages due to mistakenly delete, failed iOS update, virus attack, system crash, or physical damage? To prevent sudden data loss until it's too late to get back, you'd better backup the messages someplace where they can always be available to you.
In the following paragraphs, we will focus on this topic and show you the top three ways to backup iPhone text messages. You can choose the most suitable one based on your own needs.
How to
backup text messages on iPhone with 3 simple ways
Method 1: EaseUS MobiMover
Features of this method:
Simple, quick, flexible, unlimited, and data-readable
What we are talking about here is EaseUS MobiMover, one of the most popular iPhone data transfer masters to allow users to transfer data between iPhone/iPad and computer or between two iOS devices. With this smart tool, you can:
 Backup iPhone data without iTunes: MobiMover enables you to move messages, photos, videos, audios, contacts, books, etc.. from iPhone/iPad without using iTunes any longer. Besides, you can choose to export the whole data at a time or down to a certain files category or item.
 Transfer content from computer to iPhone: You can transfer files from PC to iPhone using USB as well as from Mac. The data adding process won't wipe previous data on your iPhone, which is inevitable if you choose iTunes.
 Sync data between two iOS devices: To be specific, you can transfer photos from iPhone to iPhone without iCloud, move contacts from old iPhone to the new one efficiently, and more.
 Manage your iPhone/iPad data: You can delete, edit, or add iOS items on your computer more easily.
 Save any video from any website: You can use the video downloading function to download videos to your iPhone, iPad, PC, Mac, and laptop from all the popular video sites. For instance, download YouTube videos to iPad directly.
Does this software sound quite nice? If so, why not download it to have a try by clicking the button below. The installation will be green, safe, and fast.
Step 1. Use a USB cable to connect your iPhone to your computer. When a pop-up asking you whether to trust this computer appears, click Trust to continue. Then start EaseUS MobiMover and click "Phone to PC".
Step 2. Since you want to back up your iPhone messages, select "Messages" only. As you can see, you can back up other supported file types together with messages from your iPhone. The messages will be kept on Desktop by default, but it's also possible for you to custom a new path. Next, click "Transfer".
Step 3. Wait for the process to complete. The backup of messages will be saved as an HTML file on your computer. Thus, if you want to check the details, use a browser to open the HTML file.
Method 2: iCloud
Features of this tip:
Wireless, flexible, but limited
iCloud is also a free data backup service that many users are carrying out. As its a wireless option, it's a more convenient option. And, if you have updated your iPhone to iOS 11.4 or later versions, you can sync your iPhone messages only to the cloud.
Apple allows 5GB of free cloud space for each user, if your files are larger than 5GB, you can choose to purchase more storage space or return to Part 1 and use MobiMover to sync content without size limitation.
For iOS 11.3 and former version:
Step 1: Make sure your iPhone is using a Wi-Fi connection.
Step 2: Tap "Settings" and tap "iCloud" or tap the user banner at the top of the screen, then tap "iCloud".
Step 3: Scroll down and tap "backup" or "iCloud backup". Tap on "Back Up Now" to backup text messages on iPhone to iCloud. (If you find that the process is slow, you can read these tips on how to make iCloud backup faster.)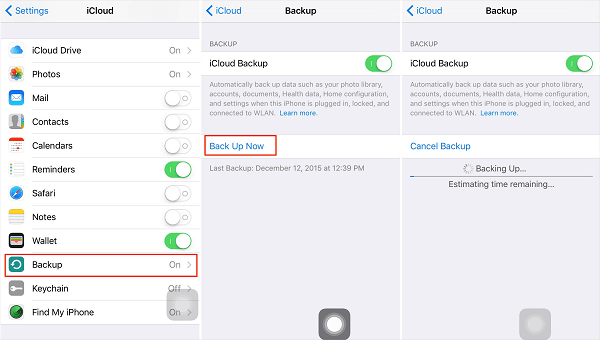 For iOS 11.4 and later (iOS 13):
Step 1: Tap "Settings" and tap the user banner at the top of the screen, then tap "iCloud".
Step 2: Find "Messages" and toggle on to start to sync iPhone messages to the iCloud.
Method 3: iTunes
Features of this solution:
Free, but slow, inflexible, and file-unreadable
iTunes supports you to back up almost all the iPhone files to your computer, including text messages. But what you need to know, you have to sync the whole iPhone files instead of text messages selectively. So, the backup is a long process each time. Besides, after exporting, you can't view or read the messages directly. Therefore, if you can't bear these shortcomings and need a smarter option, get back to Part 1 with the user-friendly MobiMover.
Step 1: Connect your iPhone to the computer and run "iTunes". (If you find your iPhone not showing up in iTunes, here are the fixes.)
Step 2: Tap on the device icon and choose "Summary".
Step 3: Choose "This computer" and hit on "Back Up Now".