[Solved] How to Record PowerPoint with Audio/Video

Jane Zhou updated on Mar 05, 2021 to Screen Recording Utility | How-to Articles
PowerPoint Presentation is one of the most effective ways to express your thoughts with your audiences or partners. But when you are not giving a face-to-face speech to your audience, the presentation would be less persuasive. To mitigate the influence of a remote presentation, an intact PowerPoint slide video with audio is the right solution. 
On this page, we will show you five methods on how to record PowerPoint with audio on your computer.
How to Make Video Presentation in PowerPoint with Audio?
Something you might not know about PowerPoint is that it records your screen, creates videos with integral audio sounds and webcam (PowerPoint 2016, 2019 and 365 support this function). Now this instruction will guide you to record PowerPoint presentation videos with audio and video Mac and Windows.
Step 1. On the top of the interface, select Slide Show, then record Slide Show. You can either record from the beginning or record from the current slide.
Step 2. Before recording, you need to set up some options. The picture below suggests the location of your audio sources. You can configure your microphone there. Also, in the bottom-right corner you can choose whether to add your webcam or microphone to your recording.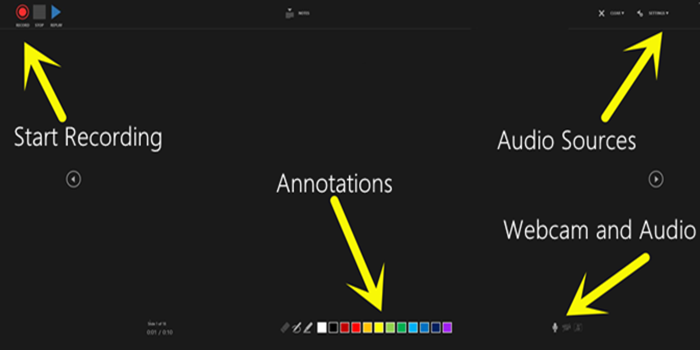 Step 3. Here is the key step to record your slides with audio. Hit the Red button on the top-left corner. If you want to do a voiceover to your sildes, just talk to your mic and your sound will be recorded. Don't forget to draw and highlight your content with the provided annotation tools.
Step 4. When you finish recording, you can export it as a video file.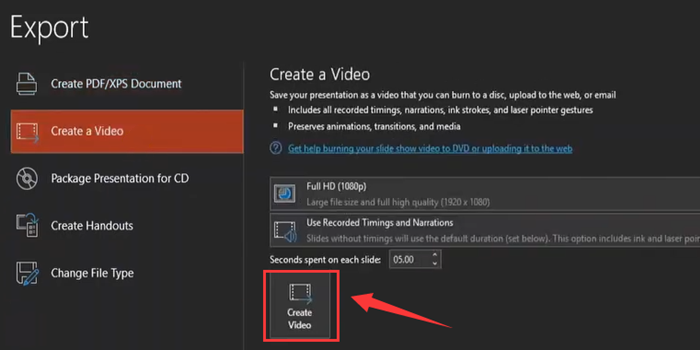 These are all the necessary steps to leverage the default recorder of PowerPoint. But many users reflect they can't record computer audio from PowerPoint. This problem may has things to do with their audio drivers. To solve it, professional recorders are needed.
Now let's see some most useful recorders we collect for you, they can easily record PPT slides with system audio.
Record PowerPoint with Audio [Two Windows Solutions]
For Windows users, there are a lot of screen recorders that you can use to capture PowerPoint with audio. To save your time on testing them, here we will show you two fantastic screen recording software in this part. 
EaseUS RecExperts is one of the most popular and useful screen recorder, which is used widely in many countries. This screen recording software enables you to record your screen and audio (from system or microphone) at the same time. If you are searching for a screen recorder to complete the work, you can use EaseUS RecExperts.
Apart from that, it also can help you record online streaming videos, webcam, and gameplay easily. While recording, you can add texts, lines, arrows, or use the zoom function to enlarge the recording content you want to show specifically. This screen recorder will simplify your daily tasks.
Key features:
Simple and intuitive workflow
Flexible capture any area of your screen
Enable you to record audio from your computer
Remove background noise and boost your audio
Record various games with a high-quality output video
Directly share your recorded audio or video to popular video platforms like YouTube
Now download EaseUS RecExperts and open your PowerPoint presentation to record it with a voiceover.
Step 1. Launch EaseUS RecExperts. You can choose one of the four main functions on the main screen. Here you need to click "Record Screen".

Step 2. Click "Custom" to select a screen area to record. You may choose "Full Screen", "Selected Region", "Fixed Region", "Locked Window" or to customize window size here. If you want to record the screen and webcam at the same time, make sure you connected a webcam to your computer.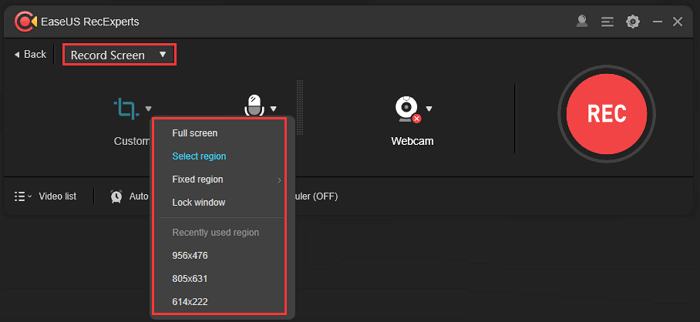 Step 3. Click "Microphone", and you may choose to record system sound only, record microphone only, record both, or record without audio.

Step 4. Click "REC" to start recording. After recording completed, the videos will be shown on the "Video List".

Step 5. Right-click the video recorded, you may preview, compress, edit, share the video, and do more.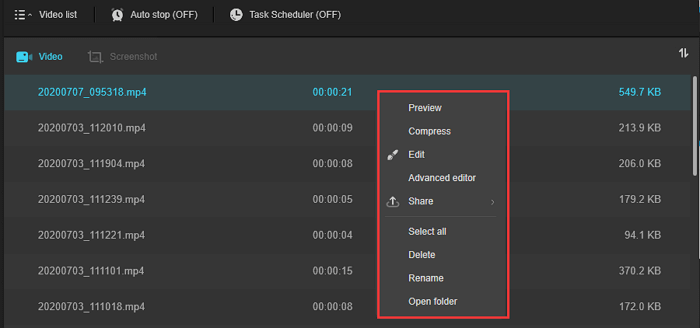 ShareX is a free and open-source software for screen recording, which has a fast screen recording function. It allows you to take screenshots and record your screen in a customized size. Besides, this program allows you to easily share images and screenshots with others through editable hotkeys.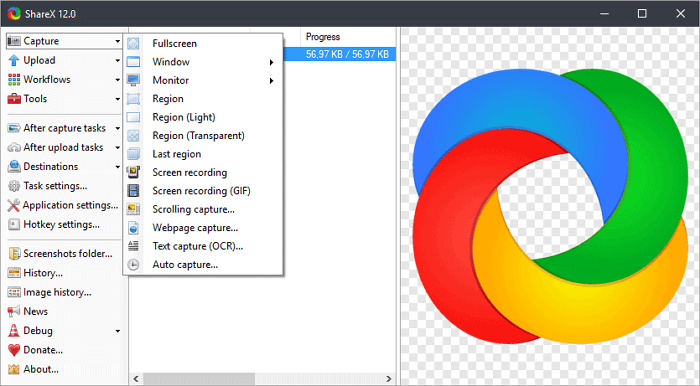 Follow the steps to record a PowerPoint with audio on your computer:
Step 1. Download and install Share X on your computer, then launch it. Click "Task settings" > "Screen recorder" to download ffmpeg.exe
Step 2. Click "Install recorder" on the screen to download and install additional software. Just follow the instructions. When it is complete, you can select the "Virtual audio capture" in the audio source drop-down menu.
Step 3. Open your PowerPoint. Choose the "Capture" button to select the desired recording area, then click "Screen recording" from the drop-down menu to capture your PowerPoint. Here you can narrate when recording your PowerPoint.
Step 4. Once done, you can find the recorded file on your computer.
Record PowerPoint with Audio [Two Mac Solutions]
If you are using a Mac computer, there are still many recording software that can help you record PowerPoint with audio. In this part, we will introduce you to two freeware: QuickTime Player and OBS Studio. Note that if you want your videos to be produced with intact audio, you will need the assistance of Soundflower. 
1. QuickTime Player
If you record PowerPoint with audio on Mac, you can use a screen recorder built-in the QuickTime Player. Everyone knows it as a media player, but apart from that, it is also a simple screen recorder. It can capture everything that appears on your screen, including online streaming videos. All the work will be completed within a few steps.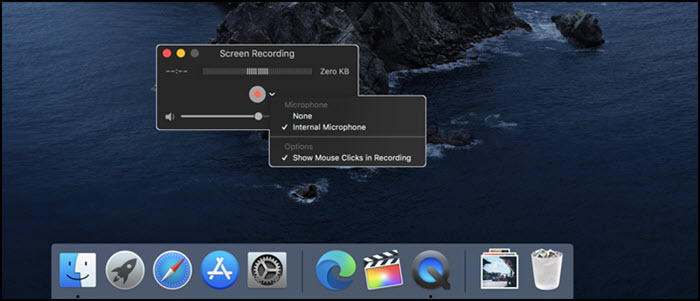 Here is how to record PowerPoint with audio on Mac using QuickTime Player:
Step 1. Open QuickTime Player, then click "File" > "New Screen Recording" from the menu bar. 
Step 2. Click the triangle beside the red circle button to change the recording settings. To record a PowerPoint with audio, here you can a microphone. If you want to get audio feedback or lower the volume, you can adjust the volume slider.
Step 3. Open your PowerPoint and select the region that you want to record. When everything is ready, click the red circle button to start recording PowerPoint with your voice.
Step 4. To stop recording, you can click the black button in the menu bar or press Command-Control-Esc.
Step 5. Once done, you can open, edit, or share the recording file.
As a free and open-source screen recorder, OBS Studio is widely accepted and used by a lot of people. This freeware is famous for video recording and live streaming. It can help you capture anything you want on your screen and share it on media social platforms. But with a complicated interface, it is not friendly to the novices.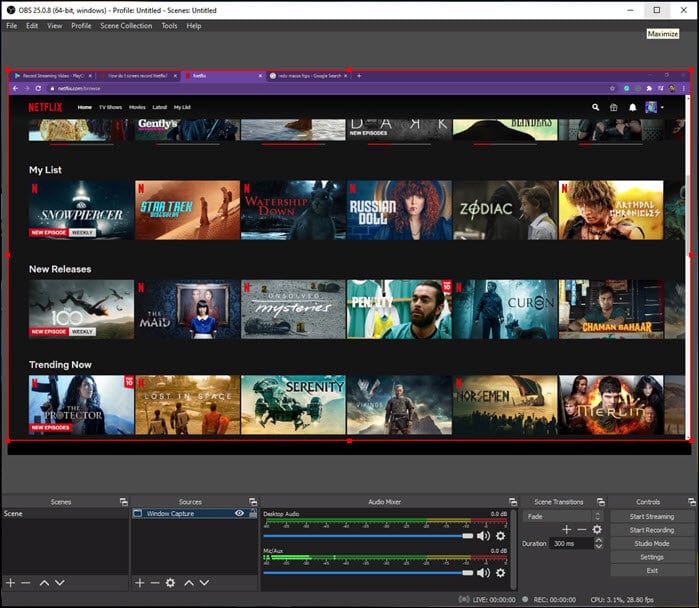 Step by step to record PowerPoint with narration on Mac using OBS Studio:
Step 1. Download OBS Studio and open a presentation on your Mac computer.
Step 2. In the Scenes bar, right-click and choose "Add" to set a name. Then right-click in the Sources bar and choose Windows capture to select the window that you want to record, then click the "OK" option.
Step 3. In the Audio Mixer bar, right-click and select "Properties" to set the Microphone as the audio input. Make sure your microphone is connected to your computer. If you want, you also can add a webcam during the recording. 
Step 4. Then click the Record button to begin or stop recording PowerPoint with audio. Once done, your recording file will be saved on your computer.
Editor's Final Words
Recording PowerPoint with audio is not tough work only if you have a screen recorder like EaseUS RecExperts. Besides recording a PowerPoint presentation, you also can use it to record your gameplay and live streaming video or music. After recording, it offers you many options to edit the recording file, like adding intro, text, watermark, etc.. If you need to record a PowerPoint presentation, which screen recording software will you choose?