Best Way to Record PowerPoint Presentation with Audio and Video Mac/Windows

Vanessa Chiang updated on Apr 23, 2021 to EaseUS RecExperts | How-to Articles
Most people get accustomed to putting a huge amount of effort into making a slideshow and then giving an outstanding PowerPoint presentation. Due to some reasons, sometimes it's inconvenient for you to talk face-to-face with people. You can choose to do that task through a Zoom meeting or record your presentation into a video and share it through the internet. 
The latter is the preferred plan for someone who wants to offer much greater flexibility for his/her audiences since they can watch the video in their free time. But as a Mac user, how do I find a powerful screen recording tool that can help? How do I record PowerPoint presentation with audio and video mac? If you are worried about those issues, keep reading this post, you will get all the answers in the following parts. 
How to Record PowerPoint Presentation with Audio and Video Mac
QuickTime Player must be the most readily available screen recording tool for Mac users. People often underestimate this powerful application as a mere player. Its multifunctionality enables it to help users in many aspects. For instance, you can use it to compress your files to save a lot of storage space on the devices. With its help, you can also convert the files to a more suitable or common format.
Moreover, one of the pre-installed application's important features is its ability to record the screen of your Mac, and it can also capture your voice as long as the microphone is accessible. As a result, you can record your PowerPoint presentation effortlessly. 
Main Features:
Basic video editing features are avaliable
Direct uploads to social channels
Simple and clean interface
Support live streaming
Steps to Record PowerPoint Presentation:
This tutorial will tell you the best way to record a PowerPoint presentation.
Step 1. Launch QuickTime Player, Click "File," and then choose the "New Screen Recording."
Step 2. Click the down-arrow on the right of a record button, and select the microphone you want to record your voice. Then click on the red circle to start the recording.

Step 3. Open your Powerpoint and then deliver your presentation as normal. Flip the slides when it's necessary. Your voice and what is happening on your screen will be recorded. 
Step 4. When you finish your presentation, switch back to QuickTime Player, and go to the menu bar's top right to click the Stop. Then you can save your video to a suitable folder.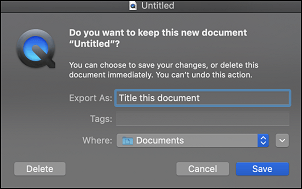 How to Record PowerPoint Presentation on Windows
For Windows users, it's also straightforward to record a PowerPoint presentation as long as you have the best screen recording tool on Windows 10/8.1/7, EaseUS RecExperts. 
EaseUS RecExperts is a full-featured video recorder that can satisfy your demands with four recording modes. You can freely choose one of those four functions, such as Record Screen, Record Audio, Record Webcam, Record Game. With this best screen capture software, you can record a skype call or record Webex meeting in only a few clicks. 
A screen recorder which is capable of recording a PowerPoint presentation should be able to simultaneously record and audio, and the "Record Audio" mode of EaseUS RecExperts allows users to record system sound, audio from the microphone, or both of them. Finally, you can edit the video clips to remove some unnecessary parts and export it directly to social platforms. 
Key Features of EaseUS RecExperts:
Remove background noise and boost your audio
Add annotations to video during the recording
Record streaming video and audio
Upload videos to YouTube directly
Don't miss this wonderful video and audio recorder that can be really useful.
Steps to Record PowerPoint Presentation:
Follow those steps to make your own presentation videos.
Step 1. Launch EaseUS RecExperts. You can choose one of the four main functions on the main screen. Here you need to click "Record Screen".

Step 2. Click "Custom" to select a screen area to record. You may choose "Full Screen", "Selected Region", "Fixed Region", "Locked Window" or to customize window size here. If you want to record the screen and webcam at the same time, make sure you connected a webcam to your computer.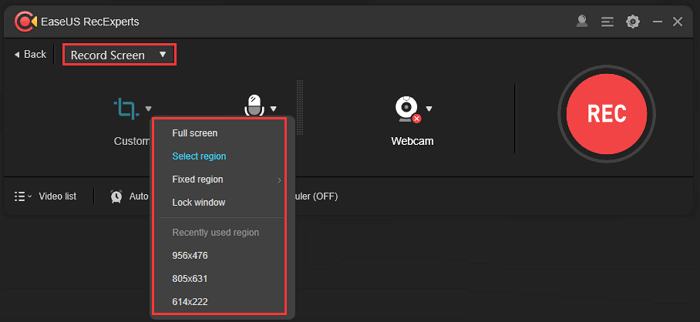 Step 3. Click "Microphone", and you may choose to record system sound only, record microphone only, record both, or record without audio.

Step 4. Click "REC" to start recording. After recording completed, the videos will be shown on the "Video List".

Step 5. Right-click the video recorded, you may preview, compress, edit, share the video, and do more.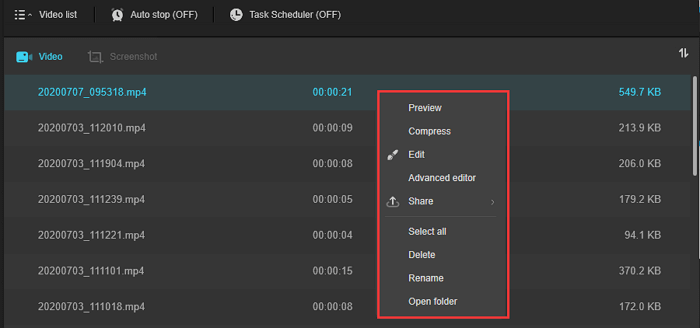 PowerPoint Presentation Recorders on Mac
Besides the built-in software, Mac users can also record the presentation with video and audio using some other applications. In this part, we will introduce two of them.
OBS is one of the most famous free screen recorders on Mac. This open-source video recorder supports video recording, live streaming, and many other functions. Since OBS is an open-source recorder, you can use various plugins to extend its functionality. And it's compatible with the most operating system on the market, including Windows, macOS, and Linux. 
OBS allows users to capture and mix real-time videos and audios with high quality. They can also create scenes made up of multiple sources, including text, browser windows, webcams, capture cards, etc. Beginners who are not familiar with this software can choose to use layouts as an auxiliary means. They can even rearrange those layouts and make it become perfectly customized to themselves.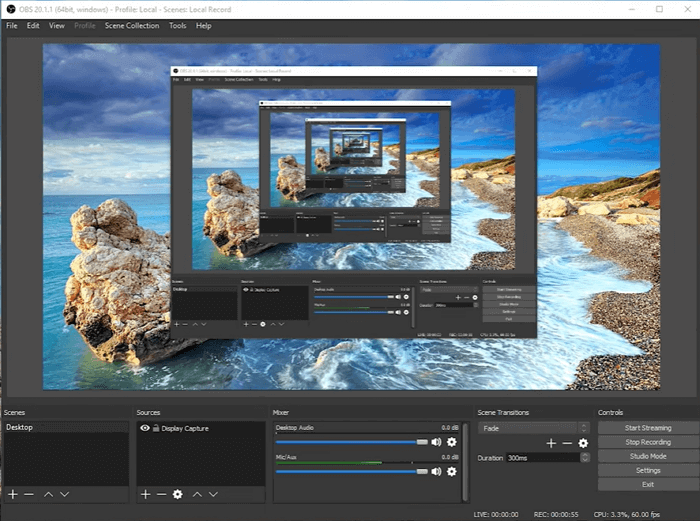 Pros:
Preview your scene before pushing them to live in the Studio Mode
Powerful configuration option
Able to work as an intuitive audio mixer
Cons:
Frequent updates cost much time
There is a high learning curve
Like QuickTime Player, this program is named a player, but it can actually offer more powerful features than just playing videos. You can consider this application as a professional one because it supports nearly all next-generation codecs like HEVC,  MPEG-4, MPEG-2, and so on. 
As another open-source software, VLC also supports adding plugins to enrich its functionality, and it's ad-free. And if you are a beginner who has no experience with video recording or editing, VLC's intuitive user-interface will help you find any tool you need so that you can manage it as soon as possible.
To record a PowerPoint presentation video, you need to use a sound card to capture your voice. When all the software and hardware are prepared, you can start to record whatever you like.
Pros:
Its interface is straightforward and friendly
Support keyboard commands
Support a wide range of encodings
Cons:
Don't support burning CDs
Don't support Real format
PowerPoint Presentation Recorders on Windows
We also provide some alternatives screen recorders on Windows. You can choose each of them to record your PowerPoint presentation. 
Bandicam is an all-in-one and easy-to-use screen recorder. You can choose any part of your screen as the recording area. It supports you to record the webinar, gameplay, online lectures, and skype calls. 
For people who need to record both their screen and themselves, Bandicam enables you to add a webcam overlay to the screen so that you can easily make many kinds of videos, like reaction videos, tutorial videos, and so on. Those features can also be used to create a video of your PowerPoint presentation.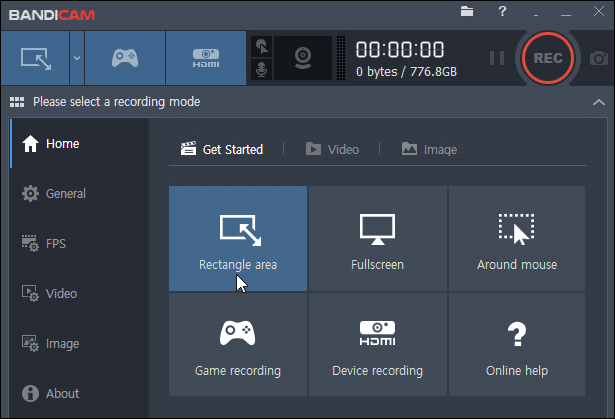 Pros:
Support real-time drawing
Add a mouse click effect and animation while recording
Mix your own voice in the video during the recording
Cons:
The file directories is a bit confusing
Sometimes the audio quality is poor within the first 5 seconds of a recording
This software offers new features that empower people to record videos to teach, train, and explain concepts. After several updates, this application becomes capable of adjusting your audio tracks so that you can obtain consistent sound levels in every video project. 
You can use the Theme in Camtasia to add a logo or a representative image to your recordings. They can make your videos more impressive and protect your intellectual property. Try to apply those effects to your PowerPoint presentations!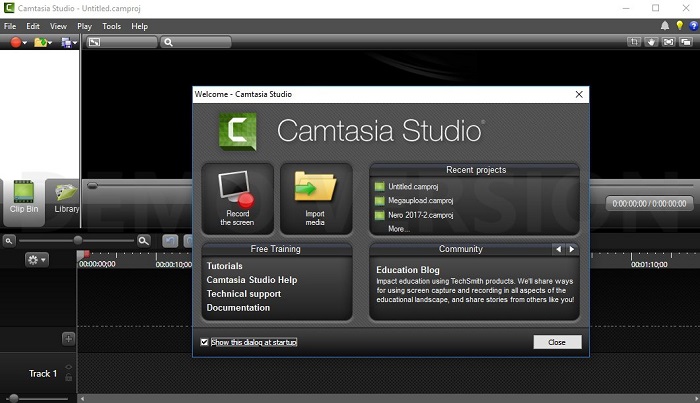 Pros:
Advanced editing features
Possibility of organizing media
Various output formats
Cons:
Limited cross-compatibility with different versions
Rendering takes a long for long videos
Conclusion
We talked about many useful recorders that enable us to record PowerPoint presentations and offered two tutorials for Windows users and Mac users. 
Among all those applications above, EaseUS Video Editor can be considered as the most versatile one because of its rich features. Download it and have a try.