
Table of Contents

About the Author

Related Posts
How to Record Audio on Google Slides on Windows and Mac
Many people using Google Slides want to add audio, like narration or explanation, to their Slides. Those audio files will help express your intention while playing the Slides. But how to record the audio you need easily and freely? 
Even though you can now add an audio file to a Google Slideshow, there isn't a simple built-in recording button in Google Slides. Instead, you need to record the audio using third-party programs, save recordings to Drive, and then add it to the slide.
This post will provide a detailed tutorial about recording the audio and adding it to the slide. You can also know various optional audio recorders and choose the most suitable one from them.
How to Record Audio on Google Slides on Windows 10 
How to record audio for Google Slides may be the first question you have in adding audio to Google Slides. Some powerful screen capture tools can help. In this part, we will take EaseUS RecExperts for Windows as an example and teach you how to record the audio.
This is an all-in-one screen and audio recorder for Windows users who want to capture what they need without much effort. If you want to record audio from Google Slides or any other sound on a computer, you can use it to obtain high-quality recordings. It offers many options for audio sources, including desktop audio, your own voice, or both of them.
If you need to record your voice with it, make sure the built-in microphone can work well, or you need to connect an external microphone to your PC.
Features:
Record computer audio and your voice easily
Customize the format of recordings freely
Edit the recordings with a built-in trimmer
Record screen and Webcam simultaneously
If you are finding a powerful third-party audio recorder for recording narrations to Google Slides, this is the one you can't miss. Click on the button to download it for free.
How to Record Voice on Google Slides with Third-party Tool:
Step 1. Launch EaseUS RecExperts, and you can choose one of the four main functions on the main screen. Here you need to click on "Audio".

Step 2. You can select the sound source by clicking on the bottom left button. It supports recording system sound, microphone voice, and both of them. The settings in "Options" helps you to adjust the volume.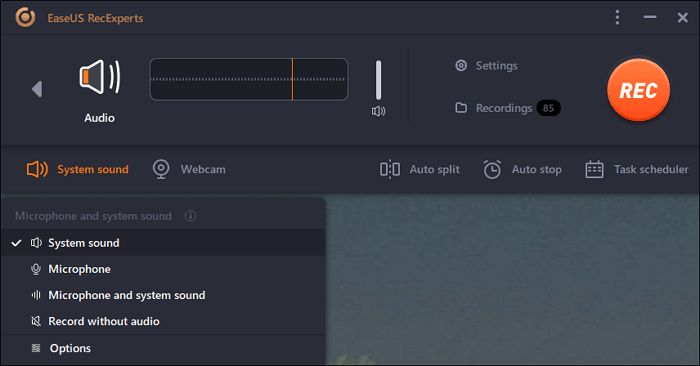 Step 3. Click on the "REC" button to start recording. When you want to finish recording, click on the red square icon to stop it.   

Step 4. An audio player will pop up automatically, and you can view the recorded audio or trim it with a built-in tool.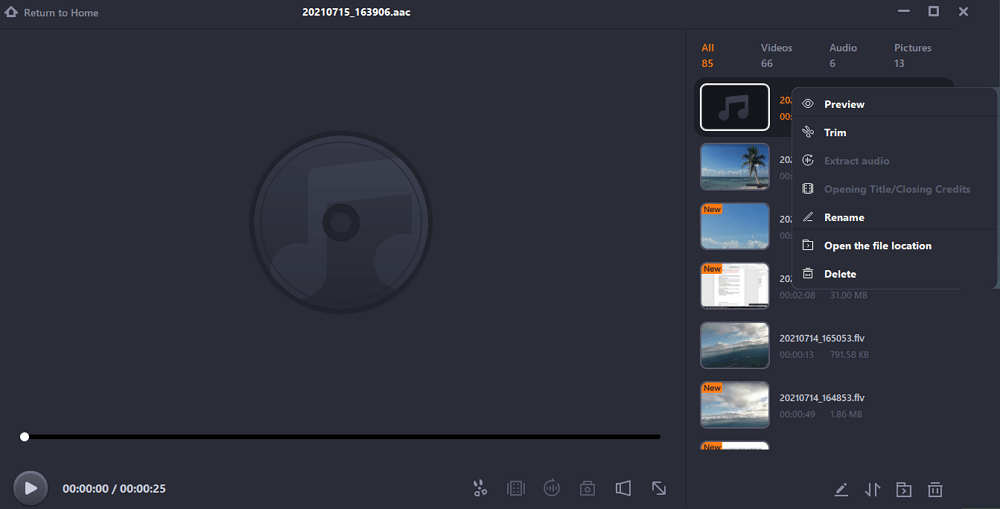 How to Record Voice on Google Slides on Mac 
In addition to the Windows version, EaseUS RecExpertsalso provides a Mac screen recorder you can use to record voice for Google slides. 
It's not easy to record system sound and your own voice on Mac simultaneously, but you can do that effortlessly with its help. You can choose from multiple audio sources with simple clicks and record audio on Mac with a built-in or external microphone.
In addition to recording audio, it's also useful if you need to record the Mac screen or Webcam. Sometimes you may want to capture the screen of your iOS devices, and you only need to mirror it to the Mac screen and use this tool to record.
Main Features:
Choose from multiple audio sources
Support task scheduler
This is a lightweight but powerful audio recorder on Mac. If its functions can meet your needs in recording audio and video, don't hesitate to download it by clicking the button below.

Recording your voice for Google Slides is straightforward if you know the detailed steps to do that. This post will teach you how to do that with a built-in recorder and a third-party tool.
How to Add Audio Recording to Google Slides 
Now that you have recorded your audio with one of the tools described above, you need to know how to add audio to Google Slides. Two things must be made sure for the recordings: 
First, the audio files must be in your Google Drive to be added to the slide. So, if you saved the audio file somewhere else, you will need to upload the files to your Drive.
Second, the audio files need to be shared so anyone with a link can play them. Make sure the preparation is done. Now you can follow the detailed tutorial of adding audio to Google Slides to do that.
How to Add Voice Over to Google Slides:
Step 1. Click "Insert" in the top menu bar in Google Slides.
Step 2. Choose "Audio" from the drop-down menu and browse for or search for the audio files saved in your Google Drive.
Step 3. Choose the file you want and then click "Select" to insert it into your slide. After the audio file has been added to your slide, you can edit it.
Step 4. Click on the "Audio file" icon to select it. Then click the "Format Options" button in the top toolbar. Finally, click "Audio playback" in the side panel that opens. Now, edit it as you like.
More Alternative Audio Recorders 
To record your voice, you may want to use other audio recorders that are helpful for you in adding narration to Google Slides. We give you three more options to choose from.
Recorder 1. Adobe Audition    
Adobe Audition provides a varied array of sound and voice recording features, and everything is packed in a visually pleasing user interface. Also, it offers a fast processing speed and also a variety of other useful features. Adobe Audition is packed with a variety of sound effects that you can customize to suit your needs.
If you don't want your real voice to be heard, you may modify the original voice with sound effects.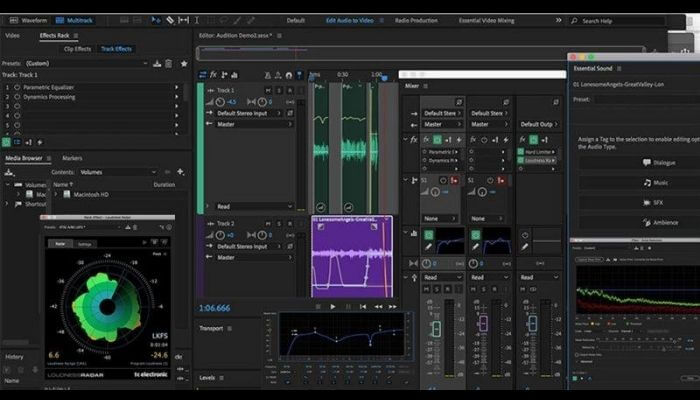 Key Features:
A wide range of tutorials online are available
Record audio and voice with just a few clicks
Real-time clip stretching for fast and efficient previews
Support adding plug-in
Recorder 2. Online Voice Recorder
Online Voice Recorder is a convenient and simple online tool that you can use right in your browser. It allows you to record your voice using a microphone and save it as an MP3 file.
Moreover, it automatically detects silent fragments at the beginning and the end of your recording and deletes them for your convenience. After the recording is complete, you can crop it to the section you actually need.

Key Features:
It is completely free
No hidden payments, activation fees, or charges for extra features
Everything recorded is accessible to the user only
Users can adjust the microphone settings before recording
Recorder 3. TwistedWave
TwistedWave is an online audio editor. You only need a web browser to access it, and you can use it to record or edit any audio file. This tool provides other features in addition to simple editing.
For instance, in the "Effects" menu, you will find tools to increase or decrease the volume, add fade in and out effect, add silence effect, reverse the audio, change the audio's pitch and speed, and do more.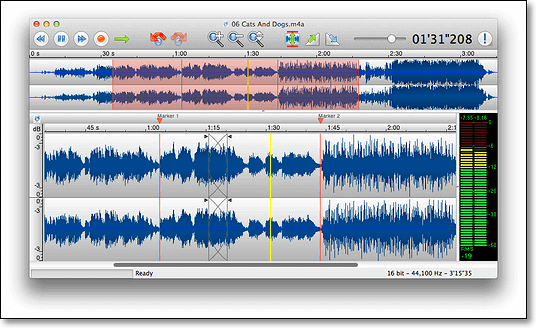 Key Features:
No need to download anything
Save your work automatically after closing the browser
Users can edit mono files up to 5 minutes in length
Allow users to record up to 5 minutes at a time
Conclusion
In this tutorial, we give you 5 audio recorders for you to choose from. Moreover, we give you detailed steps to record voice for Google Slide with EaseUS RecExperts and add the audio to your slides.
This recorder is full-featured yet lightweight. Also, it is quite simple to use. Therefore, it is suitable for Windows users who have no experience recording and editing an audio file. Click the button below to download and install it on your computer.
About the Author

Jane is an experienced editor for EaseUS focused on tech blog writing. Familiar with all kinds of video editing and screen recording software on the market, she specializes in composing posts about recording and editing videos. All the topics she chooses are aimed at providing more instructive information to users.