
Table of Contents

About the Author

Related Posts

Best Audio Recording Software
[2022] How to Record ESPN+ Streaming Video on PC/Mac
ESPN is a streaming subscription service, providing many shows like live sports, breaking news, schedules for events, information for players, etc. Sometimes, you may want to record your favorite video for later viewing. Here, you can follow this guide on learning how to record ESPN+ on Windows and Mac. The streaming video and audio can be captured with some recorders effectively. Also, you need to follow the relevant Terms of Use. 
ESPN+ Review or What is ESPN+
As a streaming subscription service for sports like NBA, etc., ESPN provides thousands of streaming events for people around the world. You can watch live sports like Golf, and the whole information for the schedule is shown as well. Meanwhile, it's remarkable to see the official World ranking from this platform. 
Also, this streaming service provides archive and local content. You can easily watch some premium videos on ESPN.com. When using this service, remember to choose the country to watch streaming video. 
How to Record ESPN+ on Windows PC
 Disclaim:

According to the copyright laws, copyright-protected content is against recording with DRM protection. When using EaseUS RecExperts, follow the streaming video recording guide to record protected videos (personal use only). You have the Duty to obey ESPN's Terms of Use and the Digital Millennium Copyright Act.
Record ESPN+ Streaming Video
When watching sports video on ESPN+, you must have the desire to save some precious moments. Why not use some beneficial screen recorders like EaseUS RecExperts? By recording it in MP4 or GIF format, you can share this file with family or friends easily. Also, it can capture audio only, which is helpful for recording news.  
Also, it provides you with schedule recording function to help achieve the capturing task in rush time. Besides being a screen recorder, it can also help take a screenshot for the whole screen or custom area. 
Key Features:
Allow you to record screen, audio, webcam, and gameplay
Functional in record streaming video or audio
Choose audio resources (system/external)
Capable of screen record Netflix with no time limit
Featured with a built-in trimmer for simple editing
Download this rich-featured screen recorder! No registration is needed. 
Before following these steps, don't forget to open the streaming platform and choose your favorite show. 
Step 1. Launch EaseUS RecExperts on your computer. The first option, "Full Screen", can help you capture everything on your screen. If you play the streaming video in full-screen mode, this is suitable for you.

Step 2. If you play the streaming video in a window, it would be better to select the "Region" option to record only the specific area.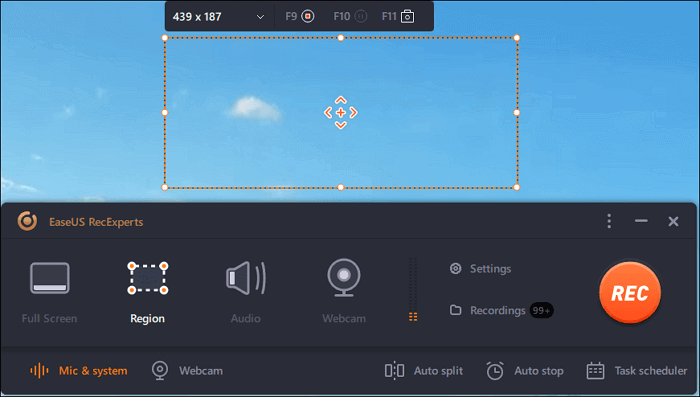 Step 3. Ensure that you are in "Region" mode. Then, click on the button in the bottom right-hand corner to select a suitable sound source and adjust the volume. After that, click on the "REC" button to start recording.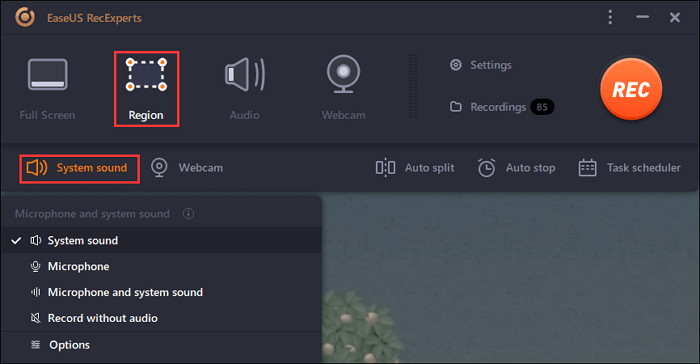 Step 4. There will be a floating toolbar on your screen when you are recording the video. The two buttons on it can help you pause or stop the recording.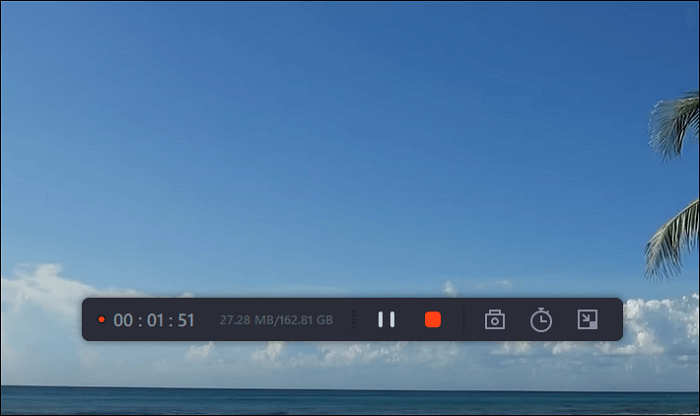 Step 5. If you click on the red stop button, the recording will be ended, and the captured video will be saved on your computer. When the built-in media player pops up, you can view the recording and use tools to trim it, extract audio from it, or add an opening and ending part.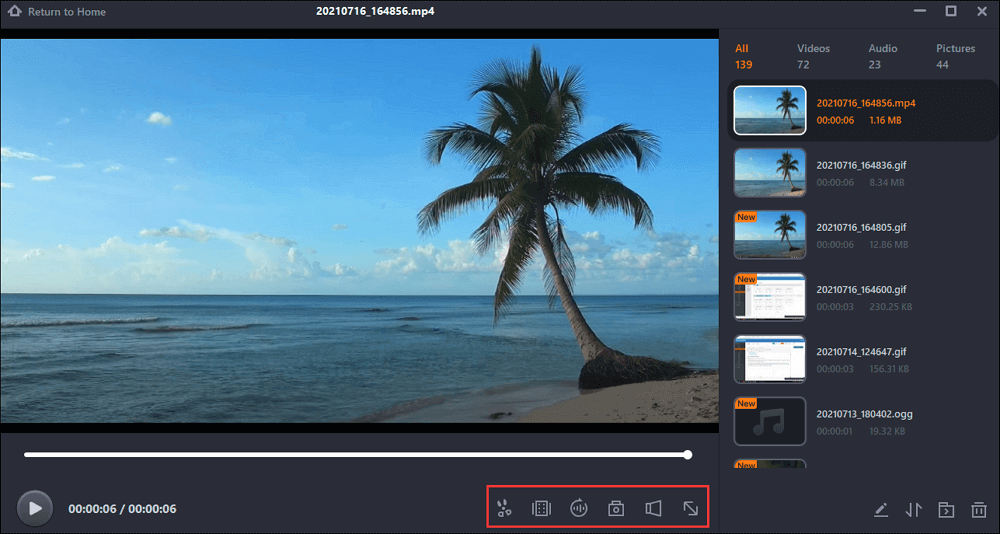 Capture ESPN+ Streaming Audio Only
Sometimes you may be attracted by streaming audio from ESPN +. If you only want to record audio, this screen recording software can be helpful. By choosing the Audio button, you can capture the app sound in different formats, such as MP3, AAC, WAV, OGG, WMA, etc. 
Follow this guide to learn detailed steps for recording audio with this streaming audio recorder.

How to Record Streaming Audio?
The streaming audio can be easily captured with some audio recorders. When choosing the audio resources, you can record system or external audio at the same time or separately.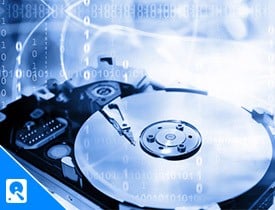 How to Record ESPN+ on Mac
For Mac users, you can also record ESPN streaming video and audio using EaseUS RecExperts. You can select the full screen or custom area when recording. Also, an external camera can be added for showing your face.
Besides that, this Mac screen recorder can adjust the output format for videos like MP4, MOV, FLV, and MKV. The quality and frame rate for video can also be changed. For audio, the bitrate and sampling rate can be adjusted. 
Screen Record ESPN + Streaming Video on Mac:
Step 1. Open the streaming video that you want to capture. Then launch EaseUS RecExperts to get used to its interface on your Mac. If you want to record the whole screen, you can click the "Full Screen" option. If you want to customize the recording area, hit "Region". Then, select the recording area with your mouse. 
At the same time, to capture the screen with audio, you just hit the Sound icon in the lower left corner.

Step 2. Click "Settings" to apply more options, including changing the output format of the video, the quality, etc.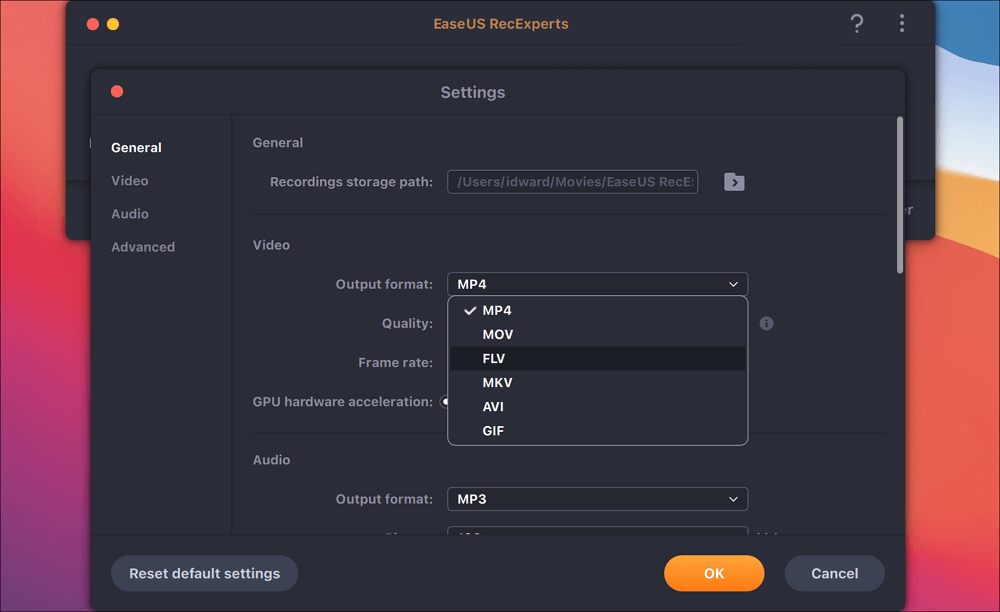 Step 3. Once you are satisfied with the settings, go back to the main screen and click the Sound icon. Then, enable the system or microphone sound if you want to record audio and screen at the same time. Click "OK" to ensure the audio options. After that, hit "REC" to start recording.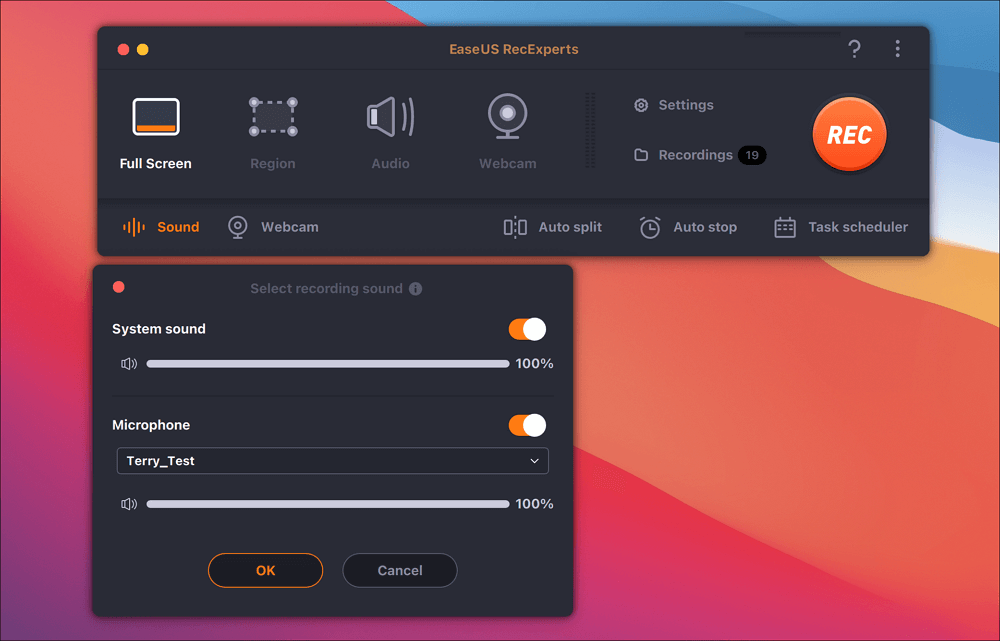 Step 4. Hit the Stop icon when you want to end the recording task. Then, watch the recorded video in "Recordings". The button can be found in the main interface. You can review the target saving from the lists.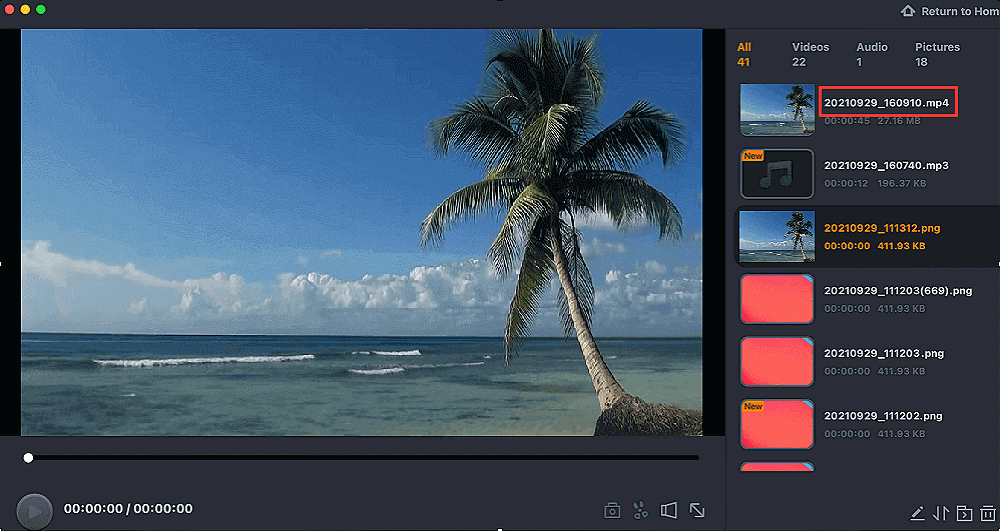 Conclusion
Hope that this post is helpful to you in terms of recording streaming video. Recorders like EaseUS RecExperts can help capture screen, audio, webcam, and gameplay. You can adjust the video and audio settings and don't forget to follow the Terms of Use and relevant copyright laws in your country. 
FAQs About How to Record ESPN+
Some issues are gathered from the public and you can grab some useful tips. 
1. Can you record on ESPN+?
Yes, you can record ESPN +. Some streaming video recorders like EaseUS RecExperts can achieve this task. However, you have to notice that streaming videos from ESPN.com are copyrighted. The behaviors for redistributing these videos in some areas like the USA can be regarded as a violation of related laws. 
The recorders mentioned here are not affiliated with this streaming service. So make sure to follow its Terms of Use and regulations. Also, the guide provided here is for personal use only such as adjusting for compatibility. 
2. Can you record a live stream?
Of course, you can. You can ensure the quality of live stream video by applying the best settings for streaming. Some recorders will give you chance to adjust the bitrate, etc. 
About the Author

Crystal Chen is very interested in technology products. She experiences many technological utilities and focuses on writing in this area. Meanwhile, Crystal aims to solve users' problems through sharing experiences.