How to Record Streaming Audio on Mac/Windows/iPhone

Jane Zhou updated on Apr 01, 2021 to Screen Recording Utility | How-to Articles
If you love music streaming on the internet, you may want to record it for future playback whenever you want, even offline. With a competent streaming audio recorder, you can record hundreds of songs on the internet and build up your collection of favorite digital music.
This post will show you the detailed steps to record streaming audio on MacBook, Windows PC, and mobile devices, including iPhone and Android phones. Follow the tutorial to capture what you need now.
Related Article: Top 12 Streaming Video Recorder 
How to Record Streaming Audio on Mac 
If you want to record audio from Mac, a few simple clicks are enough. In this part, we will introduce the best free streaming audio recorder on Mac and offer you the guides to use this software.
To capture streaming audio on Mac, you can use Apple's QuickTime Player, which is available on every MacBook. Yes, it's is not merely a video player. You can record a video through the FaceTime camera, record the screen, and most notably, record internet audio.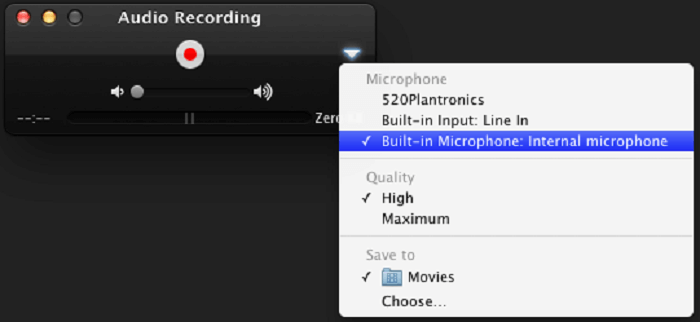 How to Record Streaming Audio Macbook:
Step 1. Launch QuickTime Player (you can hit "Command "+ "Space" and then type QuickTime to find the app) on your Mac. 
Step 2. Click the "File" button and select "New Audio Recording".
Step 3. There is a drop-down menu behind the red "REC" button, and you can select the devices to record audio.
Step 4. Back to the webpage playing the song you like and tap the "REC" button to start recording. Don't forget to click the stop button when you're done recording the audio.
As a default application, QuickTime Player can only meet your needs on a basic level. If you want more advanced functions, such as changing the target format of recordings, some other streaming audio recorders are available. 
This is a lightweight recorder for all Mac users. Its elegant interface makes it extremely easy for everyone to use this wonderful audio recording software, even you never try to capture anything on your MacBook.
When it comes to recording streaming audio on Mac, this recorder enables you to choose the audio sources freely. That means you can record the system sound and microphone audio separately or simultaneously. If you need to record streaming audio playing on your Mac, you can choose the internal sound as the audio source.
Main Features:
In addition to that, you can use the task scheduler to start the recording whenever you like. With its help, you will never miss a prearranged online meeting or class. Click the button below to download it, and this recorder will be useful in various scenes.
Steps to Record Streaming Audio Macintosh:
Step 1. Install and launch EaseUS RecExperts and click on "Audio" on the main screen.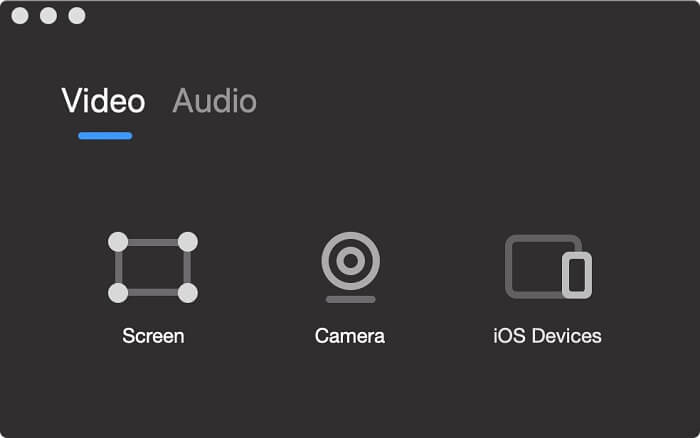 Step 2. Click the microphone icon to choose the audio sources that you want to capture. Here you can select the "System Sound" option to record your Mac's audio.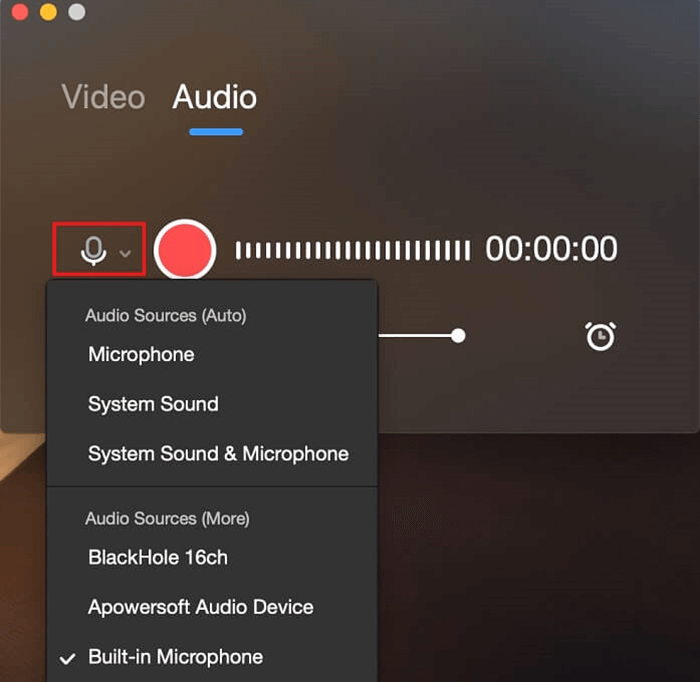 You can also create a schedule recording task to set the recording time and length by clicking the clock icon in the bottom right corner.
Step 3. When you get ready, you can hit the big red button to start your audio recording. Once done, the audio recording will be saved on your Mac computer automatically.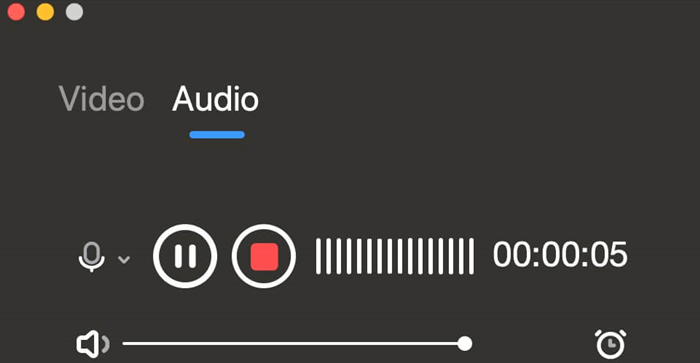 Audacity is an easy-to-use, multi-track audio editor and recorder for Mac users. This streaming audio recorder can record live audio through a microphone or mixer or digitize recordings from other media. What's more, it offers some editing tools, so you can easily edit your recorded file by trimming, cutting, etc., after recording.
If you want to know how to record internal audio on mac without Soundflower, you can use Audacity as the alternative. Now, you will see how does Audacity record streaming audio on Mac in detail.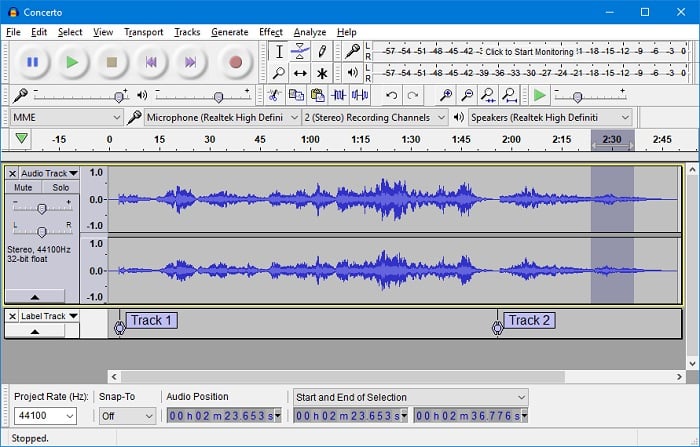 How to Record Streaming Audio with Audacity on Mac:
Step 1. Prepare a headphone wire with a 3.5 mm plug on each end, and connect the headphone output port to the line input port.
Step 2. Open your System Preference, then select Sound > Output > Line out. Click on the Input button to choose the Line Input.
Step 3. Launch Audacity to select Built-in Input as the recording devices. Then click on the Transport menu to make sure Software Playthrough is not checked.
Step 4. Once done, you can create a new track and start to record the streaming music flexibly on your Mac computer.
How to Capture Streaming Audio on Windows 10/8/7 
There are a lot of streaming audio recorders for Windows 10 users out there. We have tested a lot of programs, and here we'd like to share with you two great streaming music capturing software.  
This is an excellent tool that can meet nearly all of your recording needs. It is a professional but user-friendly audio recording program that can record computer audio, microphone, or both.
Anything you stream from the online passes through the system to the speakers, and that's when this program can capture the sound at its finest audio quality. 
Outstanding Features:
Capture streaming audio in high quality
Support several output formats, including AAC, MP3, WAV, etc.
Support schedule recording to start recording at a specific time
Remove background noise and enhance your audio
You can capture streaming music easily with this rich-featured sound recording tool. To get it done, you can download this powerful audio recorder first.
Tutorial of Recording Streaming Audio on Windows:
Step 1. Launch the software and select the Record Audio option. 
Step 2. The default selection of source for audio recording is the System and Mic option. Click on it, and switch to System sound. Unless you are planning to Karaoke, you don't need the Microphone.

Step 3. Click on the big red Rec button to start recording. The default mode gives you 3 seconds if the audio is on pause, and you want to start playing it.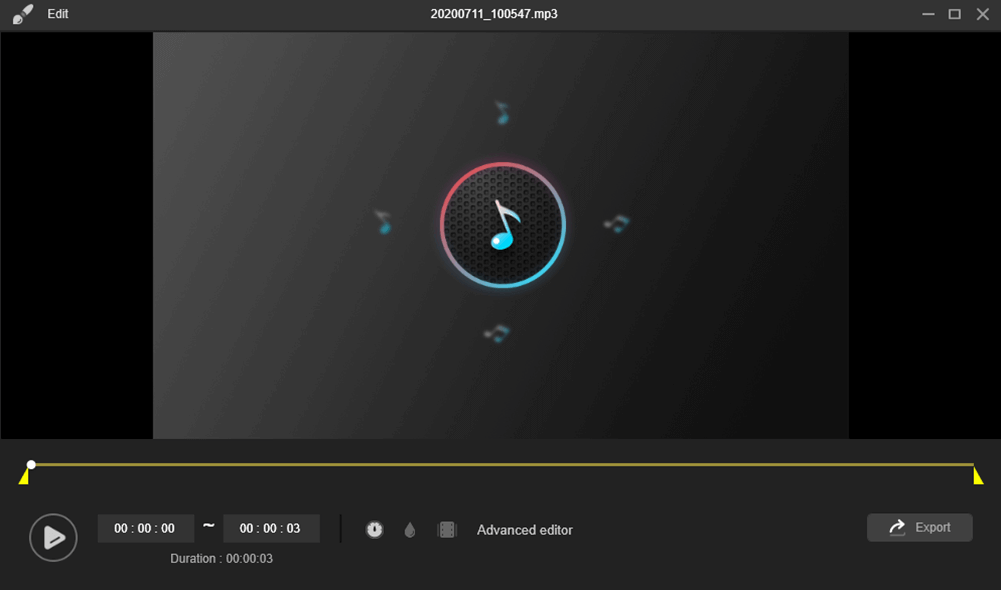 Step 4. When you are sure that's what you needed to record, click on the stop button to complete the recording. The recorded audio is available on the video list.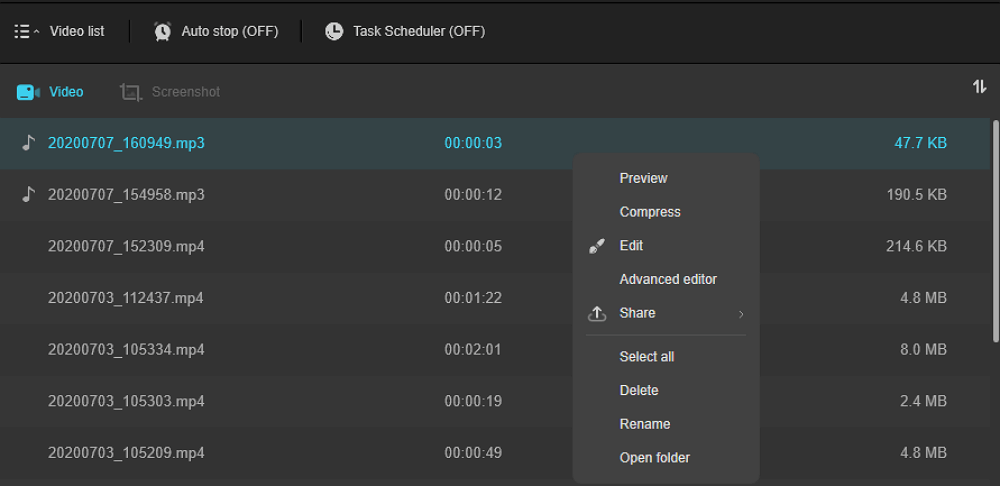 You may also like: How to Record Streaming Video with Ease
VLC Media Player is a versatile program, which allows you to play media files and convert file formats. Apart from that, it has another amazing feature - recording audio and screen.
If you want to capture streaming music, you can get the work done with VLC Media Player by following the tutorials.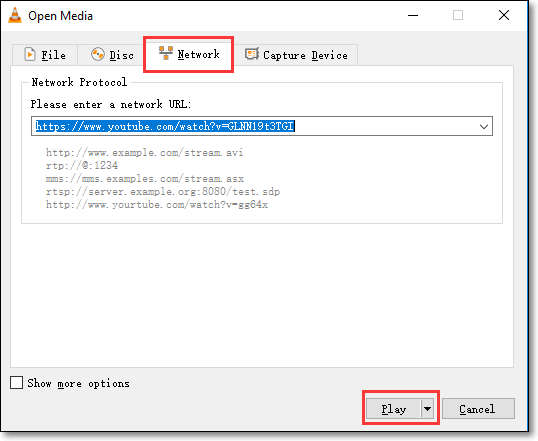 How to Recording Streaming Audio with VLC Media Player:
Step 1. Launch VLC and click Media > Open Network Stream... to open online streaming audio that you are going to record. In the following dialog box, paste the streaming music URL.
Step 2. Click the arrow next to the Play button to bring up the streaming option, and select Stream and Next option.
Step 3. In the following window, choose File followed by Add. Then you can choose a location to save your recorded streaming audio file by clicking Browse.
Step 4. After that, in the Stream Output window, uncheck the check box of Active Transcoding and click Next. Once done, click on the Stream button to begin capturing streaming music. 
How to Record Streaming Audio on iPhone/Android 
You might encounter a situation when you like to record audio or much on your iPhone or Android devices. To do the job, there are several streaming audio recorders out there for both iPhone and Android.
There's no need for you to go through the hassle of determining which one is ideal for you. Instead, you can simply consider below to record streaming audio on iPhone or Android. 
1. Voice Memo [iPhone]
Well, iPhone users can take advantage of their in-built Voice Memo app to record streaming audio on their devices. It's free and easy to use. The app even lets you edit the recording. And if you want advanced features, then you can get the recorder app from the App Store.
The following is the tutorial on recording audio on iPhone using this app, have a try!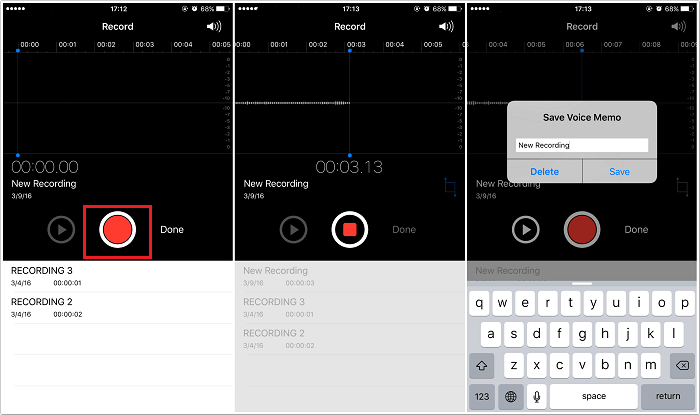 How to Rip Streaming Audio on iPhone:
Step 1. Open the Voice Memo app.
Step 2. Just click the red button to start recording. Click it again to stop it. 
Step 3. You can click the three-dot icon for editing. 
2. Smart Recorder [Android]
Smart Recorder is a free decent streaming audio recorder for Android. It has been specially designed for long-time and high-quality recording with a simple and clean user interface.
Additional features include changing the audio quality and specify the folder where you like to save your recorded audios. Moreover, it even allows you to turn off or on the skip silence features that would eradicate the silent parts. Indeed, it is very easy to use. 
How to Capture Streaming Audio Android:
Step 1. Get the app on your phone and open it. 
Step 2. Just, click the "Red" button and it will begin recording. 
Step 3. When you're done, you can stop the recording. Plus, you can pause it also and then resume when ready. 
Try:  https://play.google.com/store/apps/details?id=com.andrwq.recorder&hl=en_IN
How to Record Audio from a Website Online 
To record streaming or online audio online for free, you can count on Online Voice Recorder. It is a simple and easy online tool that you can use right in your browser.
It allows you to record online audio using a microphone and save the recording file as an MP3 file. Plus, the tool even allows you to crop your recording file to the section you need. 

How to Rip Streaming Audio Online:
Step 1. Go to Online Voice Recorder. 
Step 2. Just tap the "Red" button to record the background online audio. 
Step 3. When you're sure that's what you need, you can stop the recording and hit "Save". 
Try:  https://online-voice-recorder.com/
Conclusion
As you can see that recording streaming audio or music is not troublesome when you get the right tools to do the job. Whether it's on Windows, Mac, or Android/iPhone, you can record streaming audio with ease.
Indeed, tools like EaseUS RecExperts have made a job much easier and quicker and, on top of all, offer much more than just recording streaming audio. 
FAQs About Recording Streaming Audio
1. How do I record live streaming audio?
You can follow those steps to record audio from Mac or Windows.
Step 1. Download EaseUS RecExperts and choose the "Record Audio" option.
Step 2. Choose the "Record system" button as the recording source. Then play the streaming music you want to record and click "REC" to begin the recording.
Step 3. Once done, the recorded file can be available on the video list.
2. Which is the best streaming audio recorder?
There are a lot of streaming audio recorders on the market.
EaseUS RecExperts
Audacity
VLC Media Player
QuickTime Player
OBS Studio
...
3. How to record audio from computer Mac?
There are many ways to record streaming music on your Mac. For the detailed tutorials, you can move to Part1 to get more information.
4. Can Audacity record streaming audio?
Yes, it can. Audacity comes with recording streaming audio capability. You can get the detailed guide in Part2.