
Table of Contents

About the Author

Related Posts
How to Record a Ringtone on iPhone Effortlessly
Apple offers built-in ways to use music from iTunes as ringtones, but the biggest problem with those ringtones is that they are too common. However, you cannot directly select a file and then set it as a ringtone. Furthermore, it's hard to select a part of the audio as the ringtone and remove what is not required. So, what you can do is record your own ringtone in your iPhone, edit it properly, and make it stand out.
This post is for those who want to know how to record a ringtone on iPhone. Keep reading it if it's useful for you.
How to Record a Ringtone on iPhone with Voice Memo 
Voice Memo is a built-in app for iOS devices, including the iPhone. It is used to record anything on the go, and you can use it to record and create a ringtone. It would be better to make sure that there is no disturbing noise when recording the audio.
Step 1. Launch the Voice Memos app, and then tap the Record button (red button) to start recording.
Step 2. Once done, tap on the button again, and stop recording. Don't forget to name it.
Step 3. Next, tap on the recorded voice memo and then click on the Share button. Select the Email option and send the voice memo as an attachment.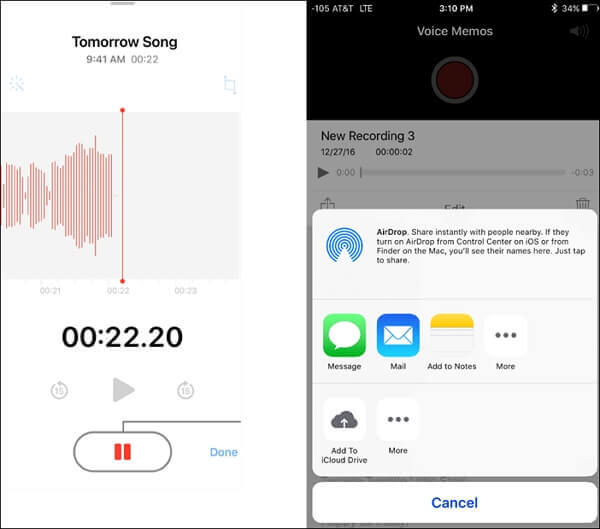 Step 4. Download the file on the computer and convert the file from M4A to MRA. Then double click to launch it with iTunes, and the file will be stored in the Tones section.
Step 5. Connect iPhone with iTunes and sync the file with your phone. You may have to drag and drop into the phone for the sync to happen.
Step 6. Disconnect the phone from the computer or MacBook, and then go to "Settings" > "Sounds" > "Ringtones". Select the voice note you imported, and then set it as the default ringtone.
How to Record a Ringtone for iPhone Using Mac
There are many advantages of recording a ringtone with a MacBook. For instance, you can stream whatever you like and capture it with a powerful audio recorder, and you get the output file of excellent quality thanks to the great hardware and software.
EaseUS RecExperts is a powerful but lightweight Mac screen recorder, which offers a screen mirroring feature that allows you to capture the iOS screen on your MacBook. Apart from mirroring, EaseUS RecExperts is also good at recording anything on the screen, recording using a webcam, and recording both the internal audio of your device as well as your voice from the microphone.
All this makes it a versatile tool to create any type of work with ease, such as recording tutorials, making videos to help someone understand a concept, making voice notes, or recording a podcast. And you can record any part of the song you like with this software and set it as your iPhone ringtone effortlessly.
Key Features:
A step-by-step tutorial will walk you through the way to capture the streaming audio on your MacBook. You can now download this software and follow the tutorial to capture what you need.
Steps to Make Ringtone for iPhone Using MacBook:
Step 1. Launch this Mac screen recorder, then click the "Audio" button on the main interface.

Step 2. Next, select the audio source by clicking "Sound" on the lower left. Here you can choose to record system sound, microphone, or both simultaneously, and even adjust the volume. Once done, click on the "OK" option.
Step 3. When you are ready, hit the "REC" button to start the audio recording.

Step 4. Once done, you can preview the recorded music files by clicking "Recordings" on the homepage. If needed, you can trim unwanted parts by clicking the Scissor icon at the bottom.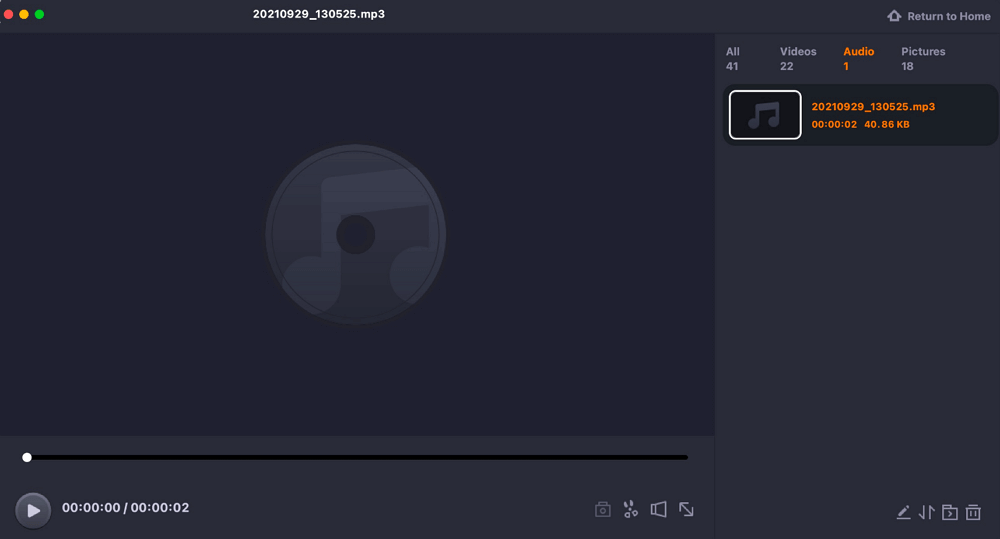 After that, you can convert the audio from M4A to MRA and then sync it to the iPhone using iTunes. There you can then choose the file and set it as your ringtone.
>> Click and check the detailed steps to set the ringtone.
Alternative Ringtone Recorder on iPhone
Various sound effects make your ringtone unique and distinctive. Although EaseUS RecExperts for Mac can help you record audio of high-class quality, it would be better for you to choose other apps to add the sound effects, such as the following ones.
Garage Band App
Garage Band is a free application for iPhone users, and it's built for those who need to connect external music instruments, but you can use it to record a ringtone. Garage Band offers an audio recorder that comes with a microphone button that allows you to record the ringtone. Once done, you can export and share the audio within the app and set it as the ringtone.
Garage Band is for professional users who would like to create their own ringtone using an instrument, including the keyboard or a guitar.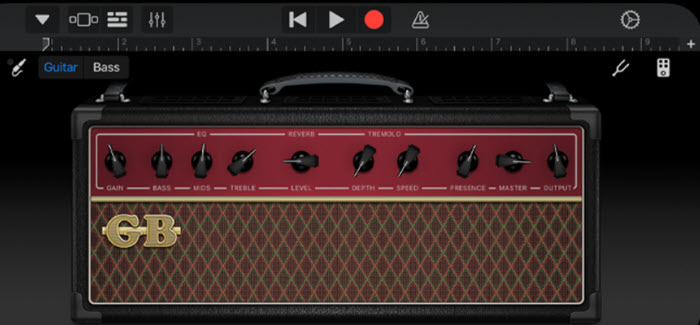 Pros:
No need to use a computer to record or set a ringtone
You can use an instrument to record audio
Audio quality is better than using a Voice Memo
Cons:
Steps are complicated
You cannot change the tempo of the audio recorded
No way to edit the file before setting it as a ringtone
Ringtone HD Maker
If you need an app that allows you to download ringtones from various categories and record anything, this app is perfect for you. The app also supports connecting with third-party storage services.
Once you launch the app, you can choose one from the categories or use the record button to record any music from the speakers or use your own voice. The best part is that it can import music from Apple Music, which you can further edit the audio, and set it as a ringtone.
Pros:
Import music from Dropbox, Apple Music, Drive, and Dropbox
Add sound effects to sounds
No need to use a computer to set a ringtone
Cons:
Many features are locked under subscription
It is costly to get a ringtone
Ringtones Maker - the ring app
It's a completely free ringtone maker for iPhone, which offers an exhaustive library of free audio that can be set as a ringtone. This application not only offers direct ringtone files but can also stitch multiple audio files into one ringtone. You can also share the ringtone with your friends.
Using the app is easy, and all that you need to do is open the ringtone catalog, preview the ringtone, and then set it as a ringtone. You can also choose to edit or send it to apps like Garage Band for further enhancements before setting it as a ringtone.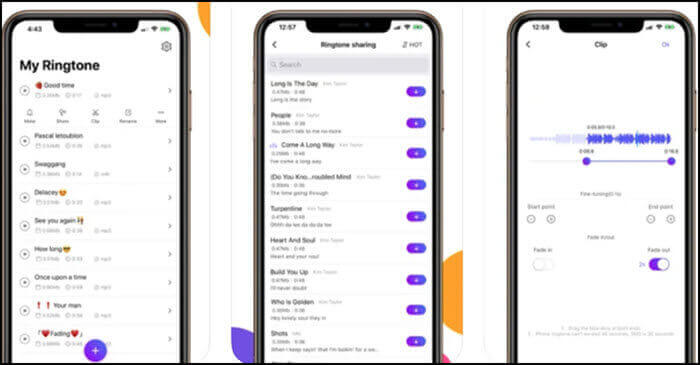 Pros:
Import audio from other apps
Upload MP3 file using the web interface
Support fade-in and fade-out effect
Cons:
Cannot convert audio files from Apple Music
Not all ringtones can be shared with friends
Conclusion
This post includes a lot of content related to making and setting a ringtone for the iPhone. Whether you want to record your own ringtone using the built-in application or a third-party tool, you will know the correct steps to do that in this post. This post even provides you with some optional applications to add sound effects to the recorded audio, and they will help you make your ringtone special.
FAQs About How to Record a Ringtone on iPhone
Here are the facts you should know about setting customized ringtones for iPhone.
1. Can you record your own ringtone on your iPhone?
Yes. It would help if you used the Voice Memo or Garage Band app to record ringtones on the iPhone.
2. Can you use a recording as a ringtone on iPhone?
You can use the voice memo app to record custom ringtones.
Step 1. Record any audio with a voice memo, and then email it to yourself.
Step 2. Rename the file from M4A to MRA and copy it to the iPhone using iTunes.
Step 3. Lastly, Go to "Settings" > "Sounds" > "Ringtones". Select the voice note as a ringtone.
3. How do I use a song on my iPhone as a ringtone?
You can rename any song into MRA format and then copy it to the iPhone. Once done, it can be set as a ringtone.
About the Author

With the interest in English writing and computer technology, Vanessa chose to be an editor in EaseUS. She is professional in video and audio topics, including video & audio editing, converting, and recording. Vanessa will keep writing to help people solve problems.