The Best 3 Ways to Record Audio on PC

Vanessa Chiang updated on Dec 22, 2020 to Screen Recording Utility | How-to Articles
"How can I record sound from my computer?"
Many people ask me this question recently. But, generally speaking, record audio on PC is very simple to operate. If you want to solve this problem, here have two methods to deal with, the one is to use Windows 10 built-in tool to record, and another method is with the helping of third-party software.
At first, I will introduce to you how to record audio on Windows 10.
Record Audio on PC in Windows With Built-in Tool
Video Recorder is a pre-installed tool on Windows 10. Suppose you are a Windows user that you can free to use this tool to record on your audio. While this built-in tool does not need to download or install any software on the computer, the Video Recorder just supports recording audio, can not record video or edit recording audio.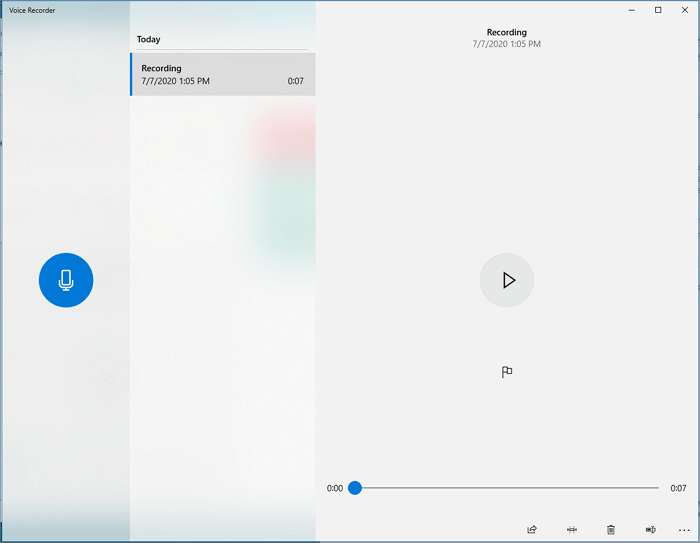 Key Features:
Support recording audio
Support Windows user free to use
No need to download software on your computer
That steps of recording audio using Windows built-in tool - Video Recorder:
Step 1. Open the Windows, and search the Video Recorder, click it and open this tool. The microphone is enabled by default.
If it's not turned on, you can tab search button to search "Setting" > "Microphone privacy settings" > "Voice Recorder" to turn it on.

Step 2. And then, click the "Record" button on the left of the main screen, or use the shortcut key "Ctrl + R" to start recording audio.
Step 3. when you finish recording, you just click the "Stop" button and then click the "Rename" to edit the audio name, in the end, to save on your computer.

And you also can share your audio recording file for Mail.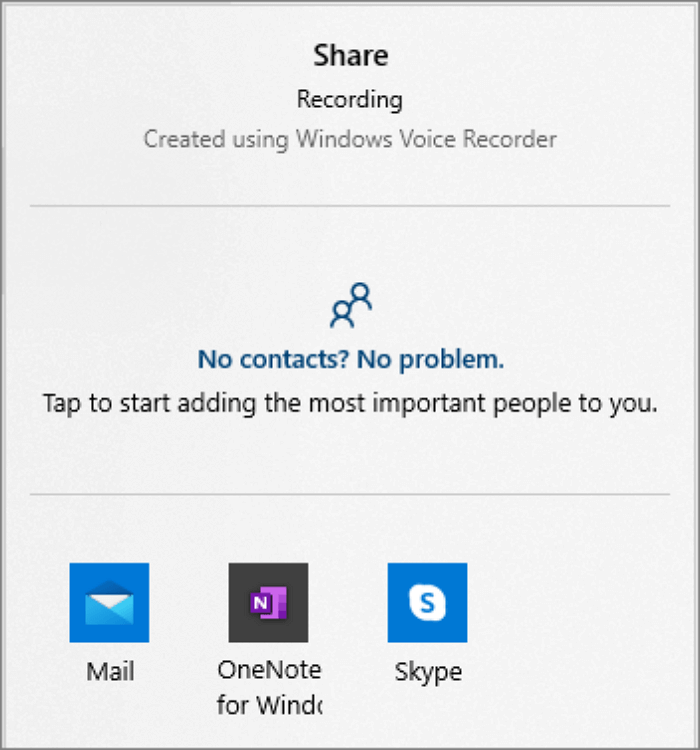 Best Audio Record on Windows With Video Recording Software
In this part, I will introduce the best two third-part tools to help you record audio. Although the Video Recorder is convenience to use, it just supports record audio. If you want to record video with audio, this software may help you a lot. So, for this reason, I will show you two multifunctions video/audio recorder programs to fit your needs.
EaseUS RecExperts is one of the most popular screen recording software for this year. Before this software publishes, this software has attracted the numbers of people's attention. Except for the audio record, this software also supports recording video and audio simultaneously, recording Webcam, recording game mode, and other more functions. Especial the advanced editing function, using this function, you can change the recording video's speed, add video subtitle, and add video intro and video outro. This program also has plenty of special functions waiting for you to discover. Don't you want to download and try it?
Key Features:
Record video and audio simultaneously
Flexible capture any area of your screen
Support recording system sounds and narrator voice with the microphone
Support saving as multiple formats
How to record audio using EaseUS RecExperts:
The audio record steps are so easy, and you just need three steps that you can get your own audio record file. Here are the steps:
Step 1. Launch EaseUS RecExperts, you can choose one of the four main functions on the main screen. Here you need to click "Record Audio".

Step 2. In the "System sound" setting, you can select the audio type you need to record, such as System sound, Microphone, System sound and microphone, and Record without audio. And then click the "REC" button to start recording.

Step 3. When you finish recording, you will see your audio recording file in the video list, and then select the file and right-click it that you can compress, edit, share, and rename your audio file.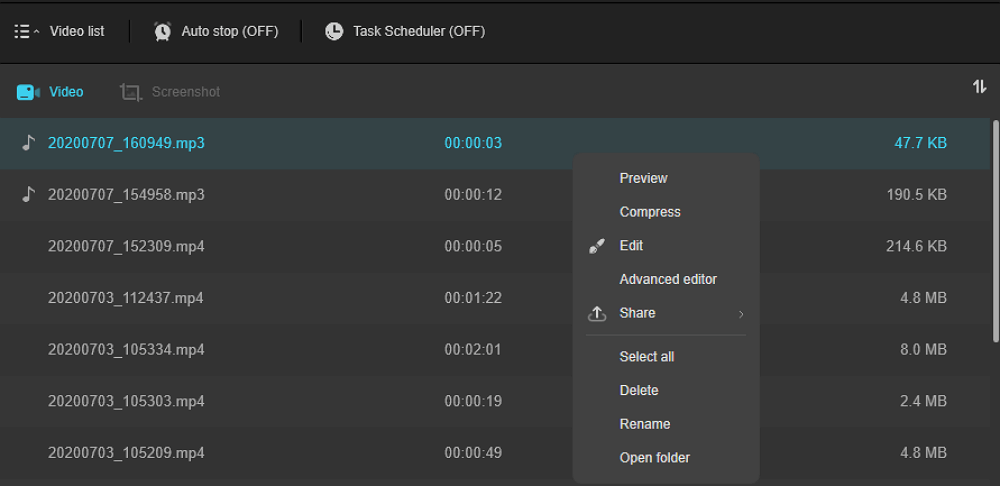 You also can click the "Open folder" button to find this audio file on your computer.
 Tip

When you finish recording audio, if you want to advance edit your audio file, I suggest you another powerful software - EaseUS Video Editor. This software can help you merge the audio parts into one and delete the parts you don't need. And you also can add background music to your audio recording file.
Icecream Screen Recorder is another screen recorder. This software is easy to use, whether you just open this software that you can know how to use. And when you download it and you even do not need to create an account that you can free to use.
Besides, Icecream Screen Recorder also supports recording video and audio, game capture, and screenshot. But, this program limit 5 min free-use time, and you can not convert the output file format, and the output files also have default watermark. If you want to get more services and remove the default watermark, you need to pay for it. The price of this software is $29.95 that you can use in a lifetime.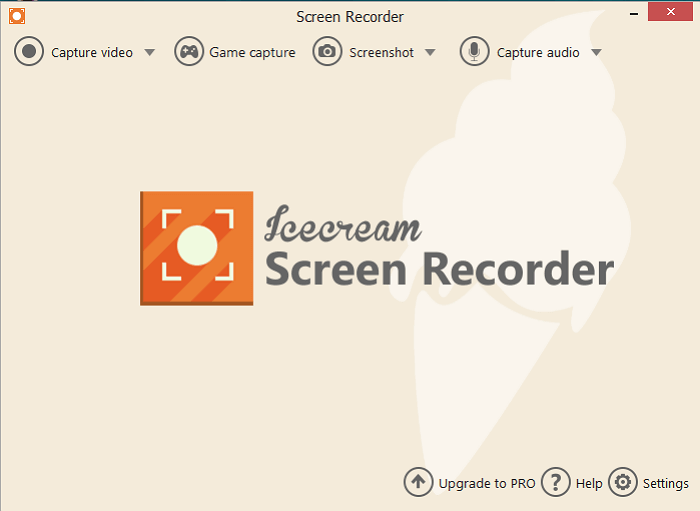 Key Features:
Support recording your microphone and system audio
Support recording your full screen or select the recording area
Support adding your own watermark to the recording screen
Support directly sharing the recording files to YouTube, Dropbox, and Google Drive
The steps of recording audio using Icecream Screen Recorder:
Step 1. Open this software and click the "Capture audio" button to select which bitrate you need, such as High bitrate, Medium bitrate, and Low bitrate.
Step 2. Click the "Rec" to start recording audio. Before you record, you can adjust the volume of the audio volume microphone on the left of the main screen.

And you also can set the recording duration.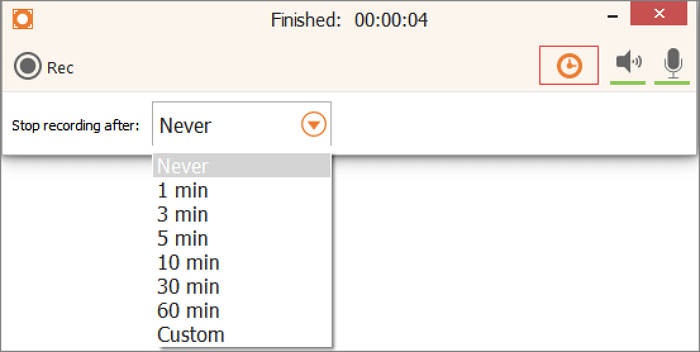 Step 3. When you finish the operation, click stop to end the recording, and then you can rename the file and click "OK" to apply and save it on your computer.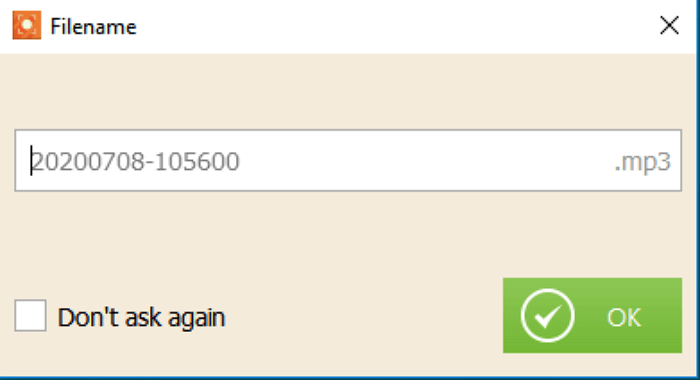 Conclusion
To sum up, on this page we are talking about the three best ways to record audio on PC. Although the tool - Video Recorder in Windows is very convenient to use, the other two software also have their advantages.
For these two third-part tools, considering the price, functions, and practicability, here I still suggest you choose EaseUS RecExperts. This software not only supports plenty of recording functions, but also support to edit your recording files. For editing functions, here comes another powerful software - EaseUS Video Editor, this video editing software also can help you a lot. When you finish recording your video or audio, you can directly use the "Advanced editor" function to jump on EaseUS Video Editor to edit your files, and then directly share the files on YouTube, Facebook, and other platforms.
About the EaseUS Video Editor You May Want to Know: