
Table of Contents

About the Author

Related Posts
Top 12 Best Screen Recorder Windows 10 | Updated 2021
Screen recording is normal for many people who need to capture game videos, online courses, software/product demonstrating, or marketing videos, etc., on computers. If you are one of them and looking for a reliable Windows 10 screen recorder to take a screen capture or make a high-definition video on your PC, you just have come to the right place.
This post covers the top12 best screen recorder Windows 10, and you can pick up the most suitable one to create a screen recording video on your own now.
#1. OBS Studio
OS requirements: Windows 10/8.1/8, macOS 10.12+, and Linux
OBS Studio is a professional, free Windows 10 video recording software for users to take real-time video capturing. It allows users to capture the entire display screen, webcam, and also microphone.
Besides screen capturing, OBS Studio supports audio capturing and mixing. It also helps you rearrange the layout as you like or pop out each Dock to its window.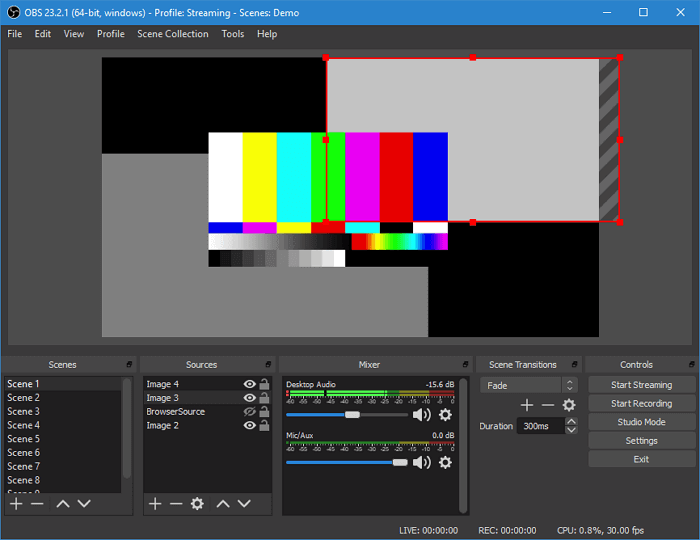 Pros:
Completely free and open source
Support recording full screen, windows, region, webcam, microphone, etc.
Provide stream to Twitch, YouTube, Facebook, etc.
Support to customize the layout like scenes, sources, Mixer, etc.
No watermark on your recordings
Cons:
A little difficult for the novices
Best for: Artists or amateurs who need to record screen video or record and process audio sounds.
#2. EaseUS RecExperts for Windows 
OS requirements: Windows 10/8/7
EaseUS RecExperts for Windows is an easy-to-use free video recording software for users to apply and record any area of their screen on a Windows computer. With this Windows 10 screen recording software, you can record apps and games, video tutorials, webinars, live streams, Skype calls, etc. Besides, it also supports users to capture screens along with audio and webcam.
EaseUS RecExperts
Support full screen, region, webcam, microphone, computer sound recording
Offer scheduled recording
Select output format freely
Record videos in 1080P or 4K
Provide a basic trimming tool after recording
Best for: Beginners who need to create a simple screenshot or short videos at home.
#3. Windows 10 Xbox Game Bar
OS requirements: Windows 10
Xbox Game Bar is a pre-installed screen recorder on Windows 10 that allows you to capture game clips and screenshots. It is designed to record most PC games, enabling users to instantly access widgets for screen and sharing, finding teammates with LFG, chatting with friends across Xbox console, mobile, and PC without leaving your game.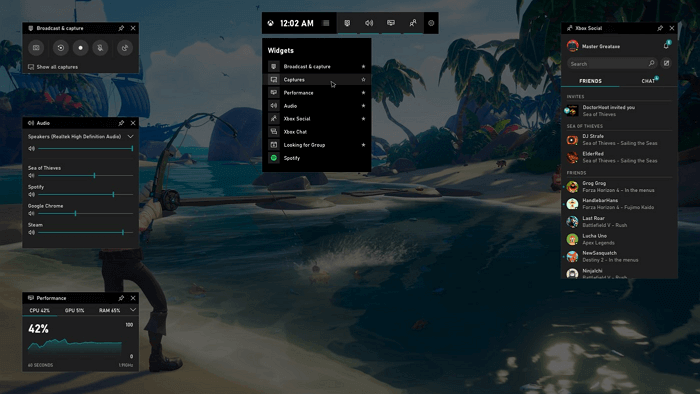 Pros:
Convenient to use, don't need to install any software
Support trimming video after recording
Cons:
No full-screen recording
Can't specify the recording resolution
Best for: Xbox or PC game players to take game captures or short game videos.
#4. TinyTake
OS requirements: Windows 10/8.1/8/7, Mac OS X 10.13 & above
TinyTake is a free screen capture & video recording software for Windows 10 users. It enables users to take images and videos of the computer screen, add comments, and share with friends with ease. This free Windows 10 screen capture also supports cloud storage to save your screen captures and recorded videos to a cloud-based gallery.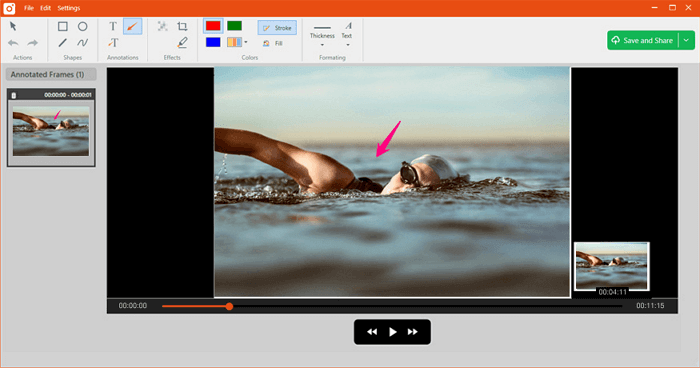 Pros:
Specify the resolution of screen recording
Add text on screenshots and videos
Support online sharing via email, link, and view a full history
Capture region, window, full screen, and capture image, video from the webcam
Store screenshots and videos in the cloud
Cons:
5-minute for video recording
Support to save video as MP4 only
Best for: Beginners who need to take screenshots, capturing videos on windows screen, and adding notes to recorded videos and videos.
#5. ShareX
OS requirements: Windows 10/8.1/7
ShareX is an open-source tool with over 12 years of experience in providing screen recording services. It is a screen recorder for Windows 10 users to create screen captures via a fullscreen, active window, region modes, support screen recording, scrolling capture, text capture, etc. After recording a screen or capture window, it enables you to share files via URL or Cloud storage.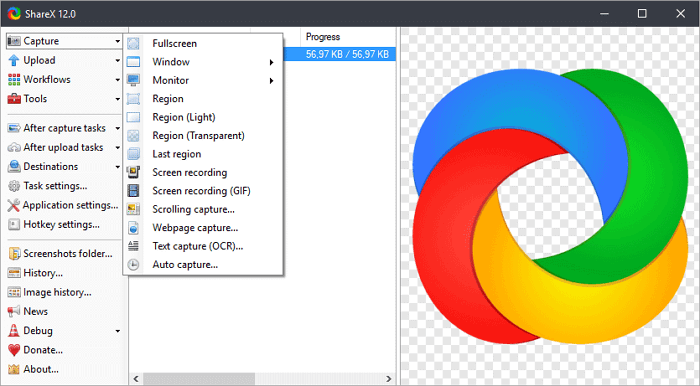 Pros:
Record the full screen, window, monitor, region, or scrolling
Enable hotkeys to make it easier to capture and record screen
Support ULR sharing
Add watermark and color effects
Cons:
It doesn't support specifying the recording resolution
No webcam recording
Best for: Developers, power users who are more experienced in video recording than an average user.
#6. Flashback Express
OS requirements: Windows 10/7
Flashback Express is a free screen recording software for Windows 10 with advanced features to capture anywhere on PC screens. It allows users to add webcam footage to the screen recording, record videos with no watermark. Once the recording is done, users can easily share videos to YouTube or download the recorded files.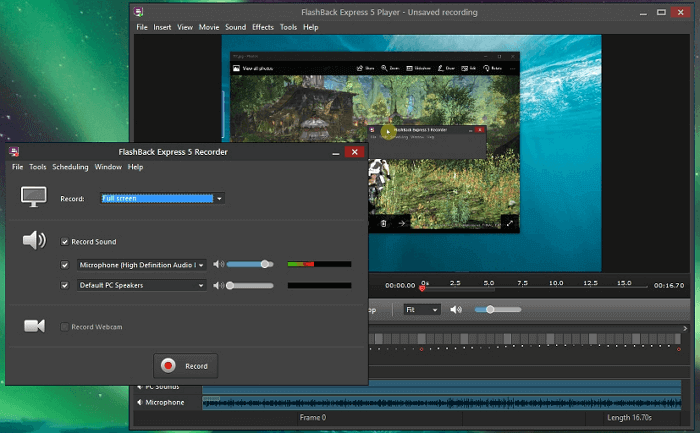 Pros:
Record screen, webcam, and sound
Support to trim footage, make clips
Support to add commentary
Cons:
Support saving the file like MP4, AVI, WMV only
Best for: Beginners who need to capture screenshots or record screen actions on PC.
#7. CamStudio
OS requirements: Windows
CamStudio is an open source screen recorder for Windows 10. It can record all screen activities on your computer with or without audio and export the recording files in AVI video format. If you need, you also can use its built-in SWF Producer to turn those AVI files into Streaming Flash videos.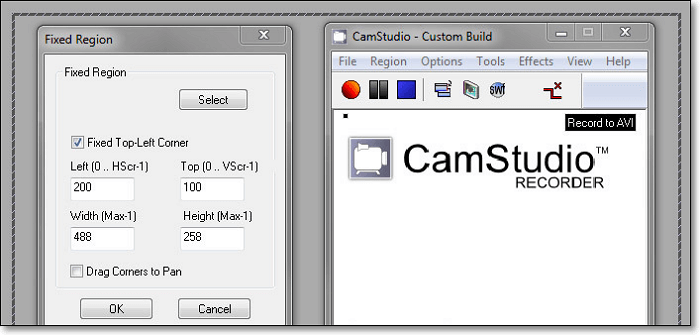 Pros:
Completely free
Capture video, audio, and gameplay with simple clicks
Offer basic video and subtitle editing
Cons:
Can't record webcam
Area selection is not available
Best for: Users who do not need complicated screen recording and editing features
#8. Bandicam
OS requirements: Windows 10/8/7
Bandicam is a powerful screen recorder software for Windows that can capture everything on your PC screen. It also supports recording an area, record games, applications, etc.
With it, you can carry out a screen capture with a high compression ratio and keep video quality close to the original work. It even supports you to record external video devices, including webcam, Xbox, Playstation, smartphone, etc.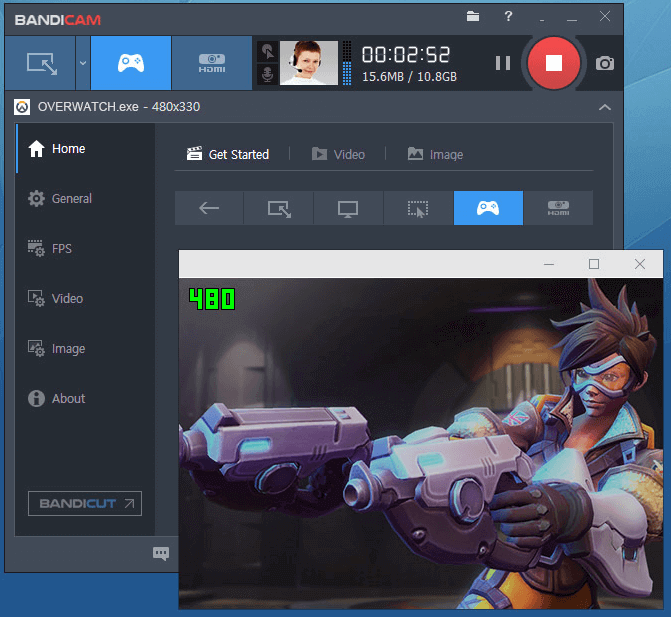 Pros:
Support full screen, region, webcam, microphone recording
Record 4K UHD resolution video
Support drawing, add text and take screenshots while recording
Add mouse click effect and animations while recording
Allow adding a log to screen capture
Cons:
Limited video output formats - MP4, AVI
No built-in video editor
Best for: Beginners and amateurs to take high-resolution screen recording videos.
#9. Camtasia
OS requirements: Windows 10/8.1/7
Camtasia is regarded as the best all-in-one screen recorder and video editor. Users can apply this software to record and create professional-looking videos on Windows and Mac computers.
It enables uses to record videos and audios together or separately. With it, you can flexibly use animation and video effects and even add overlays to the recorded video. In a word, it's more than a screen recorder but comprehensive video editing software.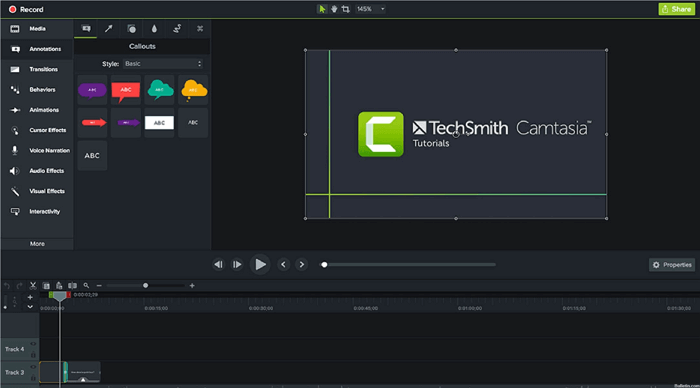 Pros:
Capture screen without webcam
Edit recorded video, audio, cursor tracks separately
Offer lots of video editing tools
Support for sharing screen capture and recorded videos to YouTube
Cons:
Cost is high for ordinary users
Support to activate on limited computers - 5 PCs
Best for: Experienced users or developers for recording and edit high-resolution videos.
#10. Debut Video Capture Software
OS requirements: Windows 10/8/7
As another popular Windows 10 screen recording software, Debut Video Capture Software supports users in recording your screen, webcam, and even capturing videos from other external devices. Moreover, users can also use it as a video editor to add color, video effects, captions, etc., to the recorded video.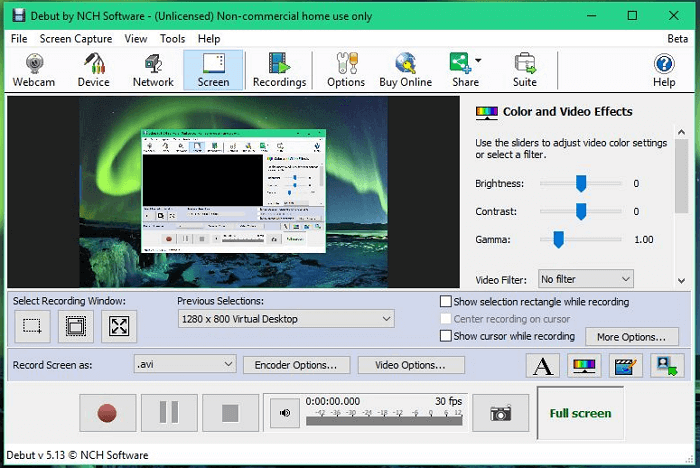 Pros:
Capture video from webcam, network IP camera, or external devices
Record the full screen, a region, or a selected area
Add filters, captions, and customize watermark to the video
Cons:
It doesn't support uploading videos to YouTube or Facebook
Limited video editing features
Best for: Beginners who need to capture videos and add simple video effects.
#11. Loom
The loom is one of the best screen recorders for Chrome, Windows, and Mac users. Users can add it into the Chrome extension and then use it to capture screen video with ease. Videos will be automatically copied to the clipboard, and users can share videos via links. In the extension version, it's even easier and faster to record screen actions on Windows 10.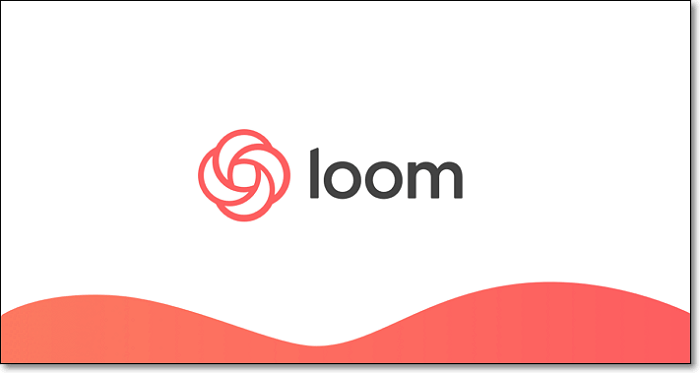 Pros:
Easy to use and no time limit
Share videos via links
Embed with HTML code
Support Chrome extension
Cons:
Video files can only be saved as MP4
No video editor
Best for: Beginners who need to take fast screenshots and record videos on the PC screen.
#12. Clipchamp
Clipchamp (https://clipchamp.com/en/screen-recorder/) is another screen recorder for Windows 10. Using it, you can record your screen and edit the footage in a single browser. Apart from screen recording, it also offers many professional editing tools to tell your stories. You can trim and clip your recordings, add interesting filters and overlays to enhance your recorded footage.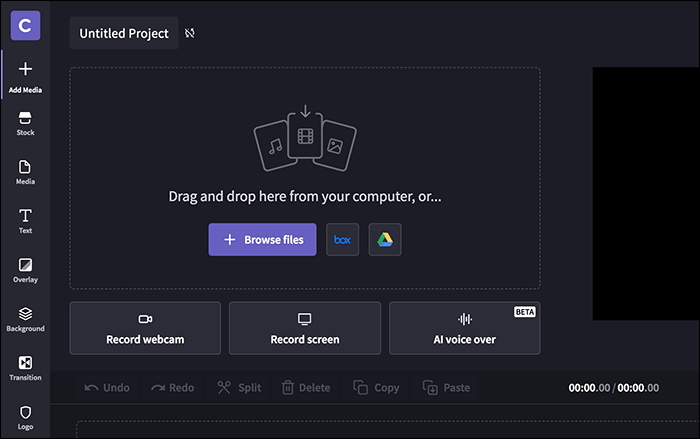 Pros:
No more downloading or switching between programs
Capture audio from both your computer and microphone
Basic and advanced editing tools
Cons:
30 minutes limitation while recording
Best for: Both beginners and pros who want to make complex recordings
Conclusion
This page covers twelve Windows 10 video recorder software to help you take a screenshot or record a screen video with ease. For those screen recorders mentioned above, we strongly recommend EaseUS RecExperts. It can help you record screen, audio, and webcam on your Windows computer and edit the recording clips with the built-in video trimmer. This best screen recording software cannot disappoint you.
FAQs About Best Screen Recorder Windows 10
If you still have some problems after you read this post, try to find the answers here.
Does Windows 10 have a screen recorder?
Yes. Windows 10 has a screen recorder called Xbox game bar. This screen capture is pre-installed on your Windows 10 PC, and you can use it to record all screen activities with audio on your computer.
How do I record my screen on Windows 10 without the game bar?
There are lots of Windows screen recorders that can help you record your screen, like OBS Studio, Free Cam, TinyTake, EaseUS RecExperts, etc. You can choose the best one according to your needs.
How can I record my computer screen?
If you record your screen on a Windows computer, you can try the built-in screen recorder - Xbox app. Just click Windows + G on the keyboard and click "Yes, this is a game", and click start recording to begin your recording.
If you record a screen on Mac, you can try QuickTime Player, which allows you to do screen recording flexibly.
About the Author

With the interest in English writing and computer technology, Vanessa chose to be an editor in EaseUS. She is professional in video and audio topics, including video & audio editing, converting, and recording. Vanessa will keep writing to help people solve problems.