
Table of Contents

About the Author

Related Posts

Best Audio Recording Software
How to Record Screen on Windows 10 without Xbox
Xbox Game Bar has brought a free screen recorder to Windows 10 users. The recorder is pre-installed on your Windows 10 PC, providing basic yet useful service to you. To some degree, this free recorder is convenient, but some of its restrictions determine Xbox is not a perfect choice. So how to record Windows 10 without Xbox?
Today, this post will introduce the best screen recorder for Windows 10 to viewers and explain their unique features to you. Please proceed and find out how to record screen on Windows 10 without Xbox Game Bar.
How to Record Screen on Windows 10 Without Xbox - 3 Ways 
The screen recorders in this part are reliable due to their stable performance in recording audio and video. With them, you can record the screen on Windows 10 without Xbox Game Bar easily.
Screen Record Windows 10 Without Game Bar - EaseUS RecExperts
The strengths of EaseUS RecExperts lie in its multiple recording modes and profound setting options. It allows users to capture games and other on-screen activities. Users are enabled to record in full screen or custom area and record with a webcam.
Besides, it offers you a built-in video and audio trimmer to edit the recordings easily. You don't need to waste time downloading other software, and this all-in-one program can help you create great video works. This recorder also offers you a Task Scheduler that helps you start recording automatically, and the advanced tools "Auto-Split" and "Auto-Stop" are also available.
EaseUS RecExperts
Record full-screen or record part of screen
Record games with 1080P and 60 FPS
Support multiple output formats
Bring negligible burden to your system
Work on Windows 11/10/8.1/8/7
How to Record Screen on Windows Without Game Bar:
Step 1. Launch EaseUS RecExperts. There are two different options for screen recording, i.e., "Full Screen" and "Region". If you select "Full Screen", you will capture the whole screen.

Step 2. If you select the "Region" option, this software will ask you to customize the recording area. Make sure that everything you want to capture is within the bounds of the select box.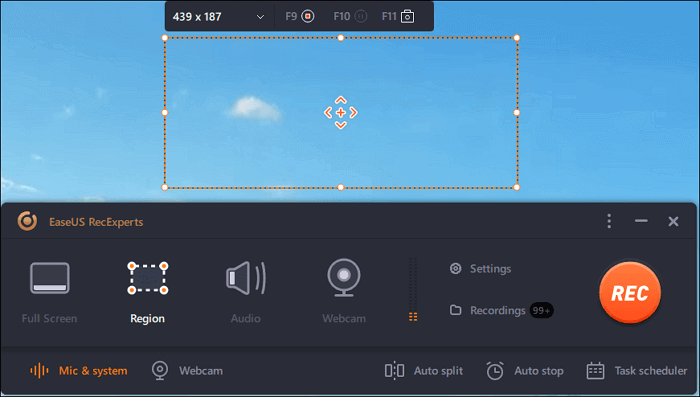 Step 3.  Tap on the button at the bottom left side of the main interface, and there will be many options you can select. This recorder supports recording microphone and system sound separately or simultaneously. The "Options" button is for you to adjust the volume and microphone device.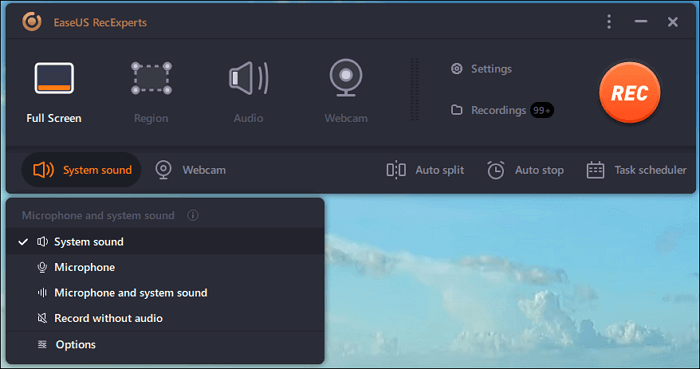 Step 4. To record the webcam simultaneously, click on the "Webcam" icon at the bottom of the interface. Tap on the button to enable the webcam recording, and there will be a drop-down menu to select the recording device. Click on "OK" to confirm your settings.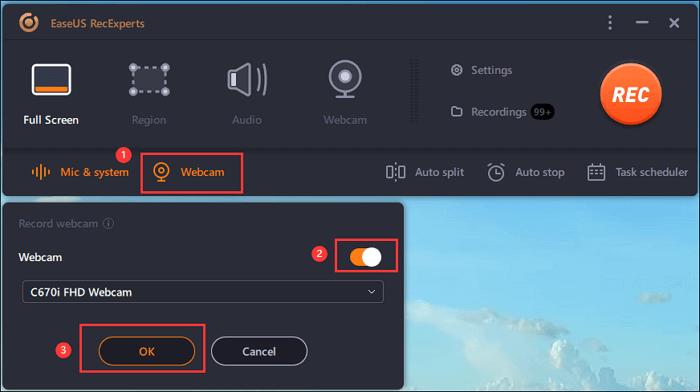 Step 5. When you turn back to the main interface, click on the "REC" button to start recording. A floating toolbar offers you buttons to pause or stop the recording during the recording process. In addition, the camera icon can be used to take screenshots, and the timer icon can help stop it automatically.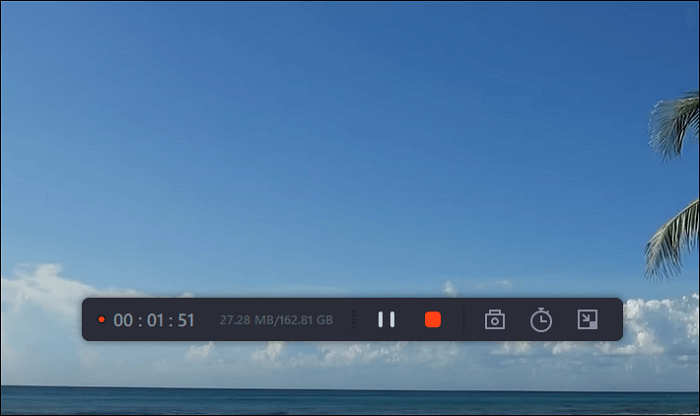 Step 6. The recorded video clips will be saved on your computer. When the media player appears, you see a set of tools you can use to trim the recordings, extract audio, and add opening title & closing credits to the savings.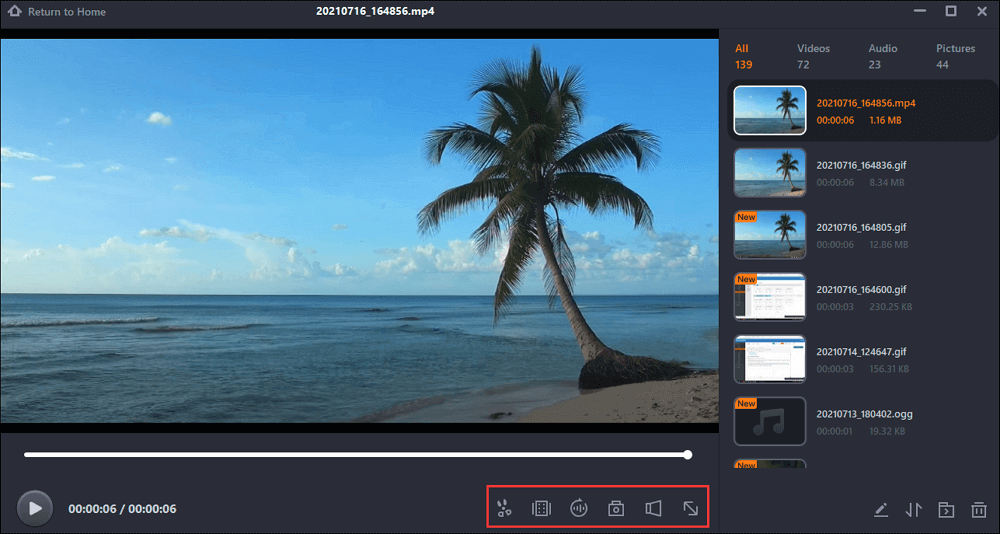 Record Screen on Windows 10 Without Xbox - Bandicam
Bandicam dominates the screen recorders' field because of its unique ability to provide up to 480 FPS users. Although this parameter is less important for ordinary users, for gamers, it means everything. FPS smoothness, response speed, and resistance to latency are all determined by FPS. It is more understandable to say that the higher your FPS is, the better game clips you can get.
However, until now, Bandicam is not available for Mac users. If you happen to be a Mac user, please check out this Bandicam alternative list to find other qualified recorders.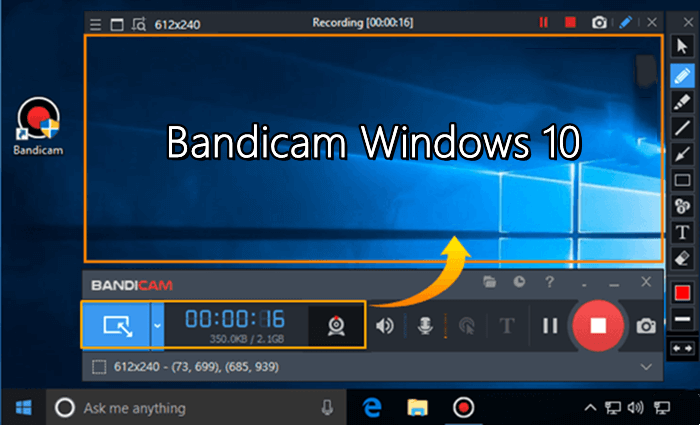 Bandicam Features:
Record games with up to 480 FPS
An enhanced capture function for Windows 8 (and higher) users
Add watermark to your videos
Take screenshots during games
Support HDMI recording
Record with a webcam
How to Screen Record Windows 10 Without Game Bar:
Step 1. Launch Bandicam and select the suitable recording mode, such as "Rectangle on a screen" or "Fullscreen."
Step 2. After selecting the recording region, press the "REC" button to start recording.
Step 3. Click on the button again to stop recording and save the recorded videos to your device.
Step 4. Go to "Home" > "Video" to play, edit or upload the captured videos.
Record Screen Windows 10 Without Game Bar - Snagit
Snagit is another type of Windows 10 Xbox Game Bar alternative. Unlike Bandicam or OBS Studio, it is not designed for recording games, and as a matter of fact, it is not even loaded with a game mode. This is odd since literally every recorder on the market has this mode.
The unique feature Snagit boasts of is its screenshot editor, which allows users to add graphics and text to their screenshots and edit pictures' width and length. You can also blur an area on your picture so others will not see it.
An interesting thing about Snagit is that if you desire a screen recorder with a good video editor, another product of TechSmith (Snagit's company) will satisfy you, and it is Camtasia. So if you are a fan of the picture editor, Camtasia is also a good choice.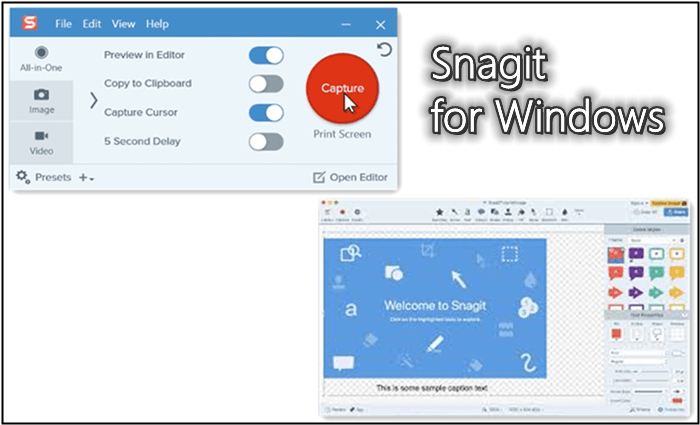 Snagit Features:
Screen record on PC and Mobile phones
Edit images by combining and resizing them
Provide a library for Callouts, Shapes, Stamps, and Text
Record with a webcam
Simple video editing function - trimming
Share options for YouTube, Dropbox, Google Drive, FTP, Email
How to Record Screen on Windows 10 Without Game Bar:
Step 1. First, launch this recorder and select the recording area.
Step 2. Choose a suitable audio source and webcam settings.
Step 3. Click on the record button to begin the recording. After capturing all the content, click on the stop button to save the recorded video.
Step 4. Edit the recorded video and share it or send it to websites.
Alternatives to Xbox Screen Recorder 
3 free and qualified Game Bar alternatives will be introduced in this part to help you screen record Windows 10 without Game Bar.
Nvidia Share [The Smoothest Game Recorder]
Nvidia screen recorder actually is a recording function called Nvidia Share (also known as Nvidia Shadow Play), a part of Geforce Experience on Nvidia graphics card.
This recording function is similar to Xbox Game Bar - No need to download and install it, and it is designed for capturing games. As a default recorder, you can access Nvidia Share for free if you are using an Nvidia graphics card.
This game recorder is designed specifically for recording games. Some of its features are nowhere to be found. The FPS counter, the ability to work on the background, accelerate with graphics card and hardware, etc. I can't emphasize that you shall not miss the recorder if you are a user of Nvidia graphics cards.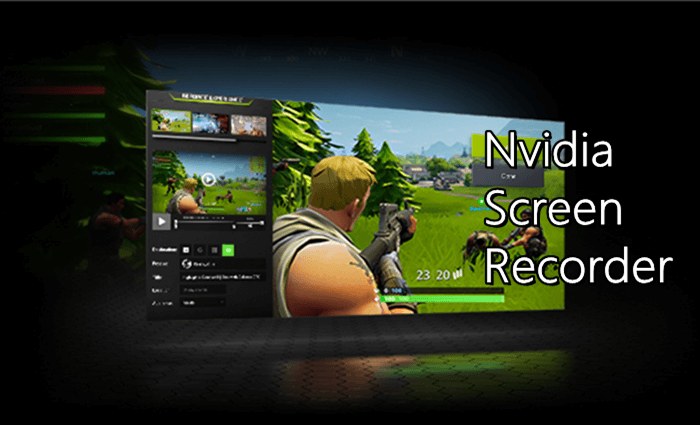 Nvidia Share Features:
Save the last 5 minutes of gameplay
Provide a window that helps you monitor the latencies and FPS
Record with a webcam and capture your narration
Run in the background, won't affect your recording
No time limit If you're using Windows 8 or later
Bring little burden to CPU
Bring negligible FPS drop to your games
VLC Media Player [An Underestimated Media Player]
VLC Media Player is the second free recorder for you to screen record on Windows 10 without Xbox. This recorder is not as simple as it seems. It can convert MP4 to MP3, transfer files, stream videos/audios on the Internet, and even record screens.
The flaw of VLC is that it lacks out-of-box solutions for users. You can record screen with this program, but you have to find the right path among its numerous options. So if you are not that familiar with VLC, this approach to record Windows 10 with audio might not suit you.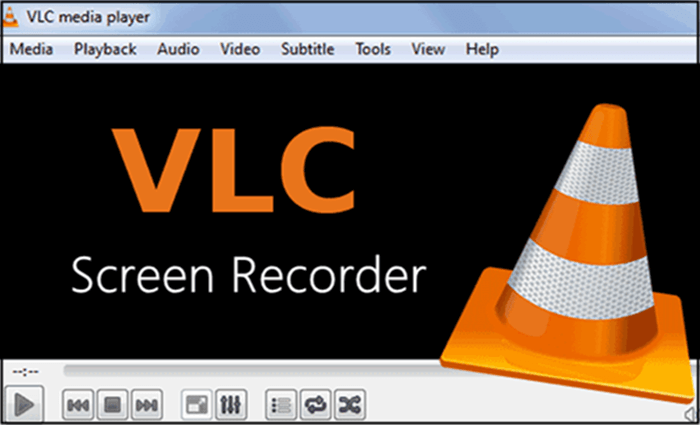 VLC Media Player Features:
Convert MP4 to MP3
Download streaming videos and audios
Record screen for free
Record with a webcam
Clean and uncluttered interfaces
OBS Studio [The Most Professional Open Source Recorder]
OBS Studio is famous on a global scale. It's free yet powerful software essential to gamers who would like to stream and record gameplay clips. This recording software has many things worth mentioning: It provides various features, supports multiple platforms, imposes a little burden on the CPU and your system, etc.
Another worth mentioning merit of OBS Studio is its ability to produce high-quality videos with high-quality sounds, which proves its ability to replace Xbox in doing screen records on Windows 10 with audio.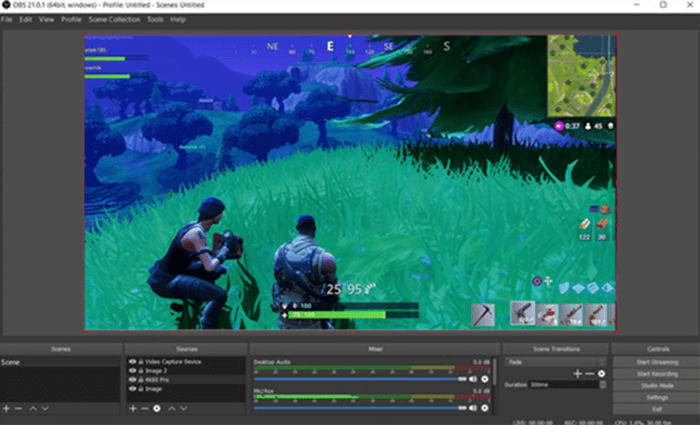 OBS Studio Features:
Audio capture, multi-screen recording, screen recording, and picture-in-picture mode
Record in full-screen, custom-area, and record with a webcam
Game Mode, Screenshot function
Broadcast stream to YouTube, Mixer, and multiple platforms
Numerous options that are apt for advanced users
Multiple video sources filters
How to Capture Screen with Xbox Game Recorder 
Xbox is not a perfect solution for most gamers because of the limitations listed below:
Firstly, it has a time limitation of 4 hours. Secondly, it is not an integral game recorder since it's not embedded with an editor. Thirdly, it produces videos with bad-quality audio. The most disappointing part of the Xbox Game Bar is that it causes significant FPS loss and system slowdown to your games.
But if you want to capture gameplay conveniently, Xbox Game Bar is a good choice. This part will give you the detailed steps to record screen on Windows 10 with Xbox Game Bar.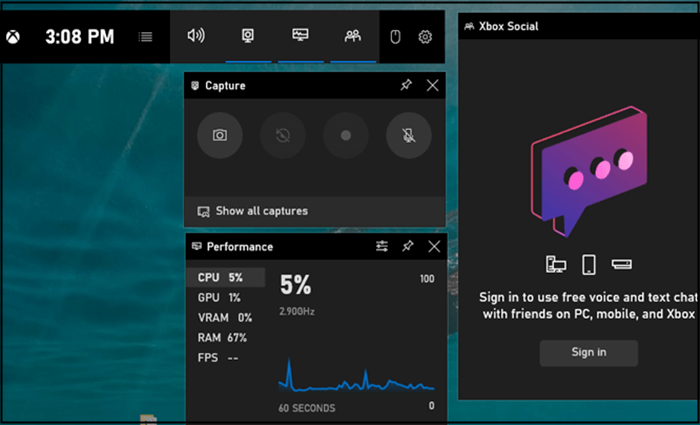 Steps to Record Screen with Xbox Game Bar:
Step 1. Launch Xbox Game Bar on your PC by pressing Win + G on your keyboard simultaneously.
Step 2. After activating the Game Bar, click on the record button to start recording. Or you can press Win + Alt + R instead.
Step 3. Click on the stop recording button to save the captured video to your PC.
Conclusion
This post explains how to record screen on Windows 10 without Xbox. Later, six practical alternatives are offered for those who don't want to screen record windows 10 with Xbox.
There is no denying that professional recorders are always better than free recorders. And among all the paid recorders, EaseUS RecExperts will be the right one to bring convenience and great features to meet your demands if you do not pursue extreme video techniques.
About the Author

Crystal Chen is very interested in technology products. She experiences many technological utilities and focuses on writing in this area. Meanwhile, Crystal aims to solve users' problems through sharing experiences.