
Table of Contents

About the Author

Related Posts

Best Audio Recording Software
How to Record System Audio and Microphone at the Same Time
"How can I get the system audio from computer and microphone sound simultaneously?"
Many people are looking for a solution to this problem. Sometimes you can record either desktop audio or microphone voice, but you can't record both. That may make you feel inconvenient, especially when you want to record a voice-over or lectures on a computer or mobile phone.
This post endeavors to offer you a satisfactory answer: 6 ways to record system audio and microphone at the same time will be covered.
Related Article: >>Top 12 Free Screen and Audio Recorder
How to Record System Audio and Microphone at the Same Time Android 
To record system audio and microphone simultaneously on Android, we recommend you use the built-in screen recording function. It allows you to record the screen of your smartphone without time limits. Besides, recording audio and microphone can also be achieved with this tool.
How to Record Internal Audio and Mic in Android with:
Step 1. Swipe down the function tab on the top of your screen and find a tile labeled "Screen recorder" sitting on the second page.
Step 2. Long-press it to go to the "setting" tab and select "System audio and microphone sound" as the sound settings.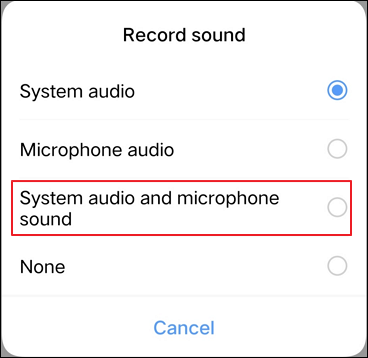 Step 3. tap the "Start recording" button to record audio and mic at the same time.
How to Record System Audio and Microphone at the Same Time Windows 10 
Here, we offer you three efficient tools to record both audio and microphone on Windows 10, and they are EaseUS RecExperts, Bandicam, and Audacity. You will learn step-by-step tutorials for using these two programs.
This is a powerful screen and audio recorder, enabling users to record webcam, audio, and screen simultaneously. And you can choose to record system sound, microphone sound, or both of them. 
Since this recording tool supports many file formats, you can select any audio format it supports as the recording's target format. For instance, you can choose from WAV, MP3, AAC, and so on. In addition to that, if you need to trim the recording to remove some unnecessary parts of the audio, there is a built-in editing tool you can use directly. 
Features:
Easy-to-use audio recording software for beginners and pros
Record both computer audio and mic
Allows users to schedule recording
Split the recording automatically
Support trimming recorded audio and video 
If you want to record system audio and microphone at the same time on Windows for free, download this software and try it. There are more helpful functions than we mentioned above. 
Related post: How to record audio with screen at the same time
How to Record PC Sound and Microphone Simultaneously:
Before recording, make sure your microphone has been plugged into your computer successfully.
Step 1. Launch this software and select "Audio" from the four modes.

Step 2. Choose the Speaker icon in the bottom left-hand corner, and click on "Microphone and system sound".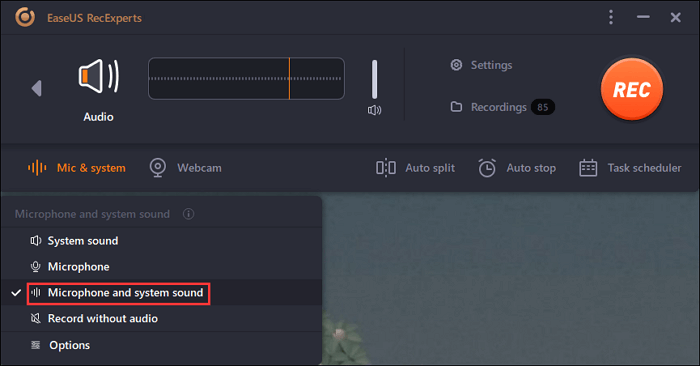 If there is more than one microphone, click "Options" to select your desired Microphone device.
Step 3. When settings are done, click on the orange button "REC" to simultaneously capture the system audio and microphone. When you finish the recording, click the red "Stop" button to stop recording.

Step 4. The captured audio will be saved on your computer, and you can find it in the "Recordings". Right-click the file if you want to edit it or rename it.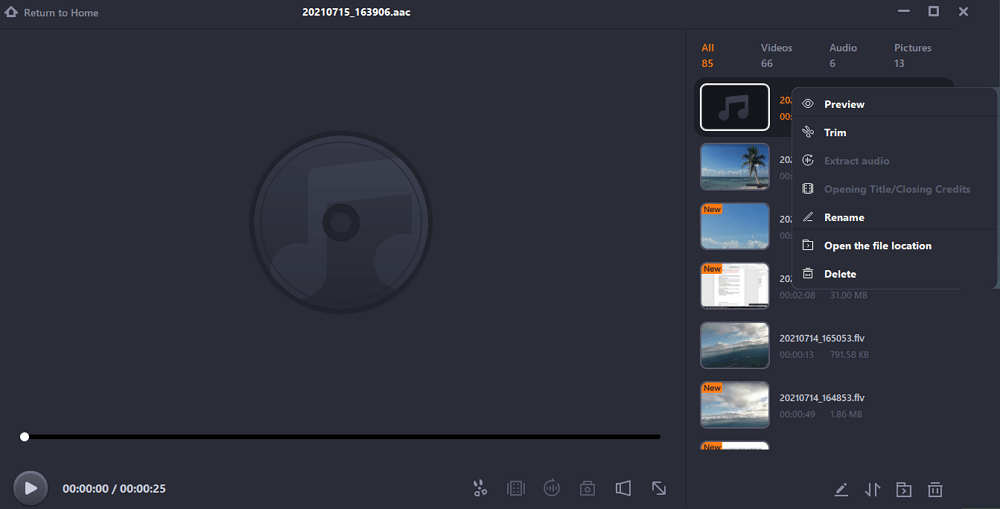 Method 2. Bandicam
Bandicam is an easy-to-use and multi-track audio editor and recorder. It can be applied to Windows Vista, 7/8/10. You can use it to record the microphone as well as computer sound on Windows computers easily.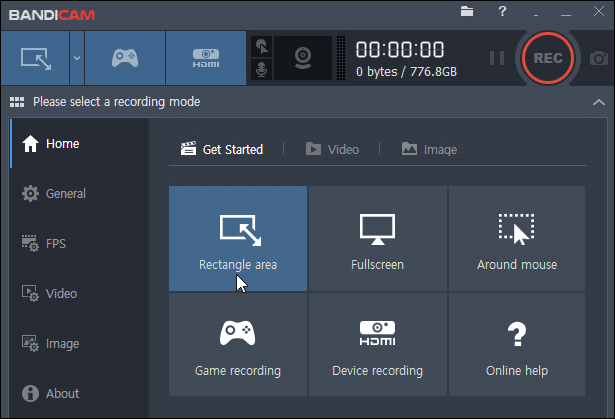 How to Record Both Microphone and System Sound on Windows 10:
Step 1. Download and open Bandicam.
Step 2. Navigate to "Video" > "Settings." And a new window pops out.
Step 3. On the "Sound" tab of "Primary Sound Device," choose "Speakers" as "Default Output Device" and choose the microphone below.
Step 4. When the settings are done, go back to the main interface and click "REC" on the top-right corner to start recording.
Method 3. Audacity
Audacity is an open-source audio editing and recording tool that is free to use. It can be used as a powerful cross-platform audio recording tool on nearly all the mainstream computer operating systems, like Windows, macOS, or Linux. 
You can use it to record the sound you hear from the speaker, i.e., the audio playing on your PC, while also capture the voice from the microphone. You can use either an internal microphone or an external microphone. You can choose the device according to your demands.
Then, we will show you how to record the microphone and record desktop audio with Audacity.
How To Record Both Computer and Voice with Audacity:
Step 1. Firstly, right-click on the microphone icon, and select the "Sounds" option. Under the "Recording" tab, you will see the recording devices you are using. Right-click the microphone and click "Properties" under the "Listen" tab, and tick the box before "Listen to this device." 
In this way, the audio from the microphone can be simultaneously recorded with the audio playing on your computer.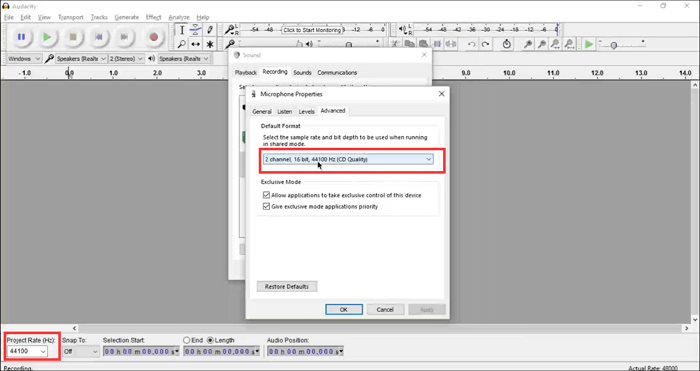 Step 2. There is a drop-down menu behind the microphone icon in the upper left corner on Audacity's main interface. Select "Stereo Mix" from the menu. 
Step 3. Click on the red button to start recording, and then you can capture both voice and computer audio at the same time. After you recorded all the contents you need, click on the "Stop" button to end the recording.
How to Record Internal Audio and Microphone Simultaneously on Mac 
As we all know, Mac computers never allow you to record system sound due to privacy concerns directly. When recording computer sound and microphones, we need to resort to two tools: QuickTime and Soundflower, or use a third-party software named RecExperts for Mac.
Method 1. RecExperts for Mac
Apart from the Windows version, RecExperts also supports running on macOS perfectly. This Mac screen capture makes it easy to record both internal audio and microphone on your Mac without downloading or installing any other software. All you need to do is to select the audio sources and hit the Record button to begin your recording. Now let's dive into the tutorial!
Step 1. Launch this Mac screen recorder, then click the "Audio" button on the main interface.

Step 2. Next, select the audio source by clicking "Sound" on the lower left. Here you can choose to record system sound, microphone, or both simultaneously, and even adjust the volume. Once done, click on the "OK" option.
Step 3. When you are ready, hit the "REC" button to start the audio recording.

Step 4. Once done, you can preview the recorded music files by clicking "Recordings" on the homepage. If needed, you can trim unwanted parts by clicking the Scissor icon at the bottom.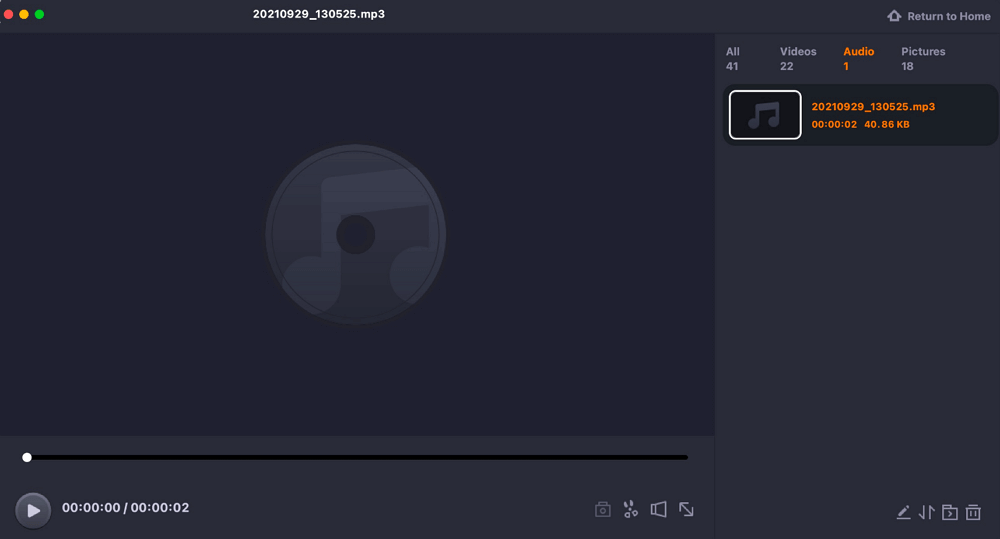 Related post: How to record internal audio on Mac
Method 2. QuickTime & Soundflower
Another way to record system audio and microphone simultaneously on Mac is to use QuickTime and Soundflower. Since QuickTime can not record Mac's computer sound, we can resort to Soundflower to accomplish this task. Also, if you are wondering about how to record Zoom meeting, you may download this tool and have a try.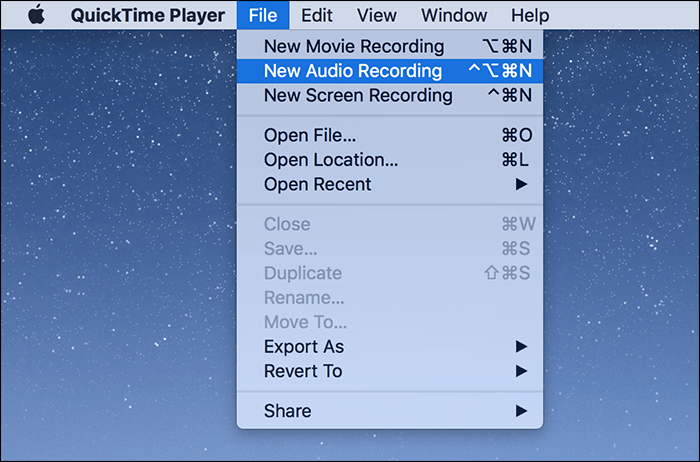 How to Record the Microphone and Record Internal Audio Mac:
Step 1. Download and install QuickTime and Soundflower on your mac.
Step 2. Open macOS's built-in MIDI configuration app, Audio MIDI Setup. Click the setting icon on the left bottom and choose "create a Multi-Output Device." Check Built-In Microphone and Soundflower (2ch).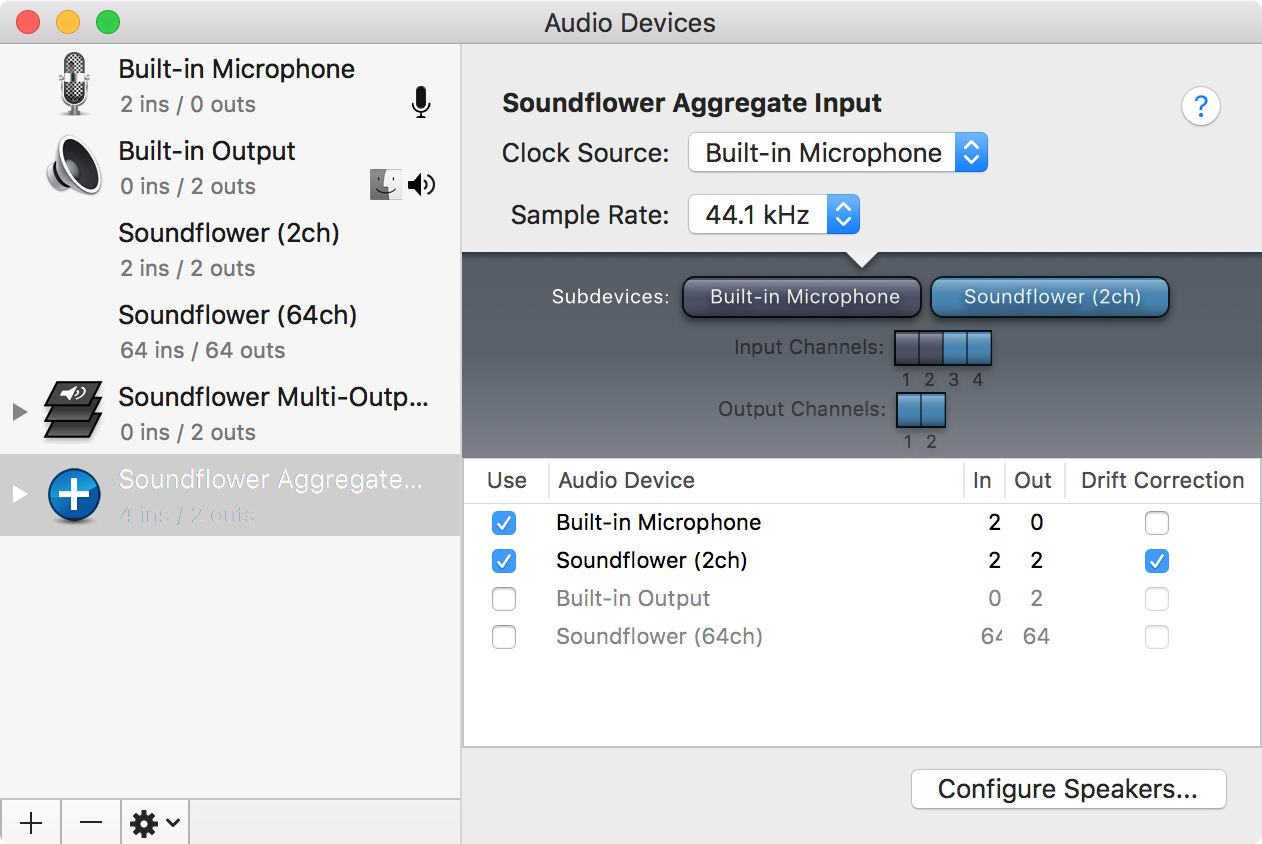 Step 3. Open QuickTime, and select the Soundflower Aggregate Input as the source device. You are now able to record your computer's audio and your microphone simultaneously.
As there is no such situation to record system sound and mic without recording screen, we will recommend 2 mobile phone tools to record screen with system audio and microphone below.
How to Record Computer Audio and Microphone on iPhone/iPad 
Like Android, iPhone also has a built-in screen recorder, enabling you to record the screen with internal sound and microphone. And this tool is straightforward to use. You can finish this task with only a few simple clicks.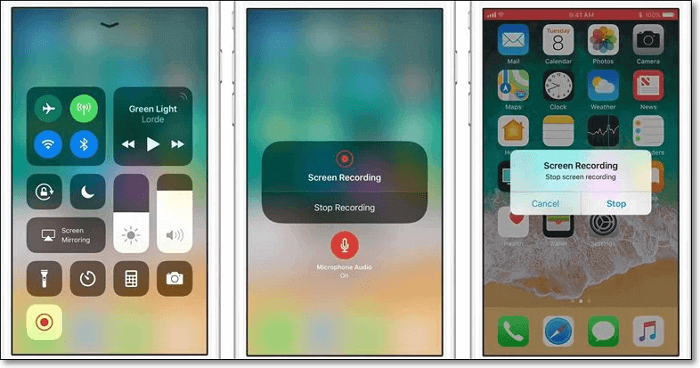 How to Record internal Audio on iPhone with Your Voice:
Step 1. Open your Settings and select "Control Center." Tap "Customize Controls." Under More Controls, tap the "+" sign next to Screen Recording.
Step 2.  Slide up to access the Control Center and long-press the concentric circle. And tap the red button "Microphone Audio on."
Step 3. Tap the button "Start recording." And you can record internal audio and microphone at the same time on your iPhone.
Conclusion
To sum up, we have discussed 6 ways to record system audio and microphone on different devices, like Windows, Mac, Android, and iPhone. You can pick the one following your demand. For those who want to record computer sound and microphone audio on Windows and Mac, we still suggest EaseUS RecExperts as your best option.
About the Author

Melissa is a sophisticated editor for EaseUS in tech blog writing. She is proficient in writing articles related to screen recording, video editing, and PDF file converting.