
Table of Contents

About the Author

Related Posts
Record Screen with Chrome Screen Capture Tools
Sometimes, people want to save the information they get on Chrome for various reasons. However, you cannot just copy down every word you read. Thus, capture the whole screen may be a feasible way. In case some people don't know how to capture screen on Chrome, we give you a tutorial on screen capture chrome.
Moreover, if you want to do more operations on the web page you are browsing, you may use a screen recorder to put down record what you've seen. Therefore, we also offer you several effective screen recorders in this article.
Part 1. How to Record Screen with Chrome Screen Capture
If you want to take a snapshot of what you see on your computer screen, this tutorial will be useful for you. The operation is straightforward. You need to find out the hotkeys we mention and do the following steps.
After capturing the screen image, you may save it to wherever you want. Now, let's have a look at the tutorial below.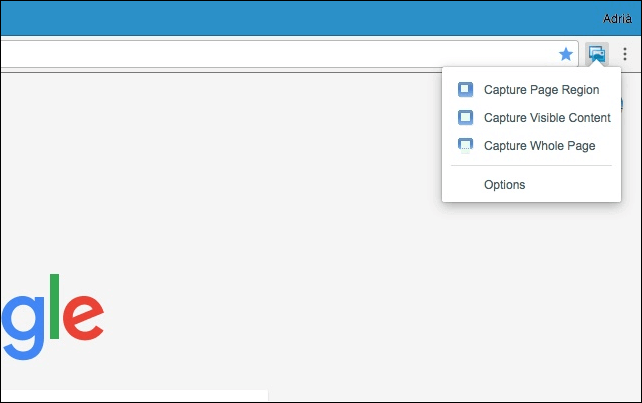 Step 1. Download the Chrome extension called 'Screen Capture (by Google)' from the Google Chrome store.
Step 2. Select the screen capture icon that appears in the upper right corner of your screen.
Step 3. Select the last option from the drop-down menu - "Capture Whole Page" (Command+Alt+H).
Step 4. You may edit your screen capture by the tools in the editing menu bar near the top of your screen. Once you are satisfied with your image, select "Save". The screenshot will be saved as a PNG file.
Part 2. Top 3 Chrome Screen Capture Extension
In case that some people want to do more operations to the screen, like recording the screen as a video, we give you other screen recorders capable of not just capturing screen. If you are interested, you can read the content below.
Top 1. Full Page Screen Capture
Full Page Screen Capture captures a screenshot of your current page quickly and reliably without requesting any extra authorities. With this extension on your Google, you may take a full-page screenshot of your current web page.
All you need to do is click on the extension icon (or press Alt+Shift+P), watch the extension capture each part of the page, and download the screenshot as an image or PDF. The simplest way is to drag the file to your desktop.
Full Page Screen Capture must scroll to each visible part to screenshot the entire page, taking some time. In case your page is too large for Chrome to store in one image, it will ask your permission to split it up into several smaller images. To show you how to use this extension, we give you a tutorial below.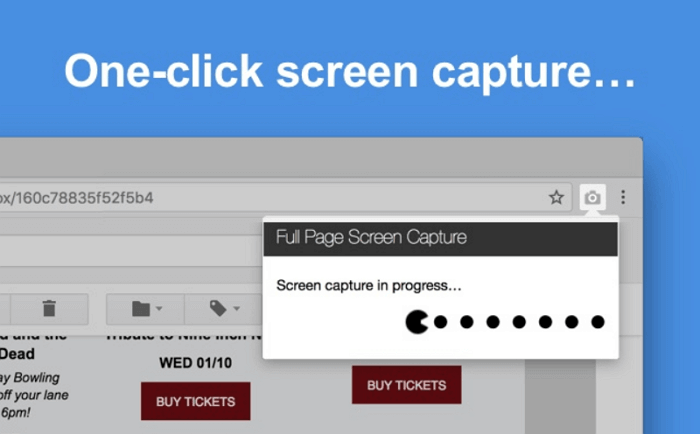 How to Use Screen Capture for Chrome:
Step 1. Find Full Page Screen Capture in the Chrome web store and click "Add to Chrome".
Step 2. Click this extension on the up-right corner of your window. And the tool will screenshot the current page for you.
Step 3. After screenshotting, you may see the picture took. You may click "Edit" to crop, edit, annotate, and export it. Besides, you can download it as a PDF, PNG image, or file as you like.
Top 2. Awesome Screenshot & Screen Recorder
Awesome Screenshot & Screen Recorder is a full-page screen capturer and screen recorder at the same time. It can capture or clip a selected area on your screen, capture all visible portions, or capture the entire page for you.
You can change the recording area as it supports horizontal scrolling when capturing. Of course, desktop screen capture is also included.
After capturing the screen, you may use it to edit the image. For instance, you can crop, blur, copy, annotate the image. If you are satisfied with the file edited, you may share the screencast pictures and videos instantly. It supports Google Drive, Jira, Slack, etc.
How to Use Screen Capture in Chrome:
Step 1. Add the extension to Chrome by clicking "Add to Chrome".
Step 2. Click on the extension, and you may choose to "Record" or "Capture" your screen. Here you need to choose "Capture".
Step 3. Choose to capture a full-page, visible, or selected area. Then, the screen capturer will do the job for you.
Step 4. After the screenshot is taken, you may add an annotation to it. If you are satisfied with it, you may share it with Google Drive, Jira, Slack, etc.
Top 3. Chrome Capture
Chrome Capture is a comprehensive screen capturer. With this program, you can add text, draw arrows, speed up/slow down the recorded materials freely.
Moreover, you can change the appearance of the recordings by resizing, moving, rotating, and making annotations to them. With Chrome Capture, full web page screenshots are unlimited.
Besides, you can customize resolution and FPS - up to 10 frames per second. After recording, you can even make animated GIFs with the recorded images. The operation is quite simple. Let's have a look at them.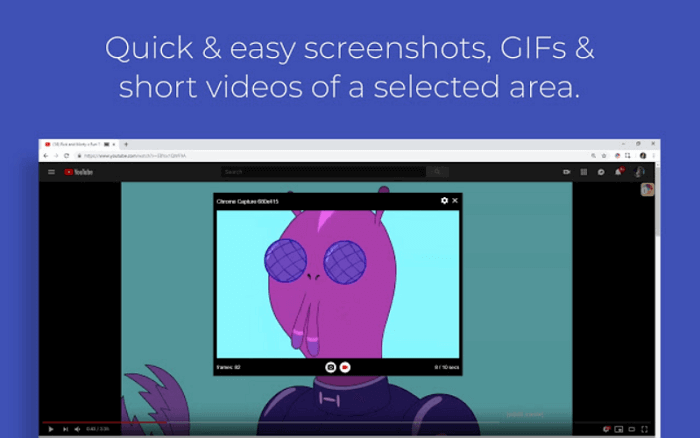 How to Use Screen Capture Chrome Extension:
Step 1. Start Chrome Capture by left-clicking the Chrome Capture icon.
Step 2. Select an area that you want to capture.
Step 3. Adjust settings to your preference by clicking the "settings" icon.
Step 4. Click the camera icon to take a screenshot of the selected region.
Part 3. Best Alternative of Chrome Store Screen Capture - EaseUS RecExperts
It is a versatile screen recorder and snapshot tool that is popular on the market. Using this program, you can take screenshots of your screen in any size you want with ease. Also, if needed, you can print your screen anytime in the screen recording process. 
Apart from the snapshot tool, it also offers you options to capture the screen, audio, webcam, and even gameplay in high quality. With its help, you can freely record any kind of live streaming, podcast, and lecture within a few steps.  Once recorded, you are able to export a certain frame you want to save in PNG format in the recordings. 
Main Features:
Easy-to-use interface
Export various audio and video format
Support creating schedule recording task
Help extract audio from the recorded videos automatically
Work as a facecam recorder
This recorder is different from screen capture Chrome extensions since you have to download and install it on your device. But it offers many helpful recording and editing tools. You can click on the button to get it and have a try.
How to Capture Screen in Chrome:
Step 1. Open this screen recorder. To take a snap for your screen, select "Region" from the main interface.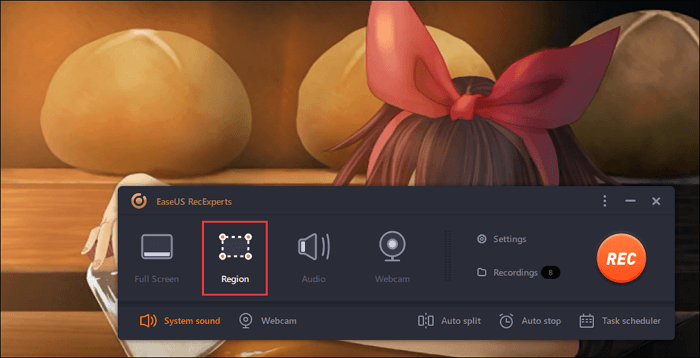 Step 2. Also, you can customize the hotkey of taking a screenshot. Click "Settings" to choose "Advanced". Then, change the hotkey from "Capture screenshot".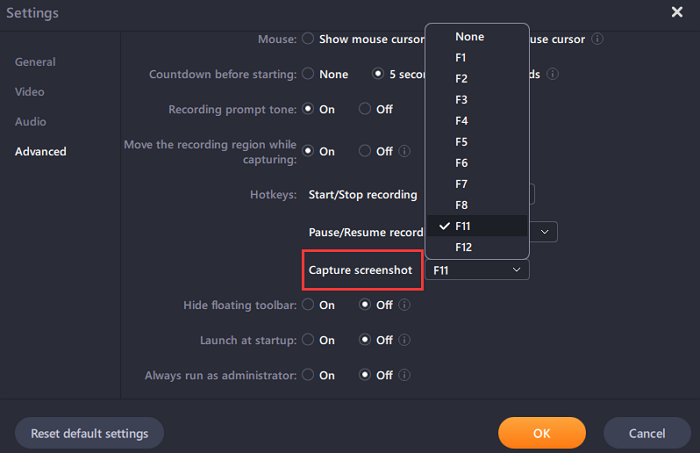 Step 3. Now, drag your mouse to select the desired screen area. Then, release the mouse and press the hotkey.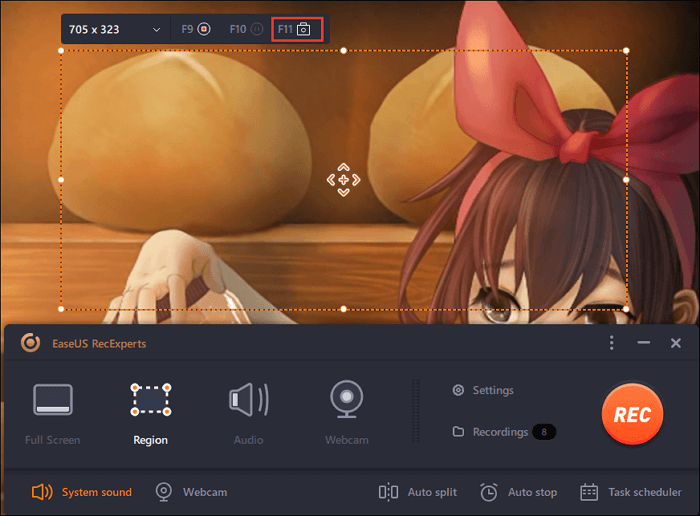 Step 4. After pressing the hotkey, the image is automatically saved on its "Recordings" and you can view it.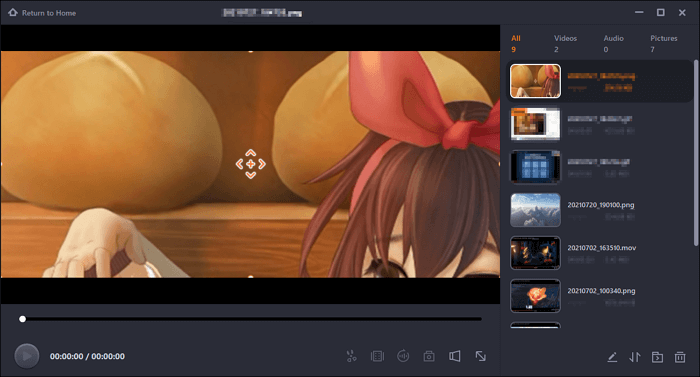 Conclusion
To sum up, you may capture the screen with the built-in tool on your computer. However, if somehow, that tool doesn't work anymore, or you want a more advanced screen recorder, you may pick a tool from the article.
Among them, EaseUS RecExperts is the best choice for both novices and pros. Therefore, we recommend you download it from the official website.
About the Author

Jane is an experienced editor for EaseUS focused on tech blog writing. Familiar with all kinds of video editing and screen recording software on the market, she specializes in composing posts about recording and editing videos. All the topics she chooses are aimed at providing more instructive information to users.