
Table of Contents

About the Author

Related Posts

Best Audio Recording Software
How to Record on Firestick Free in 2022
Firestick is a media streaming device that allows you to stream videos, install apps, play music, or do much more on your TV. One of its advantages is that it provides a huge number of videos from the Internet, which means you can watch almost everything that's available online through YouTube, Amazon Prime, Netflix, Hulu, Disney, ESPN, and many more. While watching these videos, you may want to save them to enjoy offline in case your Internet goes down, and you cannot watch anything at all. 
To solve the problem, you can screen record on Firestick and save them on your devices for offline viewing. Given that, this post comes in handy. Here we will show you different ways, and walk you through the steps to record screen on Firestick.
What is the Firestick
As we said above, the Firestick is a media streaming device sold by Amazon. It looks like a USB flash size, and you can plug it directly into your TV's or computer's HDMI port to view the videos from Netflix, Amazon Prime, Disney, Hulu, and YouTube. In addition to movies, you also can enjoy your favorite games, music, photos, and subscription service. It's worth mentioning that you can record the video content for future viewing in Firestick.
If you have other Amazon smart devices like Amazon Echo, you can connect them together to unlock more new features.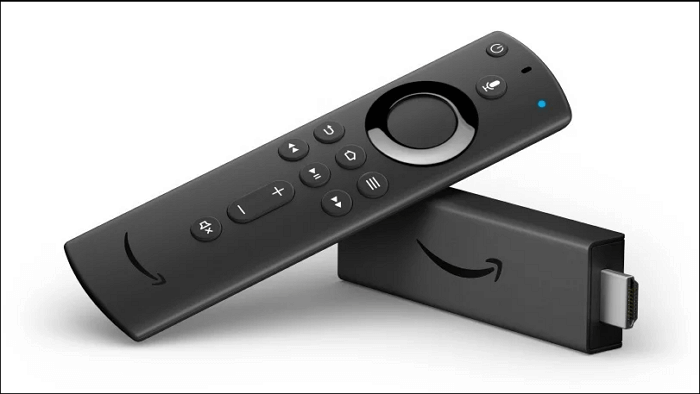 How to Record Firestick Shows on Computer - No Time Limit
If you want to record Fire TV Stick shows without a time limit, or there is less space on your Fire TV Stick, you can choose to record Firestick on PC or Mac with some free video recording software, like EaseUS RecExperts.
This screen recording software performs perfectly on both PC and Mac, letting you capture anything on the screen. As for recording video contents, it will capture them and export the recordings in almost original quality. Apart from capturing videos, it is also an excellent audio recording software that enables you to record system sound, microphone, or both and export them in various formats. If you sometimes want to save the streaming video or music at a specific time, you also can use this software to create some scheduled recording tasks effortlessly.
Adjust output formats flexibly, including formats, quality, etc.
Let you capture screen, audio, webcam, or all at the same time
The screenshot feature is also available
Provide some basic editing tools 
Well, as for capturing videos from Fire TV Stick on the computer, all you need is to plug the Fire Stick into your computer's HDMI port, then start recording with this software. Now, let's take a look at the detailed tutorial:
Stage 1. Connect to Your Computer
Plug the Firestick into your computer's HDMI, then find and play the video you will record.
Stage 2. Record Firestick Shows using EaseUS RecExperts
Step 1. Launch EaseUS RecExperts. There are two different options for screen recording, i.e., "Full Screen" and "Region". If you select "Full Screen", you will capture the whole screen.

Step 2. If you select the "Region" option, this software will ask you to customize the recording area. Make sure that everything you want to capture is within the bounds of the select box.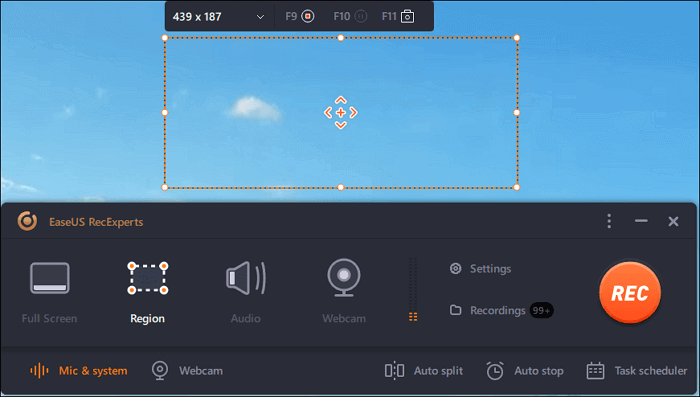 Step 3.  Tap on the button at the bottom left side of the main interface, and there will be many options you can select. This recorder supports recording microphone and system sound separately or simultaneously. The "Options" button is for you to adjust the volume and microphone device.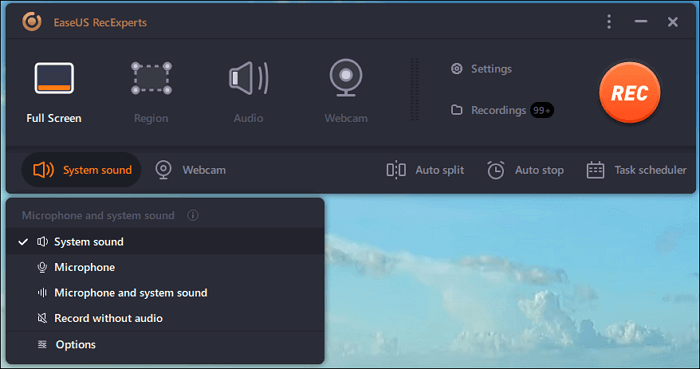 Step 4. To record the webcam simultaneously, click on the "Webcam" icon at the bottom of the interface. Tap on the button to enable the webcam recording, and there will be a drop-down menu to select the recording device. Click on "OK" to confirm your settings.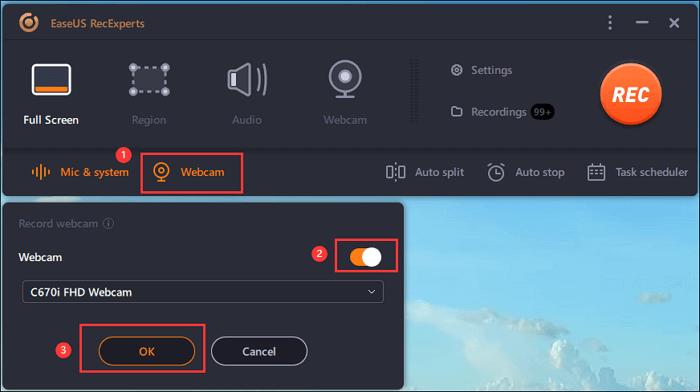 Step 5. When you turn back to the main interface, click on the "REC" button to start recording. A floating toolbar offers you buttons to pause or stop the recording during the recording process. In addition, the camera icon can be used to take screenshots, and the timer icon can help stop it automatically.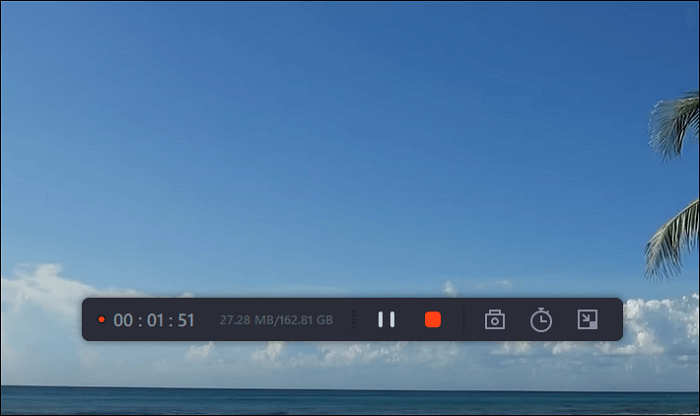 Step 6. The recorded video clips will be saved on your computer. When the media player appears, you see a set of tools you can use to trim the recordings, extract audio, and add opening title & closing credits to the savings.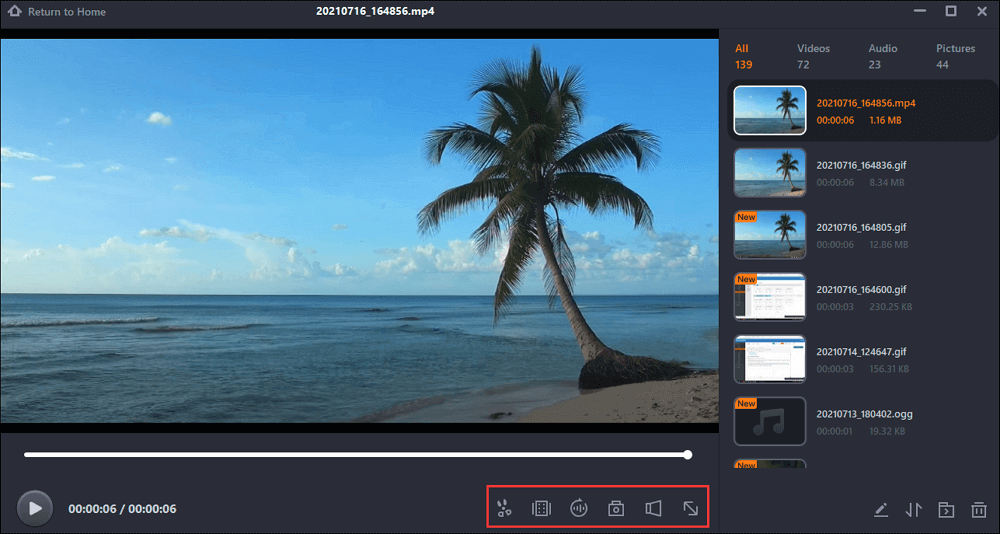 How to Screen Record on Firestick
If you used to watch Firestick shows and want to record them on TV, then this section is what you want. Just continue reading to learn more information.
#1. Screen Record Firestick with Amazon Screen Recorder
Amazon Store provides a wide range of apps that can help you do screen recording activities, and you just need to download one of them, then you can start your Firestick shows recording. Next, we will show you how to get it done with detailed tutorials:
Step 1. Hit the search icon on the Home Screen, then type "Screen Recorder" into the search box to select the one you like. Just install it.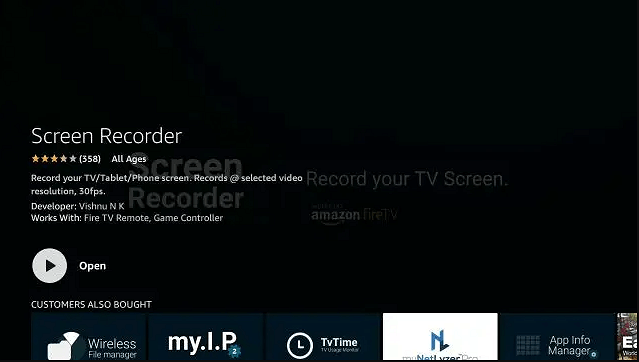 Step 2. Open the screen recorder app you have installed, and you will see a prompt. Here, you need to select "Start Now" to begin the recording.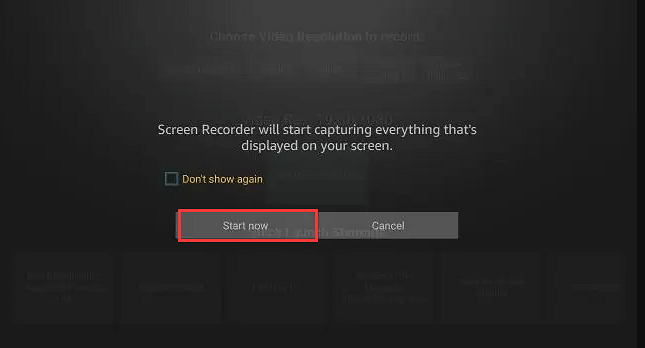 Step 3. Select the streaming videos or some others you want to record. When you want to stop the recording, just open the screen recorder again and hit the "Stop Recorder" icon.
Step 4. Once done, you just have recorded the Fire TV Stick successfully.
Note: You can't record audio or DRM-protected content from apps like Prime Video or Netflix.
#2. Record on Firestick with Inbuilt Recording Feature
Fire TV Stick also offers an inbuilt recording feature, and provides 8GB storage where you can save your media files, including your recorded shows. Below are the steps to complete the task. Now let's dive into it:
Step 1. Find the video content or show you want to record. Just perform a search with the on-screen keyboard to find it. Or you can say "Alexa, xxx", and it will show you a lot of results related to your voice command.
Step 2. Choose the right one and start watching it. Then press the Menu button on your remote controller, and it will open the list of options at the lower right corner of your TV screen.
Step 3. Navigate down the options and select "Record" to begin your Fire TV Stick recording.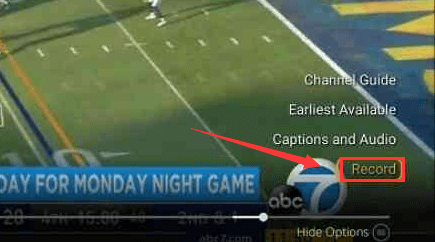 Bonus: How to Record from Firestick to DVD Recorder
This part is right for you if you want to record TV shows from Firestick to a DVD recorder. But first, you must prepare a DVD recorder and then connect it to the smart TV. Once done, you can check the below guide:
Step 1. Connect the composite cable, S-video, and RCA audio cable between a smart TV and DVD recorder. Next, connect the composite video cable and RCA audio cable to the TV and DVD recorder outputs. After that, make sure the TV is coming through the DVD recorder.
Step 2. Turn yo the appropriate input, typically L1 or L3 for rear inputs, and L2 for front inputs with the DVD recorder.
Step 3. To capture a TV program, you need to set the DVD recorder to channel 3 or 4 and set the channel you want to record using the DTV converter or set-top box. Once done, it will capture the video contents from Firestick to a DVD recorder.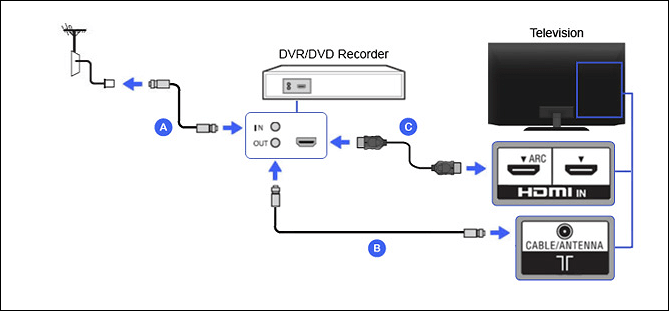 The Bottom Line
This post shows you some practical ways to screen record on Firestick, and you can pick any of them to start your recording. For those who want to record Firestick shows on computer, just pick EaseUS RecExperts. This is an easy yet smart screen recorder, assisting you in capturing almost anything on your computer. Most importantly, there is no time limit and no watermark, which means you can record as long as you want. So, don't hesitate to click the below button to get it!
About the Author

Jane is an experienced editor for EaseUS focused on tech blog writing. Familiar with all kinds of video editing and screen recording software on the market, she specializes in composing posts about recording and editing videos. All the topics she chooses are aimed at providing more instructive information to users.