Free | How to Record Gameplay on PC Windows 7

Jane Zhou updated on Apr 01, 2021 to Screen Recording Utility | How-to Articles
Gaming became a prevalent activity among all kinds of PC and Internet users. Today, over 4 in 10 internet users are gamers, defined as those with interest in gaming, and who play games on any device. More often, game players, both teens and older, are searching for tools to demonstrate their gameplay skills. They want to record their gameplay and show it to their friends and relatives, as a lot of them want to share videoclips of their gameplay in real-time. Gamers, using Windows 7 PCs, can use different game recorders.
This guideline shows 5 game recorder for PC Windows 7 and the steps you can follow about how to record gameplay on Windows 7 PC. 
How to Record Gameplay on PC Windows 7
EaseUS RecExperts, available both for Windows 7/8/10, can be used to record all your activities during your gameplay. You can capture audio or video from your webcam at the same time. As a versatile application, this Windows screen recorder provides tools to add texts, lines, arrows to explain your gameplay while recording. The recorded video clips can be edit with the integrated video editor. After recording and editing, the recorded and edited video can be shared directly to Google Drive or Dropbox.
Features
Provide a special game mode
Record background sounds and your voice from the microphone
Support automatically starting the recording task or create a schedule for it
Some gamers will like the ability to remove the background noise and to boost the audio
Add Intro or Outro to your gameplay video after recording
Let's download EaseUS RecExperts and see the steps to create a video from your gameplay.
Step 1. Start your favorite game and launch EaseUS RecExperts. Choose "Record game" from the menu.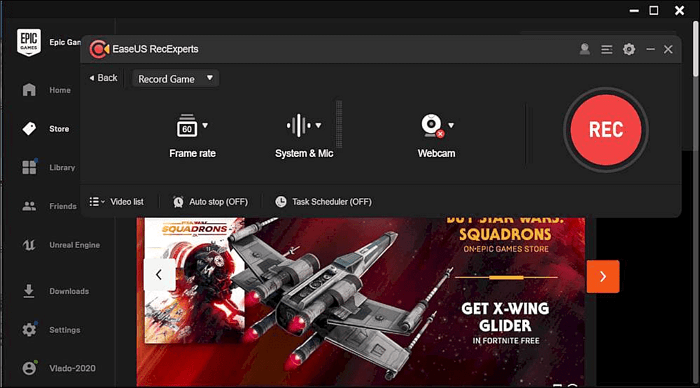 Step 2. Select the frame rate you want to record, as well Variable or Constant frame rate.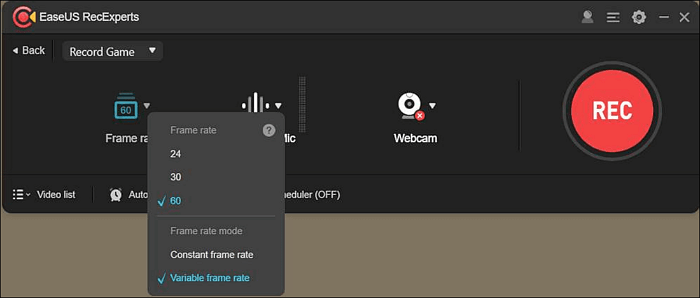 Click the red button "REC" and your recording will start. You will see a small bar, which shows the time of your record.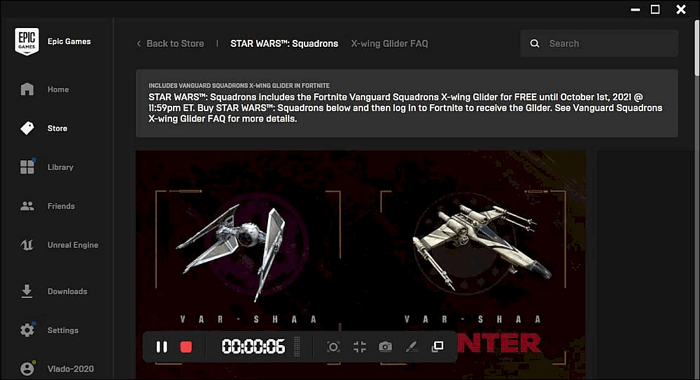 Step 3. You can choose as well the Task Scheduler, where you can define the recording area and the audio input. Also, you can define exactly the starting date and time and the duration of the record.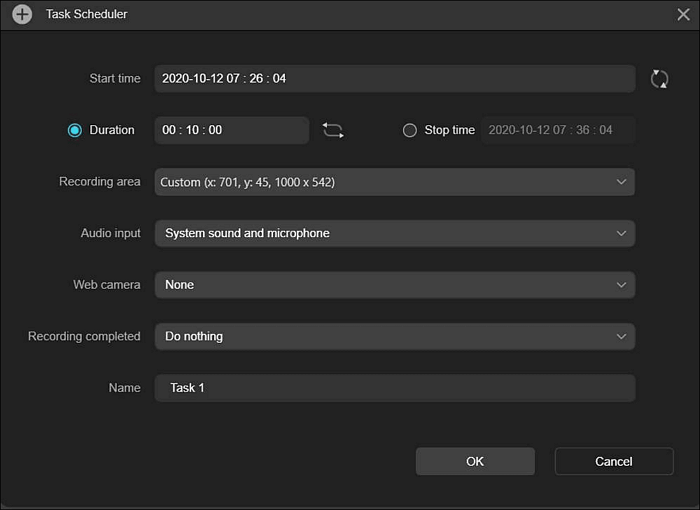 Step 4. Once done, you can edit the record footage with the built-in video editor. On the recorded video you can add Video Intro (in the demo case the title is "Demo Epic Games").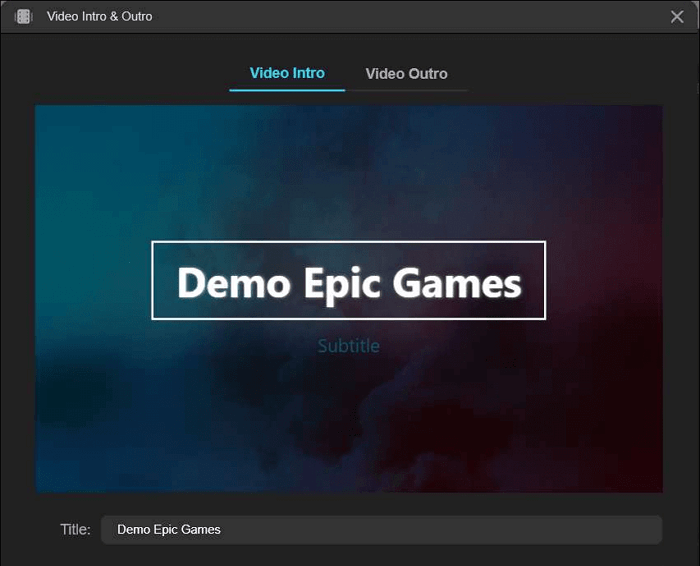 Finally, you can export the ready to use video clip in the appropriate video format.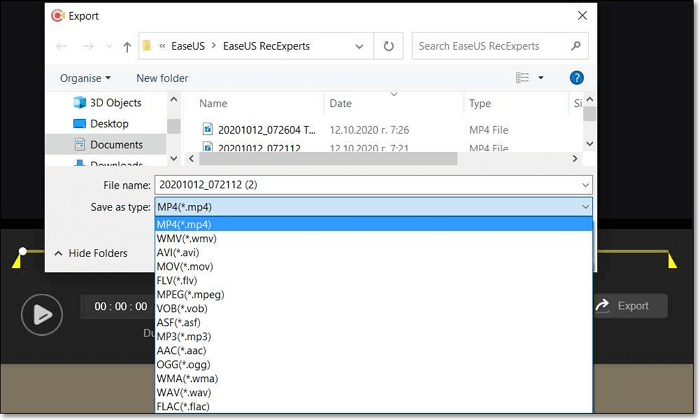 How to record gameplay on Windows 10
Recording gameplay on Windows 10 is extremely easy only if you have a useful game recorder. Here you will learn various and easy ways to get the work done.

Best 4 Game Recorder for Windows 7 PC
Apart from EaseUS Windows game recording software, there are lots of other game recorder software for Windows 7. In this section, we will show you another 4 free game recording software.
Open Broadcaster Software (OBS) is a free and professional screen recorder for games, and there are a number of guides on its website that show how to use it. Game Capture is one of the primary sources that many users are looking to use that lets you directly capture the game you are playing. 
Moreover, it provides live streaming during the recording, which gamers will like a lot, which allows you to make live streaming to Twitch or YouTube.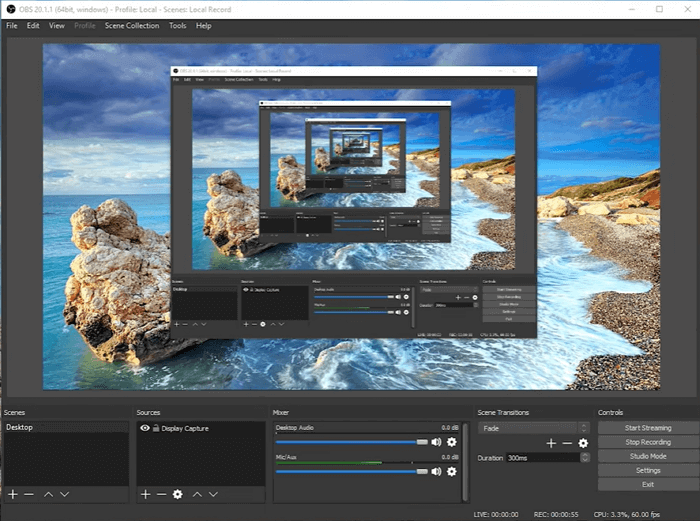 How to use OBS Studio to record gameplay on Windows 7:
Step 1. Start OBS Studio and add your Game Capture Source.
Step 2. Select the Mode (full screen application, a specific window, or foreground window with hotkeys). The first option will automatically detect any game running full screen on your primary monitor, and add the video output to the Game Capture source in OBS.
Step 3. Once done, you can launch your game and click the start recording button to begin your recording.
Fraps is one of the most popular game recording software for Windows, supporting Windows 7, 8, and 10. When you capture your screen activity, you don't have to adjust many settings, so it is very friendly to beginners. You can use it to record audio both from external input (like a microphone) and the system sound, or capture videos and movements.
While screen recording on Windows 7, you can adjust many options, including setting the video capture frame rate. It allows you to choose the FPS from 30 to 120!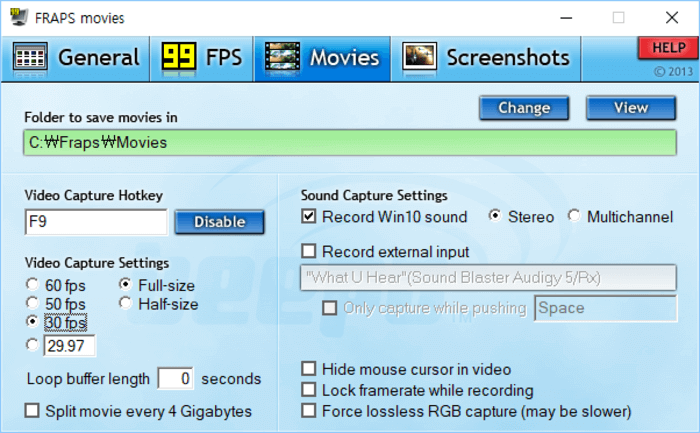 How to use Fraps to screen record on Windows 7 for gaming:
Step 1. Download the latest version of Fraps and open the application.
Step 2. Click on Movies. It's at the top-center part of the window.
Step 3. Create a video capture hotkey. This will be the key you press on the keyboard to start and stop recording. The hotkey is F9 by default, but you can change it if you wish.
Step 4. Adjust your video preferences, like changing to select a different location to save the video. If you are speaking into a microphone, check "Record external input" then select your microphone from the menu. Then select 60 fps under "Video Capture Settings" for optimal results.
Step 5. Once done, you can record gameplay by clicking the recording button.
Bandicam, a light application, is very popular among Windows PC users. It's very simple to use and can record videos of your screen with audio and webcam simultaneously. You can capture your gameplay on high-quality video with this Windows 7 game recorder. Besides, it provides you a scheduler, and you can apply real-time drawing.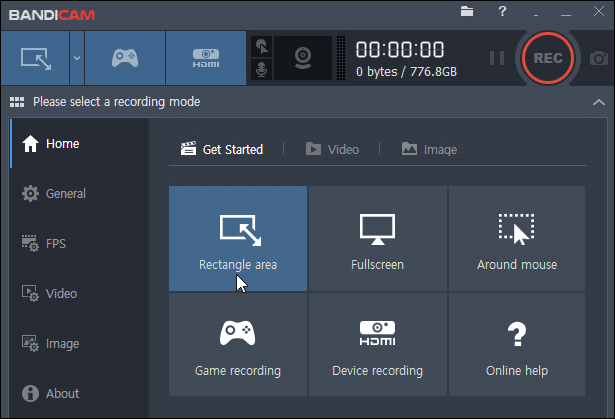 How to record gameplay on Windows 7 PC using Bandicam:
Step 1. Download Bandicam from the official website. Choose the "Game Recording" mode and start the recording target. When the recording target is executed, a green-colored number (FPS) will appear in the top-left corner.
Step 2. Click the "Record" button or press the hotkey (F12) to start the recording. As the recording starts, the green-colored number will change to red.
Step 3. Click the "Stop" button or press the hotkey (F12) to complete the recording.
Step 4. Go to "Home -> Video" to play, edit, or upload the captured videos.
Icecream Apps is a screen recording program that captures anything on the screen. This feature-rich screen recorder helps you to capture video, screenshots, game recording, webinars, and many more. You also can use it to record the screen, system audio, and microphone with ease. In addition, the application provides different shapes, arrows, and lines that you can add while recording.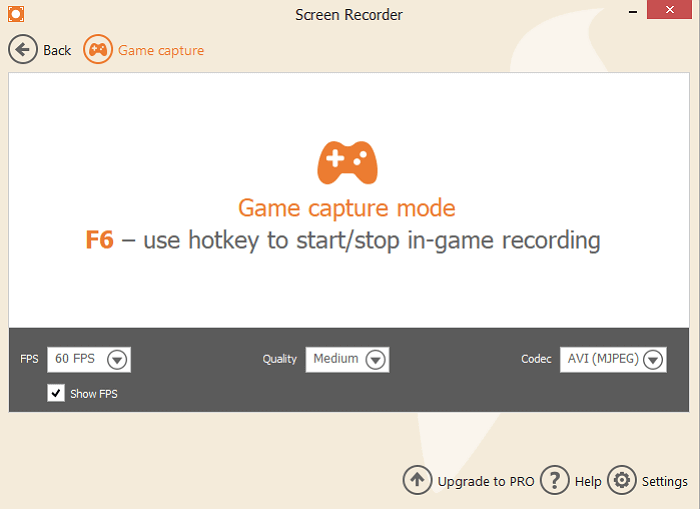 How to record gameplay on Windows 7 with ease:
Step 1. Install the free game recording software and launch it.
Step 2. Tweak the game capture settings. You will most definitely need to record the game's audio, so go to the "Audio" tab in the "Settings" panel and check the "Record Audio" option. If you're going to comment on your gaming session, you will also need to enable the "Record microphone" option. Make sure that the proper audio devices are selected.
Step 3. Make the audio settings of the game recorder. Save the settings and click the "Game capture" button of the game screen recorder. Choose whether you want to show FPS and the FPS (frames per second) level (25 to 60 FPS), then set the video quality and the output video codec.
Step 4. When you are done, you can click the stop button to end the recording. 
Conclusion
If you use a Windows 7 PC, you will not have access to built-in screen recording tools like Windows 10 users. So you will need third-party recording software to record your desktop screen activity, including gameplay. This guide shows 5 excellent screen recorders for gamers on Windows 7. You can choose anyone to complete your work.
For those looking for an easy-to-use screen recording software for Windows 7, providing both screen recording and video editor with high quality, RecExperts is the best choice.
How to Record Game on Windows 7 PC FAQs 
1. Does Windows 7 have a screen recorder?
No. Unlike Windows 10, Windows 7 does not have a built-in screen recorder. If you need to do screen recording activities on your Windows 7 PC, you can rely on some third-party screen capture like OBS Studio, Fraps, EaseUS RecExperts, etc.
2. How do I record a video on my laptop for free Windows 7?
A laptop screen recorder is a must. You can take a look at the following screen capture for Windows 7 laptops.
EaseUS RecExperts
Bandicam
Fraps
ShareX
CamStudio
3. How can I record PC gameplay for free?
If you are using a Windows 10 PC, you can directly capture PC gameplay with the built-in screen recorder for free.
If you are not, you need to download some free screen recorder like OBS Studio, Freeseer, VirtualDub, and may more first, then follow the instruction to start your game recording.