You may have already noticed that when you want to take a photo with your iPhone, your iPhone may tell you that the available storage is not enough. This means you have put too much content on this iPhone. Transfer photos to iCloud from iPhone is a good solution for clear iPhone storage.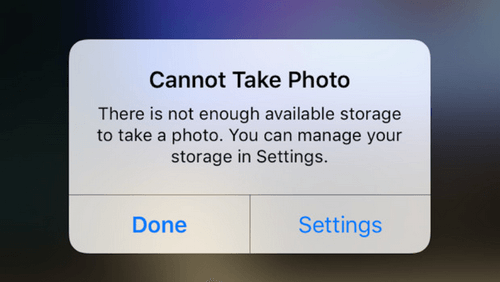 iCloud Photo Library is a part of Apple iCloud online storage service. You could visit iCloud Photo Library via iPhone/iPad, computer or any other kind of device with App or browser at iCloud.com. As long as you have a good network connection, you could transfer photos to iCloud with toggling a button simply.
How to transfer photos to iCloud from iPhone
Step 1. Unlock your iPhone and tap Settings on the screen. Go to Settings > [your name] > iCloud > Photos > iCloud Photo Library.
Step 2. Toggle on this button on your iPhone. This is the switch of transferring photos to iCloud from iPhone.
Step 3. Go to the home screen and then open Photos on your iPhone. All the photos will be transferred to iCloud automatically.
Step 4. You could delete the photos on your iPhone after close iCloud Photos Library on your iPhone safe.
But, there is another important detail you should be aware. iCloud only for 5 GB free for all kind of data, including iCloud Backup, iCloud Photo Library, iCloud contacts, notes and etc. What's more, it also requires a good network connection. So, it would be better if there is another method to clear iPhone storage.
How to clear iPhone storage without iCloud
The purpose of transferring photos to iCloud is to save those photos and back up to iCloud. In fact, you could also transfer photos from iPhone to the computer to back up the files and delete them on your iPhone to free up iPhone space. If you are looking for an iPhone data transfer, you can't miss EaseUS MobiMover Free. This is the first and only one completely free iPhone data transfer in the world by now. It would help you transfer photos between a computer and iPhone/iPad. Plus. It's also a reliable iPhone content manager. You could transfer, add, edit and delete photos on iPhone with just a few clicks.
Step 1. Check your computer system, if you are using a computer with Windows 7 or the Windows system later than 7, please download and install EaseUS MobiMover Free on your computer.
Step 2. Launch MobiMover on this computer. Then connect your iPhone to it. If the computer cannot read iPhone data automatically, you could unlock iPhone and wait for the notice "Trust This Computer?", then tap the button Trust.
If everything goes well, you could reach the MobiMover now.
Step 3. Click the button Custom at the bottom of the buttons. This is the function to manage your iPhone storage.
Please Click the category Photos on the left side, you will find the Camera Roll, Photo Stream and Photo Library in the list. Click the category to change the content on the right side.
For example, please click Photo Library on the left side now. Select the photos you want to transfer to this computer instead of transfer these photos to iCloud. Then, find the button Transfer to Computer and click it.
Step 4. Choose a folder to back up photos on this computer. Then click Select Folder to continue. Wait a few minutes, the process will be finished soon. You could free up your iPhone storage easily.