Notes is one of the commonest used apps on your iPhone. You can use it to take notes during classes or informal meetings, write down your to-do list, or record the amazing ideas that pop into your mind. Thus, some of your notes may be of great importance to you and you need to transfer notes from your iPhone to pc to make a backup or make it more convenient for use, which gives us the reason to focus on the practical ways to export notes from iPhone to computer. In this article, we will introduce three workable ways to do it.
You may also interested in: How to lock notes on iPhone
Method 1: Transfer Notes from iPhone to computer using iCloud
With the help of iCloud, you can sync all notes from your iPhone to the cloud storage and get access to the files from your computer via iCloud.com. Here are the detailed steps.
Step 1: On your iPhone, go to Settings > [your name] > iCloud and turn on Notes.
Step 2: On your computer, visit iCloud.com and enter your Apple ID and password to log in.
Step 3: Choose Notes and you will see all the notes on your iPhone. You can edit/delete the existing notes or add new notes to your computer from iCloud.com.
Step 4: If you need to, you can copy the content of the notes out and save them on your computer.
Method 2: Export Notes from iPhone to PC via email
You can also copy notes (and its attachments) from your iPhone to your computer by sending emails. However, this method can only help you transfer notes from your iPhone to PC one by one. If you don't have lots of notes to copy, you can choose this tip to get things done.
Step 1: Open Notes on your iPhone.
Step 2: Find and select the note you want to export.
Step 3: Click the share button in the top-right corner of your iPhone screen.
Step 4: Choose Mail and input your email address.
Step 5: Check the email on your computer. You can copy the note and paste it into a document for use and download the attachments on your computer.
Note: some attachments, like photos, may not show in the mail correctly. If that happens, you need to click the show image option (depending on which email service you use) to view the pictures.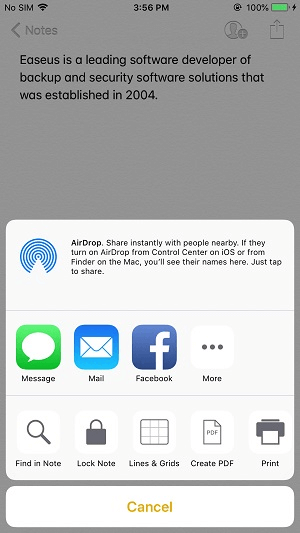 Method 3: Transfer Notes from iPhone to PC
The third method to copy notes from your iPhone to PC is to use EaseUS MobiMover, professional software for iOS data transfer, file management, and video download. With it, you can transfer notes from your iPhone to computer with simple steps and save the items as the HTML file on your computer, which you can access and view anytime you like. If you need to, you can also transfer the notes back to your iPhone using MobiMover. Before you apply the steps, you may want to learn more about the main features of MobiMover.
Click here to skip the introduction and jump to the guide directly.
Data Transfer: Transfer files between a computer and an iOS device or between two iOS devices
With MobiMover installed on your computer (PC/Mac), you can share photos, videos, music, ringtones, voice memos, audiobooks, contacts, messages, notes, and more between your devices. Want to save your iPhone text messages to computer? Want to put music on iPhone? Want to sync photos from one iPhone to another? You can have it done via this tool.
File Management: Delete, edit, or add items from computer
With this feature, you can easily manage your iPhone/iPad content from your computer. Whether you want to add contacts to your iPhone or delete iPhone photos from PC, MobiMover can help you with it.
Video Download: Save videos from websites to computer or mobile device
This is a wonderful feature which enables you to enjoy the videos you like offline. You can download videos from websites like YouTube, Vimeo, Twitter, Instagram, Facebook, MySpace, Break, and more. Read the article about how to download Vimeo videos to iPhone to learn how to use the feature.
As you can see from the information above, EaseUS MobiMover is a versatile tool that will be quite helpful whenever you want to copy files to or from your iOS device. Give it a try now!
Notice

We are sorry to tell you that because of the limitations of the iPhone operating system, notes cannot be transferred from the iOS device that's running iOS 11 or later using MobiMover. However, if you want to transfer other file types or transfer notes from devices running iOS 10 or earlier, you can still use MobiMover to get it done.
Step 1. Connect your iPhone/iPad to your computer, launch EaseUS MobiMover, then unlock your iDevice and click "Trust" in the prompt asking for your permission. Among the options, choose "Phone to PC" > "Next".
Step 2. Select the category or categories you want to transfer from your iPhone/iPad to computer. You can click the default path and then set a custom storage path for the notes to be transferred. Afterward, click "Transfer".
Step 3. When the transfer process has finished, you can view and manage the notes on your computer with ease.
Conclusion
Only Method 3 provides you a direct way to export notes from your iPhone. However, as mentioned above, you cannot copy your iPhone notes to computer if your iPhone is running iOS 11 or later. Even if MobiMover cannot help you in this case, you can still get it on your computer. Why? You can do many other things with it, like transferring photos from PC to iPhone, backing up iPhone contacts to computer, or downloading YouTube videos to PC. Don't miss this powerful tool to enjoy your iPhone to the best.