Windows 10 thinks my hard drive is removable
"My internal drives, one is an SSD and the other is an HDD, are showing up for some reason as removable under 'Safely Remove Hardware and Eject Media' in Windows 10. I don't have a clue why Windows 10 thinks my hard drive is removable. Is it possible to fix this?"
Apart from the event of internal drives showing as removable, there are at times external USB flash drives appearing to be Disk Drive in Windows 10. What's going on there? Some people would find that simply restarting the computer solves the problem, still, the majority failed and got stuck in changing the drive property on the right track.
How to fix internal hard drive wrongly shows as removable in Windows 10
Here on this page, we find 2 most applied solutions for you to troubleshoot the problem without a hitch. let's begin with the simple method, but most of the time, it's helpful.
Solution 1. Modify in Device Manager
Step 1. Type Control Panel in the search box next to Windows menu in Windows 10 and open Control Panel.
Step 2. Navigate to "Device Manager".
Step 3. On the Device Manager window, double-click on the "Disk drives".
Step 4. Right-click on the internal hard drive (HDD or SSD) and select "Properties".
Step 5. Under the Policies tab, make sure "write caching on the device" is enabled, there is no "optimize for quick removal" enabled. This is directly related to how Windows considered or not a drive is removable.
Step 6. Update to the latest chipset and AHCI/RAID driver.
Solution 2. Modify in Registry
Important Note - backup registry and system in advance
Since the problem cannot be ideally solved by the simple method, you have to rely on the last resort which ensures a high success rate. Only one noticeable point. This is a Registry fix, so it's somewhat risky. You should always BACKUP the registry before you make changes.
How to backup registry in Windows 10? This can be done in seconds, however, with years of experience, we highly suggest not backup the single registry file, because you'll have to reinstall Windows OS as soon as something goes wrong.
Download EaseUS free backup software, with one-click system backup option, you can easily backup system, including the registry files with a few clicks.
Step 1. Run EaseUS Todo Backup and choose "System Backup" to backup the current operating system on your computer.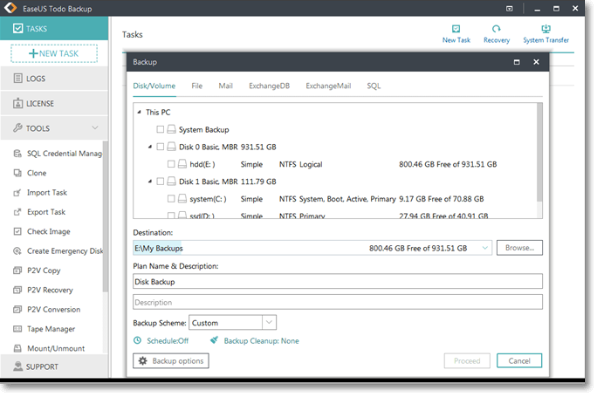 Step 2. On the "System Backup" window, there are several options for you to backup OS intelligently.
Select a backup location - Click "Browse" to choose your own backup storage device.
Add a plan name and description - it's necessary when there are many similar backups in the same location.
Schedule - Click "Schedule" and you can set an auto OS backup task by daily, weekly...or upon an event.
Image-reserve strategy - manage your increasing OS backups in an organized way.
Backup options - to create an OS backup without taking too much disk space, enable OS backup encryption, etc.
Step 3. Click "Proceed" after making all necessary settings.
Windows system backup (including the registry) will be done in seconds. If anything happens during the registry modification, just restore the system from the backup with EaseUS Todo Backup.
How to fix Windows 10 internal hard drive showing as removable in Registry:
Step 1. Right-click the "Start" button in Windows 10. On the Power Users menu, choose "Command Prompt (Admin)" to open a command prompt with administrator privileges.
Step 2. In the command prompt window, type devmgmt.msc and hit "Enter".
Step 3. Under Disk Drives, identify the SATA device you would like the inbox driver to consider internal and open properties for this device by right-clicking and selecting "Properties".
Step 4. Note the bus number from the properties overview ("1" in the below example).
Type the following command in the previously opened command prompt and hit "Enter":
reg.exe add "HKLM\SYSTEM\CurrentControlSet\Services\storahci\Parameters\Device" /f /v TreatAsInternalPort /t REG_MULTI_SZ /d x
Where x corresponds to the Bus Number you noted in step 4.
Again, modifying registry to fix internal hard drive showing as removable in Windows has some potential danger. Do not ignore the advice at the beginning to backup system and registry beforehand. It's worth it.
100% of people found this article helpful.
Frequently Asked Questions
Why choose EaseUS Todo Backup?

"The easiest way to protect your data and system files." —techradar

"EaseUS Todo Backup Free is one of the most popular free data backup applications available. This software offers a myriad of features and is extremely user-friendly. It provides a full system backup, meaning you can back up your entire operating system." —TopTenReviews

"EaseUS ToDo Backup Home is a great backup program, well suited to the home and SMB space." —PCWorld
What is the difference between Clone and Backup? In what cases should I use Clone?

Clone will copy one disk to another or one partition to another (unallocated space is also supported). Usually, this option is used to upgrade the current disk by creating an identical copy. Backup will generate a .PBD image file containing the selected files or system that can be restored from the .PBD image if needed.
What is the difference between System Backup and Disk Backup?

System Backup will auto-select the system boot related partition(s) as the backup source to make sure the system image can be restored properly. Disk/Partition Backup will allow you to manually select a whole disk or speficy a certain partition as the backup source. You will get the same backup result as System Backup if you manually select the system and boot partitions with the Disk/Partition Backup option.
As a computer newbie, what features should I use to protect my computer?

You can use System Backup to back up the system and boot partitions, use Disk/Partition backup to back up the data partition and add plans to run an automatic backup. If you use the computer frequently or have software that may cause boot failure of the computer, we would suggest you back up the computer every 1 to 2 days. For other situations, you can backup the computer once a week. In addition, you can schedule File Backup to back up the files which are changed frequently.
What kind of storage service should I use to save my backup images?

EaseUS Todo Backup can save backup images to internal disks, external disks, network drives, or free cloud(Google Drive, Dropbox, and OneDrive) and CD/DVD. It is suggested to save the images to the internal/external/network drives to save time as those kinds of disks have a better read-write speed. It is suggested NOT to save the image on the source disk, because once the disk is damaged, all the files on the disk will become unavailable and you will be unable to restore the image.
As a company network administrator, what features should I use to protect our internal computers?

It is recommended that you use the SQL Backup feature to back up your company's SQL server and Exchange Backup feature to back up the Exchange server. In addition, you can execute System Backup to back up the system and boot partitions on every computer and set a plan to execute the backup once a day or twice a week to ensure that the computer can be restored timely when it has boot issues. File Backup feature can be used to back up important user data. If there are a large quantity of computers, you can purchase EaseUS Backup Center to manage the backups on the client computers centrally.
About EaseUS Todo Backup
Be it a file, system, partition, or disk, EaseUS Todo Backup will help you back up or clone the item and provide you with multiple backup plans.