Windows 10 User Profile Cannot Be Loaded
"Hey, recently I have experienced a weird thing. There is something wrong with my Windows 10. Whenever I try to log in it says "The User Profile Service failed sign-in. The User Profile cannot be loaded." I can't enter my Windows 10 as usual. Is there anybody can help me?"

If you encounter "The User Profile Service failed the sign-in. The User Profile cannot be loaded." error on your Windows 10, it means your user profile has been corrupted. Furthermore, you cannot access Windows 10. But fortunately, such annoying error could be fixed in right way. Go with us, get rid of the error now.
How Do I Fix "User Profile Service Failed Sign-in" Error
Before you follow the post to fix the User Profile error, you can try to reboot your Windows 10, if the error still occurs, follow the methods below.
Method 1. Boot Your Windows 10 into Safe Mode and Fix It
Follow the two steps to boot your Windows 10 into safe mode and fix "the user profile cannot be loaded" error.
1. Boot into Safe Mode
Safe Mode loads with a minimum set of drivers, software, and service. Usually, when Windows doesn't start normally, Safe Mode starts with no problem. It's useful for you to troubleshoot the problem there.
Ensure your PC is off
Press the "power" button to turn on your PC, then hold the "power" button down until PC shuts down automatically (about 5 seconds). Repeat this more than 2 times until you see Preparing Automatic Repair
Then wait for Windows to diagnose your PC
Click "Advanced options"
Click "Troubleshoot"
Click "Advanced options"
Click "Startup Settings" to continue
Click "Restart"
On your keyboard, press "4" to enter the Safe Mode without the network. (If you need to do some online research after boot into the safe mode, press "5" to enter Safe Mode with network access.)
2. Fix Your Corrupt User Profile by Correcting Its Registry Value
Step 1. In safe mode, open Run dialog box by pressing "Windows + R".
Then type regedit in the box and hit Enter.
If prompted by User Account Control, click "YES".
Step 2. After Registry Editor window pops up.
Head to "HKEY_LOCAL_MACHINE" > "SOFTWARE" > "Microsoft" > "Windows NT" > "CurrentVersion" > "ProfileList".
Step 3. Click each "S-1-5" folder and double-click the "ProfileImagePath" entry to find out which user account it relates to. (If your folder name ends with .bak or .ba follow Microsoft's instructions to rename them).
Step 4. Once you have determined where is the user profile(and it doesn't have a .bak ending), double-click on the entry "State" and change the Value data to 0 and click "OK".
Step 5. Then Double click on the entry "RefCount" to launch a popup Windows and change the value to 0. If this value isn't available, you might have to create it manually.
Click anywhere on the blank space on the right pane - Click "New" > "DWORD (32 bit)" > type RefCount > click on "Enter".
Step 6. Close Registry Editor and restart your PC.
Method Two. Create a New User Account
Before you take actions, you must back up your User Profile. Usually, user files backup manually costs too much time. It is a better choice to use free backup software to finish this troublesome job.
Step 1. Open EaseUS Todo Backup and select "File Backup".
You may have a large amount of vital data to be protected as time goes on, such as documents, pictures, music, and videos, etc. It is always a good habit to have a backup on a regular basis. File Backup is one of the best choices for you to get over unexpected data loss.
Step 2. Select the files that you want to back up.
Step 3. Select a destination to save your backup of the selected files.
You'd better create the backup file in some other storage media or in some other drive. If not, there may be a risk of the backup file getting corrupted or destroyed.
Advanced backup settings are useful when you want to create a flexible and automatic backup plan.
The schedule is to create an automatic backup plan.
Backup options are to edit the advanced parameters.
Image-reserve strategy is to reserve the limited image as per image retention rule.
Advanced backup settings are for reference only but not a prerequisite for backup.
Step 4. Click "Proceed" to execute your operation.
After you make the backup, you can learn how to Create a New User Account:
Step 1. You need to create a new and fully-function user profile as an administrator. So, activate the hidden admin account in the Command Prompt by entering the command (net user administrator /active: yes) and press "Enter".
Step 2. Open the Settings app by pressing "Windows + I". On the Settings panel, click "Accounts".
Step 3. To create a local user profile in Windows 10, on the left pane, click" Family & other people" and then select "Add someone else to this PC".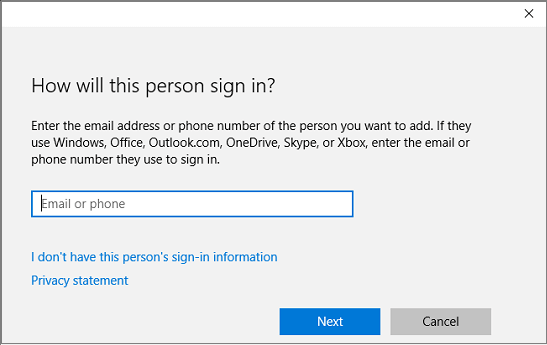 Step 4. A prompt will ask you to provide information to sign in, simply click the on the link at the bottom that says I don't have this person's sign-in information.
Step 5. Later you'll then receive another confirmation prompt to create your account. Still, ignore the email part, and click the link in the bottom that says "Add a user" without a Microsoft account.
Step 6. In the final part, you're now given the familiar Windows account creation screen. Just enter the Username, a password for your new user account and click "Next".
Then, you can restart your computer and sign in with your new account. If you still have this error, you can ask us for help.
100% of people found this article helpful.
Frequently Asked Questions
Why choose EaseUS Todo Backup?

"The easiest way to protect your data and system files." —techradar

"EaseUS Todo Backup Free is one of the most popular free data backup applications available. This software offers a myriad of features and is extremely user-friendly. It provides a full system backup, meaning you can back up your entire operating system." —TopTenReviews

"EaseUS ToDo Backup Home is a great backup program, well suited to the home and SMB space." —PCWorld
What is the difference between Clone and Backup? In what cases should I use Clone?

Clone will copy one disk to another or one partition to another (unallocated space is also supported). Usually, this option is used to upgrade the current disk by creating an identical copy. Backup will generate a .PBD image file containing the selected files or system that can be restored from the .PBD image if needed.
What is the difference between System Backup and Disk Backup?

System Backup will auto-select the system boot related partition(s) as the backup source to make sure the system image can be restored properly. Disk/Partition Backup will allow you to manually select a whole disk or speficy a certain partition as the backup source. You will get the same backup result as System Backup if you manually select the system and boot partitions with the Disk/Partition Backup option.
As a computer newbie, what features should I use to protect my computer?

You can use System Backup to back up the system and boot partitions, use Disk/Partition backup to back up the data partition and add plans to run an automatic backup. If you use the computer frequently or have software that may cause boot failure of the computer, we would suggest you back up the computer every 1 to 2 days. For other situations, you can backup the computer once a week. In addition, you can schedule File Backup to back up the files which are changed frequently.
What kind of storage service should I use to save my backup images?

EaseUS Todo Backup can save backup images to internal disks, external disks, network drives, or free cloud(Google Drive, Dropbox, and OneDrive) and CD/DVD. It is suggested to save the images to the internal/external/network drives to save time as those kinds of disks have a better read-write speed. It is suggested NOT to save the image on the source disk, because once the disk is damaged, all the files on the disk will become unavailable and you will be unable to restore the image.
As a company network administrator, what features should I use to protect our internal computers?

It is recommended that you use the SQL Backup feature to back up your company's SQL server and Exchange Backup feature to back up the Exchange server. In addition, you can execute System Backup to back up the system and boot partitions on every computer and set a plan to execute the backup once a day or twice a week to ensure that the computer can be restored timely when it has boot issues. File Backup feature can be used to back up important user data. If there are a large quantity of computers, you can purchase EaseUS Backup Center to manage the backups on the client computers centrally.
About EaseUS Todo Backup
Be it a file, system, partition, or disk, EaseUS Todo Backup will help you back up or clone the item and provide you with multiple backup plans.