Windows 10 User Profile Cannot Be Loaded
"Hey, recently I have experienced a weird thing. There is something wrong with my Windows 10. Whenever I try to log in it says "The User Profile Service failed sign-in. The User Profile cannot be loaded." I can't enter my Windows 10 as usual. Is there anybody can help me?"

If you encounter "The User Profile Service failed the sign-in. The User Profile cannot be loaded." error on your Windows 10, it means your user profile has been corrupted. Furthermore, you cannot access Windows 10. But fortunately, such annoying error could be fixed in right way. Go with us, get rid of the error now.
How Do I Fix "User Profile Service Failed Sign-in" Error
Tips: Before you follow the post to fix the User Profile error, you can try to reboot your Windows 10, if the error still occurs, follow the methods below.
Method One. Boot Your Windows 10 into Safe Mode and Fix It
Follow the two steps to boot your Windows 10 into safe mode and fix "the user profile cannot be loaded" error.
Step 1. Boot into Safe Mode
Safe Mode loads with a minimum set of drivers, software, and service. Usually, when Windows doesn't start normally, Safe Mode starts with no problem. It's useful for you to troubleshoot the problem there.
Ensure your PC is off
Press the power button to turn on your PC, then hold the power button down until PC shuts down automatically (about 5 seconds). Repeat this more than 2 times until you see the Preparing Automatic Repair
Then wait for Windows to diagnose your PC
Click Advanced options
Click Troubleshoot
Click Advanced options
Click Startup Settings to continue
Click Restart.
On your keyboard, press the 4 number key to enter Safe Mode without the network. (If you need to do some online research after boot into the safe mode, press the 5 number key to enter Safe Mode with network access.)
Step 2. Fix Your Corrupt User Profile by Correcting Its Registry Value
1. In safe mode, open Run dialog box by pressing Windows logo key + R key together.
Then type regedit in the box and hit Enter.
If prompted by User Account Control, click YES.
2. After Registry Editor window pops up.
Head to HKEY_LOCAL_MACHINE > SOFTWARE > Microsoft > Windows NT > CurrentVersion > ProfileList
3. Click each S-1-5 folder and double-click the ProfileImagePath entry to find out which user account it relates to. (If your folder name ends with .bak or .ba follow Microsoft's instructions to rename them).
4. Once you have determined where is the user profile(and it doesn't have a .bak ending), double-click on the entry "State" and change the Value data to 0 and click OK.
5. Then Double click on the entry "RefCount" to launch a popup Windows and change the value to 0. If this value isn't available, you might have to create it manually.
Click anywhere on the blank space on the right pane - Click New > DWORD (32 bit)> type RefCount > click on Enter.
6. Close Registry Editor and restart your PC.
Method Two. Create a New User Account
Before you take actions, you must back up your User Profile. Usually, user files backup manually costs too much time. It is a better choice to use a free backup software to finish this troublesome job.
1. Launch EaseUS Todo Backup, click File Backup.
2. Select the C drive and choose Users.
3. Select the location to save the files like pictures, videos in User Profiles and click"Proceed" to backup the files. Do remember backup the files to an external device because all the User Profile files will stay in the old User Profile.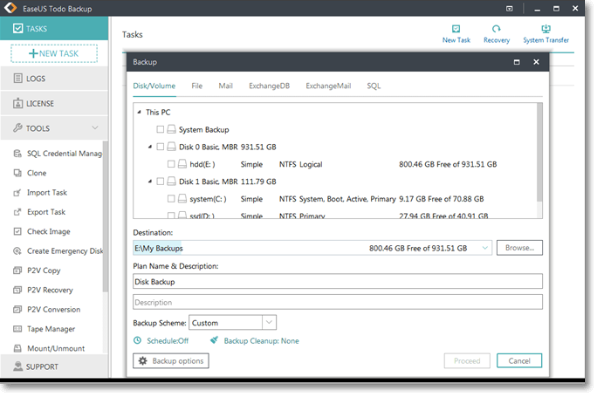 How to Create a New User Account
1. You need to create a new and fully-function user profile as an administrator. So, activate the hidden admin account in the Command Prompt by entering the command and press enter: net user administrator /active: yes.
2. Open the Settings app by pressing Windows + I keys at the same time. On the Settings panel, click Accounts.
3. To create a local user profile in Windows 10, on the left pane, click Family & other people and then select Add someone else to this PC.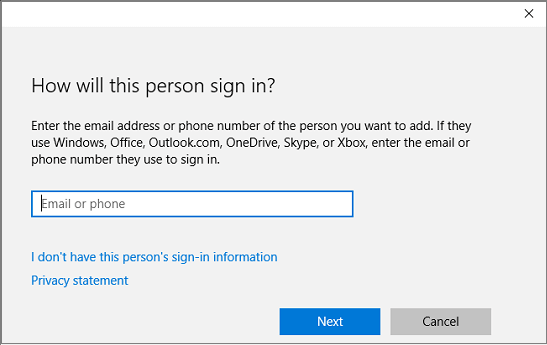 4. A prompt will ask you to provide information to sign in, simply click the on the link at the bottom that says I don't have this person's sign-in information.
5. Later you'll then receive another confirmation prompt to create your account. Still, ignore the email part, and click the link in the bottom that says Add a user without a Microsoft account.
6. In the final part, you're now given the familiar Windows account creation screen. Just enter the Username, a password for your new user account and click Next.
Then, you can restart your computer and sign in with your new account. If you still have this error, you can ask us for help.