
Table of Contents

About the Author

Related Posts

Best Audio Recording Software
How to Make a GIF Using a Webcam [Best 3 Ways]
When recording a video with a webcam, different people have different requirements on the video duration. Some may want to record a long video, while others only need to capture several moments. This is why people save the recordings in different formats, and you can export what you recorded as an MP4 video as well as a GIF. For people who want to get a webcam GIF, there are many noteworthy things, such as individual privacy.
How to record a webcam to GIF while keeping the image quality and information security? A reliable and powerful webcam recorder is what you need. This post will introduce some of the recorders and offer you tutorials on using them. Keep reading to know more.
How to Record Webcam GIFs with EaseUS RecExperts
If you want to find a lightweight but versatile webcam recorder on both Windows and Mac, EaseUS RecExperts is what you can never miss. This software offers several recording modes you need, including screen recording, audio recording, and webcam recording. When it comes to webcam recording, you can select the capturing device freely, and both the built-in camera on your laptop and the external cameras are available.
This GIF maker from webcam helps you record only the webcam or capture the webcam with the screen. No matter what kind of webcam GIF you want to get, this software can always be useful for you. Besides GIF, EaseUS RecExperts also supports other video and audio formats, like MP4, MP3, AVI, etc.
Key Features:
Capture webcam GIF without losing quality
Record full screen on Windows 10/11 and Mac
Record video, audio, webcam automatically with task scheduler
View and trim recordings using built-in tools
With this all-in-one recorder, you can easily capture whatever you want to save on your Windows PC and Mac. Don't hesitate to download it now. No registration is needed.
Steps to Record Webcam to GIF on Windows:
Step 1. Launch EaseUS RecExperts, and you will see the recording options on the interface. Click on the "Webcam" option to activate the webcam recording mode.

Step 2. There is a "Settings" option for you to adjust the parameters of the output files. Click on that button to change the output format.

Step 3. Click on the "Output format" option and select "GIF" from the drop-down menu. You can also adjust other settings, such as output quality and frame rate. Don't forget to hit the "OK" button to save the settings.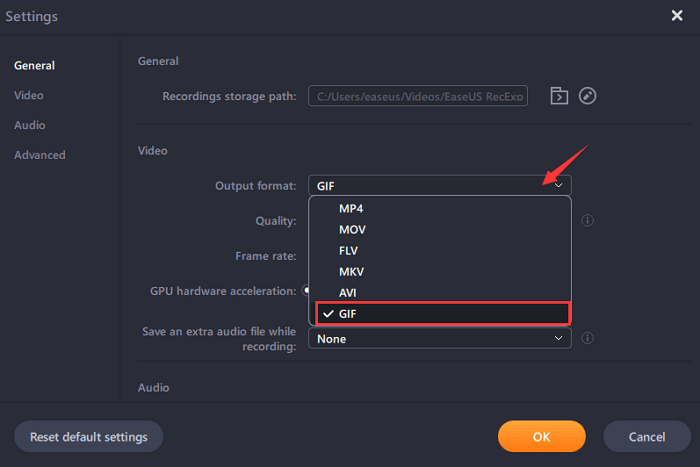 Step 4. After turning back to the webcam recording interface, hit the "REC" button to start the recording. When you want to stop the recording, click on the red square button, and the captured webcam GIF will be saved to your device.

How to Record Webcam GIFs with ScreenToGIF
Besides EaseUS RecExperts, other webcam recoders can also help you turn a webcam clips into GIF, such as ScreenToGIF. This is an open-source webcam recorder with many recording and editing tools, but it is only compatible with Windows OS. For Windows users who are familiar with creating recordings, this is the go-to software, but for beginners, such a great number of features may confuse them.
As it's integrated with many video editing tools, this software can help reverse the recorded videos, as well as rotate, resize, and crop them. In addition to those tools, there are also some advanced video editing features to add subtitles and watermarks to the captured videos.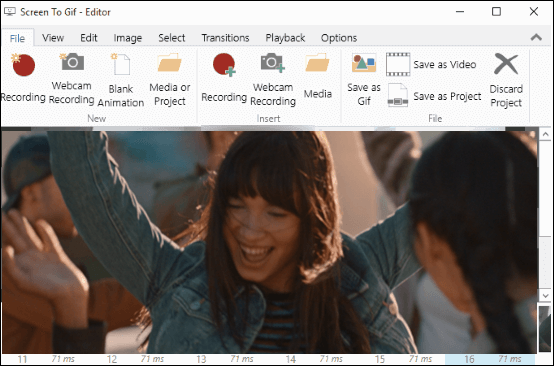 Features:
Record webcam as export it in GIF or video formats
Add title, subtitle, text to recordings
Rotate, reverse, and crop recorded videos
Add border and drawing to videos
Steps to Use GIF Maker from Webcam:
Step 1. Launch this software and you need to select the device for webcam recording.
Step 2. Then, you can adjust other settings, such as the frame rate, and click on the "Record" button to start capturing.
Step 3. Click on the "Stop recording" button to end the capturing, and the editing window will appear. You can edit the recording until it meets your requirements.
Step 4. Finally, click on the "Save as Gif" button to export the recorded webcam GIF to your device.
How to Record Video Camera GIF Online Tool
The above two desktop recorders are both powerful, but sometimes you don't have a lot of time downloading software, that is why many people prefer to online webcam recorders. Is there any online tool that can help you create webcam GIFs? Yes, you can do that with "And then I was like."
Unlike the multifunctional desktop recorders, this online webcam recording tool has a very simple and intuitive interface so that everyone can use it without any effort. However, as a result, it cannot offer you editing tools to process the recordings. Moreover, this online only allows you to record 3-second GIFs, if you want to make the webcam GIF longer, this may not be the best choice.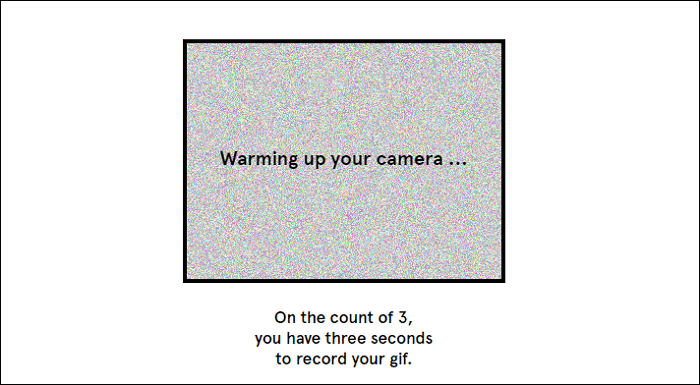 Features:
Create GIFs using webcam
The interface is simple and user-friendly
Support setting start and end frame of GIF
Support looping the recordings
Steps to Record Webcam GIFs with Online Tool:
Step 1. Go to the page of this online tool, and click on the "I WANT TO MAKE A GIF!" button.
Step 2. Then, your webcam will be activate, and you can click on the "RECORD" button to start recording.
Step 3. After capturing the 3-second GIF, this online tool will enable you to select the start and end frame.
Step 4. Hit the "SAVE" button and the recorded webcam GIF will be saved to your device.
Conclusion
This post introduced the best ways to make webcam GIFs, whether you want to record webcam to GIF using powerful desktop software or simple online tool, you can find the recorder you need. Among those three options, EaseUS RecExperts is the best choice. The user-friendly interface makes this software become suitable for beginners, and its built-in tools are also helpful for modifying your recordings. 
About the Author

Melissa is a sophisticated editor for EaseUS in tech blog writing. She is proficient in writing articles related to screen recording, video editing, and PDF file converting.