
Table of Contents

About the Author

Related Posts
Free | How to Record Netflix on PC, Mac, and Phone
Netflix is one of the best video streaming services right now, with some fantastic video series. While it offers to download it for offline viewing, it is only available for smartphones. Many a time we would like to download the movies and series on computer and watch it later without the internet. Once you have the video on the computer, you can also share it with your family and even cast it on TV, Xbox, and other DLNA devices.
In this post, you will learn how to record Netflix on Windows 10 PC, Mac, iPhone, and Android. Go on reading to find the method that suits your needs best.
How to Screen Record Netflix on Windows 10
EaseUS RecExperts for Windows is a powerful screen capturing tool that can record whatever is on the screen, such as videos, streaming audio, and so on. If you play the Netflix video in full-screen mode, you can launch this streaming video recorder and select the "Full Screen" option on the main interface to capture what you need.
Apart from that, this Windows screen recorder allows you to record audio and webcam as well. And you can even set a specific time to start the recording when you have something else to do. Once the recording is complete, it enables you to preview, rename, and trim the video clips directly.
Key features:
Record videos with system sound and microphone sound
Record webcam, screen, or both simultaneously 
Task Scheduler offers automatic screen recording
The quality of the output videos can reach 1080P/4K
This Windows screen recorder allows you to capture all live streaming videos with ease. Just click the below button to get it.
Here is how to record Netflix on PC with EaseUS RecExperts:
Step 1. Open Netflix in your browser and launch EaseUS RecExperts.
Step 2. If you want to play the video on full-screen mode, select the "Full Screen" option to record. If you want to play the video in window mode, click on the "Region" button and customize the recording area freely.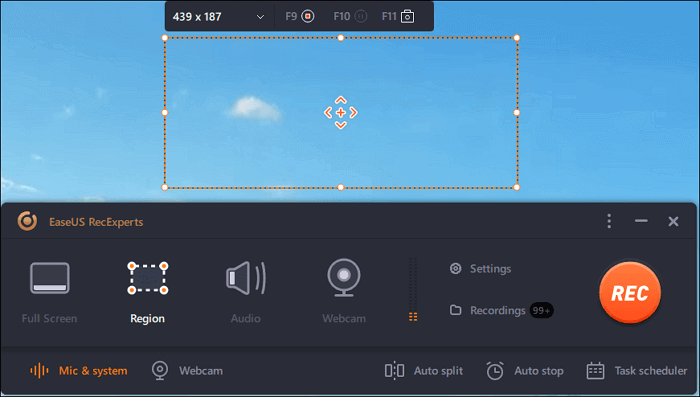 Step 3. After selecting the recording area, tap on the icon on the bottom left side. Then, there will be options that you can choose and set as the sound source. Click on "REC" to start recording.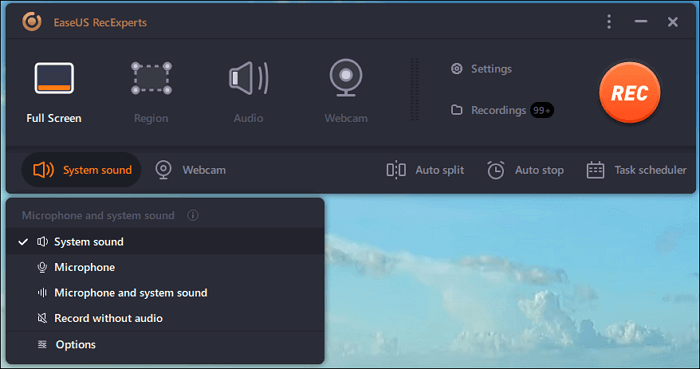 Step 4. There will be a toolbar during the recording, and it would offer you options to pause or stop the recording process. The camera icon is for taking a screenshot, while the timer icon is for scheduling a recording task.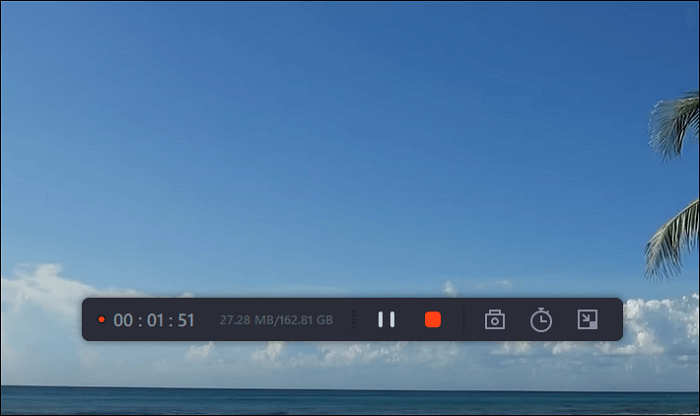 The videos and pictures you captured will be stored on your device. After the recording, a window will appear to help you preview and edit them.
How to Record Movies from Netflix on Mac [2 Picks]
When it comes to Mac, there are lots of Mac Netflix screen capture software you can use. We have tested many various screen recording programs, and here we pick the top 2 best screen recorders for Mac to share with you.
After recording, most Mac screen capture software will leave a watermark on the recordings, and most people are annoyed with that. Given that, here we will share with you a screen recorder without watermark - EaseUS RecExperts for Mac.
This best screen recorder for Mac allows you to capture Netflix streaming videos with simple clicks. You can capture Netflix movies in full screen, part of the screen, or a locked window. While recording, you also can record your microphone to add narrations to your recordings. What's more, it allows you to record webcam with an internal or external webcam and capture the iOS screen through Airplay in seconds.
Here you can install this Mac screen recorder to start recording Netflix on your Mac computer.
Step 1. Open the video that you are going to capture. Then launch EaseUS RecExperts to get used to its interface on your Mac computer.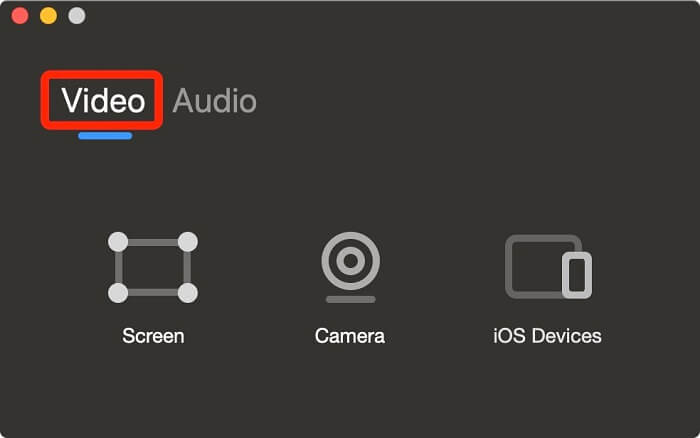 Step 2. In the Video tab, click on the "Screen" and "Custom" option to adjust your screen's recording area. After that, click on Audio Sources to choose the "System Sound" option. Once done, you can click on the red circle button to start the recording.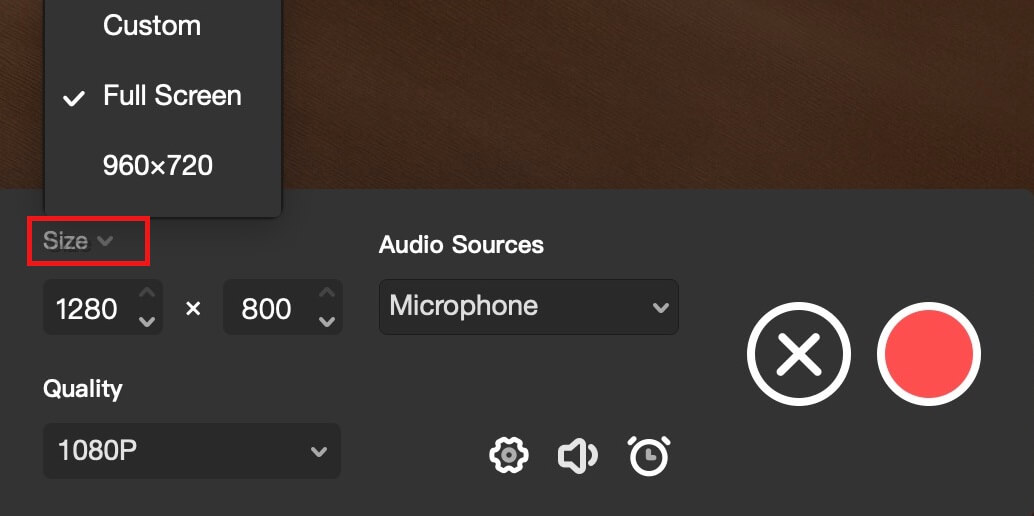 Step 3. Once the video has ended, click on the Stop Recording button in EaseUS RecExperts. Then you can watch the recorded video once you click the Stop button. 
When you are satisfied with your recording, you can choose the "MP4" option to export and save it on your Mac.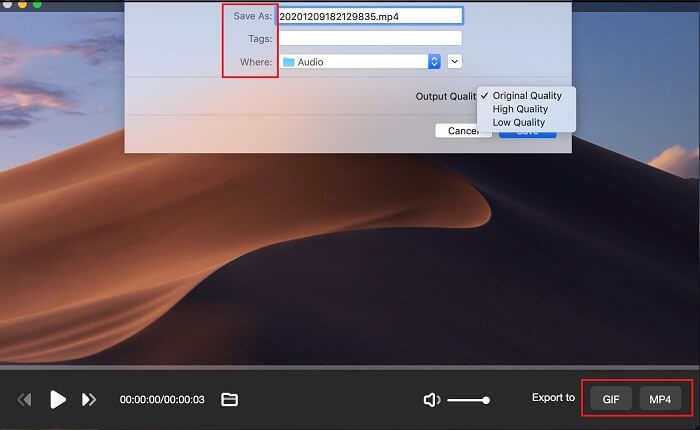 2. OBS Studio
Another way to record Netflix free is to use OBS Studio. It's a free and open-source software for both recording and live streaming. The software offers high performance and real video and audio capturing. You can even record for multiple sources, but that will be too much for everyone. In case of noise, you can use the audio mixer with filters such as noise gate, suppress, and gain.
Lastly, settings offer configuration to tweak every aspect of the recording and broadcast. When you set it up for the first time, you can optimize only for recording instead of broadcasting.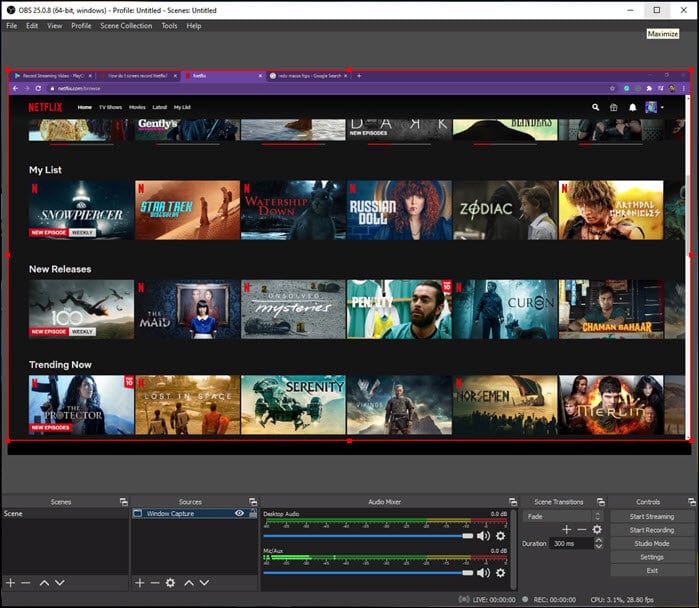 Here is how to record Netflix shows using OBS Studio:
Step 1. Open Netflix in the browser, and set up the video you want to record. Then launch the OBS software, and click on the "+ " sign under Sources.
Step 2. Add a name to the window, and it will automatically select the active Netflix window. Set up the rest of the options.
Step 3. Start playing video, and immediately click on the Start Recording button. Once done, the Netflix video will be saved on your Mac.
How to Capture Netflix Streaming Videos on iPhone
There is a completely free way to record movies from Netflix on iPhone, that is to use the iOS screen recorder. If your iPhone runs in iOS 11 or later, you can record video from Netflix in a few simple steps like below.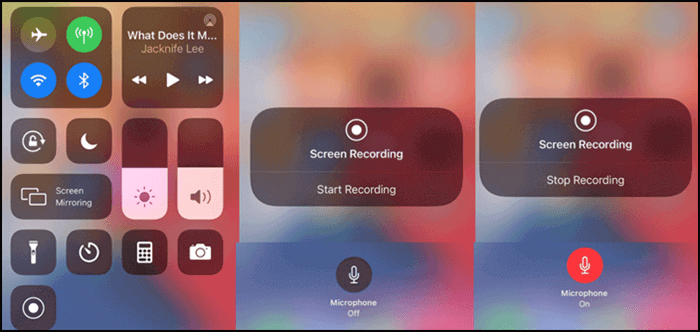 Step by step tutorial to capture Netflix for free:
Step 1. Open the Netflix show that you want to record on your iPhone.
Step 2. Swipe up from the bottom of the screen, then find the Screen Recorder icon and click on it. Once done, your video will start to be recorded.
Step 3. When you want to stop the recording, click on the red button in the floating recording control to end it. 
How to Record Movies from Netflix Free on Android
If you have a smartphone with Android 10 or a later version, you can start recording Netflix with the built-in screen recorder. If not, you just need to install an Android screen recorder app like AZ Screen Recorder.
This app is a stable and high-quality screen recorder for Android users to capture smooth and clear screen videos. With this app, you have an easy way to make video tutorials, game videos, live shows, etc.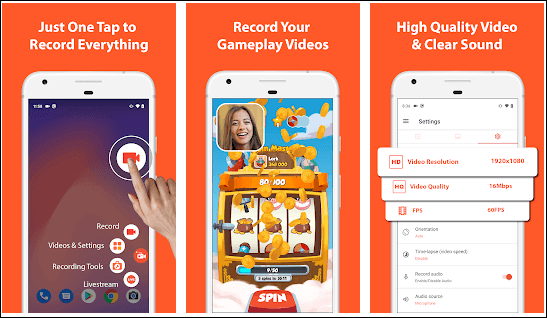 How to ripping movies from Netflix on Android phone:
Step 1. Download and install this app on your Android phone, then open the Netflix video.
Step 2. Open AZ Screen Recorder, and tap "Recording" > "START NOW" to begin your recording.
Step 3. Once done, you can click the stopping button to end the recording.
How to Screen Record on Netflix Online
If you do not want to install software to record whatever is playing on Netflix, then a browser tool is perfect for you. Screen Recorder App is a Chrome browser extension that can record everything, including Netflix, you are playing through the browser. You can also use this extension to screen recording, but it works efficiently when it comes to tab recording of the browser.
Apart from this, the browser also supports audio recording, webcam recording, application recording, and only tab-based recording. You can choose between system and Microphone recording for the best results.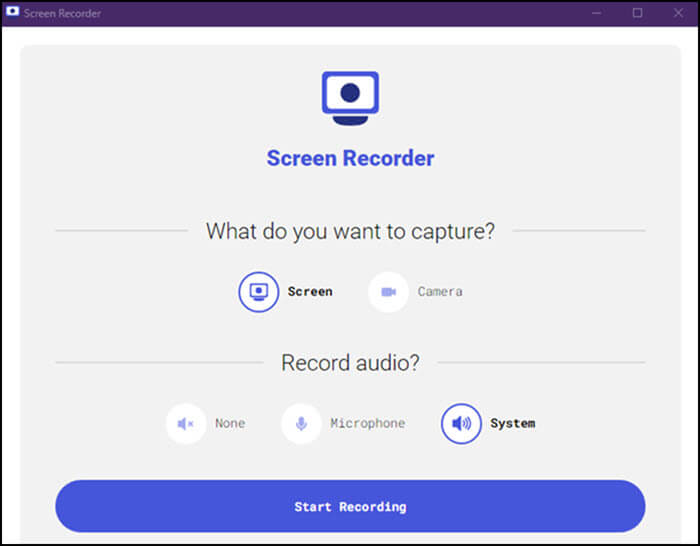 Step 1. Install the Chrome Extension and then Open Netflix in the browser. Choose the video or series you want to record and set it to start playing. Next, click on the Chrome extension to prepare for recording.
Step 2. Select Screen, System sound, and click on the Start Recording button. Here you will have the option to select the entire screen (supports multiple screens), an application window, or Chrome Tab. The latter option is the best way to record Netflix as it will keep away from any distractions on the screen.
Step 3. Once done, you can click on stop recording and save the video on the computer. Make sure you have configured the system sound correctly else the video will be without any sound.
Bonus: How to Download Netflix Videos on iPhone/Android 
The only free way to record Netflix on iPhone and Android is by using the built-in video downloader. Netflix offers you to pre-download series and movies for offline viewing. It comes in handy during long flights and travels. This feature is also available for Windows if they use the app from Microsoft store. Most of the screen recording apps will not work on Android and iPhone as the app is protected against such recording. There is a DVR app available, but it doesn't allow you to record without paying.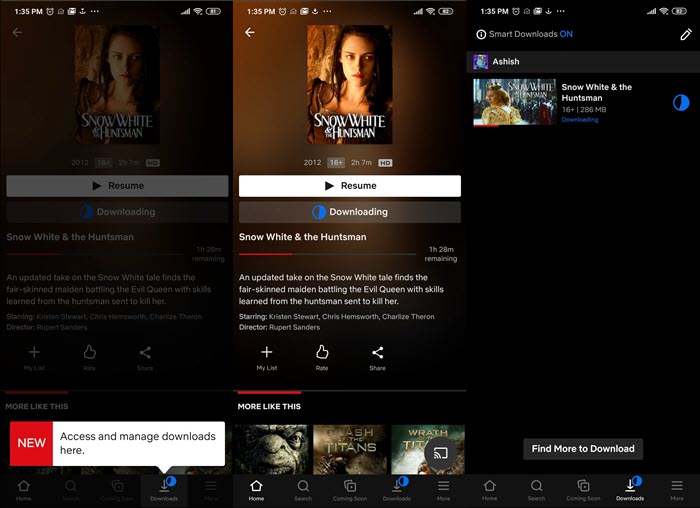 Step 1. Open the Netflix app, sign-in, and select the profile for which you want to download the video on your phone.
Step 2. Next, select the series or the movie you want to download to open its dedicated section. Under the Play/Resume button, there will be a download option as well. Tap on it to start downloading.
Step 3. Once the download is complete, switch to the downloads section, and you play and even stream it to your smart TV or DLNA capable device.
The same steps are applicable for both iPhone and Android devices as the app is the same on both platforms. The quality of the download will depend on the subscription plan. If you have taken one of the top-tier plans, you will be able to download it in HD format.
Conclusion
There are many ways to record Netflix on all types of devices. Mobile devices have an easy way to officially download the video files, but for Windows, macOS, and online streaming, there is nothing close. That's is where EaseUS RecExperts come into the picture. It can record anything that can be streamed through the browsers and keep the audio quality at best using system audio. It is better to pick up EaseUS RecExperts as your choice because it offers multiple functionalities. 
FAQs About How to Record Netflix
1. Can you record from Netflix?
Yes, you can record streaming videos or shows from Netflix by using some screen recording software. To capture Netflix on computer, you can try EaseUS RecExperts, OBS Studio, etc. to complete the task. If you want to save it on your mobile phone, you can directly download Netflix videos within the app. 
2. Is it illegal to screen record Netflix?
It's illegal if you screen record discs on Netflix because you are breaking the copy protection.
If you just capture the streaming videos from Netflix with some screen recording software, that's absolutely legal. Although it is against their terms of service, it is legal.
3. Can I record Netflix on my DVR?
No, Netflix does not allow you to record shows with DVR, but you can capture Netflix with some screen capture software.
About the Author

Jane is an experienced editor for EaseUS focused on tech blog writing. Familiar with all kinds of video editing and screen recording software on the market, she specializes in composing posts about recording and editing videos. All the topics she chooses are aimed at providing more instructive information to users.