
Table of Contents

About the Author

Related Posts

Best Audio Recording Software
2022 | How to Record Tango Video Calls on Android/iPhone/Desktop
If you come from the good old days when there were only a few instant messaging apps, you probably recognize Tango. Sometimes you may want to record calls to save recordings of your video call with someone beloved, or make recordings of important business meetings that take place on this app, then how to deal with them?
The easiest way is to use Tango screen recorder software, which helps screen record Tango video effortlessly. This page shares with you some Tango recording apps, and walks you through the steps on how to record Tango video calls on different platforms, including Android, iPhone, and even desktop.
How to Record Tango Video Calls on Android 
Tango has an official app available for Android devices, and you can use this app to make both voice and video calls. If you want to screen record your Tango video calls on your Android device, you can do that without using a third-party app if you have a modern phone.
However, if the phone does not come preloaded with the screen recording feature, you should rely on a third-party solution. One screen recorder app for Tango on Android devices is AZ Screen Recorder.
As its name suggests, this app allows recording Android device's screen, which records the Tango video call that is happening. This app comes with many features, and you can use these to make recordings more flexible.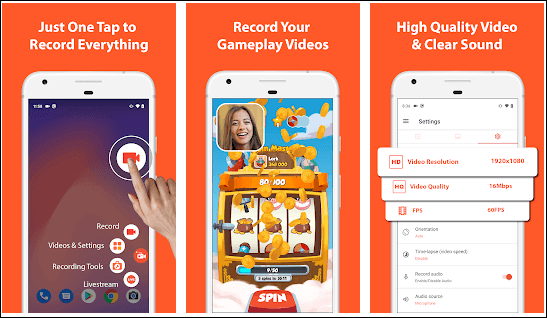 Steps to Screen Record Tango Video Calls on Android:
Step 1. Install and launch this app on your phone.
Step 2. Open Tango and make the video call that you want to record. Then, tap this Record icon and select the video option to record your video call.
Step 3. Once your recording is made, this app allows you to play, share, delete, and even edit your recording.
How to Screen Record Tango Video on iPhone 
When it comes to recording Tango live on your iPhone, you have a built-in feature that you can use to do the task. This feature is part of the iOS operating system, and it enables you to record your iPhone's screen.
Using this built-in iPhone screen recorder, you can record everything on your phone's screen, including your Tango video calls. This feature records the audio to have a full recording of your video calls made with the Tango app.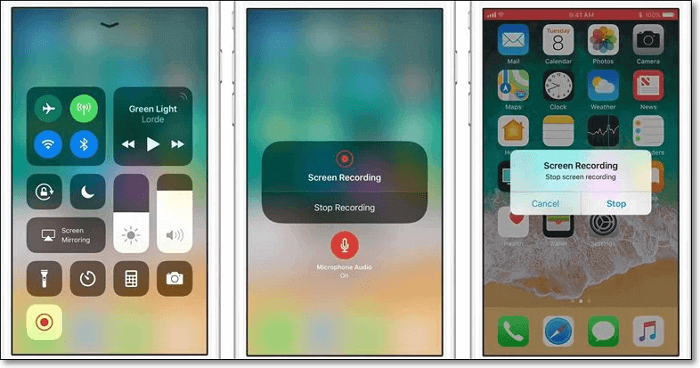 How to Record Tango Live on iPhone:
Step 1. Open the "Settings" app on your iPhone. Tap "Control Centre" > "Customize Controls" > "Screen Recording" in the list. Once you find it, tap the "Add (+)" icon next to the option to add it to your Control Centre.
Step 2. Pull up from the bottom of your iPhone's screen and tap and hold on the screen recording icon. Tap "Microphone" to enable audio recording.
Step 3. Record your Tango video call for as long as you want. When you have finished the recording, tap the "Stop Recording" option, and your iPhone will save your recording.
Using the methods described above, you should be able to quickly and easily make Tango video call recordings on nearly all your devices, including Windows, Mac, iOS, and Android.
How to Record Tango Live on Windows and Mac 
EaseUS RecExperts, a program that allows you to make screen recordings on your computer without any hassle at all. All you need to do is launch the program, start your video call on Tango, and click an option in this program. It will record your Tango call until the end, no matter how long the call is.
With this tool, you get various customizable options. This ensures your Tango calls are recorded exactly the way you want. While using this program, you can record Whatsapp video call or other screen recording activities with ease. Now download this great video call recorder to begin your recording.
EaseUS RecExperts
Tango calls recorder full version free download!
Guide on Recording Tango Live on Desktop:
Step 1. Launch EaseUS RecExperts. There are two different options for screen recording, i.e., "Full Screen" and "Region". If you select "Full Screen", you will capture the whole screen.

Step 2. If you select the "Region" option, this software will ask you to customize the recording area. Make sure that everything you want to capture is within the bounds of the select box.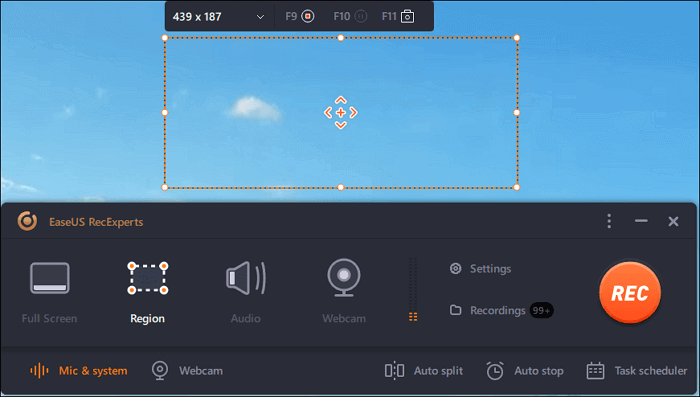 Step 3.  Tap on the button at the bottom left side of the main interface, and there will be many options you can select. This recorder supports recording microphone and system sound separately or simultaneously. The "Options" button is for you to adjust the volume and microphone device.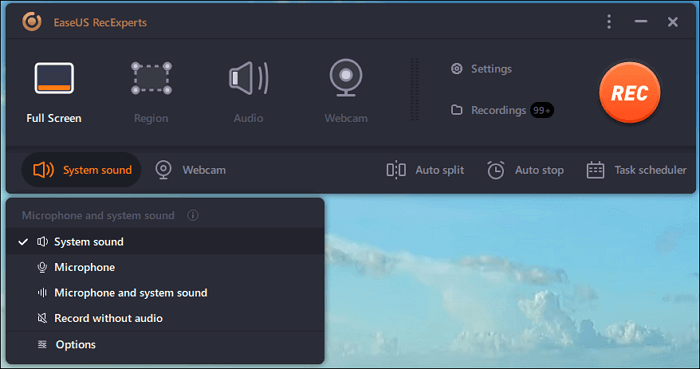 Step 4. To record the webcam simultaneously, click on the "Webcam" icon at the bottom of the interface. Tap on the button to enable the webcam recording, and there will be a drop-down menu to select the recording device. Click on "OK" to confirm your settings.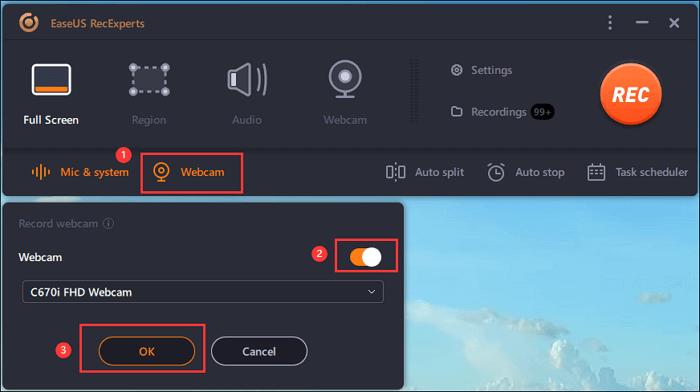 Step 5. When you turn back to the main interface, click on the "REC" button to start recording. A floating toolbar offers you buttons to pause or stop the recording during the recording process. In addition, the camera icon can be used to take screenshots, and the timer icon can help stop it automatically.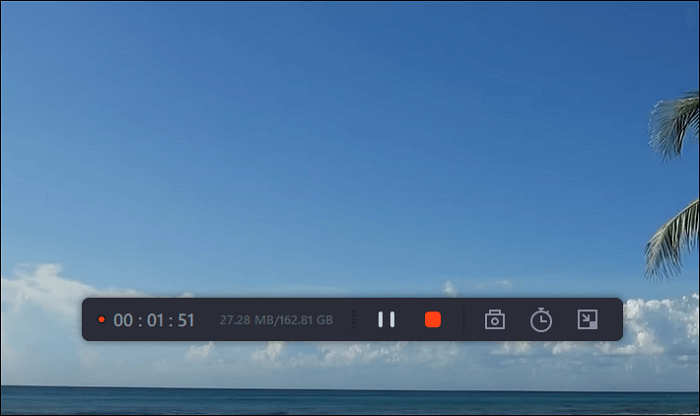 Step 6. The recorded video clips will be saved on your computer. When the media player appears, you see a set of tools you can use to trim the recordings, extract audio, and add opening title & closing credits to the savings.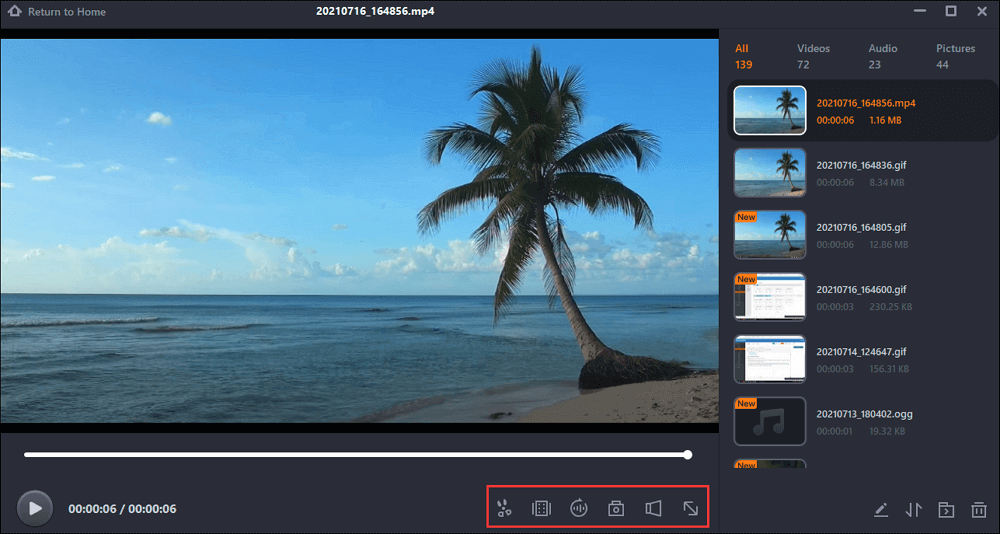 Conclusion
Recording Tango video calls is not as difficult as you might think. Now, you know the method on "how to record Tango video calls on Android". You can use the advised recorder for capturing your video calls. 
If you are a Windows or Mac user, you have EaseUS RecExperts that make it super easy for you to record Tango's video calls on your devices. You have an option to record calls on iOS and Android devices as well.
About the Author

Crystal Chen is very interested in technology products. She experiences many technological utilities and focuses on writing in this area. Meanwhile, Crystal aims to solve users' problems through sharing experiences.