
Table of Contents

About the Author

Related Posts
2021 | How to Record WhatsApp Video Call on iPhone/Android/Desktop
Like Skype, WhatsApp is the popular chatting software used by people to talk with friends or business partners. Sometimes, when having a WhatsApp video call, you can capture it to a saved video to check the important details later. However, this program does not offer the default recording function, then how to do it?

Actually, it's effortless if you have a powerful WhatsApp video recorder. Here, in this post, you learn the top 5 call recorders and how to record WhatsApp video call on iPhone, Android, and desktops with ease.
Related Article>> How to Record a Skype Call with simple methods
How to Record WhatsApp Video with Sound on iPhone
If you are an iOS user, you can capture it without any third-party application. The built-in iOS screen recording software can assist you in finishing this task effortlessly. It has the option to record the microphone sound when capturing the iPhone screen. Before capturing, ensure you have installed this feature from Settings. 
Note: Make sure your iPhone is in iOS 11 or later versions, or you cannot use this feature.
How to record a WhatsApp video call on iPhone, using the iOS Screen Recording:
Step 1. Firstly, check the Control Center to ensure whether you have installed the built-in tool. If not, go "Settings" > "Control Center". Then, scroll down the menu and find the Screen Recording. Click the green "+" button.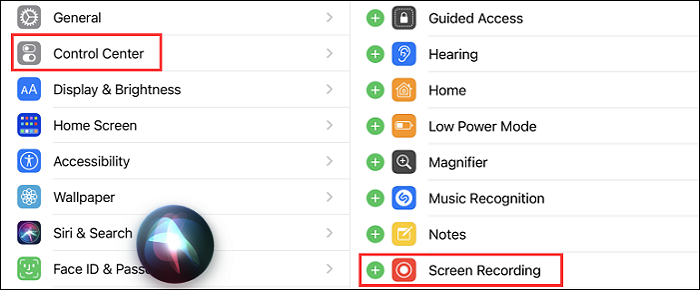 Step 2. For iPhone 8 or older versions, swipe down from the bottom and click the Screen Recording icon. If you use iPhone X or above, swipe up from the top right of the iPhone screen and find the iOS recording function.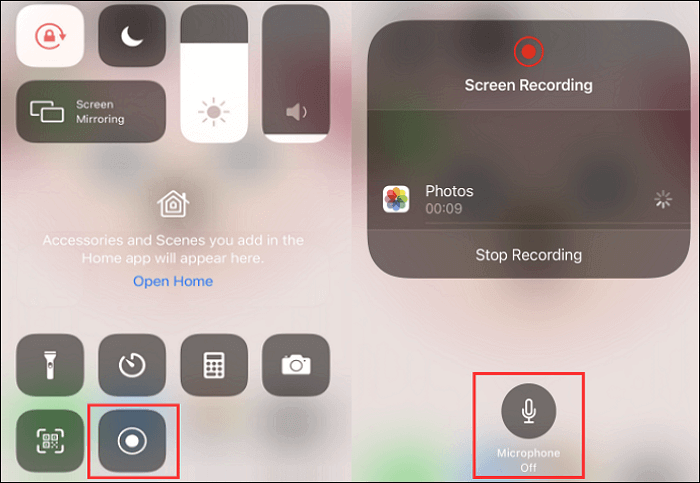 Step 3. To capture a WhatsApp video call with external sound, you long press the icon to turn the microphone on before capturing. Then, hit "Start Recording". Meanwhile, you can choose the video saving path in the window.
Step 4. Back to your screen and open WhatsApp to have a video call. To stop capturing, click the red icon on the top screen. After that, you can find your video in the "Photos" originally.
How to Record WhatsApp Video Call with Audio on Mac
Two WhatsApp call recorders are introduced here, including EaseUS RecExperts and QuickTime Player. For audio, the first one deals with system and external sounds, while the default tool only captures external one. 
Capture WhatsApp Video Call on Mac via EaseUS RecExperts (System + External Sounds)
EaseUS RecExperts can be really qualified for this role. First of all, it enables you to record screen with audio on Mac flexibly. Choose to capture the whole screen or part of it. Another benefit is that it gives the chance to select the audio sources. You can record internal audio on Mac, your voice in the microphone, or both of them. 
Key features about this video call recorder on Mac:
Allow capturing any area of your screen flexibly
One-click to take screenshots on Mac
Export the videos in various formats
Extract audio track from recorded video, and save it as an audio file
Download it and start recording WhatsApp video call with sound on Mac!
Step 1. Download and launch EaseUS RecExperts on your Mac. To capture the whole screen, click on the "Full Screen" button from the main interface. If you want to customize the recording area, choose the "Region" button. 

Step 2. To record the screen with audio, hit the Sound icon from the bottom left side of the toolbar. The audio resources can be your external sound or system audio. Based on your needs, enable the target option.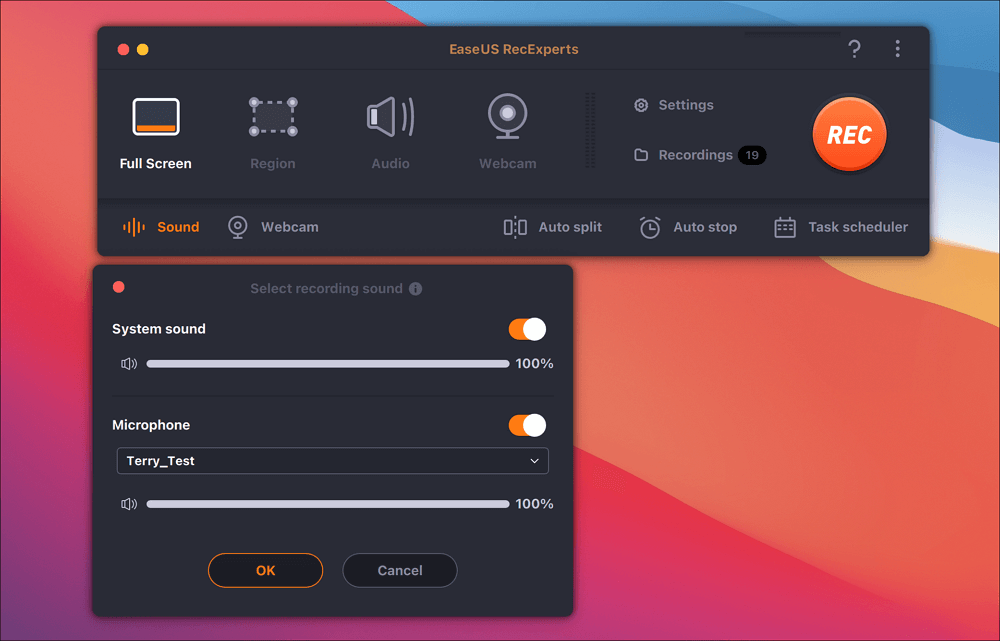 Step 3. Before capturing, you can change the output format of the recorded video by clicking "Settings" from the main interface. Then, scroll down the menu of Output format for Video. Choose the output type as you like.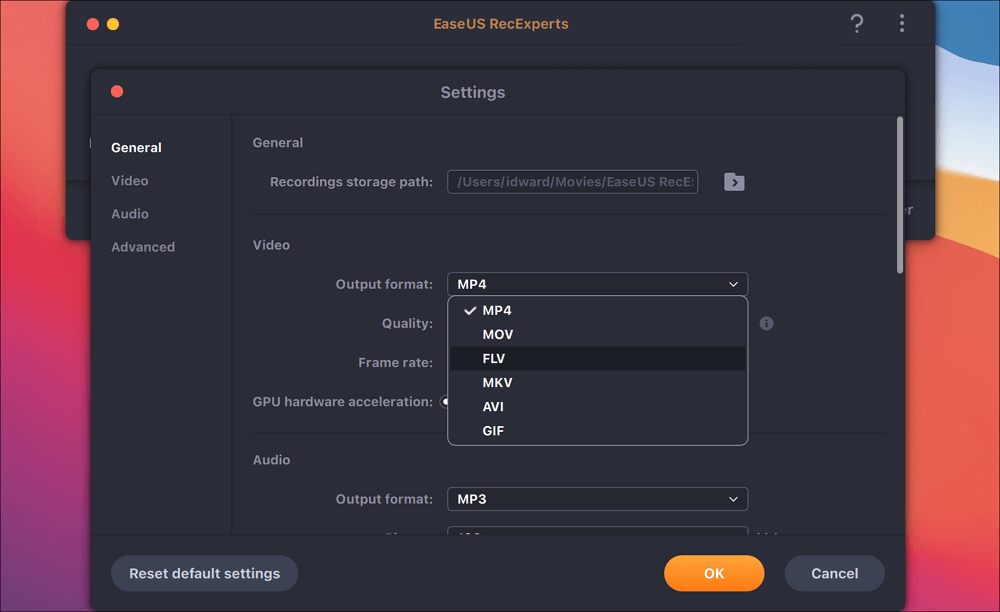 Step 4. Once done, click the REC button to begin recording. It captures anything displayed on your Mac screen. When you are done, click the Stop button. Then you can watch the recorded video from "Recordings".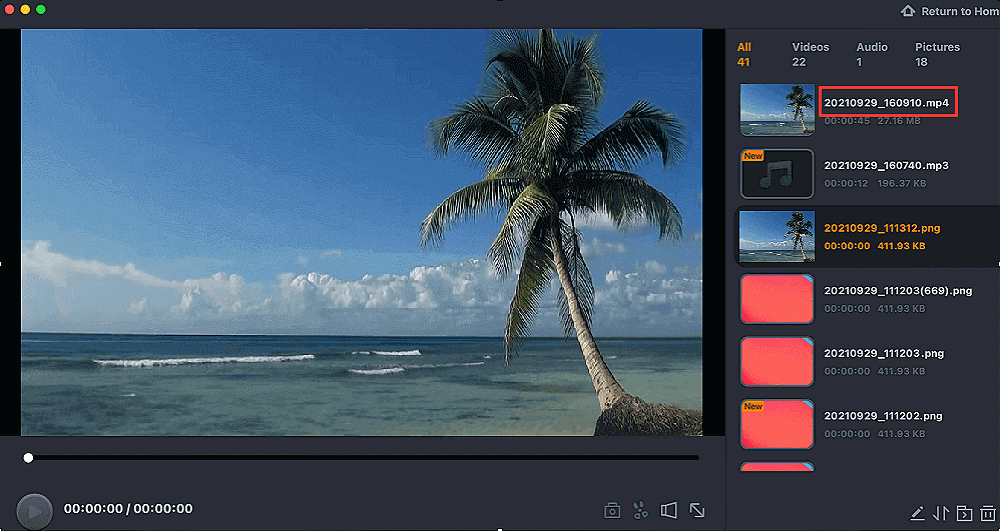 Record WhatsApp Call on Mac Using QuickTime Player
QuickTime Player is a free tool on Mac. It has three options, including recording the movie, audio, and screen. Without any third-party tool, you can capture the full screen or record part of screen for WhatsApp calls.
Moreover, this software enables you to play media files and convert file formats with ease.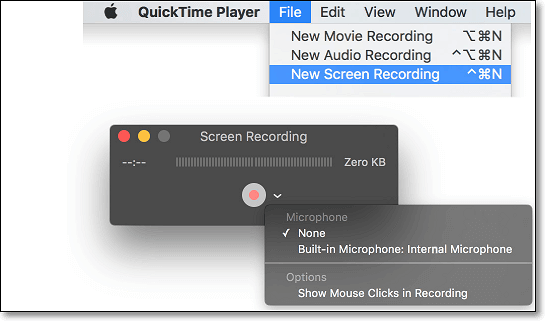 Step-by-step guide on capturing WhatsApp video calls with QuickTime Player:
Step 1. Open QuickTime Player and click "File" > "New Screen Recording". Then perform a video call in WhatsApp.
Step 2. Choose the small triangle button to set the capturing options. After that, click the red button to record the WhatsApp video call, and you can choose to capture the entire screen or the specific area as you like.
Step 3. To finish it, hit the stop button on the menu bar. Later, you can get the saved files on Mac. 
How to Capture WhatsApp Video on Android
There are many video recorders for Android, including the default one or others. Rec Screen Recorder is a third-party call recorder for WhatsApp, providing untethered, flexible, and fully configurable recording capabilities.
It allows capturing for up to 1 hour and keeps your desired configuration as Presets. With a microphone, it supports the audio recording for WhatsApp video calls. Below is a simple guide.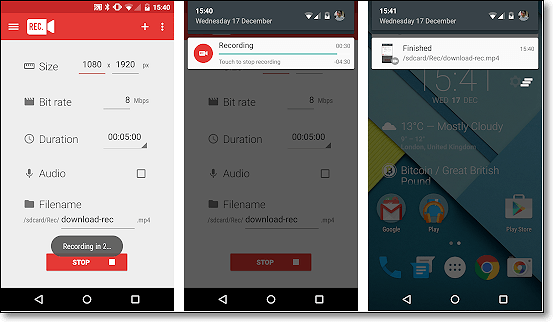 How to record WhatsApp live video on Android, using a third party recorder:
Step 1. Download, install and open this Android video call recorder.
Step 2. Set the options for capturing. Here you can adjust the video size, bit rate, duration, etc.
Step 3. Open the video calling software and join a video conversation. Then click "Record" to get started.
Step 4. Once done, you can find the saved video call on your Android.
How to Record WhatsApp Video Call on Windows 10
Sometimes, in the workplace, you need group chats to share messages and photos. WhatsApp allows the desktop version where you can freely talk with your coworkers. To capture a video call on it, prepare a desktop recorder, EaseUS RecExperts. You can easily capture video calling software like WhatsApp. 
Basically, it allows you to capture the screen, audio, and webcam. If needed, you can capture computer audio and webcam simultaneously to get high-quality video files with a few clicks. Apart from that, you can record Facebook video and capture streaming video and audio on online platforms.
Key features of this desktop call recorder on Windows 10:
Capture the background sounds and a voice from your microphone
Choose the output formats of recorded video and audio
Apply schedule recording to start capturing automatically
Download EaseUS RecExperts for Windows and join the WhatsApp video call now! 
Step 1. Install Desktop Recorder and Perform Video Call in WhatsApp
Download EaseUS RecExperts and join your video call on WhatsApp. Open the recorder, and click "Region" from the main interface. Use your mouse to match the recording size with your WhatsApp window. At the same time, hit the Speaker icon on the lower left to choose the audio resources.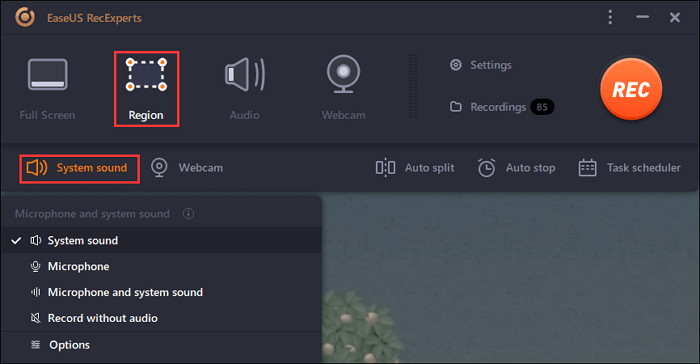 Step 2. Start Capturing the Video Call with Sound
Find and hit "REC" if you want to start, and it captures your screen based on the size you selected. When you finish your discussion in WhatsApp, click the red square button.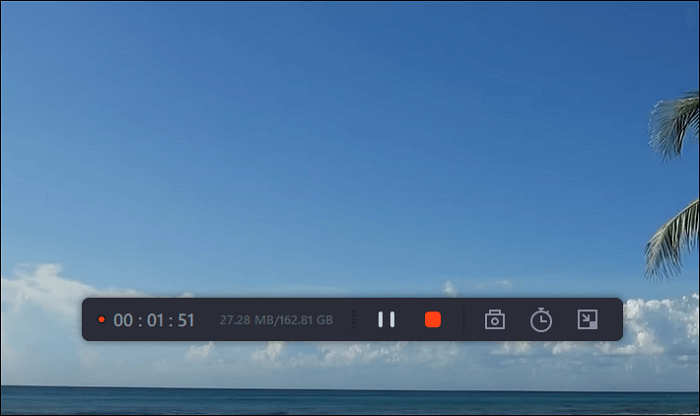 Step 3. Access the Saving Video Calls
Once you have finished the task, back to the main interface and find "Recordings". Press this button to show a new window. Here, you can see the recorded videos in the list. The recent one appears in the first. You can right click it to apply some basic editing features.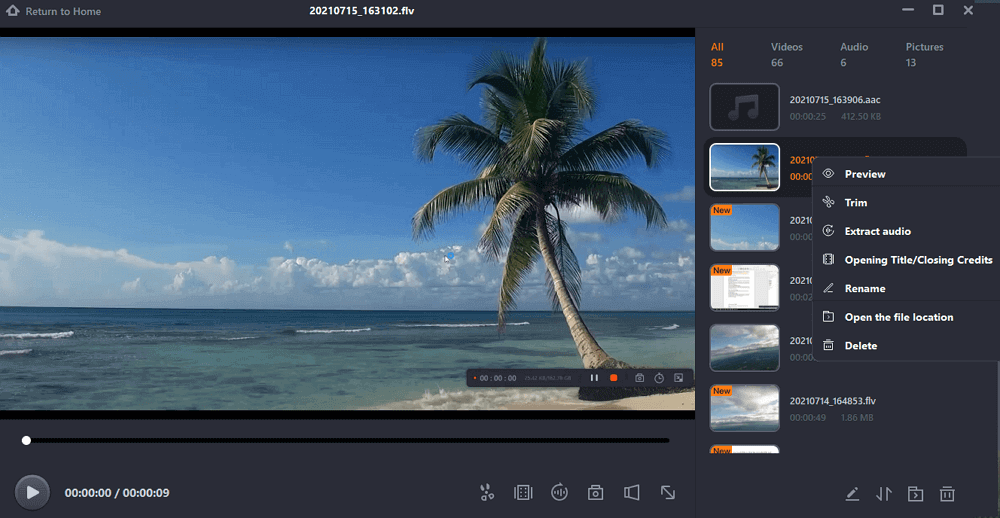 The Bottom Line
Here, several ways are introduced to you on how to record WhatsApp video calls. Whether you are using Windows, Mac, iPhone, or Android, you can find the best solution.
To save a high-quality output recording file, try EaseUS RecExperts. It helps you capture WhatsApp video calls and streaming audio/video on PC and Mac with ease. Most importantly, it can export many different file formats. Now click the button below to download it and explore more stunning features!
FAQs About How to Record WhatsApp Video
Keep on reading if you want to know more useful information about WhatsApp video call captures.  
1. Can I record WhatsApp video calls?
Yes, you can. Even WhatsApp doesn't provide this function in its system. For mobiles, use the default screen recorder on iPhone and Android. Like iPhone, try the iOS recording function. If you are using Windows or Mac, try desktop recorders like Quick Time Player. It captures the screen of WhatsApp and audio from a microphone. 
2. How can I record WhatsApp video calls secretly?
You can use the third-party screen recorder to capture it secretly. If you make a WhatsApp video call on Mac, try EaseUS RecExperts for Mac. Go to part 2 to check the detailed information. It won't send any information. 
3. How do I record a video on WhatsApp iPhone?
You can easily capture it with the iOS screen recorder on your iPhone.
1. Install this iOS recording feature from Settings. Scroll down these options and enable the capturer. 
2. Open the Control Center by swiping down from the right top of the screen(iPhone X user or above).
3. Long press the same button to add a microphone. Before capturing, start and join a WhatsApp video call. 
4. Click it to start recording video calls. To stop it, press the red button from the top side of your screen.
5. Find your video in Photos.
About the Author

Jane is an experienced editor for EaseUS focused on tech blog writing. Familiar with all kinds of video editing and screen recording software on the market, she specializes in composing posts about recording and editing videos. All the topics she chooses are aimed at providing more instructive information to users.