
Table of Contents

About the Author

Related Posts
How to Free Easily Record A Green Screen Webcam Video
Green Screen is also called Chroma key compositing, a visual effect, and a post-production technique for compositing two images or video streams based on color hues. You can easily use video editors to remove the green screen background of a video and change it into images you like.
Before that, recording a green screen video using the webcam is necessary. Therefore, this post will show you the best green screen video recorder and how to record video with green screen on Windows 10/Mac/online.
Top 2 Green Screen Recorder on Windows 10 
Recording a green screen webcam video is very easy for Windows 10 users as there is a built-in webcam recording program on your PC. If you want to find a more powerful and versatile green screen recorder besides the pre-installed one, EaseUS RecExperts for Windows is a good choice.
1. Camera
The Camera is a free built-in webcam recording software that supports users to record videos and photos. You only need to search "Camera" in the Windows search box, and you can effortlessly use it by clicking its icon. Before you use it, make sure the camera device is connected correctly to your computer.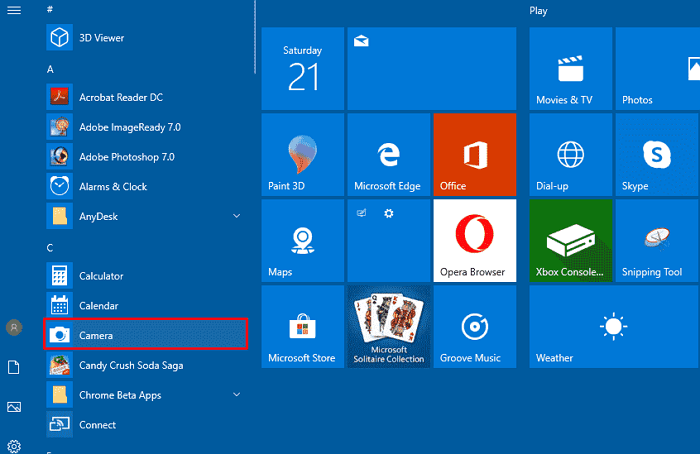 How about the green screen recording? It is so easy! If you want this program to work as green screen capture, the only thing you need to do is use a green color wall or curtain as your background and record your webcam with this background.
Although you can use it to record the green screen webcam video, you can't edit the recorded video within this application. If you want to change the green screen background, you may need third-party video editing software. And I will show you a powerful green screen video editing software in the second chapter.
This is an all-in-one screen recorder on Windows 10/8.1/7 that can capture anything you want on the PC screen. With its assistance, you are able to capture screen, audio (system or microphone), webcam, and various gameplay without any hassle. 
If you plan to take videos with green screen backgrounds, the "Webcam" mode can perfectly satisfy your needs. Before the recording, you need to prepare some necessary things like an available camera (internal or external), a green background plate, and a microphone if you want to capture your voice simultaneously.
Key Features:
About this green screen video recorder, here still have some information you may concern about:
System requirement:
Windows 7/Windows 8.1/Windows 10
Supported video/audio formats:
Video - MP4, WOV, AVI, FLV, MKV, etc.
Audio - MP3, AAC, FLAC, WAV, OGG, WAV, etc.
Supported image formats:
GIF
If you need a useful program for recording green screen on Windows, this is suitable for you. Click on the below button to download and install it, and then the following tutorial will teach you how to record green screen videos.
How to Record Video with Green Screen Backgrounds:
Before you record the webcam with this background video recorder, make sure you prepared all the items you need. 
Step 1. Launch EaseUS RecExperts on your computer, and you will see two "Webcam" icons on the main interface. Click on the "Webcam" button next to the "Audio" button to continue.

Step 2. Now, in this webcam recording mode, click on the lower-left button to select the audio source. The options allow you to capture system sound, microphone, or both two.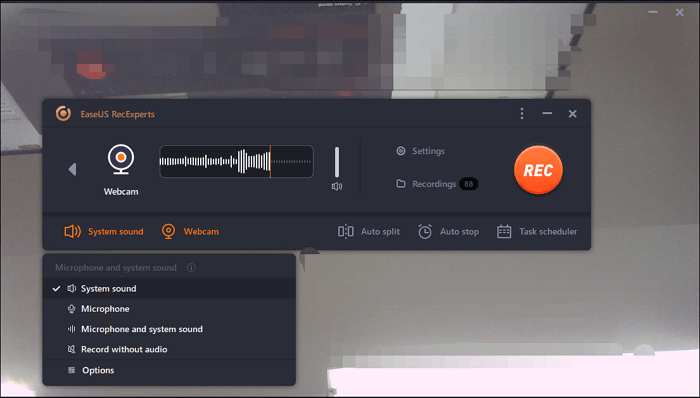 Step 3. Click on the other "Webcam" button and select the camera that you want to use in the recording. Then, tap on the "REC" button to start recording.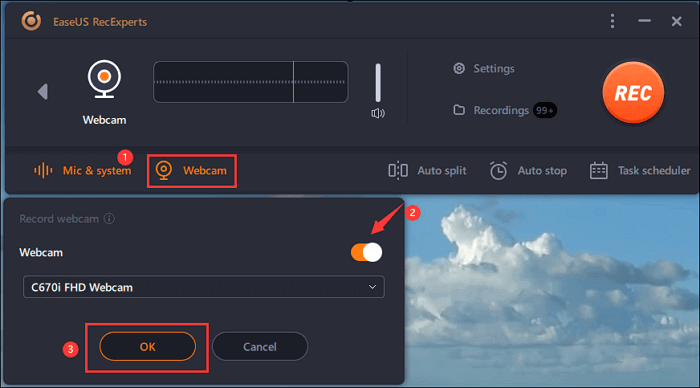 Step 4. During the recording process of the webcam, you will see the following interface. Click on the two buttons on the right side if you want to pause or stop the recording. Finally, the recorded video will be saved to your computer.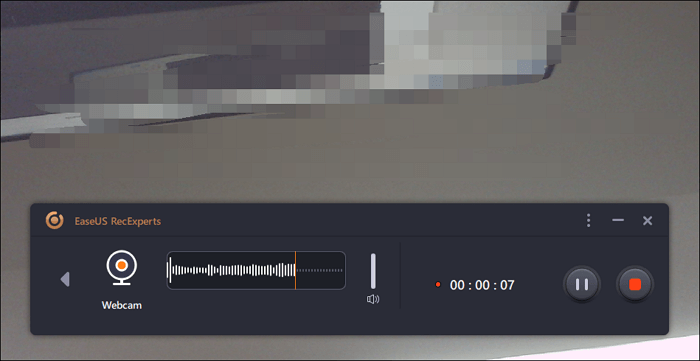 Screen Recorder to Record Green Screen Online 
If you want to find a webcam recorder that helps you record green screen videos online, there are plenty of options. In this part, we will take Clipchamp as an example.
This online green screen recorder integrates with an editing tool that enables you to create the most satisfying video works. And since it also integrates with some popular platforms, you can upload your recordings to YouTube or other websites with only a few clicks.
If you want to know the method of recording green screen online, we will offer you a guide to do that.
Method of Camera Recording Green Screen Online:
Step 1. Click on the "Record webcam" button on the interface and access the camera and microphone.
Step 2. When you want to save what you have recorded, you can stop the recording. 
Step 3. Drag and drop the recorded clip to the timeline. Then you can edit the clip by cutting, trimming, and so on.
Step 4. Export the edited video and save it to your PC, or you can directly upload it to YouTube or other websites,
Screen Recorder to Record Green Screen on Mac 
When it comes to webcam green screen software on Mac, EaseUS RecExperts for Mac is a great choice. This lightweight recorder enables you to record both the built-in camera and the external webcam. And you can change the resolution so that you can capture green screen videos of the quality you need. 
In addition to a webcam recorder, this software also works as a competent tool to record audio on Mac. It offers you many audio sources, and you can capture the system sound and your own voice separately or synchronously.
More Features:
Record green screen video using a webcam
Record webcam and screen at the same time
Support various output formats like M4A, MP4, MP3, AVI, etc.
Now you can download this green screen recording software by clicking on the button below. Don't hesitate to get it. 
Method of Recording Green Screen on Mac:
Step 1. Open EaseUS RecExperts, and choose the "Webcam" button on the main interface.

Step 2. Then the inbuilt camera will open automatically, and you can see the recording window on the desktop. If you want to record the webcam with audio, click on the "Sound" icon at the bottom left to select the audio source.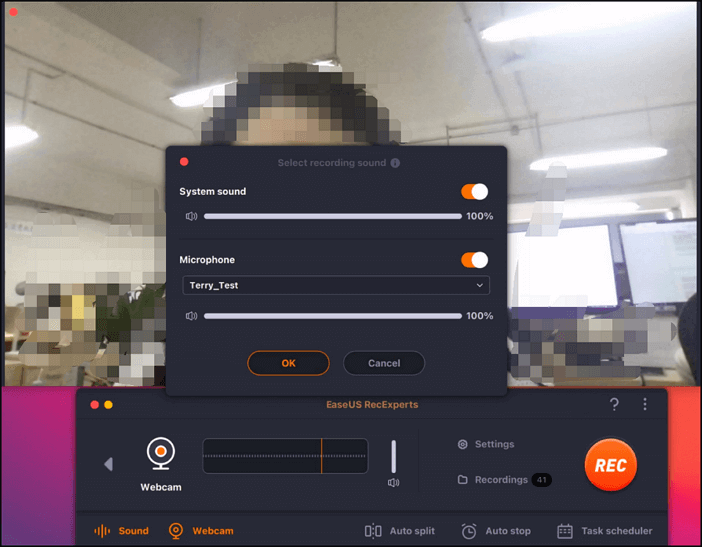 Step 3. Click "REC" to start your webcam recording, and you can choose to pause, resume, or end the recording by clicking the two buttons on the left side. At last, the recording will be saved on your Mac.

How to Edit Green Screen Video on Windows 10 
In the first part, we have already learned how to record a webcam green screen video. And do you know how to edit the green screen background? Next, I will show you a great video editing software that is called EaseUS Video Editor.
If you want to find great video editing software, EaseUS Video Editor will be your best choice. EaseUS Video Editor is an all-in-one video editor. This software provides a lot of video editing tools that can satisfy all of your editing needs. And this software is easy to use. Whether you are a beginner or professional, you can easily create a perfect video.
In the lately week, EaseUS Video Editor has published the newest versions. In this version, EaseUS Video Editor has launched a new function - Green Screen. Using this function, users can change the green screen background in the video.
Key Features:
Support 300+ effects and transitions
Support editing webcam video green screen background
Support import or export many file formats, such as MP3, AAC, MKV, MOV, and more
Support directly share on video platforms
How to Edit Green Screen Webcam Video Using EaseUS Video Editor:
Step 1. Launch EaseUS Video Editor and import the source file (with green background) from your computer.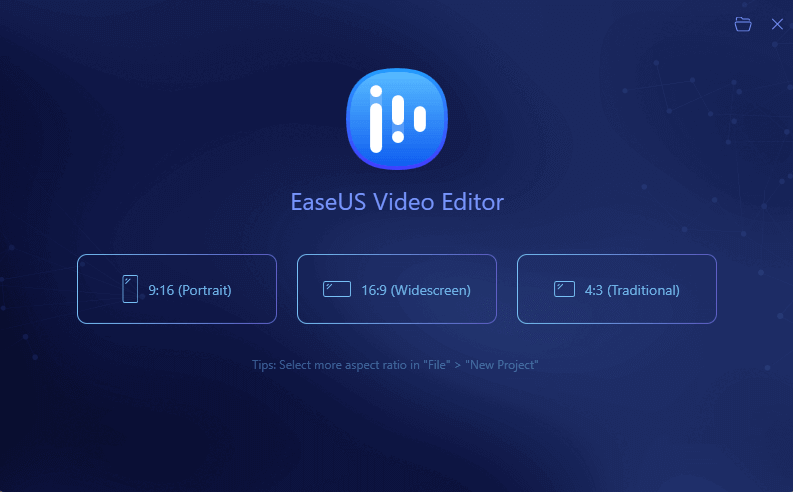 Step 2. Right-click the file and choose "Add to Project" to place it to the timeline. You can also drag and drop it to the timeline.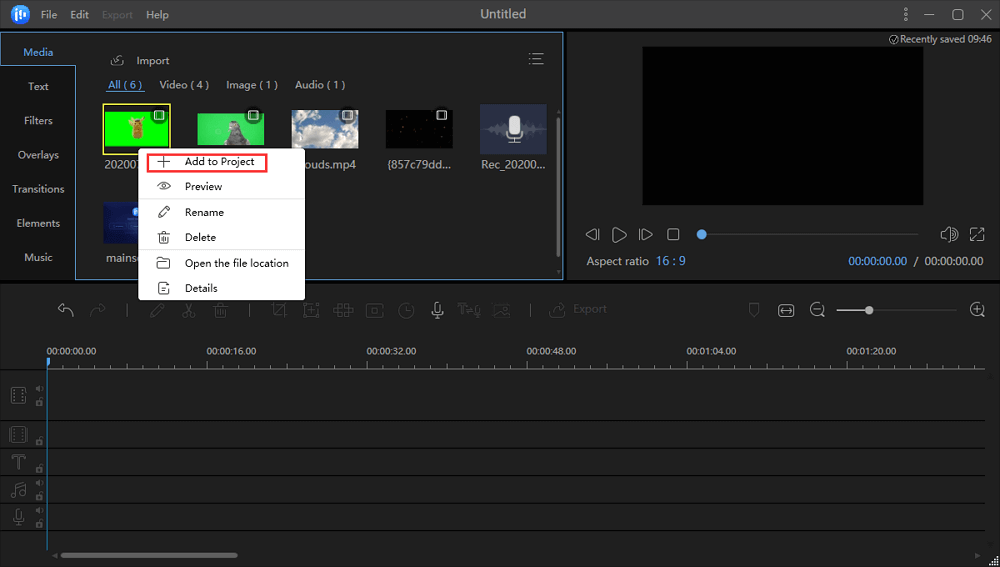 Step 3. When the file appears in the timeline, right-click it and choose "Green Screen Cutout" to apply the green-screen effect. You can also add a filter, text, music, and other elements to the file.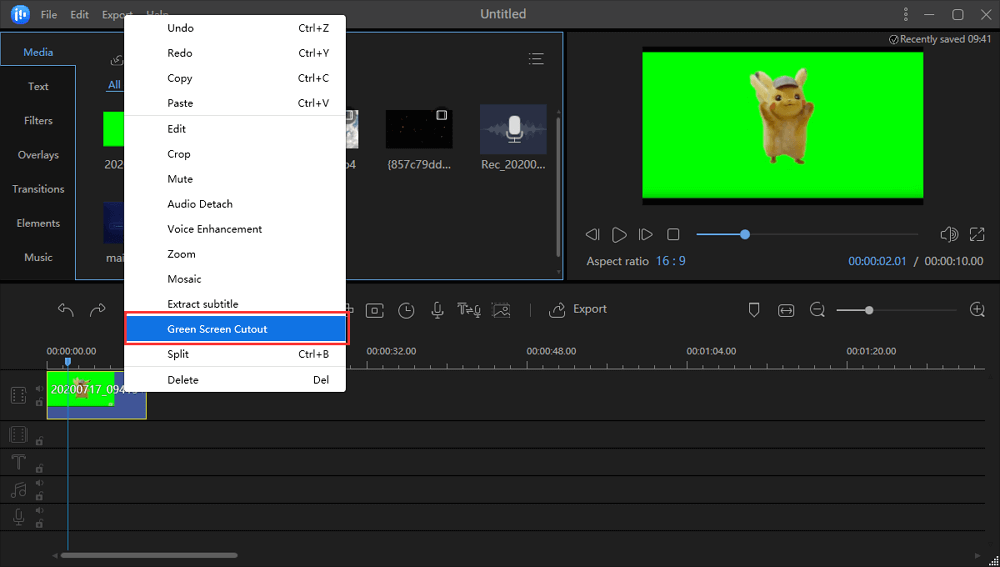 Step 4. Single-click the painting brush and click the area you want to remove from the original picture. The software will remove the original green area after you hit the "OK" button.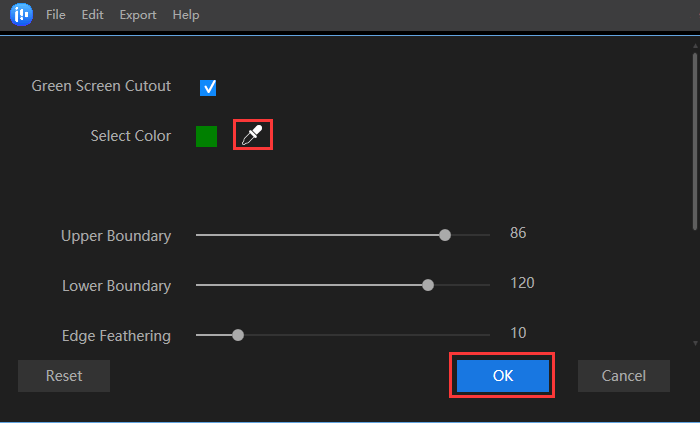 Step 5. After removing the green background, you may add a new background to your file. Put the new background (video or image) to the timeline, and you will find the original file and the background file are played together. Note that the background should be placed above the timeline of the original file, just as we show you in the image below.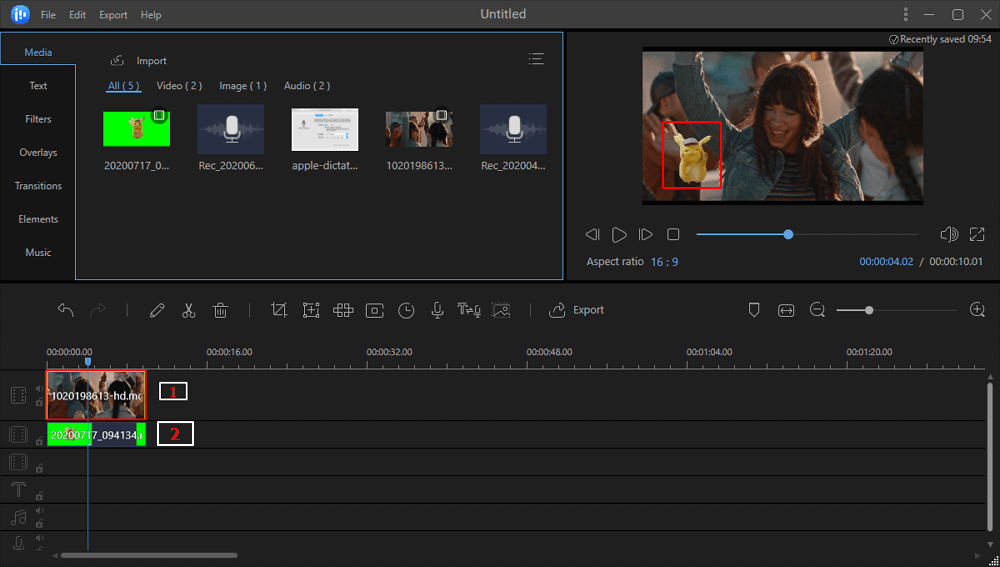 Step 6. Trial play the video you made. If it meets your satisfaction, click "Export" to save it to your computer. There are six video formats you can choose from.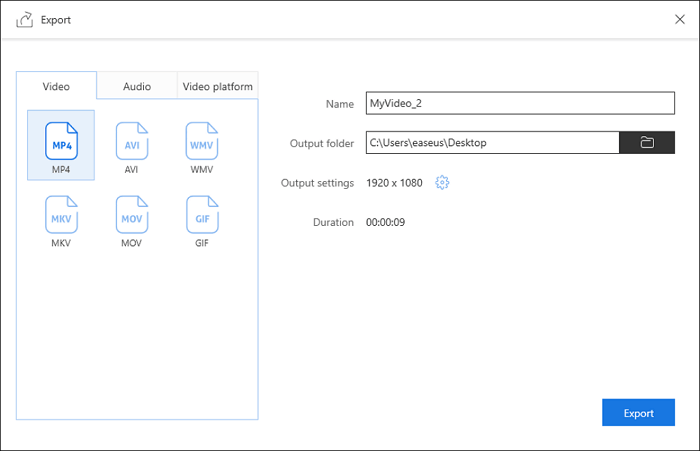 Conclusion
In this post, we talked about how to record video with background image windows 10 and how to edit a green screen video. In short, you can choose the pre-installed green screen webcam recorder on your PC if you value convenience more important than functionality.
If you need a versatile recorder with various features, EaseUS RecExperts is the best choice. Download it and have a try.
About the Author

With the interest in English writing and computer technology, Vanessa chose to be an editor in EaseUS. She is professional in video and audio topics, including video & audio editing, converting, and recording. Vanessa will keep writing to help people solve problems.