
Table of Contents

About the Author

Related Posts
How to Record a Specific Window on Mac and Windows
Most screen recorders don't support recording a specific application window continuously. If there is another window covering the window you want to record, it will be all messed up because you will record some wrong content, and it's tough for you to make sure that the focus is always on the application you want to record.
If you want to record a specific window, you can get help in this post. Here we will show you how to record a specific application window on Windows and Mac easily.
How to Record An Application in Windows 11/10/8/7
To capture an application window on your PC in Windows 11/10/8/7, you cannot miss EaseUS RecExperts for Windows. It is a screen recording tool that can record full-screen videos, a specific part of the screen, webcam, and audio.
To capture an application, you are supposed to use the function of recording a part of the screen. First of all, you need to choose the application window you want to record as the recording region and adjust other settings for your recording. There is one thing you should pay attention to: don't overlay another window on the window you want to record. Otherwise, what you want to capture might be covered by something else.
Key features:
Adjust the frame rate according to equipment performance
Take a screenshot while recording a video
Support setting a recording task and record video/audio automatically
Record Webex meeting or Zoom meeting
Record the built-in or external webcam
Now click the below button to try it for free!
Steps to Record a Specific Application Window with EaseUS RecExperts:
The first thing you should do is open the application you want to record. Make sure it's the exact size you need and appropriately placed on the screen. 
Step 1. Launch this software on your computer, then click "Region" to select the recording area.

Step 2. Choose on the speaker icon on the lower left to select the audio sources.
Step 3. Open the application, go back to RecExperts, then click "Region" to select the recording window. Once selected, hit the "REC" button to begin your recording.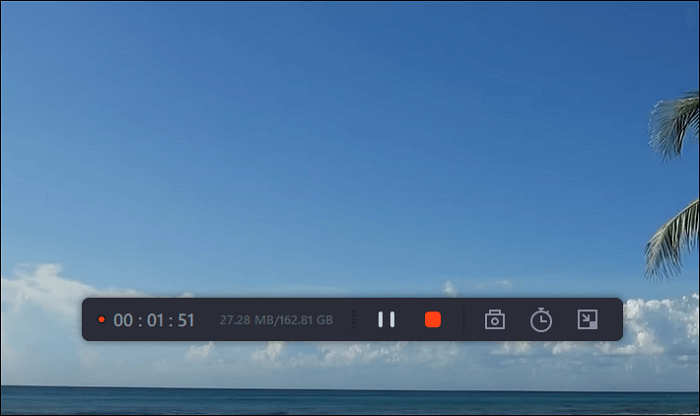 Step 4. When you are going to finish the recording, click the stop button. And the recorded file will appear in the Recording tab, where you can trim, rename, or extract audio from the recorded video.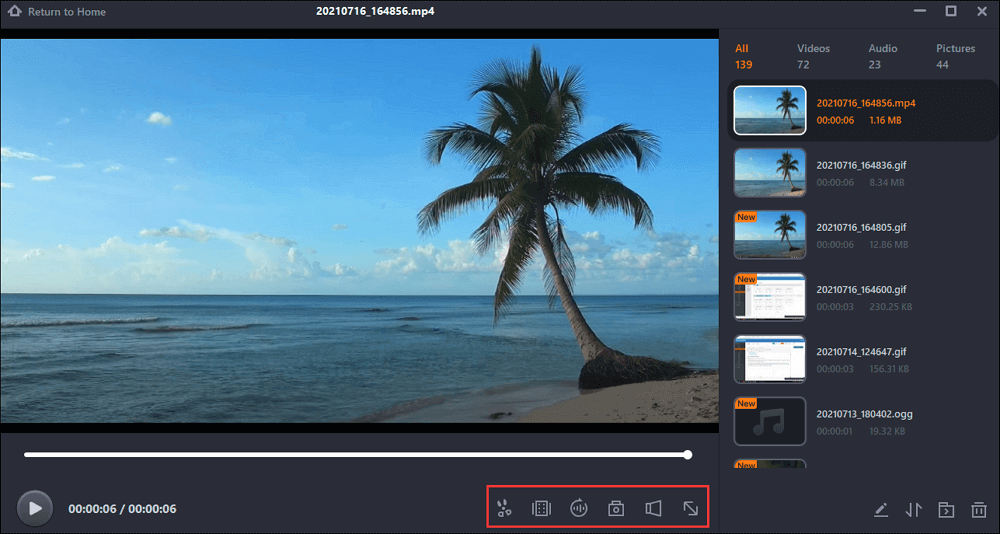 How to Record a Specific Window of An App on Mac
When it comes to recording a specific window on Mac, you also can use EaseUS RecExperts to complete the task. This Mac screen capture is easy-to-use and it is a free screen recorder no watermark, which means it will not leave a watermark on your recordings even you use the free version. 
As for capturing a specific window of an app, you need to upgrade to the Pro version. After that, you can record a locked window with ease.
Key features:
Record screen with video and audio with one-click
Capture your videos in full screen or any size
Record screen and export it as a GIF
Record iOS screen with AirPlay or WiFi
You can get this powerful Mac screen recorder by clicking the below button.
How to capture a window on Mac effortlessly:
Step 1. Launch EaseUS RecExperts for Mac, then click "Screen" in the Video tab.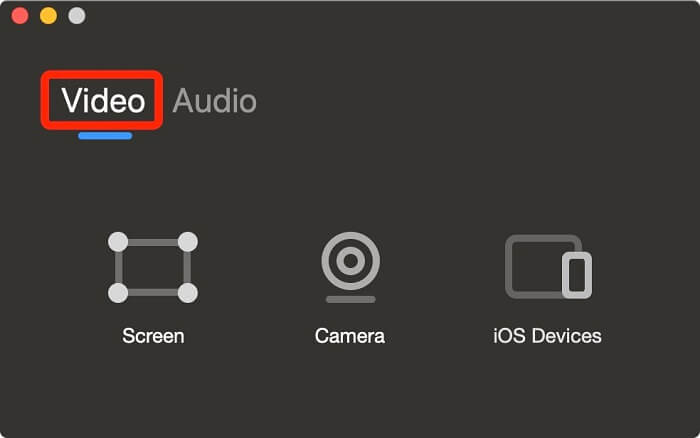 Step 2. Open the App that you want to record. Next, select the recording area and go back to the RecExperts, then click on the "Record Window" button.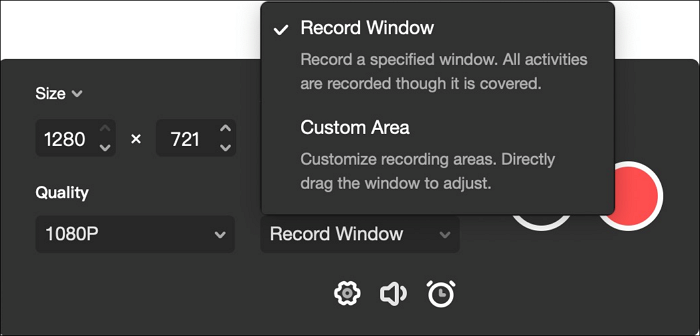 Step 3. When you are ready, click on the Record icon to begin your recording. Once done, you can stop the recording, and you can watch the recordings in the Preview window. If you are happy with that, you can save it on your Mac computer.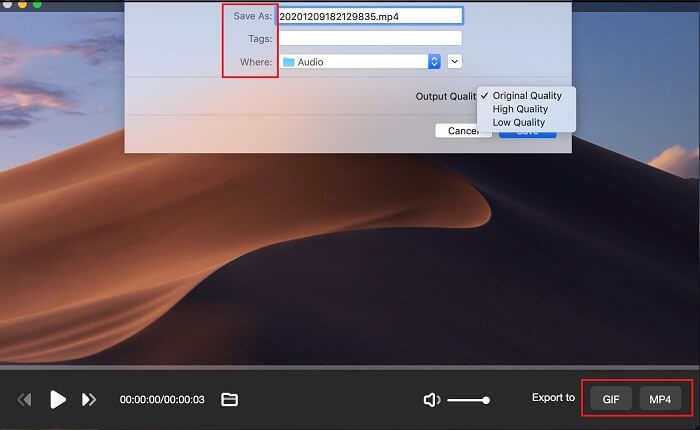 How to Record a Specific Application with OBS Studio on Windows and Mac
OBS is an open-source screen recorder that excels when it comes to screen recording and streaming.
The most significant advantage of using the software is its ability to record from multiple sources. You can combine recordings such as webcam, text, audio, and so on. You can also create a scene that has numerous sources and then keep reusing it every day. If you have multiple sources, i.e., where you have configured to record two different applications, then you can quickly switch between them while recording.
Key features:
Realtime audio and video capturing along with streaming
Support multiple screen recording
Exhaustive settings to configure streaming and recording
Steps to Record Specific Application Windows with OBS Studio:
Step 1. Open OBNS Studio, and then click on the plus icon under the Sources section. Select Window capture, and it will pop up a window where you can either create a new one or add existing one.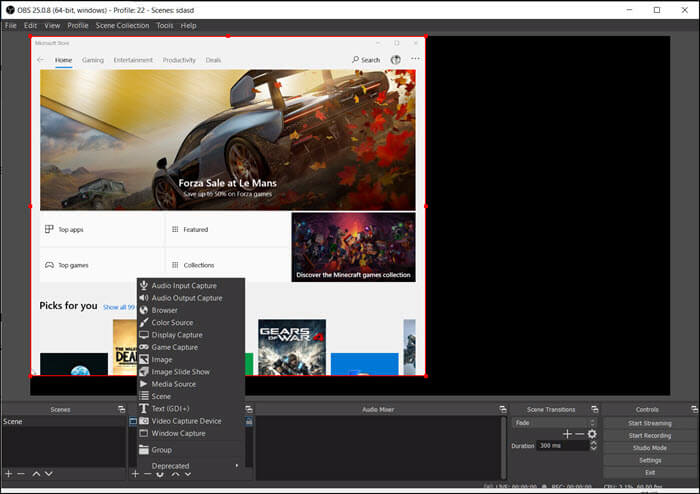 Step 2. Choose "Create New", and it will open another window where you can get a preview of all open windows and preview them. Once done, click on the OK button to complete the source.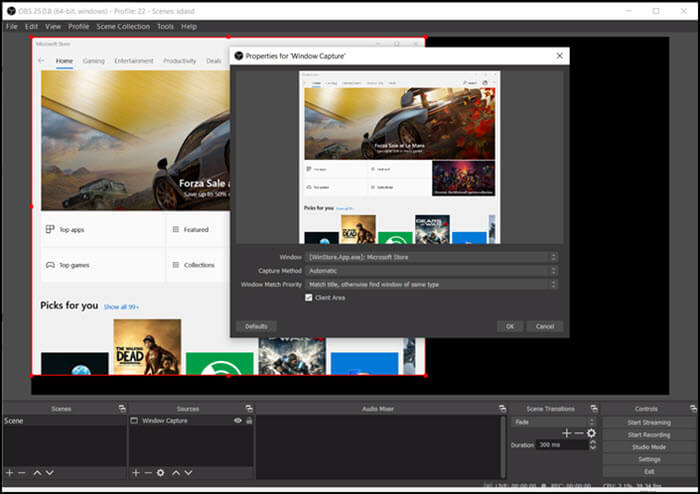 Step 3. Done that, click on start recording, and explain whatever you plan to. Once done, click on the Stop Recording button. The video will be saved into the default location.
That said, there are a few drawbacks with OBS, and it's mostly because it takes time to learn the software for beginners.
Conclusion
On this page, we offer you detailed tutorials to record a specific window on both Windows and Mac computers, and you can select your desired one to complete the work.
Among these software, we highly recommend EaseUS RecExperts. It can work well on your Windows and Mac computer, and most importantly, you can learn it in seconds even if you are a beginner because of its simple and clear user interface.
About the Author

With the interest in English writing and computer technology, Vanessa chose to be an editor in EaseUS. She is professional in video and audio topics, including video & audio editing, converting, and recording. Vanessa will keep writing to help people solve problems.