
Table of Contents

About the Author

Related Posts
7 Easy Methods | How to Record a Skype Call Free
Skype is an awesome chat program, and you can make a regular voice call on your phone or computer. Sometimes you may need to record a Skype call to check the information with your cooperative partner or keep the valued moments with your families. But you may find it is a little difficult to do the task with Skype itself.
Hence to record the Skype call easier, we will offer you some wonderful screen recording software on Windows, Mac, and mobile phones in this article, now let's read it together.
How to Record a Call on Skype
Skype offers an option for you to record a call on it, but every participant will know that you are recording. If you never mind it, you can check the following tutorial to record a Skype call.
Step 1. Open or join a Skype call on your Windows or Mac computer, then click the three dots for more options, which is at the bottom-right corner of the screen.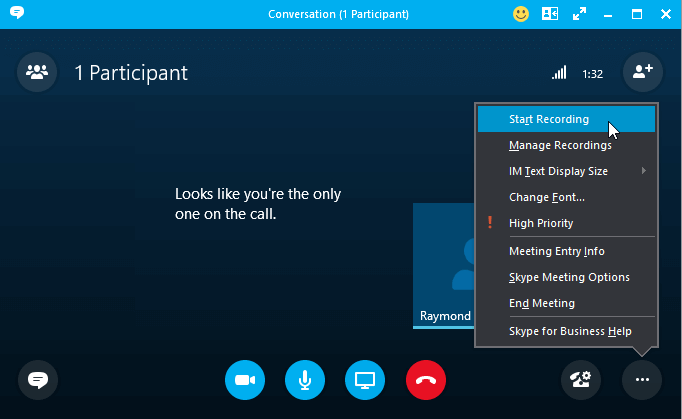 Step 2. Click on the "Start recording" button to begin your recording. 
Note: All the participants will be informed immediately by a banner at the top of their screen.
Step 3. After the call, you can download and save the recording locally at any time during the 30 days.
Recording Skype call with the desk app is efficient, but all the participants will know that you are recording. If you want to record a Skype call secretly, you can try some other excellent screen and audio recorder software like EaseUS RecExperts we will show you next.
How to Record a Skype Call on Windows 10 Secretly
How to record a Skype call on Windows 10 secretly? This part will offer you two easy yet powerful Skype call recorders. One is RecExperts for Windows, and the other is Audacity.
1. RecExperts for Windows
To record a Skype call without other people knowing on Windows PC, you can try RecExperts for Windows. This program makes it easy to capture the screen with audio simultaneously in a few simple steps. While recording, you can adjust the captured area flexibly according to your video call window. If needed, you are able to take some precious screenshots and save them on your computer while recording.
Beyond that, this software offers many advanced functions, such as schedule recording, auto-stop, auto-split, etc. If you want to edit the recordings simply, you also can rely on this versatile screen recorder as it is built with some editing tools like trimming, adding intro, and many others!
Key features:
Export the recordings in more than 10 formats
Enable you to separate the audio and video after recording
A streaming video recorder to capture live streams on any platform
Take screenshots on your Windows PC effortlessly
Get ready to record a Skype call? Download the Windows Skype call recorder to begin your recording.
How to record a Skype call on Windows 10:
Step 1. Start your Skype and EaseUS RecExperts. Firstly, you need to select a suitable recording area. Click on the "Full Screen" button to capture the whole screen, or click on the "Region" button to record a specific part of your screen.

Step 2. Click on the bottom-left button to customize the sound source. This software offers you multiple options, and it supports recording system audio, microphone audio, or both of them. Then, tap on the "REC" button to start recording.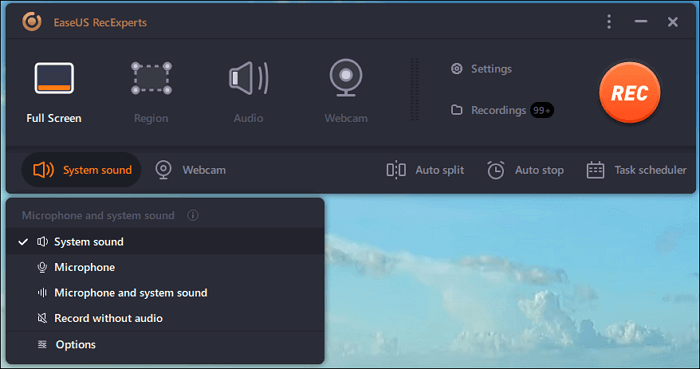 Step 3. During recording the Skype call, a little toolbar will appear on your screen. The two buttons on the toolbar enable you to pause the recording or stop the recording and save the recorded video to your computer.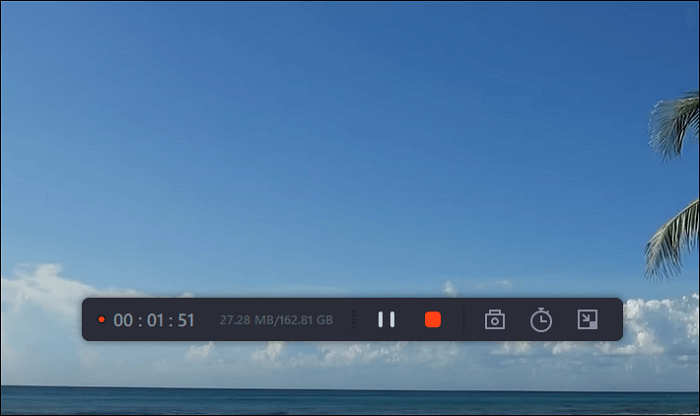 Step 4. After saving the captured video clips to your PC, a media player will pop up, and it would help you preview the recordings. A set of built-in tools enables you to trim video/audio files, extract audio from video, and add opening title & ending credits.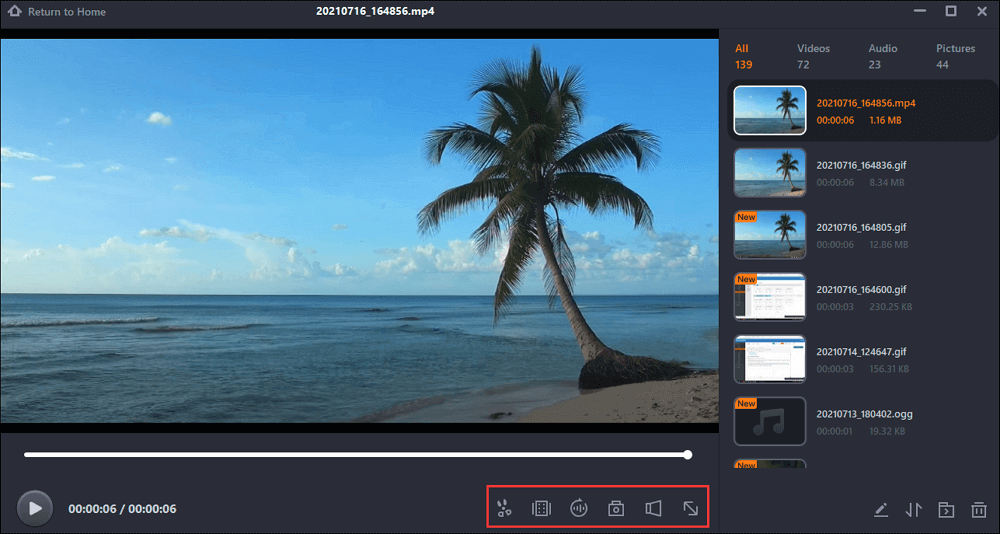 2. Audacity
Audacity is an open-source audio recorder and editor, which can run well on Windows and macOS computers. This audio recording software makes it easy to capture Skype calls!
How to record a Skype call on Audacity:
Step 1. Open Audacity and change Audio Host to Windows WASAPI on the main interface, then choose an audio source to capture the sound.
Step 2. Once the setting is done, you can open and join a Skype call. Click the Record button to begin capturing your Skype call.
Note: With Audacity, no one will know that you are recording the call.
Step 3. When the call finishes, click Stop to end the recording. Next, click File >Export to save the recording on your computer.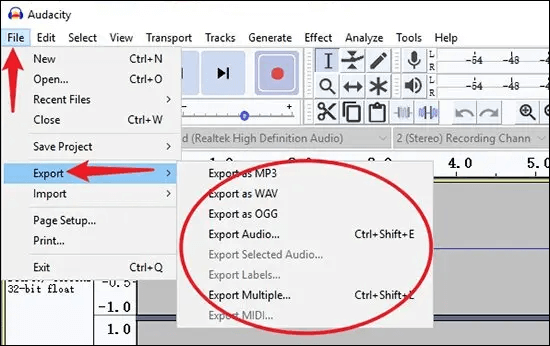 How to Record a Skype Call on Mac for Free
This part will provide you with two quick methods to capture Skype calls on a Mac computer for free, and select your desired one to complete the task.
1. EaseUS RecExperts for Mac
For recording Skype call on Mac, EaseUS RecExperts for Mac is a nice choice. This Mac screen capture enables you to capture any voice or video calls in high quality, including Skype, Zoom, Facebook, etc. Besides that, it provides a schedule recording feature, which is much helpful when you need to record a webinar or online course at a specific time. Most importantly, it is a free screen recorder no watermark, which means your recordings will not contain watermarks even you are using the free version.
Hit the below button to get EaseUS RecExperts for Mac on your computer.
Step-by-step to record a Skype call on Mac:
Step 1. Open a Skype call and launch EaseUS RecExperts for Mac, then click "Screen" > "Size" to choose the recording area.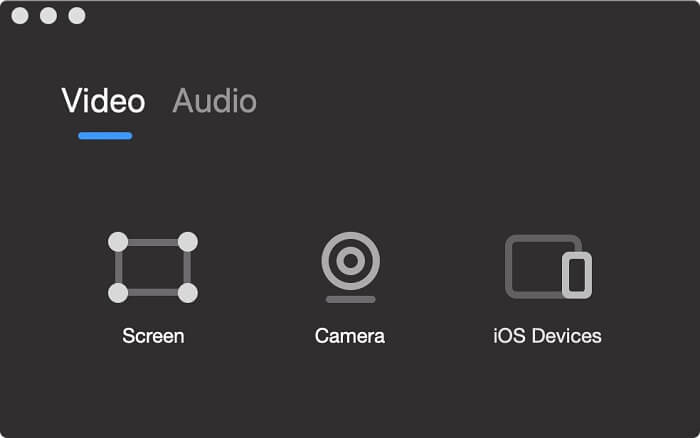 Step 2. Next, adjust the audio sources, quality, and voice volume. When everything is ready, you can click on the Recording button to begin your recording.
Step 3. Once done, preview and export the recording in MP4 or GIF format.
2. QuickTime Player
Recording Skype video and audio calls on a Mac can be useful, and there are a few free options. One of them is to use the native media player on Mac, QuickTime. As convenient and easy-to-use screen recording software, it allows you to capture any part of your screen, record HD video and audio, and take screenshots any time you like. 
Step 1. Open QuickTime Player and choose File, then New Screen Recording.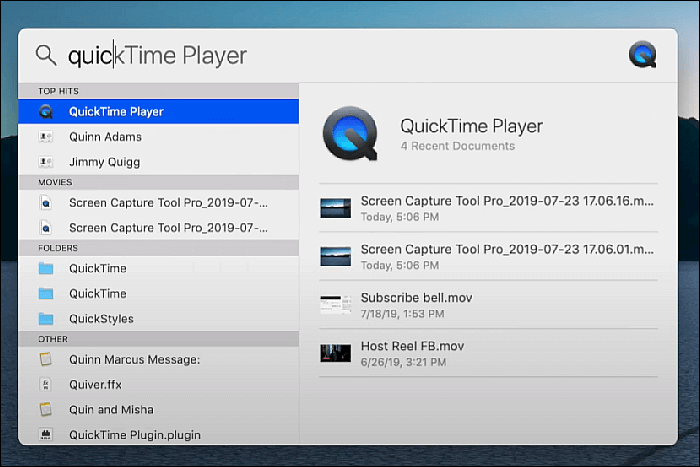 Step 2. A small icon, close to the Record button, shows Built-in Input. Chose "Built-in: Internal microphone"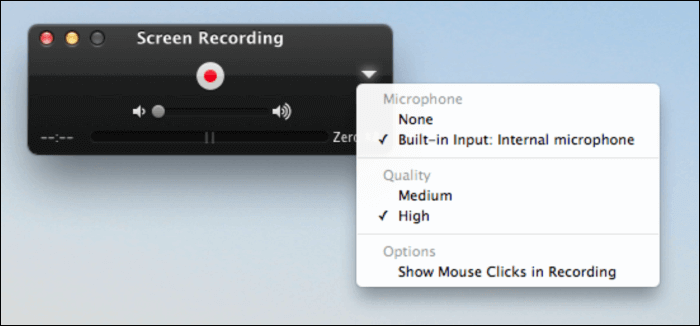 Step 3. Click the Record button, then click to record the whole screen.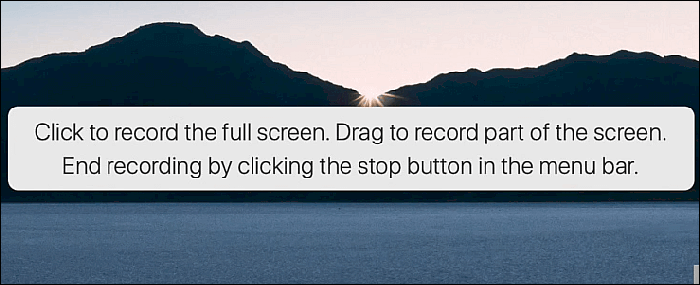 Step 4. Now you can start your Skype call. When the call is finished, look for the small Stop icon in the Menu bar. Click this to stop the recording.

How to Record a Skype Call on iPhone/Android
There are many applications that can help you record your Skype video call. Now let's see two amazing screen recording applications for Android and iPhone users.
1. Cube Call Recorder
If you use Skype for Android, you can install Cube Call Recorder, which has a free version. Besides recording conventional phone calls, Cube Call Recorder allows you to record calls from Skype, WhatsApp, Facebook. You can choose a manual or automatic call recording. It can also record all your screen activity in just a few simple steps. The recorded call can then be replayed or shared with other people.
Step 1. Install Cube Call Recorder and allow permissions, the app will need to work properly – access to the microphone, recording audio, access to a contact list, etc.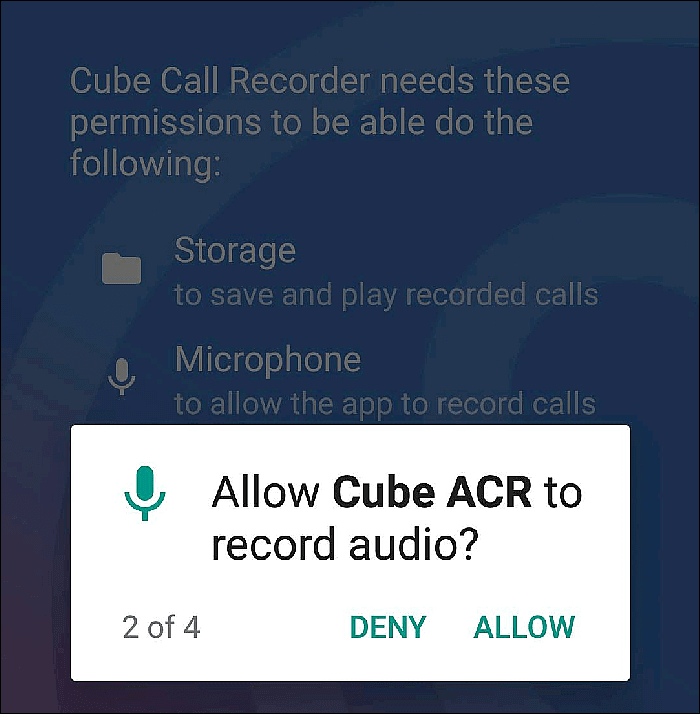 Step 2. The option to automatically record incoming/outgoing calls, including Skype, is "on" by default. So just tap the icon "mic" to turn recordings on and off.
Step 3. Start your Skype call and just click the purple button.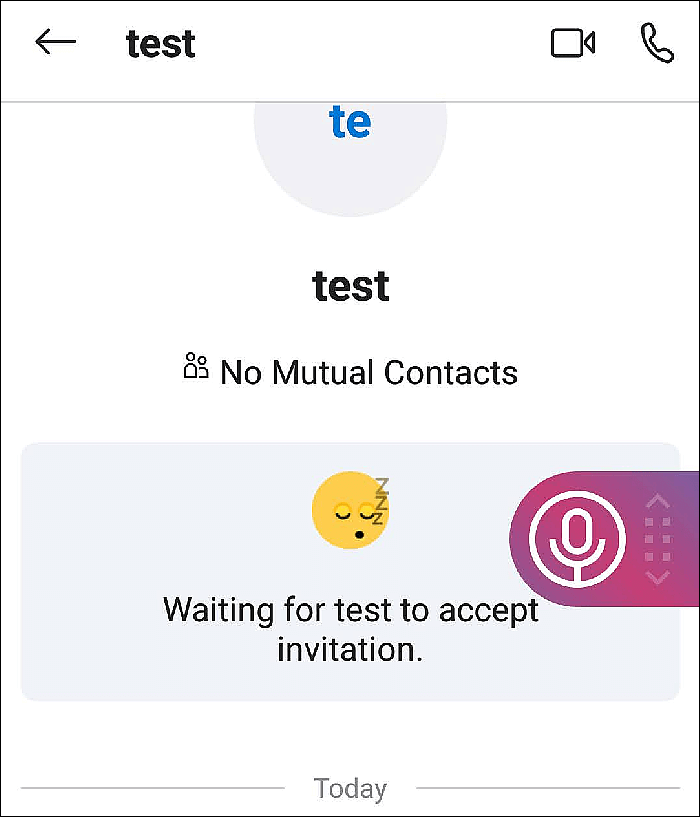 Step 4. When you finished the call, a file "Dictaphone record" appears in Cube ACR. You can select it, make comments, share, or delete.
2. QuickVoice
When it comes to record Skype calls on iPhone, you can use the popular voice recorder QuickVoice. This free application features voice reminders, audio stickies, and an audio editor. The latest release allows longer recordings, iCloud Backup, and import new types of audio files. You can transfer the recordings from the iPhone to the Mac computer. The tool isn't quite different from other common tools, but it's simple to use, and the results are good enough.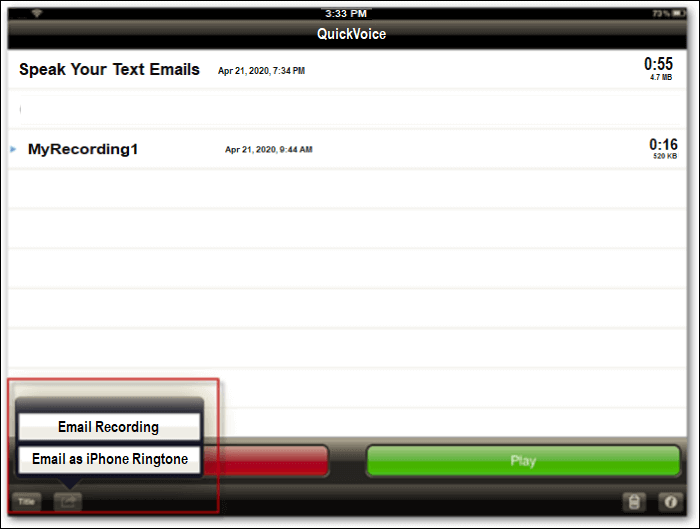 Step 1. Start QuickVoice, and it will need access to your contact list. Configure QuickVoice recorder, including the audio level bar. 
Step 2. To begin the recording, just click the well-indicated recording button at the bottom left corner. 
Step 3. The app provides two more important features - "pause" and "resume", accessible by buttons. Many basic recorders lack these features, which are useful when recording important files.
Step 4. If you want to transfer your Skype recordings to your Mac, you have to send an email.
Conclusion
No matter whether you opt for Skype's built-in feature or decide to give some of the third-party tools, you also can get the detailed guides in this article. Among those Skype recorders, we highly recommend EaseUS RecExperts. It allows you to do any screen and audio recording tasks, and after that, you can edit your recordings without downloading other editing software.
How to Record a Skype Call FAQs
1. Can you record a Skype video call?
On Skype, you can record your Skype calls directly in the app. But if you want to improve the sound, to record a full screen, you have to try third-party applications. 
2. How do you record on Skype?
During your Skype call, click Start recording on your Skype application. A banner will appear in your call, letting everyone know you've started recording. After the call, the recording will be posted to your chat and will be available for 30 days.
3. How can I record a Skype call secretly?
To record a call secretly, you'll need third-party software that can either capture your computer's microphone or record the whole screen. Note that this may be illegal depending on where you and the other person are located (depending on the country).
4. How can I record Skype video calls on mobile?
When you start a Skype video call, tap the "+" then tap "Start recording". The call will immediately start recording on your Android. For legal reasons, inform the caller that you are recording before you start recording.
About the Author

Jane is an experienced editor for EaseUS focused on tech blog writing. Familiar with all kinds of video editing and screen recording software on the market, she specializes in composing posts about recording and editing videos. All the topics she chooses are aimed at providing more instructive information to users.