
Table of Contents

About the Author

Related Posts
[Solved] How to Record Microsoft Teams Meeting Secretly
Because of the COVID-19 pandemic, now more and more companies are working at home. Most of them use Microsoft Teams to corporate a meeting to communicate with employees from different places. Based on this situation, you may sometimes need to record Teams Meeting for later checking or making some important notes.
Today we will recommend some useful tools you can use to record Microsoft Teams meetings secretly on your computer or mobile devices. Let's read it together.
See also: How to record gotomeeting sessions efficiently
How to Record Teams Meeting with Desktop App
Microsoft Teams allows users to record any meeting or call with ease. The recording will happen in the cloud, and it is saved so that you can share it securely across your organization.
However, not everyone in the meeting can record the Teams Meeting. Those who meet the following criteria can start or stop a recording:
The meeting organizer
Has an Office 365 Enterprise E1, E3, or E5 license
Has recording enabled by an IT admin
Isn't a guest or from another organization
Here's how to record a Teams Meeting:
Step 1. Open Microsoft Teams to start or join a meeting.
Step 2. Once you are in a meeting, click on "..." to go to meeting controls, and select "Start recording" when you are ready to begin recording. Everyone in the meeting is notified that the recording has started.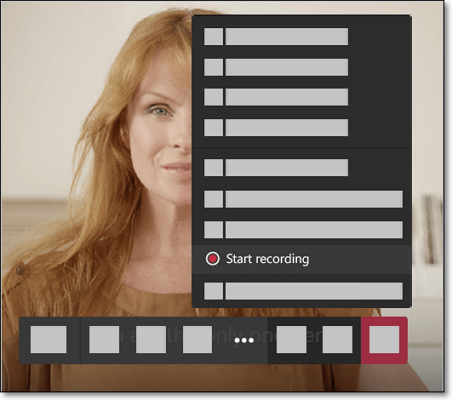 Step 3. To stop recording, you can click "..." > "Stop recording" to end the teams meeting recording.
Although it is easy to record Teams Meeting with Microsoft Teams app, it still has some shortcomings. You cannot record multiple recordings of the same meeting at the same time, and everyone is notified while the recording starts. So to avoid these problems, you can try a powerful screen recorder called EaseUS RecExperts. It can solve all of your questions.
How to Record Microsoft Teams Meeting Secretly on Windows
If you want to record Teams Meetings without the other person knowing or capture Teams Meeting as a guest, you can try a powerful third-party screen recorder - EaseUS RecExperts for Windows.
This screen recording software is one of the best free screen recorder programs for Windows users. It can help you record almost all online meeting, including Teams meetings, Zoom meetings, Webex meetings, and many others. While recording, it offers you schedule recording options, which means it can record the meeting at a specific time automatically even you are not around.  
Apart from that, with the Windows screen capture, you can record computer audio, capture screen in flexible size, and even grab your favorite gameplay in high quality. Once recorded, you can edit the recording simply or directly upload it to social media platforms like YouTube and Vimeo with ease.
Key features:
Best for both beginners and professionals
Allow you to capture full screen, a selected area, or a specific window with simple clicks
Enable you to add text, lines, arrows, or other contents while recording
Flexibly add text and highlight important content you want to show specifically
Upload recorded videos to popular platforms or directly download to Google Drive or Dropbox
Want to get this tremendous meeting recording software? Just click the below button to download EaseUS RecExperts.
How to record Teams Meeting secretly on Windows PC:
Step 1. Launch EaseUS RecExperts. There are two different options for screen recording, i.e., "Full Screen" and "Region". If you select "Full Screen", you will capture the whole screen.

Step 2. If you select the "Region" option, this software will ask you to customize the recording area. Make sure that everything you want to capture is within the bounds of the select box.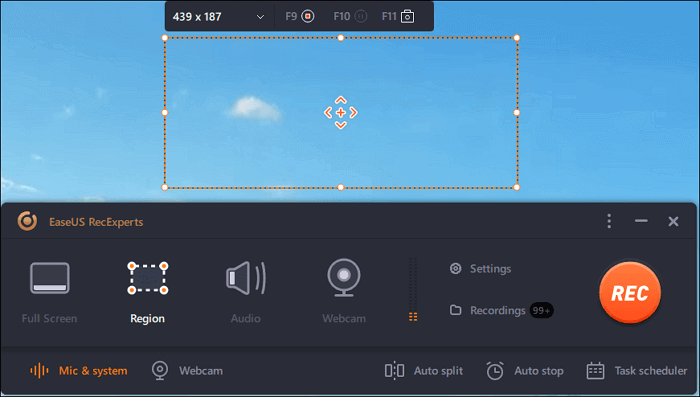 Step 3.  Tap on the button at the bottom left side of the main interface, and there will be many options you can select. This recorder supports recording microphone and system sound separately or simultaneously. The "Options" button is for you to adjust the volume and microphone device.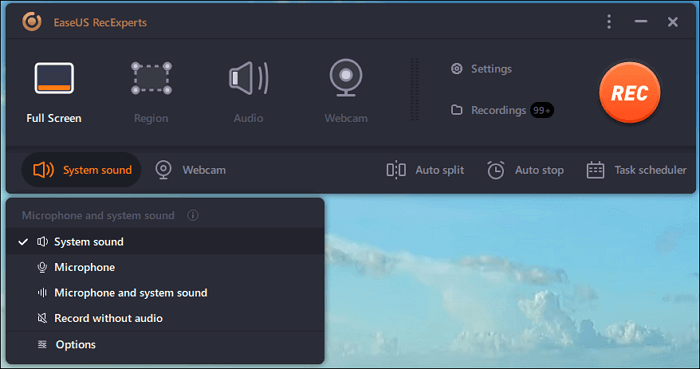 Step 4. If you want to record the webcam simultaneously, click on the "Webcam" icon at the bottom of the interface. Tap on the button to enable the webcam recording, and there will be a drop-down menu to select the recording device. Click on "OK" to confirm your settings.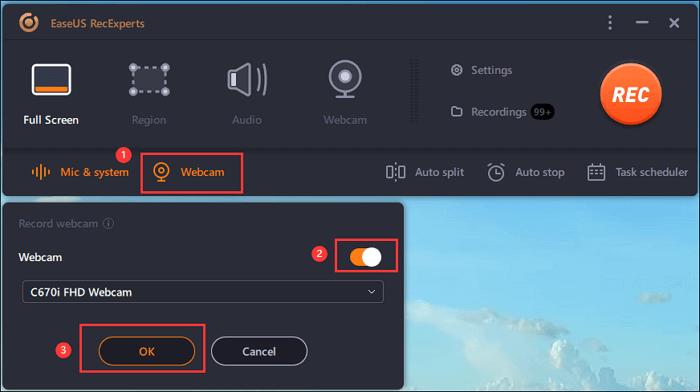 Step 5. When you turn back to the main interface, click on the "REC" button to start recording. A floating toolbar offers you buttons to pause or stop the recording during the recording process. In addition, the camera icon can be used to take screenshots, and the timer icon can help you stop recording automatically.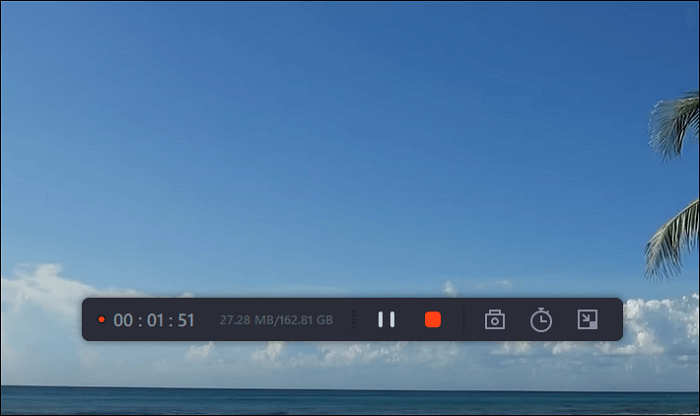 Step 6. The recorded video clips will be saved on your computer. When the media player appears, you will see a set of tools you can use to trim the recordings, extract audio, and add opening title & closing credits to the recorded video.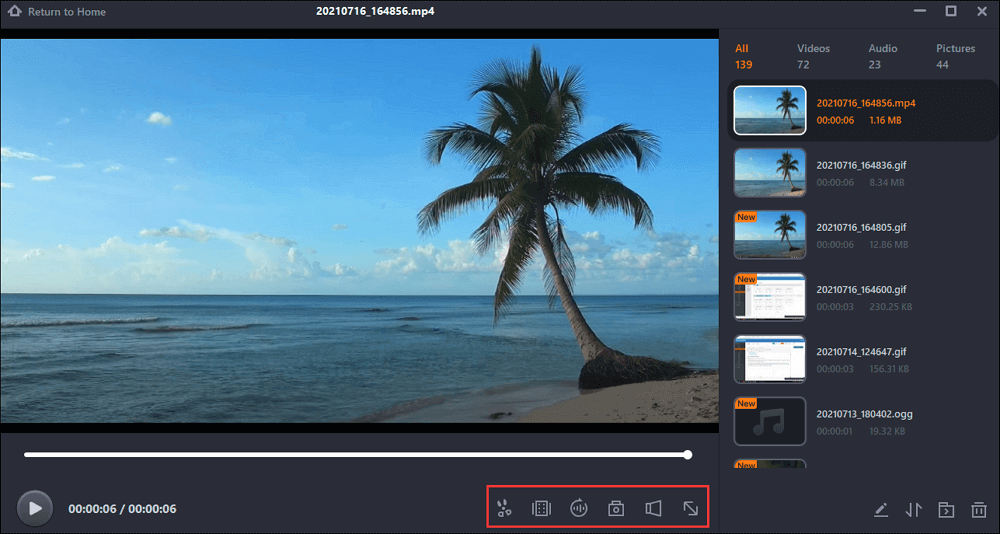 How to Record a Teams Meeting Without Notification on Mac
For Mac users who want to capture Teams Meeting without the other person knowing, EaseUS RecExperts for Mac is a nice choice. It allows you to do various screen recording activities, including capturing live stream, video conference meetings, and even your iOS devices screen with simple clicks. Moreover, you can choose to record audio (internal sound or audio from external devices) in seconds. Most importantly, all your recordings will not contain a watermark, even you use the free version!
How to record Teams Meeting without permission on Mac:
Step 1. Start or join an online meeting, then launch the recorder on your Mac computer. Click "Screen" under the Video tab. After that, click the "Size" option to select the recording area.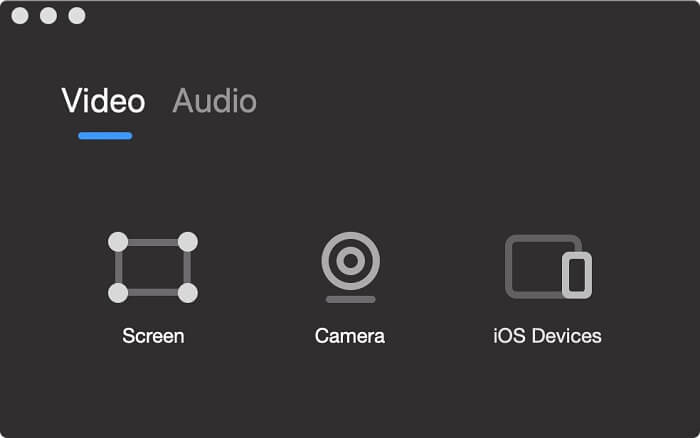 Step 2. Next, you can adjust the audio sources, quality, and voice volume of your video recording.
(Optional) If you need to record the meeting at a specific time, you can create a scheduled recording task by clicking the Clock icon at the bottom.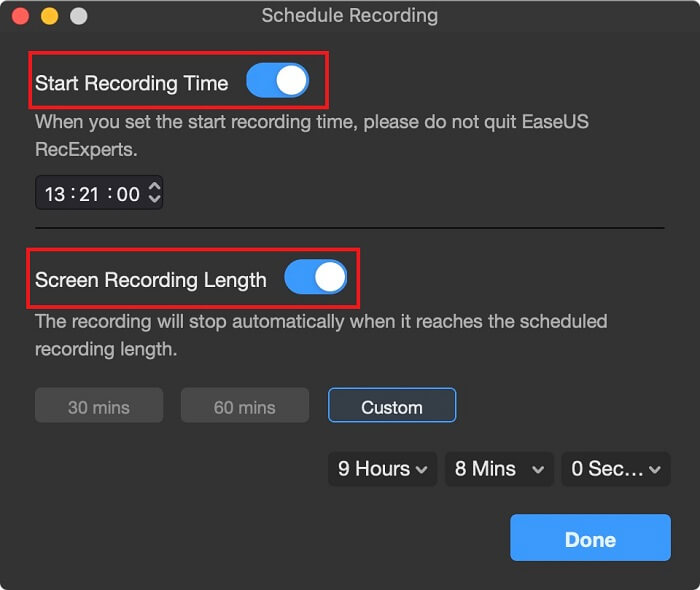 Step 3. When the meeting begins, you can click the big red circle button, and the program will start recording. During the meeting, you can pause or stop the recording.
Step 4. Once done, you can preview the recorded video. And you can export it to an MP4 file or animated GIF.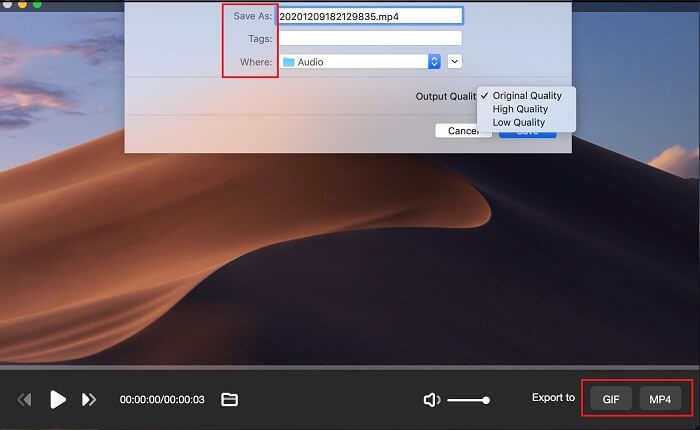 How to Record Teams Meeting Secretly on Phone
Sometimes you may use an Android or iOS device to attend the Teams Meeting, then how to record it for later viewing? After reading this part, you will find the best and easiest solution to solve the problem.
1. Du Recorder
DU Recorder (https://du-recorder.en.uptodown.com/android) is a reliable and easy-to-use screen recorder application. With DU Recorder, you can capture all kinds of online meetings and live streaming videos quickly. It supports high-quality screen recording with various resolution options, which means you can get an amazing recorded video. Moreover, it lets you livestream your screen to YouTube, Facebook, and Twitch easily and quickly. Its handy options will give you a better experience for recording.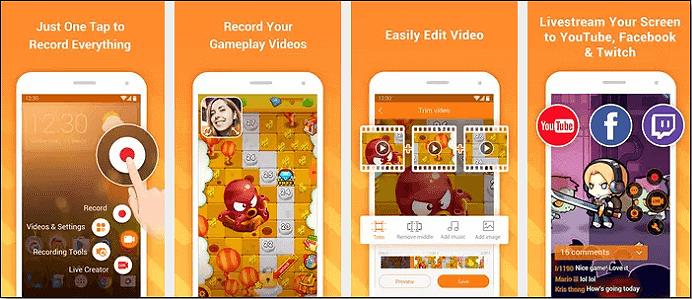 How to record Microsoft Teams Meeting secretly on Android:
Step 1. Download DU Recorder from your App Store or Play Store, and open Microsoft Teams Meeting to join a meeting.
Step 2. Open DU Recorder, and you will see a floating icon appear on the edge of the screen. Here you can tap it to access the recording features.
Step 3. Tap on the floating button followed by the record button, and then you can start to record your meeting.
Step 4. When you are finished, you can hit the stop button to stop the recording. The recorded video will be saved to your Android gallery.
2. iOS Screen Recorder
If you are using an iPhone or iPad to capture Microsoft meeting, you do not need to download or install any other third-party applications. You can easily complete the task with the built-in iOS screen recorder. It allows you to capture any audio or video coming from your iOS devices. For those who only want to capture audio and screen, an iOS screen recorder is enough!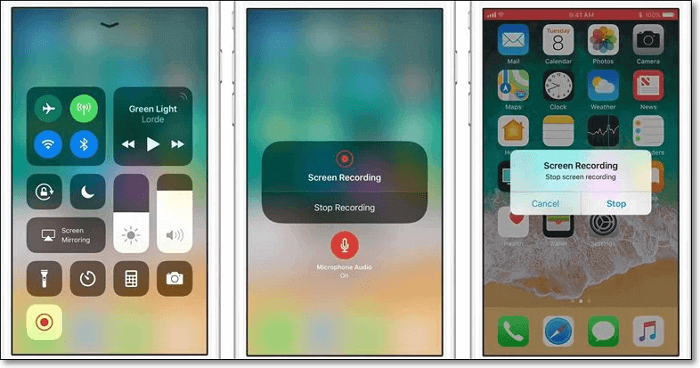 How to record Teams Meeting on iPhone:
Step 1. Press Control Center > Customize Controls > Screen Recording to enable screen recording on your iOS device.
Step 2. Start a Teams meeting. Next, swipe up from the bottom of the screen and press the recording button to start your recording.
Step 3. When it finishes, your recording will be saved and ready to share.
The Bottom Line
How to record Microsoft Teams Meeting? After reading this post, you must have the best answer in your mind. Whatever screen recording software you can, make sure to select the right one based on your needs.
If you want to capture the meeting simply, you can do the task with Microsoft Teams app on a computer or mobile phone.
For those users who want to record the meeting automatically or edit it after recording, EaseUS RecExperts is the best option. This software enables you to capture anything on your screen with high quality and offers tools to emphasizes the key points while recording. In addition, it provides some basic and advanced editing tools to modify your recordings efficiently. So you can't miss the versatile screen recorder and editor!
People Also Ask
There are some questions related to how to record Teams Meeting. You can go on reading to explore more information.
1. Can anyone record a Teams meeting?
Yes, anyone can record a Teams Meeting on a computer or mobile phone. If you want to record a Teams Meeting, you can follow the below tutorials.
Step 1. Open Teams Meeting on your computer or mobile phone, and join or start a meeting.
Step 2. Go to meeting controls to select More options > Start recording. Then you can begin recording the Microsoft Teams Meeting.
Step 3. To stop the recording, you can also go to meeting controls and select More options > Stop recording.
2. How do I record a meeting in Microsoft teams on mobile?
To record a meeting in Microsoft teams on mobile, you can try some screen recorder apps to get the work done, like Du recorder, AZ screen recorder, etc.
3. How do I automatically record Microsoft teams meeting?
If you need to record Microsoft teams meeting, you may need a powerful screen recording software – EaseUS RecExperts.
Step 1. Download EaseUS RecExperts and choose "Record Screen". Then click "Task Scheduler" > "New Task" to add a new schedule to the program.
Step 2. Click Start time to specify a start time and end time, also you can choose the recording area, audio input, and other options. Once done, click OK.
Step 3. Once your scheduled time has passed, EaseUS RecExperts will record the Teams meeting automatically.
4. Can you record Team Meeting as a guest?
No. Guest and federated users cannot record any Microsoft meeting or call as a guest. If you want to screen record Teams meeting, you can use some third-party screen recorders to complete the task.
About the Author

Jane is an experienced editor for EaseUS focused on tech blog writing. Familiar with all kinds of video editing and screen recording software on the market, she specializes in composing posts about recording and editing videos. All the topics she chooses are aimed at providing more instructive information to users.