
Table of Contents

About the Author

Related Posts
How to Screen Record on TikTok on iOS/Android/Windows
Within a short period of time, TikTok has garnered attention from people all around the world and has become one of the most popular social media APPs. The video-creating and sharing APP has already attracted more than one billion downloads on smartphones and even PCs.
When you watch an interesting video on TikTok and want to download it, there may be some problems such as permission issues, poor Internet connection, etc. Then, you may have to resort to a TikTok recorder to capture what you want. In this article, we will show you some competent TikTok recorder and the method of TikTok screen recording on different devices.
Related Article: >>Top 15 TikTok Video Editor You May Need
How to Screen Record on TikTok on iOS Devices
If you are an iOS user, the simplest ways for you to record a TikTok video are using the pre-installed screen recorder on your iPhone and the QuickTime Player on your iPad. Follow the step-by-step tutorial in this part to obtain the videos you like.
How to Screen Record TikTok on iPhone
To record the screen on your phone, you don't have to download any third-party application from the website. Thanks to the screen recording feature, which was added to iOS 11, it's possible to make a copy of a video that's playing on your iPhone. However, before recording, you need to put the recording function on the control center, so that you can launch it at any time.
Follow the steps below to record TikTok videos.
How do You Screen Record on TikTok Using an iPhone:
Step 1. Open TikTok and find the video you wish to record.
Step 2. Swipe up on the Control Centre and tap on the "Record" button. After the three-second countdown, start playing the video. Your phone will record the video for you.
Step 3. Wait while the video plays, and then stop the recording when it's done. The video will be stored in Photos.

If you want to record a TikTok video that is playing on your iPhone or iPad using a Mac, EaseUS RecExperts for Mac can be helpful. Click the link to learn more about the great recorder.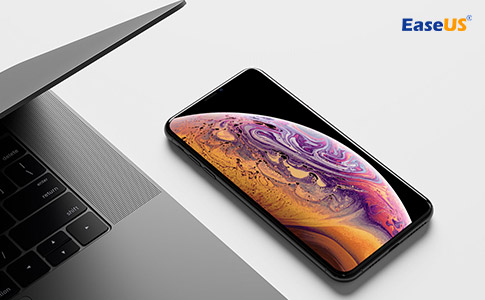 How to Screen Record a TikTok on iPad
To screen record TikTok on an iPad, you will need a QuickTime Player, which is an extensible multimedia framework developed by Apple Inc. It is capable of handling various formats of digital video, picture, sound, panoramic images, and interactivity. This option was introduced with iOS 8 and OS X Yosemite and is what we recommend to record your iPad screen.

You will need a Mac running OS X Yosemite or later and a lightning cable (the cable that comes with iOS devices). To show you how to operate exactly, we give you a detailed tutorial. 
How to Screen Record on Tik Tok Using an iPad:
Step 1. Connect your iPad to a Mac with a lightning cable.
Step 2. Open QuickTime player, click "File" then select "New Movie Recording".
Step 3. When a recording window appears, click the little arrow of the drop-down menu in front of the record button, then select your iPad.
Step 4. Select the Mic of your iPad if you want to record music/sound effects.
Step 5. Play the TikTok video you want to record and click the "Record" button.
Step 6. Once done, tap the "Stop" button to stop recording and save the video recorded.
 Notice:

Please do not take other people's videos for business purposes or any other purpose that would harm video uploaders' rights. 
How to Screen Record on TikTok on Android 
AZ Screen Recorder is a stable, high-quality screen recorder on Android that helps you record smooth and clear screen videos. With a ton of features like screen capture, video editor, and live stream screen, this app provides an easy way to record video tutorials, calls, gameplays, live shows, and videos that cannot be downloaded.
With this app, you can easily record a TikTok video you like as well as live shows from Periscope, Bigo Live, or Tik Tok, YouTube, and Twitch. From Android 10, this free screen recorder will support recording internal audio. Note that it requires Android 5.0 and up. We will show you how to use it on a Samsung phone.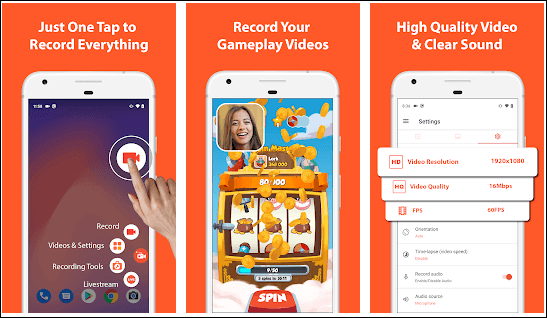 How to Record Your Screen on TikTok Using Android Phones:
Step 1. Run TikTok, and choose the video that you want to record.
Step 2. Launch AZ Screen Recorder, click the "Recording" sign and choose the "START NOW" option on the popped-up window.
Step 3. After the three-second countdown, the APP will start recording the screen for you. Therefore, you need to play the video after the countdown.
Step 4. When you are done recording, pull down the window on the top of your screen, you may choose to pause or stop recording by clicking the according button.
Step 5. The file recorded will show on the top of your screen, you may choose to share, delete, or edit it.
How to Screen Record TikTok on Windows 
EaseUS RecExperts for Windows is a full-featured but lightweight screen recorder. With its four main functions, you can record screen, audio, Webcam, and gameplay. If you are using a Windows PC, this is definitely your best choice for TikTok screen recording.
As you can freely choose the audio sources, it's possible to choose to record the system sound or record microphone audio. That means you can freely choose to obtain the original video or create a commentary video by adding your own voice through a microphone.
It can play more roles in recreational purposes. For instance, it can help you record a wonderful game highlight video even you are a beginner who doesn't know how to record gameplay on PC. The simple and user-friendly interface makes it easy to do any recording.
Features:
Record TikTok live, video, and audio in a few clicks 
Record Webex meeting, Zoom meeting, and other online meetings
Export recordings in many common audio and video formats
Provide a video editing tool
Directly share recorded videos to the social network
Download this full-featured TikTok recorder if you are interested in the features above.
Steps of Recording TikTok on Windows:
To show you how to use this software, we give you a tutorial below. Follow the steps to record anything on the screen.
Step 1. Launch EaseUS RecExperts. You can choose one of the four main functions on the main screen. Here you need to click "Record Screen".

Step 2. Click "Custom" to select a screen area to record. You may choose "Full Screen", "Selected Region", "Fixed Region", "Locked Window" or to customize window size here. If you want to record the screen and webcam at the same time, make sure you connected a webcam to your computer.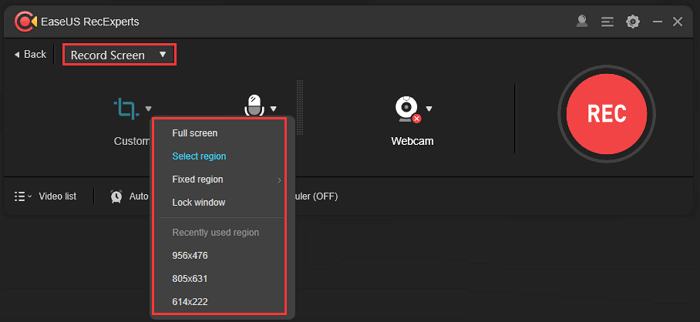 Step 3. Click "Microphone", and you may choose to record system sound only, record microphone only, record both, or record without audio.

Step 4. Click "REC" to start recording. After recording completed, the videos will be shown on the "Video List".

Step 5. Right-click the video recorded, you may preview, compress, edit, share the video, and do more.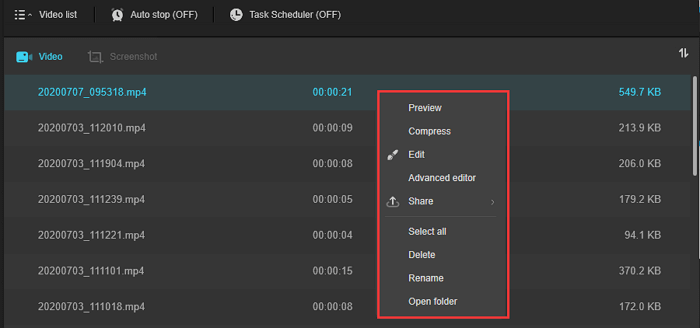 Conclusion
To sum up, if you want to screen record TikTok, no matter what device you are using, you will find a program to help you in this article.
If you are a Windows user, EaseUS RecExperts is your best choice. This software is full-featured and easy-to-operate. Download it by clicking the button below and follow the guides in this post if you want to know how to screen record on TikTok.
About the Author

Jane is an experienced editor for EaseUS focused on tech blog writing. Familiar with all kinds of video editing and screen recording software on the market, she specializes in composing posts about recording and editing videos. All the topics she chooses are aimed at providing more instructive information to users.