
Table of Contents

About the Author

Related Posts
[Quick Method] How to Record in GTA 5 Effortlessly?
To record in GTA 5 (Grand Theft Auto Five) is a simple task. The default recorder - Rockstar Editor allows players to capture their gameplay clips from GTA 5 directly. This handy recorder even allows users to edit their clips without leaving the game.
However, these merits of Rockstar don't represent that it covers up players' every need. In fact, there are many important features that only the best game recording software can provide to players, like the ability to produce high-quality videos with crisp resolution.
This post will tell viewers how to record GTA 5 with two different recorders and how to boost GTA 5 to produce higher quality videos.
Part 1. How to Record GTA 5 with A Professional Game Recorder
GTA 5 is a beautifully designed open-world sandbox game. To perfectly show its charms,  a capable game recorder is necessary. EaseUS RecExperts for Windows is such a powerful game recorder that gamers would be pleased with.
RecExperts offers users premium recording conditions, including up to 4K resolution, no-lag recording, high-quality videos, 60 FPS recording, multiple formats to output, etc. Besides, it delivers stable performance during recording.
After recording, you can replay and edit your GTA 5 clips in this recorder. And if needed, you can export some frames you like best while playing it in the inbuilt player.
Features
Produce crisp videos
Allow players to record with 60 FPS
Be able to record up to 4K UHD resolution
Record GTA 5 with a webcam
Produce large video files with no time limit
Output/convert gameplay clips in MP4 format
Instantly preview your clips and record a gif out of them
Now please feel free to download EaseUS RecExperts and give it a try.
Here are the steps to record GTA 5 with this game recorder:
Step 1. Launch the game you're about to record and then open up EaseUS RecExperts. There are four optional modes on the main interface. Choose the "Full Screen" to continue.
Step 2. If you want to adjust the settings according to your needs, click on the "Settings" button on the right side. You can customize the output folder, output format, and quality of the recordings. Moreover, don't forget to select a suitable frame rate as it will ensure you record the game without lag.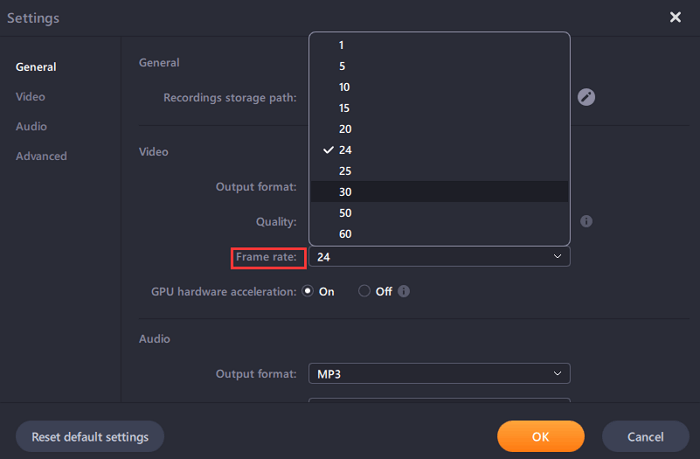 Step 3. And then, a floating toolbar will appear, and you can pause or stop the recording. Besides that, the camera icon enables you to take a screenshot, and the timer icon enables you to stop the recording automatically.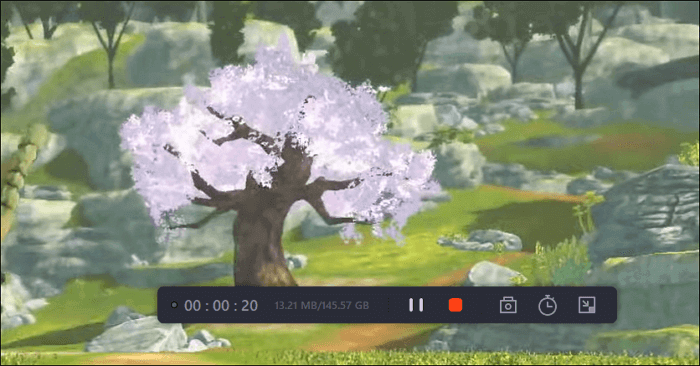 Step 4. After saving the recorded gameplay video, a media player will pop up. It gives you a built-in tool to trim the recording, extract audio from the video, add an opening & ending part. You can find the tool on the bottom of the player.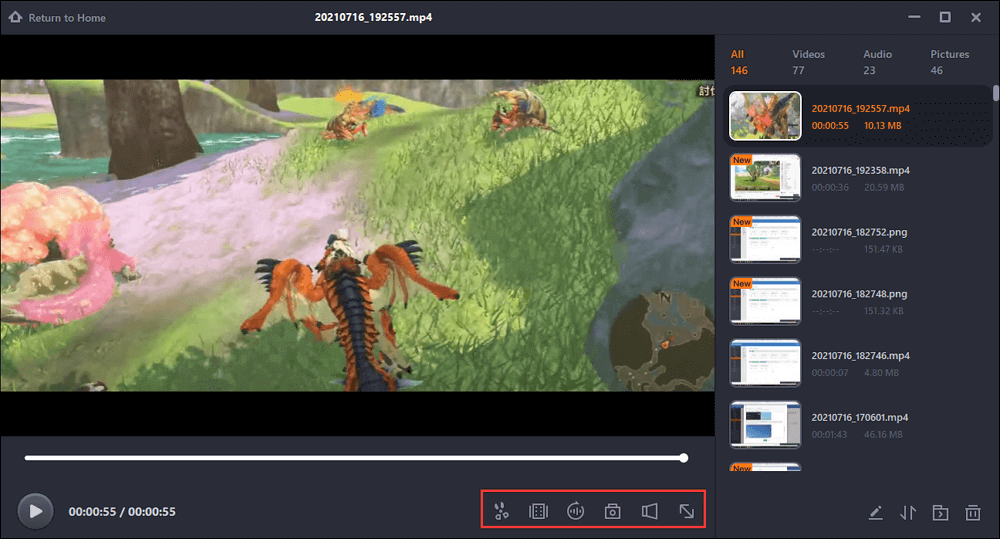 With this professional game recorder, you can directly replay and edit your gameplay recordings once the capture is done. However, if you are not a big fan of functional game recorders, you should try a less powerful yet easy-to-use default recorder of GTA 5 - the Rockstar Editor.
Part 2. Record GTA 5 with Its Default Recorder - Rockstar Editor
The Rockstar Editor is an iteration of GTA 4's "Replay" feature. Shortly after its adding to GTA 5's PC version, Rockstar Editor is embedded into the Xbox One and PlayStation 4 on 15 September 2015. And this part will elaborate on the steps to record/edit GTA 5 gameplay clips with Rockstar.
How to Record GTA Gameplay with Rockstar Editor
Note that only GTA 5 is blessed with the built-in recorder - Rockstar Editor. If you want to record other GTA series, you should probably use other recorders. Here I will show you how to capture the GTA 5 videos on PC with its exclusive recorder.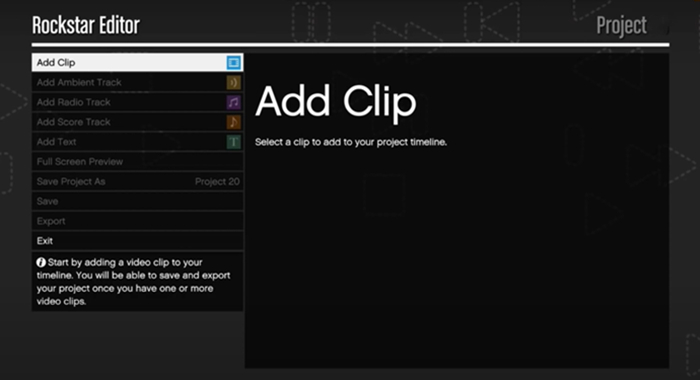 Step 1. Hold ALT and press F1 to start and stop recording during gameplay.
Step 2. Press Left ALT and F3 to cancel what's been recorded.
Step 3. Press Left ALT and F1 will save the recording.
 Tip

1. The recording length could vary due to your current situation. If you are in a messy scene (gunfight, vehicle chasing, etc.), the clip will be shorter. If your status is slack and easy, the clips will be longer.
2. You can disable the auto-recording function by pressing F3 on your PC. This action will reduce the heavy burden of your FPS.
How to Edit GTA 5 Videos with Rockstar Editor
Actually, the editing features are quite simple. The common functions like adding camera filters and adding music to recordings are available, but they are clearly not enough. If you are looking for advanced experience, you can consider using a professional video editor like EaseUS Video Editor. 
 Tip

Gameplay, in a first-person perspective mode, cannot have access to the editing function of the editor.
How to Start/Stop Recording GTA 5 Clips on PS4/Xbox One
Step 1. To bring up the character switch menu on consoles, press the "Down" button on the D-Pad. Then press the corresponding button for "Start" or "Stop Recording."
Step 2. You can edit your clips. Call out the Pause Menu and then scroll over to the extreme right, so you can find the Editor.
Step 3. If you want to preview your clips, select the "Clip Management" from the menu.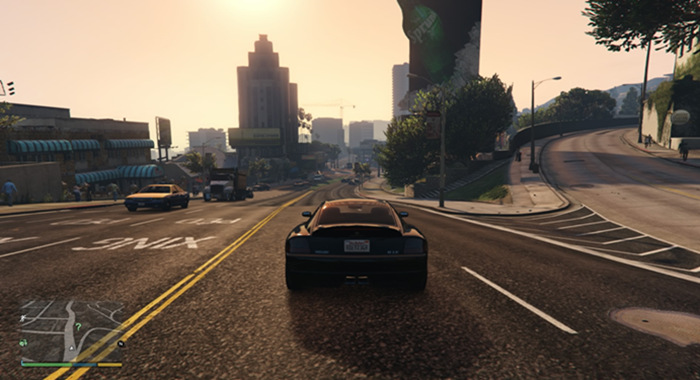 Part 3. How to Boost Your Game - Professional Configuration Tips
Now we already have two effective tools to record our GTA 5 gameplay. Here are some tips for improving GTA 5 performance. These tips are meaningful since better game performance brews higher-quality gameplay clips.
To Boost GTA5, You Need to Choose Between Graphics and FPS
Some elements play decisive roles in your games' performance. They could be Graphics, FPS, and Game Mods. In the process of tweaking these parameters, there is one thing you should be aware of, which is the highest FPS and the best Graphics card settings can't be obtained at the same time.
If you want the best graphics, you'll likely have to accept lower FPS. On the contrary, optimizing your game for FPS often results in a few graphical sacrifices. So you'll need to balance your gaming expectations with your PC's capabilities.
Measures for Optimizing GTA 5
To optimize your PC and laptop for ultimate gaming performance, there are four things you could do to your PC to improve the performance of your GTA 5.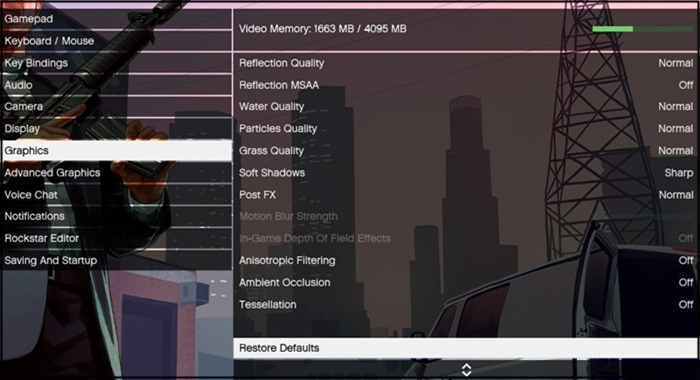 Upgrade your graphics drivers
Disable any unneeded background activity to make your CPU centered on GTA 5
Defrag your disks to release more room for running GTA 5
Adjust the in-game effects one-by-one to achieve the smoothest gaming experience. The adjustable factors include shades, texture quality, saturation, and the reflection MSAA
Rockstar's world-building is among the best in the business. With the perfect balance between FPS and the graphics card, you can play this game with no latency while enjoying the exclaiming sights along the roads.
The Bottom Line
This post gives thorough guidance on how to record in GTA 5. Two quick methods are involved in this post to help GTA 5 gamers record their own gameplay videos, whether on PC or consoles (PS4, Xbox One). All in all, if you pursue smooth and high-quality game clips, EaseUS RecExperts will meet your demands.
About the Author

With the interest in English writing and computer technology, Vanessa chose to be an editor in EaseUS. She is professional in video and audio topics, including video & audio editing, converting, and recording. Vanessa will keep writing to help people solve problems.