Top 10 Free Internal Audio Recorder for PC/Android | 2021

Jane Zhou updated on Apr 07, 2021 to Screen Recording Utility | How-to Articles
If you have to explain something informative from your phone or PC, then you need to use internal audio along with the video. But unfortunately, no many smartphones, Windows, or Mac computers have features to directly record system audio. Although some of the newly advanced smartphones may have this feature, recording clear and perfect system audio is not an easy job.
So how can you create an internal audio recording on PC or Android phone? All you need is a powerful internal audio recorder. Wait, read the full article. Here, we will give you detailed information about the best internal sound recorder for PC and Android, which are available over the internet.
Top 6 Free Internal Audio for PC
EaseUS RecExpert is one of the most popular internal audio capture software for PC, which is used widely by Windows and macOS users all over the world. Using this software you can record full or part of the screen, audio, webcam, game, and zoom meeting. Moreover, it allows you to record screen with audio quickly.
This Windows internal sound recorder is dedicated to helping novice users and professionals to record whatever they want on the screen. Moreover, while recording, noise cancellation and audio boost are also available to guarantee users get the best quality of audio.

Features:
Record system sound only, microphone sound, or both simultaneously
Enable you to record audio, screen, webcam, even gameplay with a few simple clicks
No watermark on the recordings (macOS only)
Help record internal audio on Mac without installing other software
 Click the below button to install this great internal sound recorder on your computer now!
#2. Audacity (Windows/macOS/Linux)
If you would like to record internal sound on Windows 10, macOS, or Linux computer, you can try Audacity. It is a piece of sound-editing software that is widely known for being open-source and offering cross-platform compatibility. It's not only an internal audio recorder but also a sound editing software that you can use professionally.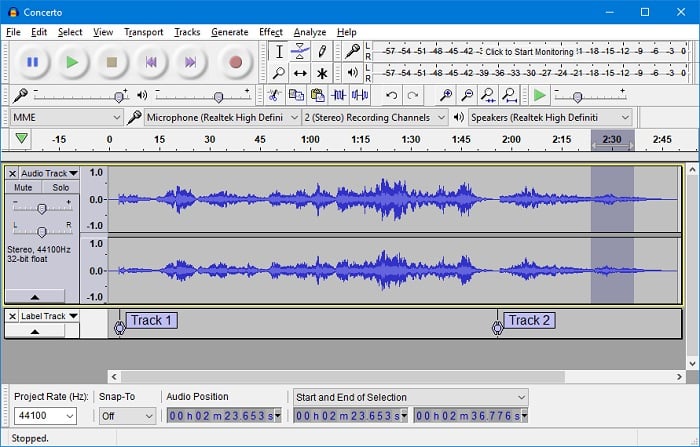 Pros:
Free of charge
Lightweight and a relatively small program size
Open-source with community support working to continually improve it
Allow you to convert music tapes and save them to MP3 on CD
Allow users to use different sound files and duplicate, cut, blend, or graft them together
Cons:
Some aspects are more complex, and not as user-friendly
The program is limited in its mixing capabilities
#3. Free Sound Recorder (Windows/macOS)
By the name, you can guess that it's a system audio recorder which is available for free. This is an amazing freeware that allows you to record sound generated by a computer or any outer source. You can record audio from YouTube or any other online source and listen to it later. You can also record Skype and WhatsApp conversations and keep them safe on your computer as a beautiful memory with your dear and lovable ones.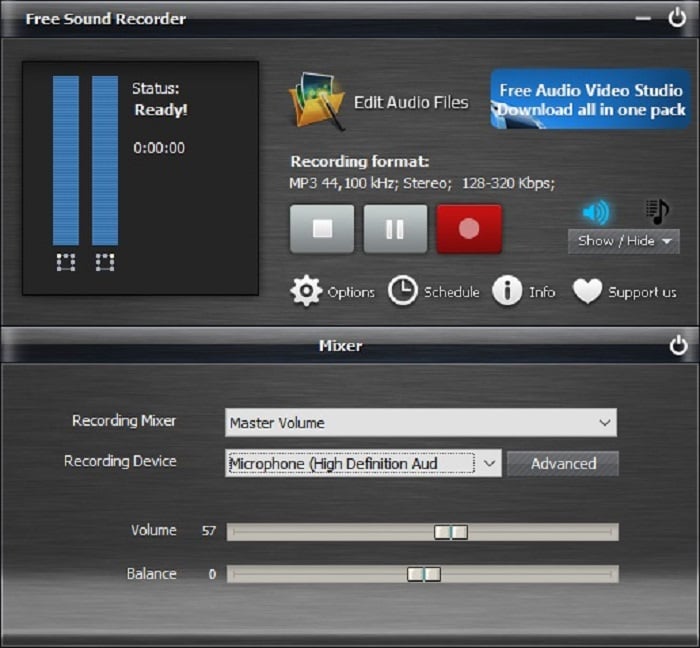 Pros:
Record VoIP calls or Internet-telephony conversations when using programs like Skype, Google Talk, etc.
Preset quality for efficient recording
Enhance recordings & audio Files
Allow users to record streaming audio broadcasts, conferences, VoIP phone calls, Skype, etc.
Cons:
Contain ads
Not so smooth compared to other paid software
#4. AudFree Audio Capture (macOS)
AudFree Audio Capture is a system sound recorder which can record all type of sound playing through any Mac apps including iTunes, QT, Safari, Chrome, VLC, and any other local or web media players. It is a good solution to record streaming audio and live broadcasts, online radios, and more with lossless quality and ID3 tags retained which proves it a reliable amazing audio recorder.
As it's a wizard-based software, you do not need any advanced configuration to make this application work.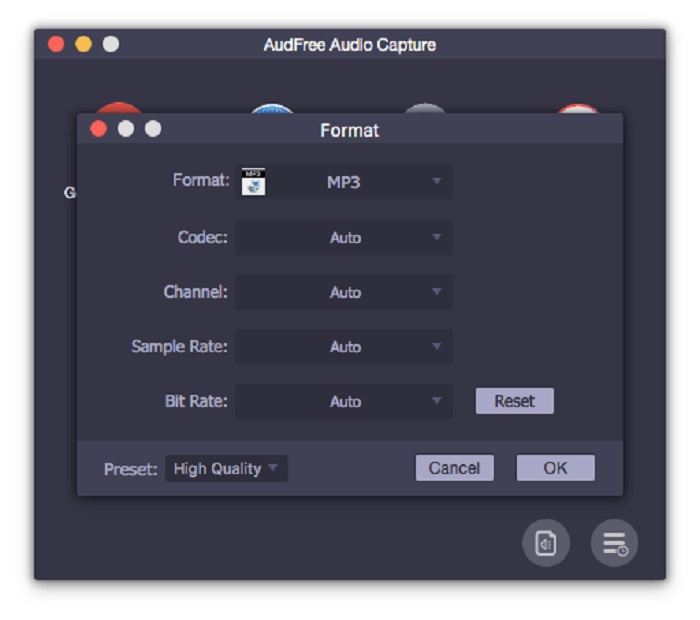 Pros:
Trusted and reliable software
Ultra-simple recording with a few clicks
Value for money
Effective as Audio capture tool
Cons:
Similar software is available free of cast
Costly to purchase if one does not regularly use it
#5. TunesKit Audio Capture (macOS)
TunesKit Audio Capture is a free internal audio recorder for Mac that can record any sound you want with one click only either it is internal or external. You can also record streaming music like Apple Music, Spotify, etc., as well as some other audio types, including broadcasts, radio stations, game music, etc. 
Using this software, you can also extract audio tracks from video files of any format which you play on your Mac. This software can also be used to edit the audio records by merging or trimming the clips according to your wish.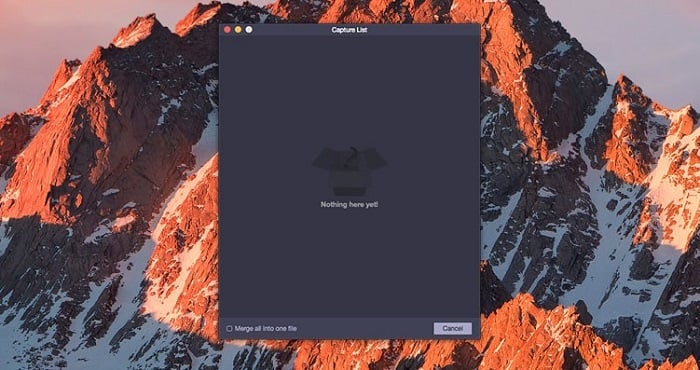 Pros:
It keeps lossless quality and ID3 tags
Record screen and webcam simultaneously
Extract audio tracks from video files
It converts recorded audios to MP3, WAV, AAC, FLAC, etc.
Cons:
There are minor bugs in the current version
It contains ads
Regular updates are mandatory
QuickTime Player is another completely free internal audio recorder for Mac users. You can use QuickTime Player (version 10) to play, record, edit, and share audio and video files. It is an extensible multimedia outline work that is produced by Mac and even handles different organizations of digital video, picture sound, panoramic image, and interactivity.
Besides, it is an excellent movie software viewer that uses the latest streaming technology to access instant content on the Internet.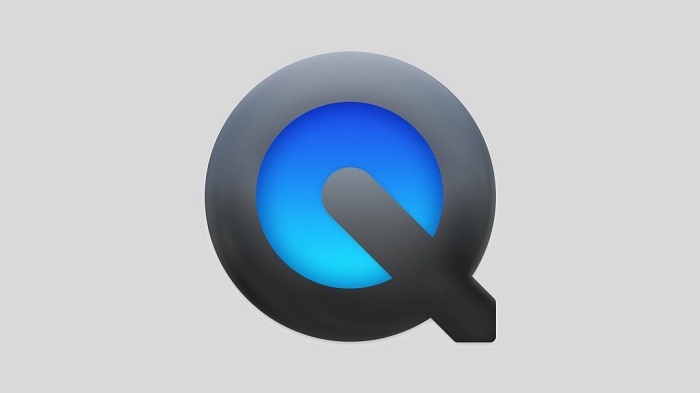 Pros:
Support a small and attractive interface
Smart and various annotations to use
Capture everything on your screen
Upload your snapshot to our storage in one click
Cons:
Limited recording and editing functionality
It takes a larger space into your small Mac storage
Best 4 Free Audio Recorder for Android
#1. Mobizen Screen Recorder
It is an internal audio screen recorder that records system audio with screen for Android users. This app has so many essential tools. When you launch this app and open it, you will get an option to choose whether you want to record internal or external audio while screen recording is on. You can also select internal recording and that's it.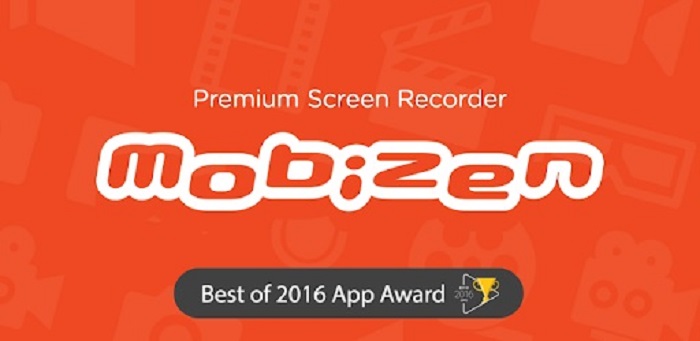 Pros:
This app is free of cost
It can record a clear screen in full HD
It allows users to record only internal sounds
Various video editing features available including trim, cut, add images, etc. 
Allow you to record longer videos without worrying about storage space 
Cons:
As it's free, the app contains ads
This is only available for Android
#2. AZ Screen Recorder 
AZ Screen Recorder is another screen and audio recorder no rooted for Android users. You can download it from the Google Play for free. After installing, launch the app and enable the option to record the audio, this app won't record sound until you enable this option.
If you are using this app for recording internal vocie, make sure that the room where your recording is completely silent, since the microphone you will be using can pick up external sounds as well as internal audio.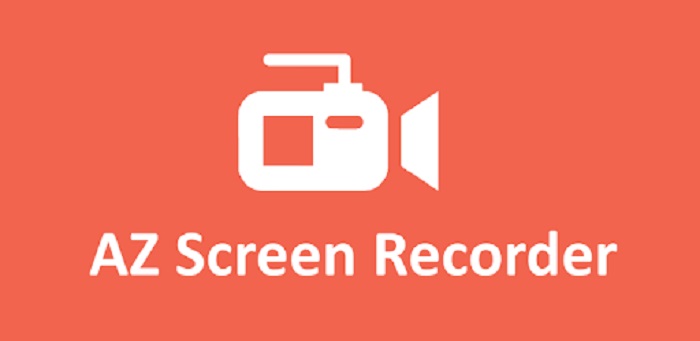 Pros:
It doesn't ask for root access
There is no time limit and no watermark
A floating widget always staying on top will let you snap at the exact moment on any screen
Record audio and screen at the same time
Cons:
The program is limited in its mixing capabilities
If you do not save video just after recording, it gets deleted permanently
#3. ADV Screen Recorder
ADV Screen Recorder is another Android screen recorder with internal audio. With this app, you can easily capture the sound coming from your smartphone without requiring root.
Moreover, this internal audio app lets you record screen, system sound, microphone, or both at the same time with high quality. It also offers you options to change the resolution, bitrate, frame rate, and edit the recordings with basic tools.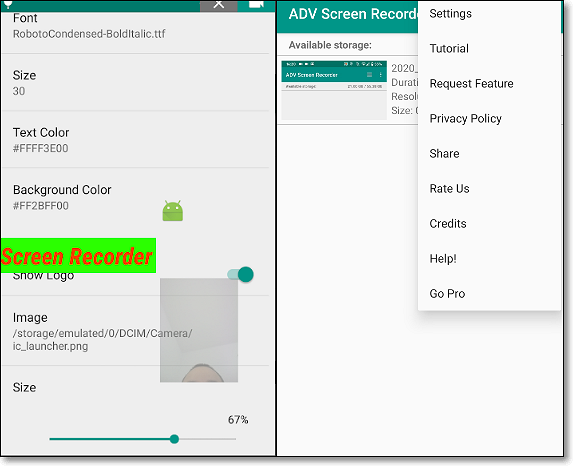 Pros:
Offer editing tools
Set your text and banner with full customization
Use front or back camera while recording
Cons:
#4. Screen Recorder
Screen Recorder is another Android internal sound recorder application. This app offers you many options, such as recording videos, taking screencasts, capturing webcam and screen simultaneously, etc.
Using it, you can capture your own voice through a microphone while recording the screen, which is helpful for making tutorials. After recording, it supports saving the recorded videos on SD card or anything location which you want. 
Pros:
Offer Day/Night theme
Support multiple languages
Built with some basic editing tools
Cons:
Doesn't have a floating control button
Bonus: Best Screen Recorder with Internal Audio
Sometimes, you may want to capture your screen with the sound simultaneously, then an excellent screen recorder with internal audio is a must. Fortunately, EaseUS RecExperts is such a program. This software enables all Windows and Mac users to capture the screen with audio, including the internal sound or microphone in minutes.
Moreover, it offers many other stunning features, like recording webcam, gameplay, or both at the same time, and exports the recordings with high quality. If you are searching for a screen and audio recorder, you cannot miss it!
Internal Sound Recorder FAQs
1. Can you record internal audio on Android?
As we discussed earlier, Google has restricted this feature to record internal audio for some reason. But somehow, some latest version of Android has this feature but they are not very useful. Recorded audio remains very noisy.
2. How do you record internal sound?
We can use different apps to record internal sound. We have provided you details of some apps which are available free of cost and also provided you link in the article. Go through it, read the full article, and choose the best suitable one for your phone or PC.
3. Why does Google not allow internal audio recording?
There are many reasons behind this, one is your privacy. And another one is a copyright issue, people will not download the music or any other audio, they may just record it and use it. However, in the latest version of Android, Google has enabled this feature as of need.
4. How do I record internal audio on my computer?
We record internal audio using one of the best software available on the internet which is EaseUS RecExperts. We really had a great experience using this software. We also highly recommend everyone to use this software to get the best quality of audio and video along with so many great features.