Top 5 Best Free YouTube to MOV Converters on Windows, Mac and Online

Jane Zhou updated on Dec 11, 2020 to Video Editing Tips | How-to Articles
When watching videos on YouTube, you may come across some interesting videos and want to modify them again on your computer or other devices. However, some YouTube video formats are not compatible with your devices, you can convert YouTube video to other common video formats.
Based on popularity and applicability, you can convert YouTube to MOV, which are supported by macOS and Windows Platform. Moreover, the MOV file format is a multimedia container file, and it can be different types of media files, including video, audio, and more. MOV files usually have MPEG-­4 codec for compression. To meet your needs, the post lists five best YouTube to MOV converters for Windows, Mac, and Online tools.
Top 3 Best YouTube to MOV Converters for Windows/Mac
When using Windows PC or Mac, you can use any of the software to edit the videos. These tools offer much more than conversion from YouTube to MOV format. So, if you want to enhance the videos and add anything missing, such as transcripts or graphics, you can do it using the editors.
1. EaseUS Video Editor
EaseUS Video Editor is an all-in-one video editor that can edit, convert, and upload videos to social media formats. When it comes to YouTube to MOV converter, EaseUS Video Editor is your best choice.
This video editing software can convert video of any format to MOV, MP4, WMA, GIF, and more. Since the software offers a non-linear timeline, you can merge multiple videos into one file. You get 300+ free visual and audio effects in the form of text, filters, overlays, transitions, elements, and music. Along with essential editing tools like split, trim, mosaic, you also get a professional timeline feature.
Best for beginners, amateurs, and professionals.
Here are the tutorials to convert YouTube to MOV with EaseUS Video Editor.
Step 1. Import Source File
After launching EaseUS Video Editor, the first thing to do is simply dragging the target file to the media library. You can also click "Import" to do the same.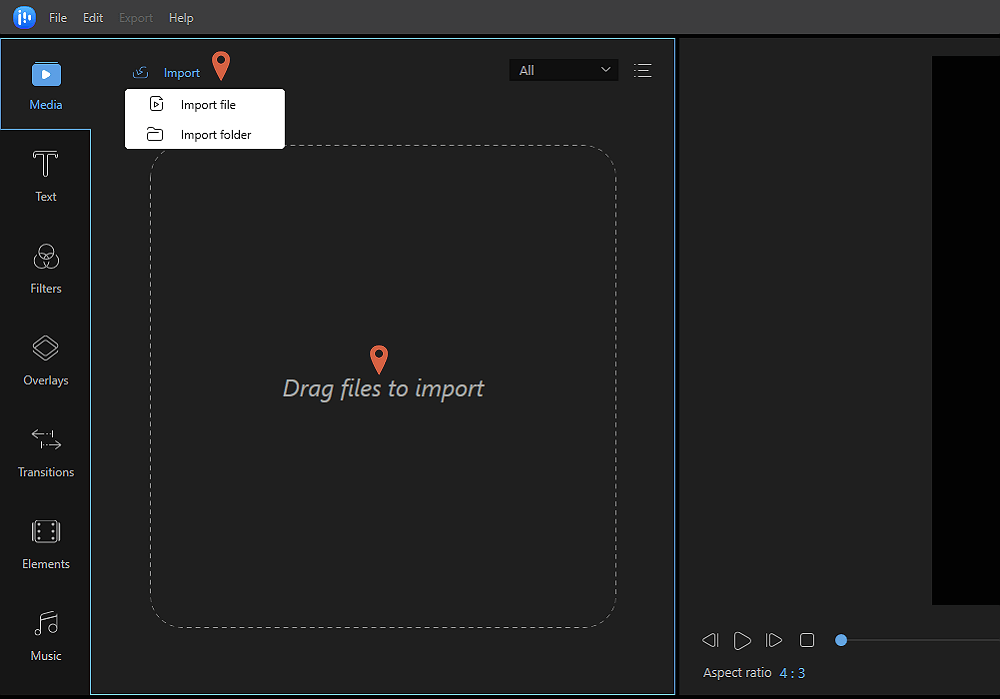 Step 2. Add to Project
The next step is adding the imported file to the project. After adding a source file to the media, you can click "Add to Project" or drag the file to the timeline.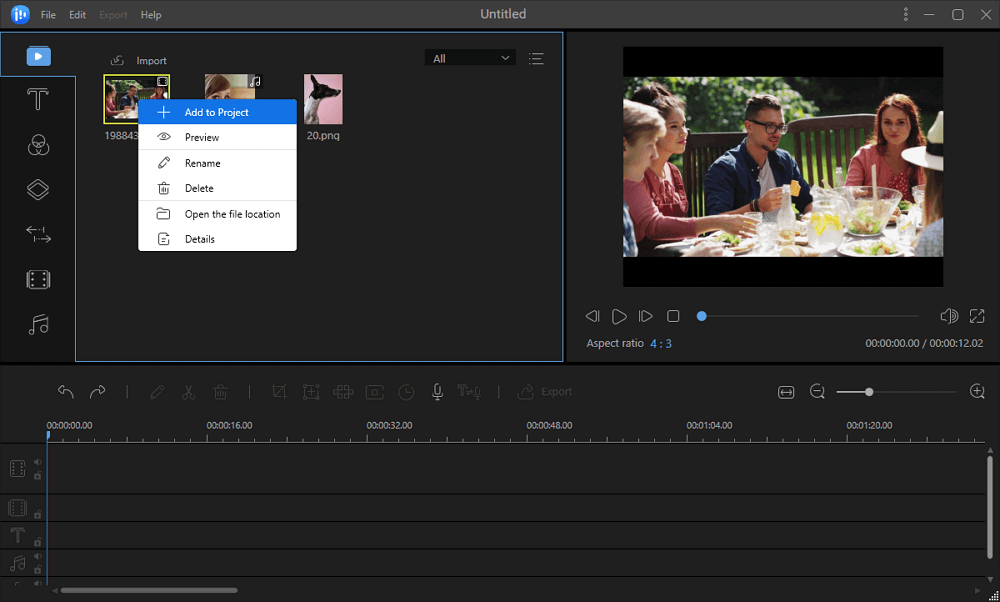 Step 3. Export the File
Now you can export the file by clicking the "Export" button.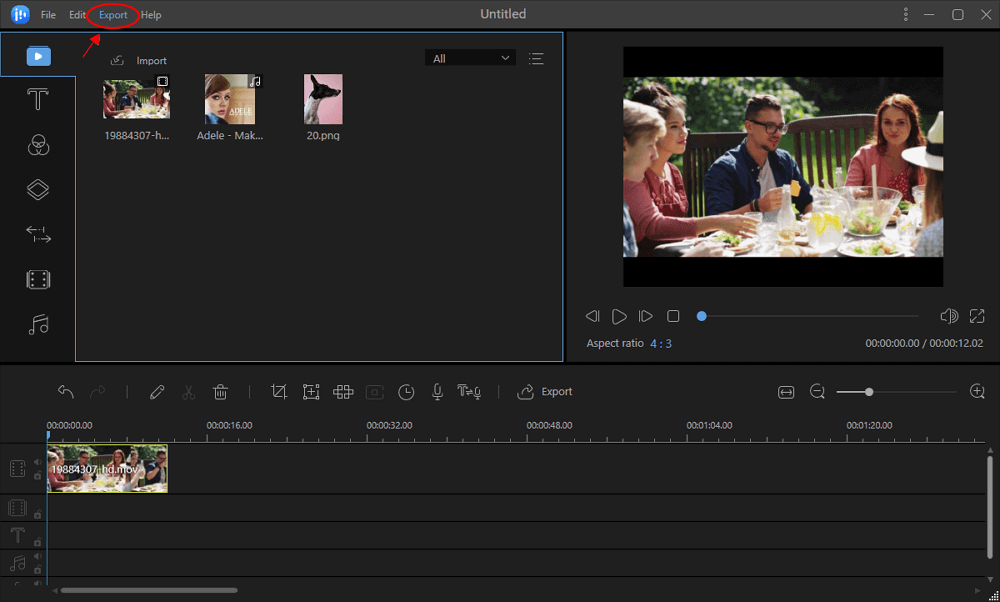 Step 4. Save as MOV
You can select MOV as the destination format and export it to your device. On the right pane, you can customize the file name, output folder, output settings, and duration as you wish.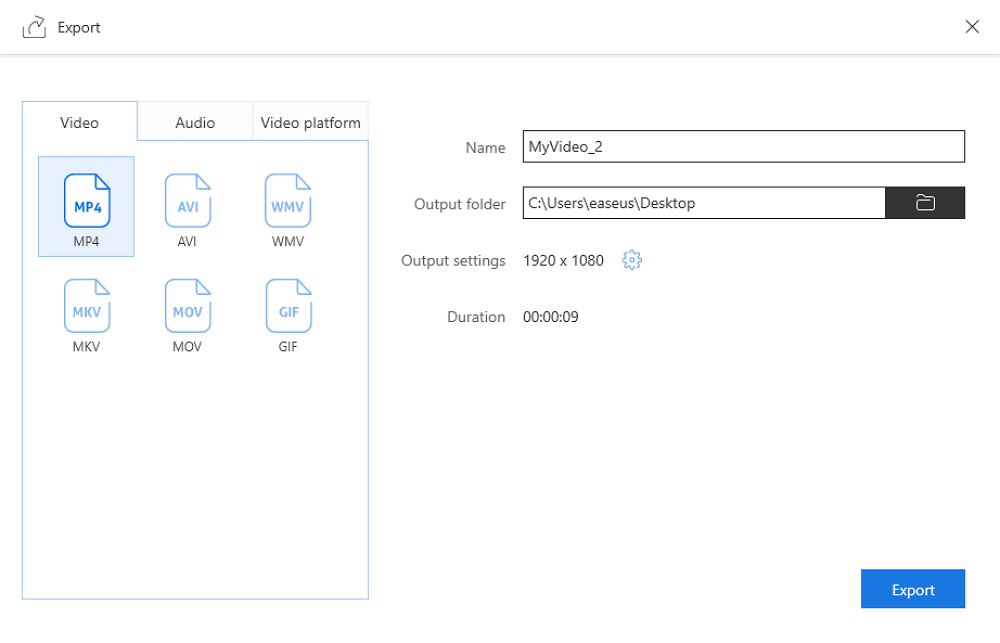 Bonus tip: How to download a YouTube video to your computer.
You may find that downloading YouTube videos is a little difficult without any tools. Here we recommend you a great YouTube video downloader - EaseUS MobiMover. It's free software that accepts a YouTube link and downloads the video in MP4 format. You can download the video in the highest quality, and then edit using the video editors. Since the video is compressed, it doesn't take much time to download the video from YouTube.
Step 1. Launch EaseUS MobiMover, go to "Video Downloader", and choose to download YouTube videos to your computer.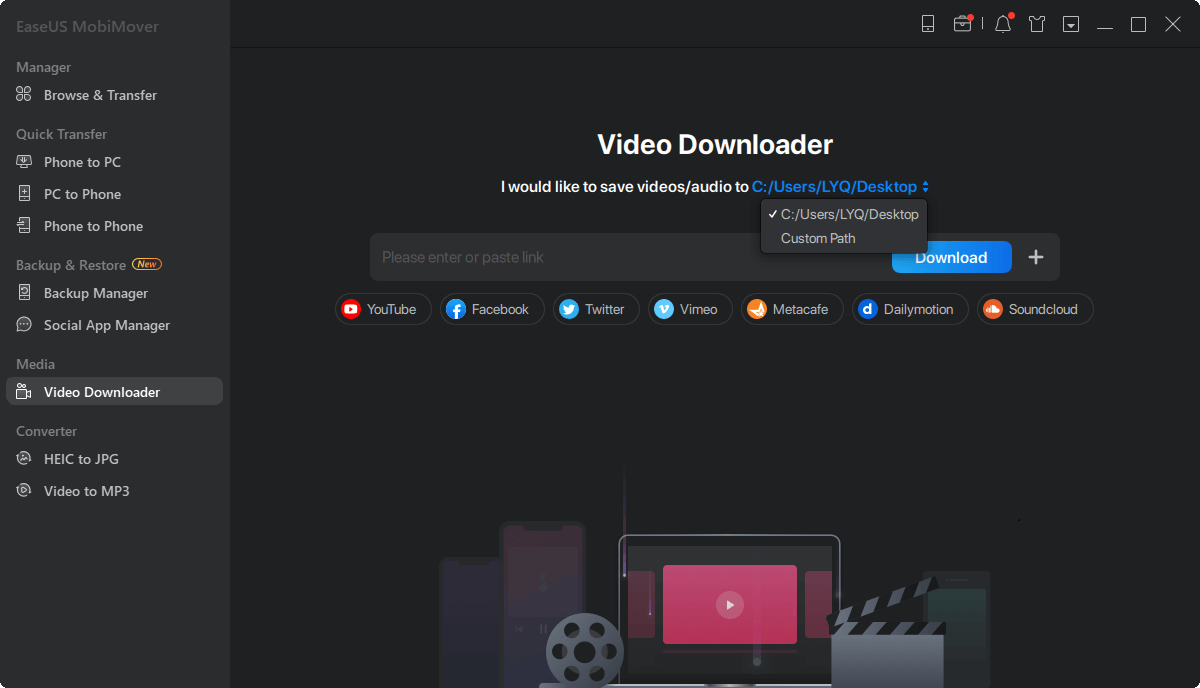 Step 2. Copy the URL of the YouTube video, paste it into the bar, and then tap the "Download" button. 
Step 3. Then MobiMover will quickly analyze the URL and download the YouTube video to your computer. When it has finished, you can find the video in the selected folder on your computer and enjoy it offline.
iMovie is a free and powerful YouTube to MOV converter for macOS users. It is available on mobile as well with cross-platform compatibility. It makes an obvious choice, and since it is powered by Apple's platform, It does a fantastic job converting to any format to MOV file. Apart from that, you can create trailers, use themes, supports green screen backgrounds, and picture-in-picture mode if you plan for some gaming videos.
Best for basic editing and suitable for beginners.
Step 1. Import video and edit files
Open the iMovie app and then import the video you want to convert into MOV. You can then make sure to edit the file to remove unnecessary parts of the video. If at all you wish, you can add effects, stabilize videos, correct the colors, and so on.
Step 2. Export and convert video file type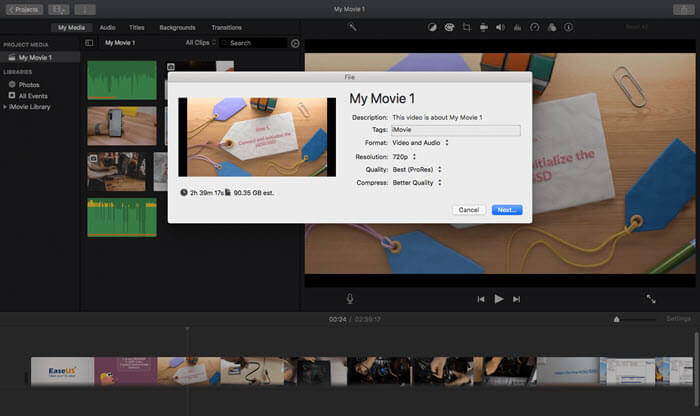 Click on the File menu, and then click on Share. Here you can select video resolution, quality, and file type. If you want a better quality of the video, then make sure not to select Faster compression; instead, choose Better quality from the dropdown.
It's an open-source video editor that offers professional tools to edit the videos and supports most of the popular format for both output and input. On top of this, it is a cross-platform editor, which means you can edit in Windows, and then continue in macOS. Features include Multilayered video timeline, Time, Slice, Animations, keyframes, 3D animations, Slow-motion, effects, and more.
Best for Amateurs and Professional.
Step 1. Import, Edit, and Add effects
Launch the video editor, and then import the downloaded YouTube video into the editor. You can then choose to edit and remove what is not required. You can also choose to add more videos if you wish to convert multiple MOV files.
Step 2. Convert to MOV format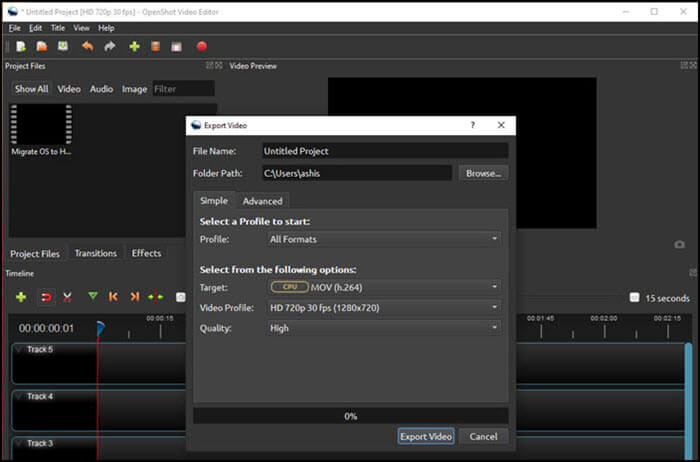 Click on File, Export Project, and then export video. Here you can select a video format by clicking on the dropdown next to Target. Make sure to select format as MOV, video profile according to the original video, and quality as high. Click on the Export video for the process to complete.
Top 2 YouTube to MOV Converters Online
If all you want is to convert YouTube to MOV, then it is best to use the online converter. The only problem with these online tools is that there is a limit on the size of the video, and privacy concerns. So choose wisely.
It's an excellent online YouTube to MOV tool that can convert any format to almost any format. It can take a YouTube URL, and then you can click on MOV format, and download it right away. The tool offers consumers to choose between audio and video format, automatic detection mode, or select a time to convert.
Step 1. Open the website and paste the URL in the box. Select MOV from the available format.
Step 2. If you want to convert only part of the YouTube video to MOV, then you can set up the start and end of the video.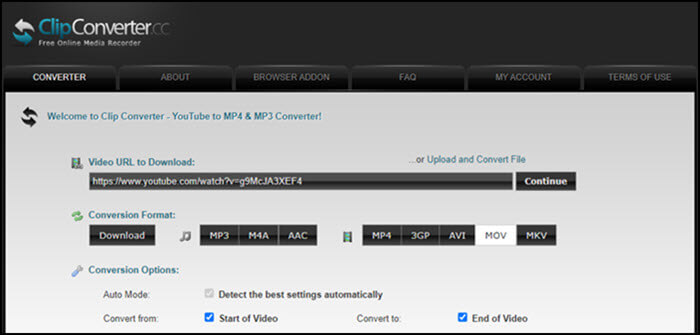 Step 3. Click on the continue button to start converting the video and then download it when it's ready.
It's an online tool that converts any YouTube video into a MOV format. All you need to do is paste the YouTube URL and press the convert button. It will instantly process the video into the MOV format. Since downloading YouTube videos is easy, and the size is small, the conversion will not take much time.
Step 1. Copy the video link, and open Zamzar convert by URL website. Paste the link.
Step 2. Select the MOV format from the next dropdown, and then click on the convert button. You can choose to get an email once the conversion is complete.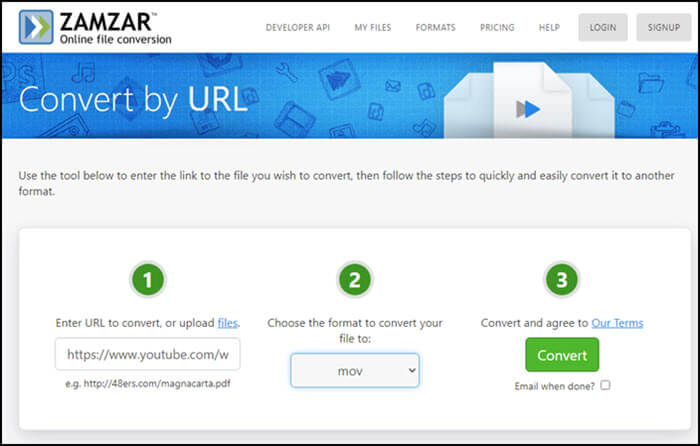 Conclusion
When looking for YouTube to MOV converter, it is best to use desktop software like EaseUS Video Editor. It not only offers a full fled editor; there is no limit on the size of the video, and you have the option to combine multiple videos. Then the video editor offers professional editing features, which include adding effects, transition, speed up/slow down video, voiceover, background music, filters, and more. There are over 300 effects that you can download and apply to the videos. If need, you can make collage video with it. When exporting audio, you get to choose the best quality. 
YouTube to MOV Converter Frequently Asked Questions
If you have some other question about YouTube to MOV converter, you can find answers below.
1. Can you upload .mov to YouTube?
Yes, you can upload the MOV file to YouTube. In fact, it is one of the preferred formats as it helps to maintain quality when processed by YouTube.
2. YouTube to MP3 Downloader for PC.
YTMP3.CC (https://ytmp3.cc/en13/)
320 YouTube (https://www.320youtube.com/v1/)
YouTubeToMP3 (https://youtubetomp3.sc/)
YtMate (https://www.y2mate.com/youtube-mp3/channel/UCYO9VxebycShs7l3Q0azLDg)
3. How to convert MP4 to MOV on Mac?
You can use iMovie App on macOS, which can easily change MP4 to MOV. The processing is fast as well.
4. How to Convert YouTube to MPEG-2?
Convertio (https://convertio.co/mpeg2-converter/)
Zamzar (https://www.zamzar.com/)
ClipConvert (https://www.clipconverter.cc/2/)