"The shortcuts for the screenshot on my MacBook Pro are not working. I hear the camera shutter sound but they are not appearing on my desktop and when I search for any images created today on my Mac, they are not there. Does anyone know how to fix this?" - A user from Apple Discussions
Theoretically speaking, it's easy to take a screenshot on Mac when there is no matter going on. However, many users have reported that they have met the Mac screenshot not working problem like said above without any specific reason. Then, how to fix this issue timely and continue with a screenshot on Mac? Read on to get effective tips.
4 effective tips to fix screenshot not working on Mac
Many users have found the command shift 4 not working on Mac when they want to take a screenshot of a selected area and no camera shutter or no image saved on Mac. Don't worry, fix it following methods below.
1. Restart your Mac
Long-time no restarting your Mac may cause some applications won't work well. You can restart your Mac via three ways:
Press the Power button (or press "Control + Eject") and, when a dialog box appears, click the Restart button.
Choose the "Apple key" and then click "Restart".
Press "Control + Command + Eject" (or "Control + Command + Power" button)
2. Check the screenshot shortcuts
You can use the shortcuts Command + Shift + 3 to capture a full-screen screenshot and Command + Shift + 4 to take a selected region unless you have activated the shortcuts.
Go to "System Preferences" > "Keyboard & Mouse" > "Keyboard Shortcuts" > check whether the shortcuts are activated or not under Screen Shots, and also check that they have not been assigned to something else.
3. Use Grab to take a screenshot on Mac
If the two solutions above can't fix Mac screenshot not working, and you need to do it in a hurry, you can use the pre-installed Grab on Mac to take a screenshot of a particular section of the screen, an individual window, or the entire screen.
Go to "Applications" > "Utilities" > find and open "Grab" > "Capture" > choose to take a specific screenshot based on your own needs.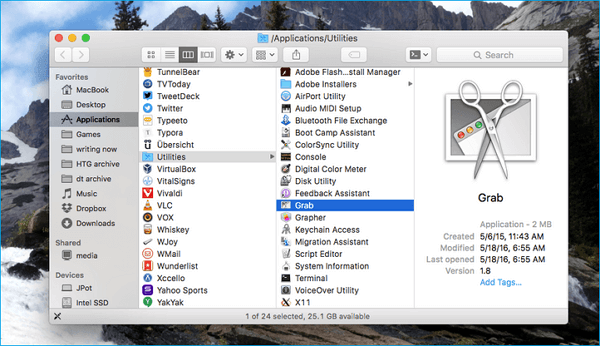 4. Take a screenshot using Preview
Preview is the default tool that allows you to open and edit images. And you can capture a screenshot by simply clicking the toolbox icon.
Go to "Preview" > click "File" > select "Take Screenshot" from the resulting drop-down menu.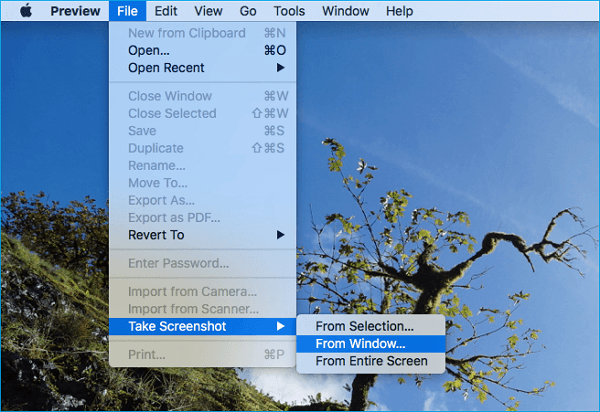 How to transfer the screenshot from Mac to iPhone
After you have succeeded in taking a screenshot on Mac and what to sync the images to your iPhone, how to make it with ease? You can use AirDrop to transfer screenshot from Mac to iPhone or AirDrop photos from iPhone to Mac. Just turn on AirDrop, Bluetooth Wi-Fi connection on both iPhone and Mac, and go to the Photos application on Mac, and then choose to share the specific screenshot with iPhone via AirDrop
How to transfer the screenshot from Mac to iPhone
How to transfer screenshot from Mac to iPhone in an efficient way without any cost? Here is the solution by using EaseUS MobiMover Free to sync photos from Mac to iPhone with ease. Besides, if you need to download some interesting TV shows or movies or want to add ringtones from Mac to iPhone, MobiMover Free can also fulfill your needs with ease.
Step 1: Connect your iPhone to your Mac running OS X 10.7 and later, start EaseUS MobiMover Free, and then choose "Mac to iDevice".
Step 2: In the new window, click "Add File"/"Add Folder" to choose files to be transferred from Mac to your iPhone. Or, you can simply add files by drag and drop.
Note: The photos will be transferred immediately if the "Auto-Transfer" is on. You can turn it off if you don't need that.
Step 3: Check the category/categories. You can keep them all, or just keep "Pictures".
Step 4: Click the "Edit" button to deselect the files you don't need. Then, click "OK" to go on.
Step 5: Click "Transfer" and wait patiently for the transfer process to finish. After that, you can go to the Photos app on your iPhone to view the newly imported photos.