"Why my iPhone alarm not working after updating to iOS 11 usually, which makes me upset as I was late for work twice in a week. Is there any effective way to fix iOS 11 alarm not working problem? Neither do I want to go back to iOS 10. Really thanks." - A question from an iPhone users
Have you ever also encountered the same issue like demonstrated above? Got late and late for work because of your iPhone alarm not working on iOS 11 in the morning? It does bother a lot. Not merely the alarm not working, many other problems still occur, such as flashlight not working in iOS 11, airdrop not working on iOS 11, or even screen recording won't work in iOS 11, which are all caused by hardware & software conflicts or improper settings. Now, in this post, we will focus on how to fix alarm not working on iOS 11 iPhone or iPad with several simple and effective tips.
7 effective tips to fix iOS 11 alarm not working
We will list all the possible fixes on iOS 11 alarm not working issue, you can try them one by one until you figure it out.
1. Check the volume level and sound
Check volume level: if the ringer volume is too decent, the alarm may can't wake you up. Go to Settings > Sound & Haptics > find RINGER AND ALERTS to switch the volume to a proper level. Besides, turn off Change with Bottoms to make sure the volume of the ringer and alerts will not be affected when you change the volume level by pressing volume buttons.
Check the alarm sound: make sure you haven't set the alarm sound to None, which means there is no sound to be used for alarm. Open Clock > tap Alarm > tap the + button in the right upper corner > tap Sound and choose one ringtone as the alarm sound.
2. Reset and restart your iPhone or iPad
Reset your iPhone: When you update to iOS 11, some settings may be affected and changed cause the alarm not working. If so, you need to reset your iPhone: go to Settings > General > Reset > Reset All Settings, which won't cause data loss.
Restart your iPhone: after resetting is done, turn off your iPhone and restart it again to recreate an alarm.
3. Uninstall third-party alarm apps
If you have installed some third-party alarm apps that may conflict with iPhone pre-installed, your alarm not working in iOS 11 will probably appear. Therefore, uninstall the third-party apps to check whether the alarm works well or not.
4. Quite Bedtime and recreate a common alarm
iOS 11 has brought the Bedtime feature in Clock app that can help you go to bed and wake up at the same times every day. However, some users have reported the bug of Bedtime, that is it works well in helping people go to bed but won't wake up on time. Then, quit Bedtime and recreate a normal alarm just in case.
5. Restore your iPhone
Restoring your iPhone can fix many applications won't work issues. Before you begin to restore your iPhone or iPad to fix the iOS 11 alarm not working problem, do remember to transfer iPhone files to PC for a backup. If not, restore iPhone as a new device directly will cause data loss. For back up and transfer iPhone files to PC or laptop, you can try EaseUS MoiMover Free, the unique 100% free iPhone data transfer software in the market to export iPhone or iPad contacts, messages, notes, calendars, voice mails, books, Safari bookmarks & history, photos, videos, and audios to computer with only one-click. If you need, install MobiMove Free by check following download button.
6. Update to the latest iOS
Apple has released iOS 11.0.2 to fix some bugs in iOS 11 or iOS 11.0.1, updating to the latest iOS version is also a good way to fix the alarm not working problem.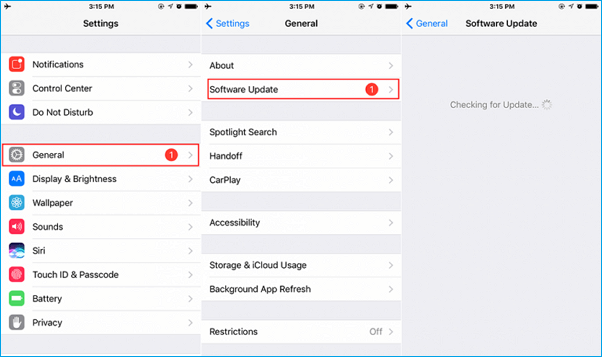 7. Downgrade iOS 11 to iOS 10/10.3.3
If you really don't like iOS 11 anymore, the last choice you can try is to downgrade iOS 11 to iOS 10/10.3.3. As the tips for downgrading iOS 11 are little complicated, you are suggested to link to the topic page and follow the step one by one to get your iPhone or iPad back to the stable iOS 10/10.3.3. After the success downgrading to iOS 10, you can transfer backup files from PC to iPhone with MobiMover Free.