Want to transfer photos, videos, websites and other data or files from iPhone/iPad to another or from iPhone/iPad to Mac? Using Airdrop is always a good way that immediately comes into our minds. What if Airdrop not working when there is a need for it. If you have this problem, here this guide which presents six tips to solve the "Airdrop now working" problem is what you may find useful. Among the six tips, five of them are the tips you can try to fix AirDrop, while the last one is the tip you can try to transfer data between iOS devices in an alternative way.
Matters Need Attention
There are several matters you need to pay attention to before you use Airdrop. Those matters enable you to exclude the factors that cause the issue of Airdrop not working properly. Check it with your iPhone or iPad.
1. Make sure that your devices are in iOS 7/ Mac or X lion (10.7) or later versions.
2. Before you turn on Airdrop, start up both Bluetooth and Wi-Fi on you iDevices.
3. To secure the transfer, the optimal distance between the two devices should be within 30 feet.
How to fix AirDrop not working on iPhone/iPad
The following six tips are common ways can be used to fix "Airdrop not working" problem on iPhone ranging from earliest iPhone 4s to newest iPhone 7 in iOS 7 or later versions.
Tip 1: Reset network settings
As you may know, using AirDrop requires you to turn on both Wi-Fi and Bluetooth on your devices. If there is a Wi-Fi connection problem on your iPhone, that could be the cause of your "AirDrop not working" problem. The method you can try to fix your Wi-Fi connection is to reset network settings on your device. The steps are shown below.
Step 1: Open "Settings" App and Click "General"
Step 2: Choose "Reset" and tap on "Reset Network Settings"
Tip 2: Restart Wi-Fi and Bluetooth
As introduced in Tip 1, turning on Wi-Fi and Bluetooth is inevitable to use AirDrop. When AirDrop can't work properly, you can try to reopen Wi-Fi and Bluetooth to have a try. The way to make it is to swipe up from the bottom of your iPhone screen and tap on the Wi-Fi icon and Bluetooth icon to turn them off, then click the icons again to switch the services on.
Tip 3: Re-sign in iCloud
In addition to restarting the Wi-Fi and Bluetooth, you can re-sign into your iCloud to fix the problem. Open "Settings" App, tap on your name and then goes to "iCloud". Sign out from your iCloud first then sign in again.
Tip 4: Restart your device
The common way to restart an iOS device is to press "Home" and "Power" buttons simultaneously. By this simple way, you may not only solve the "AirDrop not working" problem but also problems like "Bluetooth not working".
Tip 5: Equip your device with the latest iOS version
When Airdrop isn't working, it might be caused by the integrate defections within the old iOS system, with the latest iOS version, some old defections might have been repaired.
Tip 6: Use MobiMover Free to help you transfer data
As mentioned above, what's convenient with AirDrop is its data sharing feature. For example, you can transfer photos from one iPhone to another with AirDrop on. If it doesn't work properly, your intention to share data between iOS devices will fail. But don't worry, there is another option for you to choose to transfer data between two iOS devices, which is to use MobiMover Free. MobiMover is a professionally designed iPhone data transfer tool for data sharing. You can transfer files between PC and iPhone/iPad or between two iOS devices with it for completely free. MobiMover can bring more conveniences for you when it comes to data transfer. The steps below will show you how to transfer, for example, photos, from iPhone to iPhone with MobiMover.
Step 1. Connect your iPhones to your computer. Open EaseUS MobiMover, then go to > Pictures > Photos. You can also use the data transfer feature to download all the photos from iPhone to iPhone at a time.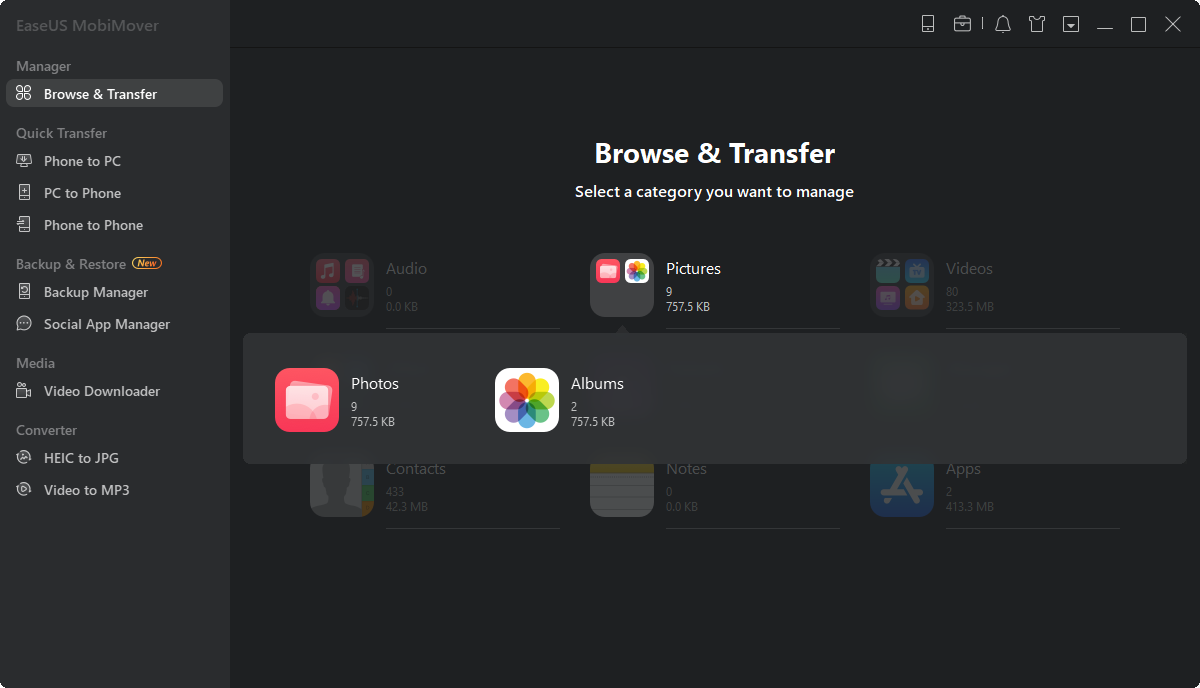 Step 2. Choose the photos or albums you want to move from one iPhone to another (set the source and target iPhones correctly by clicking the phone icon on the top toolbar). You can choose to transfer all the photos at once or specific images selectively.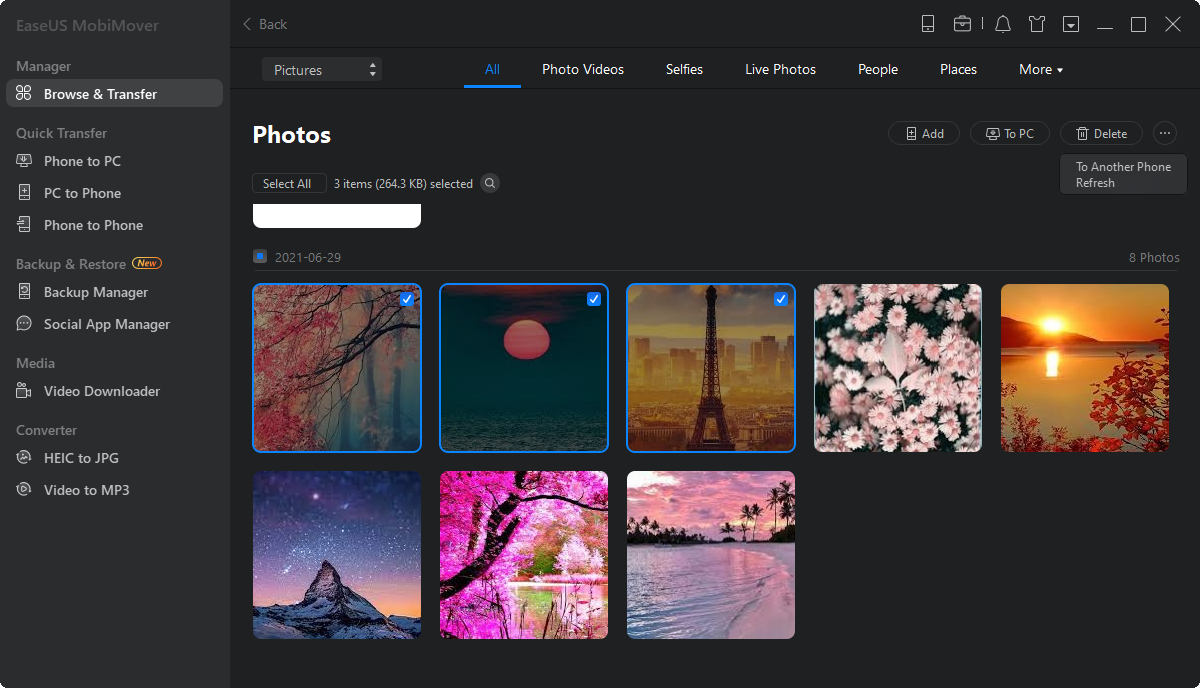 Step 3. Click "To Another Phone" to start transferring photos from iPhone to another. When it has done, go to your target device to check the items in the "Photos" app.
With MobiMover, you can not only share files between two iOS devices but also do things like transferring photos from computer to iPhone, importing videos from iPhone to computer and deleting bookmarks on iPad. Equipe your PC with MobiMover and you will enjoy the conveniences it brings to you.