
Table of Contents

About the Author

Related Posts

Best Audio Recording Software
How to Screenshot on Windows 8/8.1 [Custom Hotkey]
Windows 8 has its default methods to take the whole screen or part of it. However, the combo rules are leading you to check the guides each time you want to screenshot the desired area of your devices' screen. Especially when you frequently take snapshots, so do you want to use a custom hokey from F1 to F12? 
If so, a beneficial screenshot tool is needed. EaseUS RecExperts offers an efficient and time-saving way to take the desired area of a snapshot on Windows 11/8.1/8/7. Here, you know how to screenshot on Windows 8. 
Firstly, download this software and open it. Change the hotkey of screenshots from F1 to F12 in....>> More Detail

How to Take a Screenshot on Windows 8 via EaseUS RecExperts
Sometimes the Snipping Tool on Windows is not working or you don't want to check the combo rules each time you use it. Therefore, you need an all-in-one screen capturer and screenshot tool, EaseUS RecExperts. As mentioned above, you can customize the hotkey for this operation. If you like F1, then make it to be the screenshot hotkey. At the same time, you can see the length and width of the snapshot. 
Moreover, you can use it to record screen, audio, webcam, and gameplay. 
Main Features:
Feel free to try it! In the trial version, you don't need to register an account.
How to take screenshots on PC Window 8:
Step 1. Open this screen recorder. To take a snap for your screen, select "Region" from the main interface.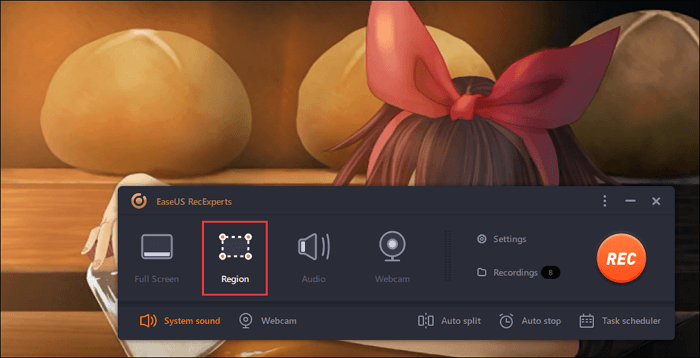 Step 2. Also, you can customize the hotkey of taking a screenshot. Click "Settings" to choose "Advanced". Then, change the hotkey from "Capture screenshot".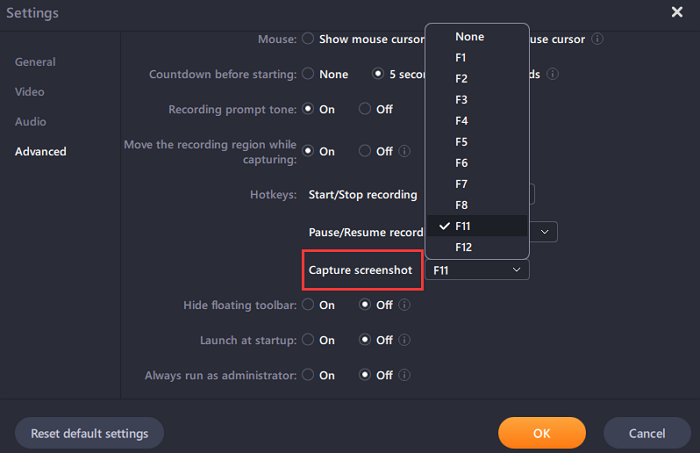 Step 3. Now, drag your mouse to select the desired screen area. Then, release the mouse and press the hotkey.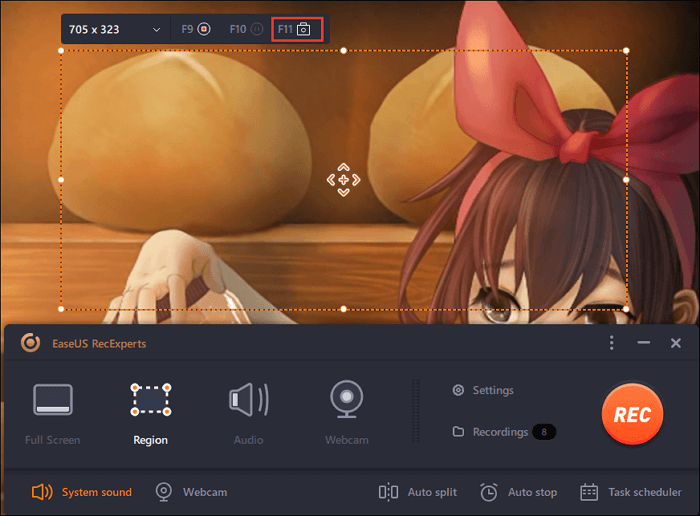 Step 4. After pressing the hotkey, the image is automatically saved on its "Recordings" and you can view it.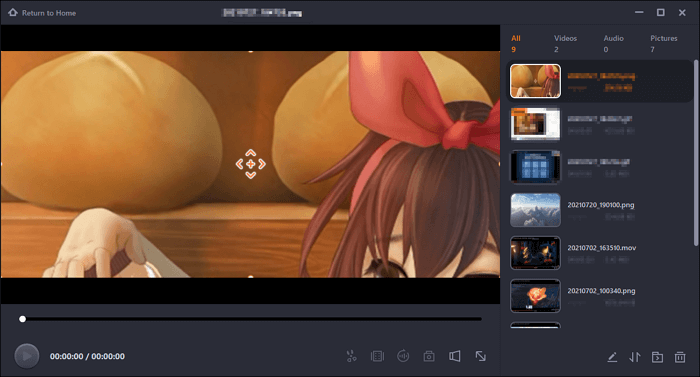 How to Screenshot on Windows 8 through OBS Studio
To take a screenshot without using Snipping Tool, your can try OBS Studio, an open source screen recorder. Many users have it for their streaming video and audio capture. But it also offers the ability to take a snapshot on Windows 8 with a custom hotkey. If you already installed this software on your PC, then follow the below guide. 
Where are screenshots saved? You can change the path as you like from Settings in OBS Studio.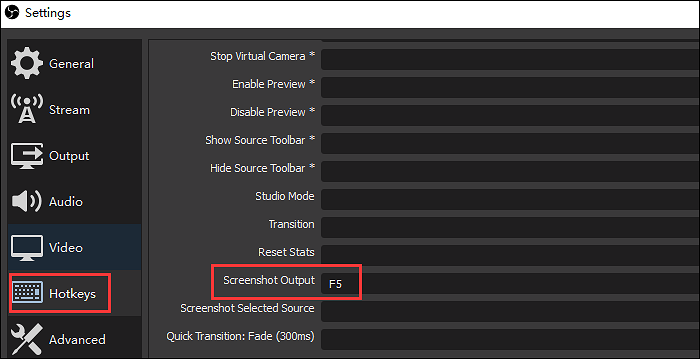 Guide on taking a screenshot on Windows 8, using OBS Studio:
Step 1. Download and install this software on Windows 8. Perform it and click "Settings" from the bottom dock. Choose "Hotkeys" and find "Screenshot Output". Then customize the setting you like. 
Step 2. Close the window and go back to the main interface. Hit "Start Recording" and then press the custom hotkey you set to take a snapshot on Windows 8. If you want to take the partial screen, use your mouse to drag the area from the above window. Then press and hold down the hotkey again to save it. 
Step 3. To find the saved images on Windows 8, navigate the location you set for snapshots. 
How Do You Take a Screenshot Using Windows Default Tools?
There are many occasions you need to take a screenshot like a web page, how-to guide, and specific detail of instruction. When using Windows 8, you can use Snipping Tool to take a custom area of the screen or just press and hold down the keyboard to deal with the whole screen. Below are more details. 
Take a Partial of Screen via Snipping Tool
This method is suitable when you want to deal with a certain area of the screen. Snipping Tool, as its name suggests, you can apply the quick and fast method to take a snapshot on a PC.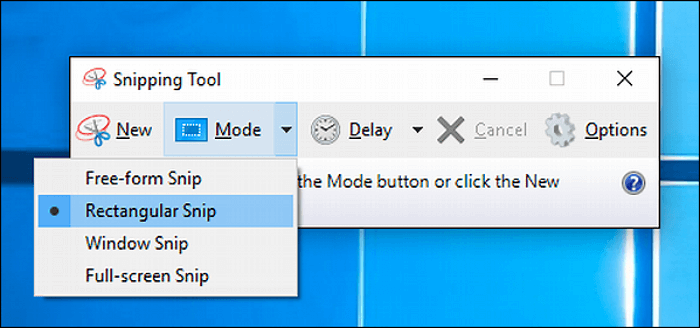 Steps on using it to take a custom area of the screen:
Step 1. Perform Windows 8. Press the Windows logo key + Q to show all applications. Find Snipping Tool. 
Step 2. You can choose from Rectangular Snip, Window Snip, and Full-screen Snip to deal with your screenshots. 
Step 3. You are also allowed to edit the snapshots simply before saving them. 
Take a Whole Screen with Combo Rules on Keyboard
Without doubts, the most versatile method to grab a still image from the computer screen is using Windows combo rules. For a desktop computer with a keyboard, simply pressing Windows logo Key and PrtScn is OK. 
Where are screenshots saved on Windows 8? It can be found in a folder in Screenshots > Pictures. 

Conclusion
For "how to screenshot on Windows 8?", you may find the best solution in this post. No matter you are using the third-party software or Windows default method, taking a still image is very easy. 
If you like to use the custom hotkey, then EaseUS RecExperts and OBS Studio are recommended. To select a tool with a simpler interface, try EaseUS RecExperts! Without registration, get started to screenshot on Windows 8!
About the Author

Crystal Chen is very interested in technology products. Experiencing many technological applications, She is willing to solve users' problems through writing tech-related articles. Through her words, you can find various solutions to solve one issue.