10 of the Best Screen Recorders on Windows 8

Vanessa Chiang updated on Mar 31, 2021 to Screen Recording Utility | How-to Articles
Windows 8 has never lacked any kind of apps. If you have used this operating system version or still using it, there are loads of apps for all kinds of tasks. One of the things you may sometimes want to do on your machine is to record your screen. 
If you have not been able to find a suitable app for this task and are looking for options, you have come to the right place. The following lists the top screen recorder apps for Windows 8. 
Quick Navigation
Part 1. Top 6 Free Screen Recorder for Windows 8
Applications are usually divided into two categories: one that you pay for and one that you get for free. We have done the same for the Windows 8 screen recorder apps and this section lists some of the free apps that you can use to record your screen. Free does not mean these apps lack any features. It is just that the developers did not want to charge any money for these apps.
Top 1. EaseUS RecExperts
Compatibility: Window 7/8/8.1/10
If what you are looking for is a tool that is not too difficult to use and helps make some screen recordings quickly, look no further than EaseUS RecExperts. This is one of the best tools that you can ever get to record the screen on a Windows 8 computer.
With this tool, you can record your screen and audio and save it in your chosen format on your machine. For screen recording, there are many configurable options like selecting the area that you want to record, choosing an audio source for your recording, adding an optional webcam overlay to your video, and so on.

Features
Downloading this software won't cost any money. You can try this amazing screen recorder by clicking the following button.
Here's the tutorial of recording screen on Windows 8 via EaseUS RecExperts:
Step 1. Launch EaseUS RecExperts. You can choose one of the four main functions on the main screen. Here you need to click "Record Screen".

Step 2. Click "Custom" to select a screen area to record. You may choose "Full Screen", "Selected Region", "Fixed Region", "Locked Window" or to customize window size here. If you want to record the screen and webcam at the same time, make sure you connected a webcam to your computer.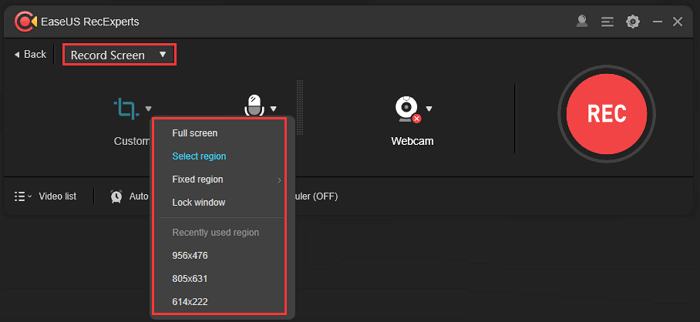 Step 3. Click "Microphone", and you may choose to record system sound only, record microphone only, record both, or record without audio.

Step 4. Click "REC" to start recording. After recording completed, the videos will be shown on the "Video List".

Step 5. Right-click the video recorded, you may preview, compress, edit, share the video, and do more.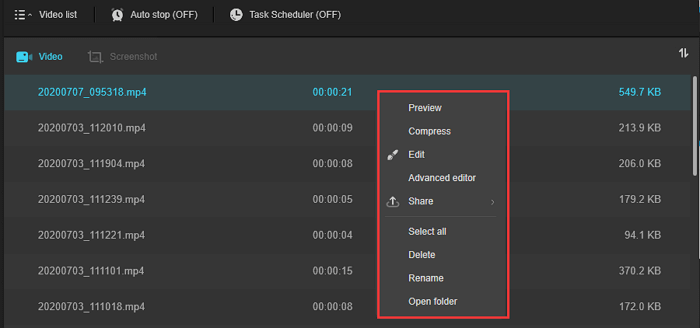 Top 2. OBS Studio
Compatibility: Windows 8/8.1/10
OBS is the acronym for Open Broadcaster Software and this program allows you to record your screen using multiple different ways on your Windows 8 machine. The software is free and open-source which means you are not tied to a commercial company for any contracts or anything. There are many types of sources that you can add to the program and record content from them. You are free to create and add new sources as you please.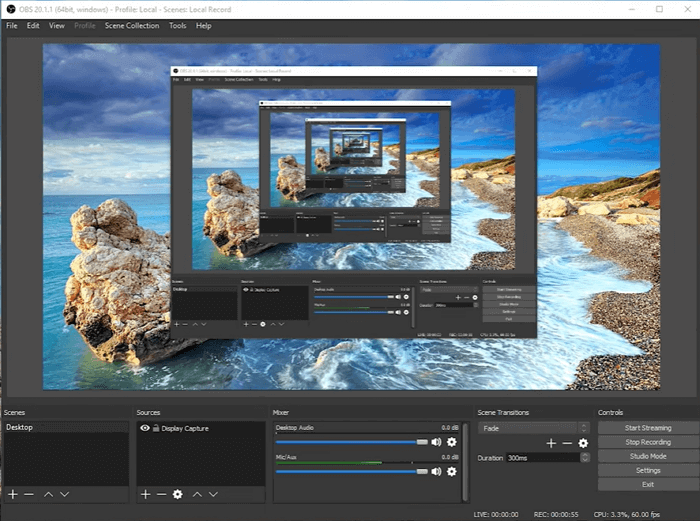 Pros
Totally free and open-source
Find all your recordings in a single folder
Customize the user interface of the program
There are hotkeys for most tasks
Cons
Sometimes it crashes while recording your screen
Not many editing tools
Lacks some of the high-end features
Top 3. CamStudio
Compatibility: Windows XP/7/8/10
CamStudio features creating demonstrations of procedures on their computers. This program works just fine on Windows 8 as well. You can use this tool to create screen recordings of anything on your computer.
Using this software, you can create procedure videos, tutorials, educational videos, and even funny videos. The software will record whatever that appears on your screen, and it records your computer's audio as well.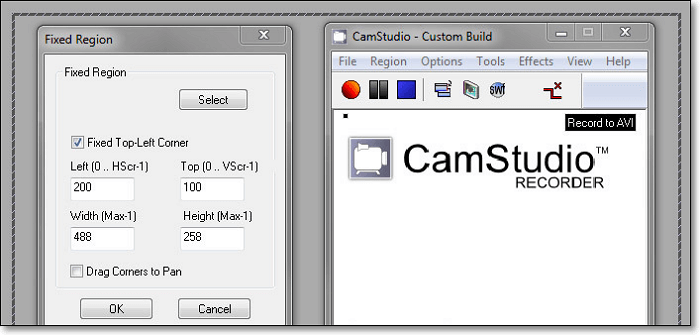 Pros
Multi-purpose screen recorder for Windows 8
Create videos that are bandwidth-friendly
Add captions to your videos
Comes with lossless codecs
Cons
Limited recording features
There are no options to edit videos
It only supports AVI as the output file format
No animation options
Top 4. ShareX
Compatibility: Windows 7/8.1/10
You probably know ShareX as a screenshot tool for your computer but you can use this tool to record your screen as well. The tool works just fine on Windows 8 machines and all you need to do is make a few clicks to begin your first recording. The software is available for free and is open-source. You can choose various parts of your screen to be recorded and all these options are pretty flexible.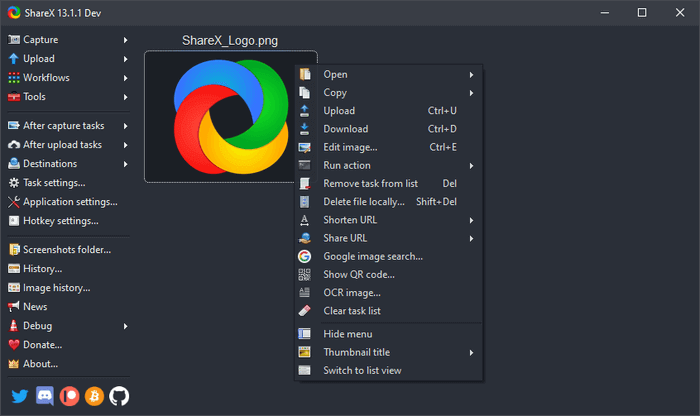 Pros
Record custom area on your screen
The tool is light-weight
You can customize your workflows
Share your recordings with over 80 destinations
Cons
A bit hard to use for beginners
The interface is a bit overwhelming
There is no video editor included
You cannot record webcam
Top 5. HyperCam
Compatibility: Windows 2000/XP/Vista/7/8
Hypercam is a completely free tool to use for screen recording in both commercial and personal environments. This tool allows you to do more than just recording your screen. It also records the sound from your microphone and includes it in your recording files.
You can record all the activities taking place on your Windows 8 computer's screen with this tool. This tool actually lets you specify the area that you want to capture in case you do not want to record your entire screen.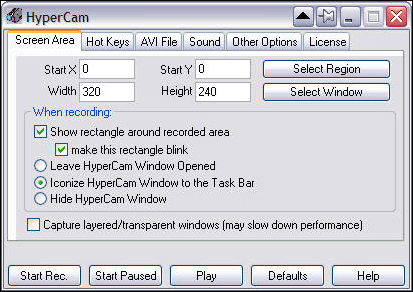 Pros
Custom area selection for screen recording
Support for hotkeys
You can add screen notes
Choose a compression level for your recordings
Cons
Old and outdated user interface
Offers comparatively fewer features
It cannot record system audio
Top 6. UltraVNC Screen Recorder
Compatibility: Windows 2000/XP/Vista/7/8/10
UltraVNC Screen Recorder performs well in screen recording on Windows 8 computers. You will not find many features in this tool but what you are going to find will work at its maximum efficiency. What sets this tool apart from the others is how little resources it uses while still letting you record the screen on your computer. It uses some kind of compression to ensure the resulting files are smaller while still maintaining the video quality.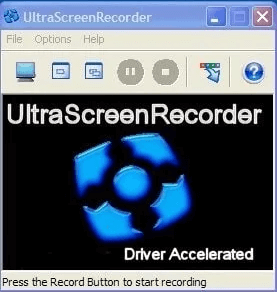 Pros
Fast screen recording experience
Video compression is built into the tool
Easy to use interface
Many codecs are included
Cons
Extremely old user interface
No regular updates
The lack of a video editing tool
Part 2. Top 4 Paid Screen Recorder for Windows 8
If you do not mind shelling out a few bucks, there are some good programs available that you can use to record the screen on your Windows 8 computer. These tools have certain features that can only be unlocked when you pay the fee.
Top 1. Icecream Screen Recorder
Compatibility: Windows Vista/7/8/8.1/10
Price: $29.95 one-time fee
Icecream Screen Recorder is a fantastic compact software that helps you to make various types of screen recordings on your computer. It allows specifying the area that you want to record on your screen. It even has the feature to automatically detect the area that is to be recorded on your Windows 8 machine. It can record audio from both your microphone as well as system. There are options to annotate your recordings.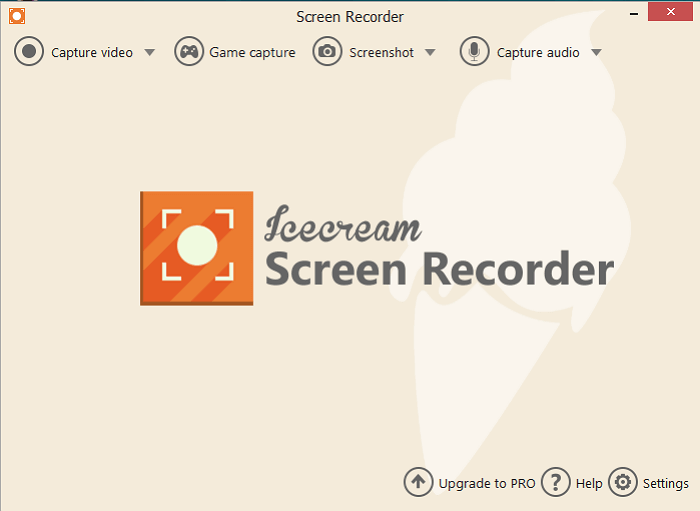 Pros
Add your logo to your screen recordings
Quickly share your recordings to various sites
Record your gameplays as well
Record the internal system audio
Cons
There is a limit of five minutes of recording in the free version
The watermark exists in the trial mode
Scheduled recordings are not supported in the free mode
Top 2. FlashBack Express
Compatibility: Windows XP/Vista/7/8/10
Price: $49 for 1 PC lifetime
FlashBack Express is a modern way to record the screen on your Windows 8 and other Windows versions on your computer. The software offers you various recording options, like to record your screen, internal audio, and the attached webcams. There is a built-in video editor to help you perform basic editing on your videos.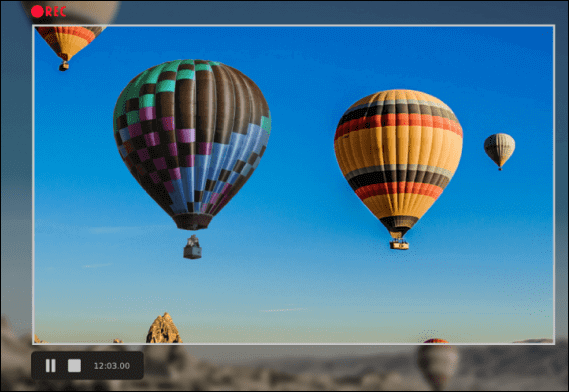 Pros
Record a specific area on your screen
Add audio commentary to your screen recordings
Quickly upload your video online
Cons
The free version does not come with a video editor
Saving video takes too sometimes
Occasional bugs
Price: $49 for 1 PC lifetime
Top 3. TinyTake
Price: $29.95/year
Compatibility: Windows 7/8/10
TinyTake claims to be the fastest way to record screen on your Windows 8 and other compatible machines. It supports both screenshots as well as screen recordings. You can select a custom area to record on your screen in case you are not interested in capturing the full area. Once your recording is made, you can publish it using the same tool and get a shareable link that you can give people so they can watch your content.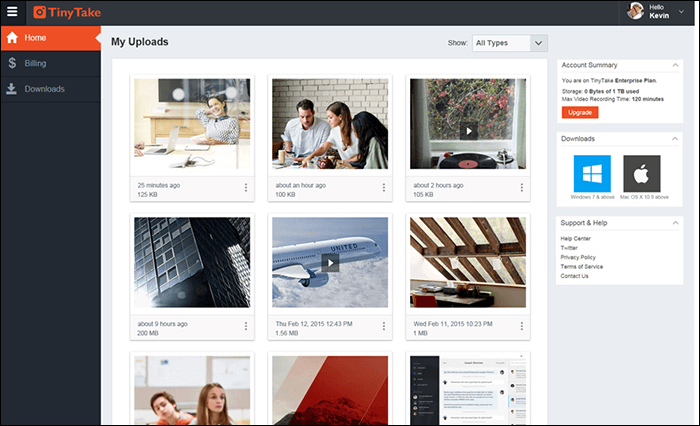 Pros
Record your screen for up to 120 minutes
Add the recording from your webcam
Custom area recording
Zoom in and out in your recordings
Shortcut keys support
Cons
You can only save your recordings in MP4
Only offers 2GB of storage unless you upgrade it
Not support for many social site sharing
Top 4. Camtasia
Price: $249.99 one time fee
Compatibility: Windows 8/10
When it comes to screen recording on Windows 8 or other computers, Camtasia is a pretty popular option. With this product, not only can you record the screen on your machine but you can edit your recordings as well. Whether you are looking to make a tutorial video or you are creating a demo of your product, Camtasia can help you do that without having you waste any of your time.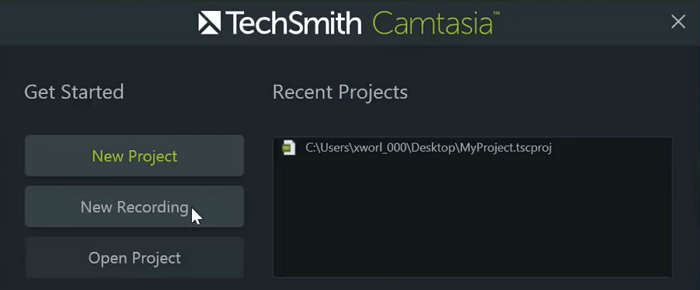 Pros
Quickly and easily edit your screen recordings
Capture content from the webcam
Record audio from both your mic and the system
Annotate your recordings
Cons
Too expensive for most users
The free trial only lasts for 30 days
Occasional performance issues
Conclusion
Windows 8 has several screen recorders for you to choose from. With so many options, it is difficult to pick the right one. EaseUS RecExperts is something you can go for without giving your choice a second thought, and that is because the tool offers many features yet keeping the interface easy to use. You can use some of the other recorders as well if you want.