
Table of Contents

About the Author

Related Posts
How to Screenshot on Snapchat Without Them Knowing
Crystal Chen
Updated on Jul 08, 2021|
min read
Snapchat doesn't originally allow you to screenshot someone's stories without notifying others. To avoid this matter, many possible ways are coming from the Internet, including setting phones on airplane mode, using another phone to help, etc. But do you know which method is helpful?
Here, this post shows you several effective methods to solve this snapshot notification issue. You can use these methods described below to help on how to screenshot on Snapchat without them knowing.
How to Take a Screenshot on Snapchat Without Notification on Mac
Someone will be notified when you take a snapshot of his or her Snapchat using the normal way. If you need to capture a screenshot secretly on Snapchat, the below two methods are useful. 
Method One - iPhone Screen Recording on Mac to Screenshot on Snapchat
EaseUS RecExperts for Mac allows you to capture Snapchat with your iPhone or iPad on Mac. You need to make sure your Mac and iOS device are under the same Wi-Fi connection, and then open AirPlay on your iPhone. After that, you can record iPhone screen on Mac easily. In that way, you can take a screen capture on Snapchat without notification. Apart from this feature, this tool also allows various functions as followed. 
Key features in this tool:
Capture screen on Mac with system audio and sound from microphone
Task schedule to make recording start automatically
Allow powerful schedule recording
Before looking at the detailed guide, click the button below to download it!
Now, there is a list of steps for you to take a snapshot of Snapchat secretly.
Step 1. Make sure the iOS device and the MacBook are connected to the same network. Then, launch EaseUS RecExperts.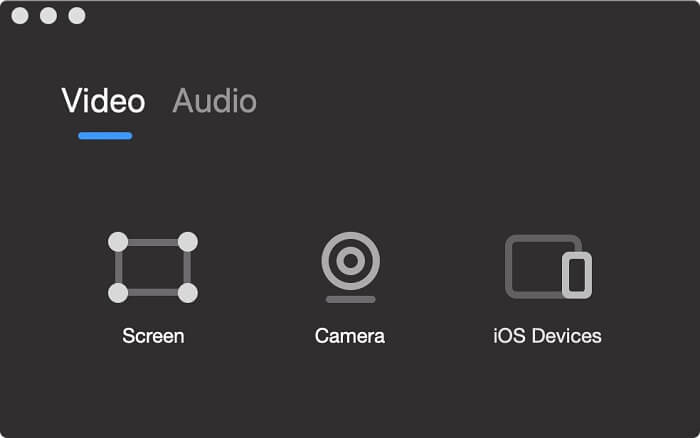 Step 2. On your iPad or iPhone, tap on the control center and click on the "Screen Mirroring option." It will open another window where you can see the MacBook on which the recorder is running. Tap on it to connect.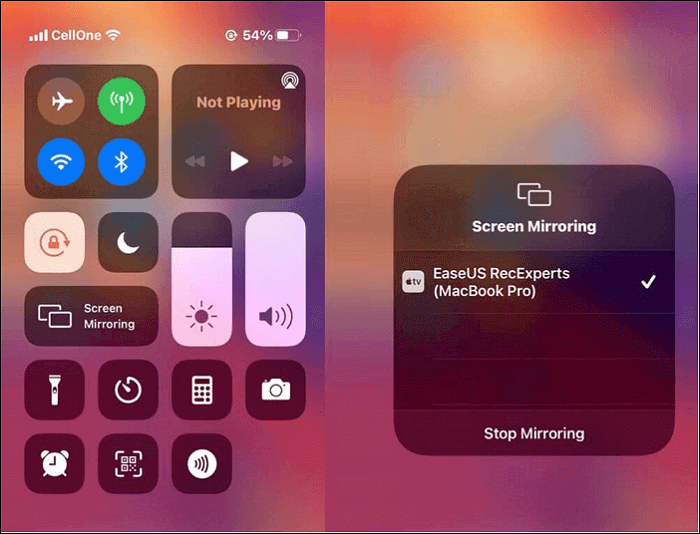 Step 3. After that, whatever you open on your iOS device will also appear on the Mac screen, and you can open the application you want to record.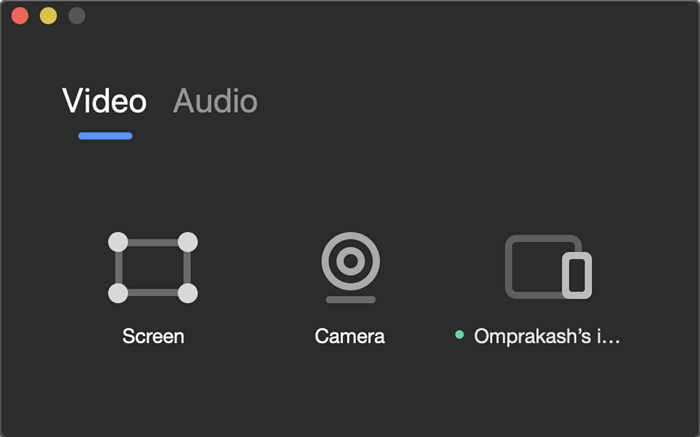 Step 4. Click on the red color record button, and it will instantly start recording. Now start playing the game while the recording happens on your MacBook. Once done, click on the stop button, and the recording will be available on the list.

Step 5. When viewing the saved video, you can capture a screenshot. To take a picture of the full screen, press Shift-Command-3. Also, to get part of it, press Shift-Command-4 and move the cursor to set the desired area. 
Method Two - QuickTime Screen Capture on Mac to Screenshot on Snapchat
Another effective way to capture a post from Snapchat is to use QuickTime Player, which can also avoid any notification from this operation. It's a popular software within macOS that provides you with the easiest method to capture Snap. Use the "New Movie Recording" option to start your recording. 

Below is a simple guide for you to follow with.
Step 1. Firstly, connect your iPhone to touch your Mac via a lightning cable.
Step 2. Open the QuickTime application on Mac, and then go to "File" and select "New Movie Recording".
Step 3. The recording window appears, and you can select your iPhone. On your iPhone, click the "Record" button to get started. After that, perform the Snapchat on your iOS device.
Step 4. Once done, tap the "Stop" button. Now, you can take an image from the saved video.
How to Take a Screenshot Without Notifying Others on iPhone
You may try to use the Airplane settings to avoid notification, but it doesn't work now as Snapchat's recent technology department has realized this issue. However, another effective way to take a Snapchat screenshot without notification on iPhone is using the alternative device. It can save you a lot of time.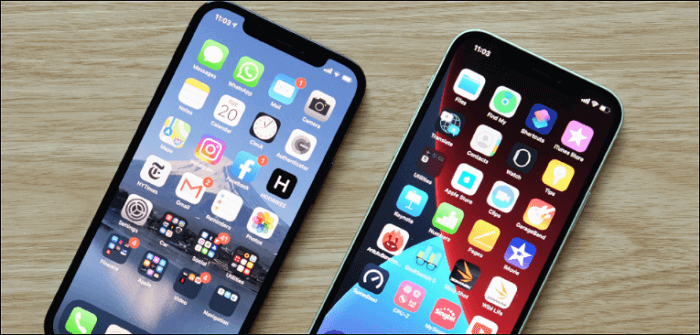 Now, look at the three steps.
Step 1. Firstly, open your Snapchat story using the first iPhone device.
Step 2. Followed, start viewing the story on that device and then use the alternative phone's camera to help. 
Step 3. Now, you can find the image on the alternative phone. 
How to Capture a Screenshot Without Notification on Windows
Using an effective tool like AirDroid can help secretly capture a Snapchat snapshot. With this tool, you can avoid sending any notifications to others. Its mirroring feature means that you can display everything on your Android device on your PC. When viewing the device's screen on PC, you can easily take a screenshot.
This tool also supports more advanced features in its desktop platform. For example, it allows you to transfer and manage files effectively. You can also use it for your online meeting, etc.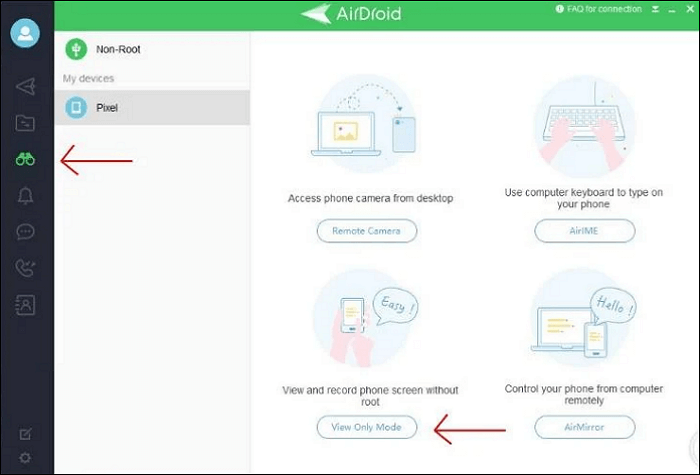 To secretly take a screenshot of Snapchat on Windows with your Android, follow the below steps.
Step 1. Download the AirDroid desktop client on your PC. You can have it on the official website. And find this app on Google Play and install it on your Android.
Step 2. Open this tool and login into your AirDroid account. On the function interface, choose "Remote Control".
Step 3. Followed, click "Screen Mirroring". Finally, you can get the screen capture easily. You can use the screenshot function that comes with your computer.
Conclusion 
Now, you may find the most effective method to help you on how to screenshot on Snapchat without them knowing. If you are an Android user, you can use the mirror function. Also, you can try to use another phone. For iOS users, we definitely recommend you to use EaseUS RecExperts, which is a powerful tool. Try it for free!
About the Author

Crystal Chen
Crystal Chen is very interested in technology products. She is focused on technical writing and solving user problems.