
Table of Contents

About the Author

Related Posts
Your Solution for Corrupted 3GP Video File Repair Online
Introduction
We continue to see 3GP grow in popularity. With so many smartphones using the 3GP format, it is easy to see why it remains so used by people. 
3GP videos are designed for use with mobile phones that run 3G technology. The 3GP format can also be played by devices that use 2G and 4G networks. The 3GP institution is responsible for creating them, as you are probably already aware.  
In case you're wondering what 3GP stands for, it's the Third Generation Partnership Project, which seeks to improve mobile telecommunications. It is responsible for developing and promoting 3GPP, as well as working on  3GPP video codecs, multimedia services, and mobile applications.
Many Linux operating systems, as well as Microsoft Windows and Apple macOS, can play 3GP movies. Both Windows Media Player and Apple QuickTime (both built-in media players) can play 3GP files. On all three platforms, VLC is capable of playing these videos. You can also play 3GP videos with other players, such as Totem, RealPlayer, Media Player Classic, K-Multimedia Player, and more.
There are occasions when your smartphone's videos cannot be played because the 3GP format is corrupted, unplayable, or has bugs. Several factors can corrupt a 3GP video as a result, your 3GP video files will no longer be able to play correctly.
Following are some of the reasons why 3GP videos may become corrupted:
The file has been edited with a video editor different from the original.
The file has been downloaded using a downloader program like BitTorrent and it contains errors.
There was a hardware failure on the computer's hard drive resulting in an error during playback.
The video editor or camera did not create the file properly.
Power outages, improper shutdowns, or faulty hard drives caused video files to become corrupted. 
The process of converting videos from one format to another usually causes them to become corrupt.
The resolution is too high for the device, typically resulting in pixelation.
The video file was downloaded or edited with unsafe tools.
You have transferred the video file between unsafe devices affected by malware.
Uploading and downloading videos online can also damage the file due to viruses.
If your 3GP video file got broken, just stop playing, editing, or transferring it for a while. Changing the file without care may worsen things. You will need trustworthy software to keep using the videos. But do not worry about the unplayable 3GP anymore. This guide will teach you all the tricks and tips for repairing the 3GP broken file, for free and online.
How Do I Fix Corrupted 3GP Video File? Try EaseUS 3GP Video File Repair Online Tool
The free tool EaseUS RepairVideo allows you to recover corrupted, unplayable, or damaged videos. So, you have no problem repairing your corrupted 3GP video file online.
It can be used on compatible browsers on Windows, Mac, Android, and iOS platforms.
Using EaseUS RepairVideo is easy since it runs on any browser. Videos can be easily repaired. Just choose the damaged video and select the repair button. Once that is done, the software will repair the video file. It is completely free. By running your video repair online, you don't need to download any software.
This software recovers videos that have been stored on floppy disks, CD-ROM, DVD-ROM, external hard drives, damaged hard drives, USB flash drives, SD cards, cameras, dashboard cameras, CCTVs, pocket cameras, and much more. It can also repair video files that are unplayable due to virus attacks, improper digital video editing, or video converter errors, and much more.
EaseUS Video Recovery can recover almost all types of corrupted videos, including AVI, MPG, MPEG, MOV, MP4, WMV, ASF, RM, RMVB, QT, 3GP, DAT, NSV, DV, SVCD, VCD, TS, TSR, and many others. 
Guide of Corrupted 3GP Video File Repair Online using EaseUS RepairVideo 
Go now to the EaseUS page and just click on the RepairVideo tool. It is easy to use and you only need to put your email to get the recovered video files for download. All the process is free and entirely online, no installation required. 
Step 1. Open EaseUS RepairVideo and Upload Problematic Video
Open EaseUS RepairVideo page: https://repair.easeus.com/, click "Update Video", or drag and drop a corrupted, broken, or not playing video to the right area to upload to EaseUS RepairVideo page.
Step 2. Enter a Valid Email Address and Start Repairing Video
Enter a valid email address and click "Start Repairing" to upload and repair the malfunctioning video.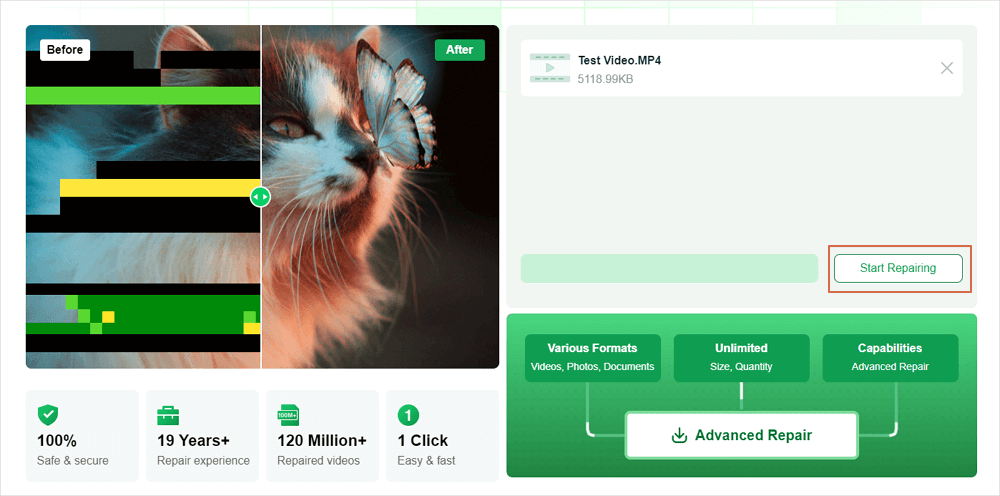 Step 3. Wait for the Automatic Uploading and Repairing Process to Finish
EaseUS RepairVideo will automatically upload and repair the corrupted or broken video for you. You can leave the repairing page opened and continue doing other stuff.
Step 4. Enter Extraction Code and Download Repaired Video
When the repairing process completes, you can preview the video at the right pane. Also, you'll receive an email with a video extraction code.
Go and find the code, reopen the EaseUS RepairVideo page. Then click "Download Video" and enter the extraction code, click "OK" to start downloading the repaired video.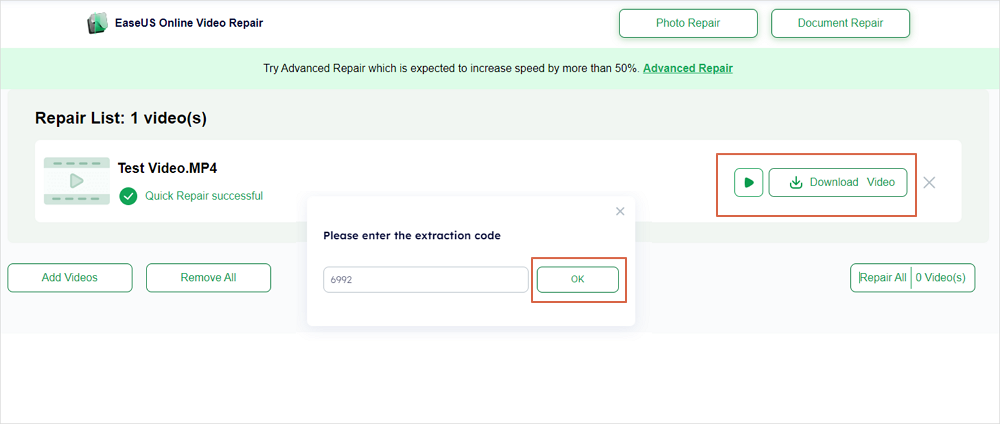 Conclusion 
Did you lose your 3GP video files due to corruption? You don't need to delete everything, the videos are repairable. With EaseUS RepairVideo, all you have to lose is your time waiting for the result, with a few clicks. 
Stop handling the files, whether you are editing, transferring between devices or converting the videos to different formats. Because the more you change the 3GPs, the more you can damage them. So, don't modify it without proper tools and not following specialized guides as we prepared for our readers.
Now, just go to the EaseUS page and all the processes run entirely in your favorite browser. EaseUS RepairVideo can automatically recover your broken 3GP video files and repair them within minutes. All you need to do is upload your corrupted 3GP videos and let the program do all the work for you. It's fast, easy and 100% free!
About the Author
Tracy joined in EaseUS in 2013 and has been working with EaseUS content team for over 7 years. Being enthusiastic in computing and technology, she writes tech how-to articles and share technical solutions about Windows & Mac data recovery, file/system backup and recovery, partition management and iOS/Android data recovery.