
Table of Contents

About the Author

Related Posts
How to Repair YouTube Video
Roxanne
Updated on Jun 24, 2021|
min read
Introduction 
Just as you are about to click play on a Youtube video, the video abruptly stops and the screen turns black. On the screen, a bunch of text boxes shows up in red and white. It's likely you're wondering what's going on, why the video isn't playing, and how you can get it back. Why did your video stop working on YouTube? What can be done to fix it?
Problems with YouTube videos have several common causes. Your system or device encounters a network problem, for example, your firewall is blocking access to the Youtube video. The DNS or IP settings on your network aren't set up properly, or there is an issue with the VPN, proxy server, or any other third-party tool you have installed.
Sometimes the video is corrupt, or it was removed or is unavailable. Changes in your system or device settings may cause the YouTube problem. The Youtube video might not be playable due to a storage issue on your device. A browser extension is interfering with YouTube's site. The issue may be caused by a corrupted or outdated YouTube app on your mobile device. All other firmware, browser, or app-related problems etc.
Various methods can be found here for repairing Youtube videos, no matter how they were damaged. This guide will also provide information on avoiding more Youtube issues in the future.
Online Free Tool - EaseUS RepairVideo 
EaseUS RepairVideo is an online video file repair program that is completely free of charge, and powerful enough to fix corrupt video files regardless of their causes.
With EaseUS RepairVideo software, you can restore damaged or corrupted YouTube videos, as well as many other video formats, such as damaged MP4, damaged 3GP, MOV, and WMV files. In addition, it can recover deleted movies from hard drives, removable media, digital cameras, USB flash drives, SD cards, etc.
You can use EaseUS RepairVideo with virtually any device. Give it a try!
Step 1. Upload your video with the corruption issue. You can click the Upload Video button on the left to select a video file, or simply drag and drop the video to the area on the right.
Step 2. Enter your email address and click the Start Repairing button to instantly start the repair. Here, you must make sure the entered email address is valid to send and receive email messages over the Internet. EaseUS VideoRepair will send you a confidential extraction code to the provided email address. You can only download the repaired video by applying the code you received.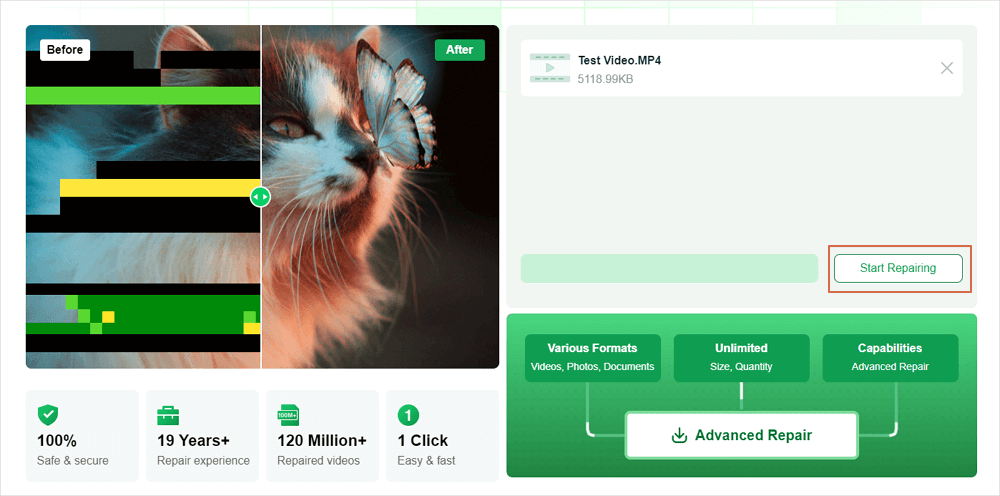 Step 3. The uploading and repairing process goes. You don't necessarily stay all the time waiting because once the session reaches 100% compeletion, you'll receive the extraction code in your mail.
Step 4. In your mail, check the message sent by EaseUS. There you'll remember the extraction code (just leave the page open so you can return to check). Click the View Your Repair button and you'll be guided to the website. Click the Download Video button, then enter the code that is exclusively generated for you, and click OK.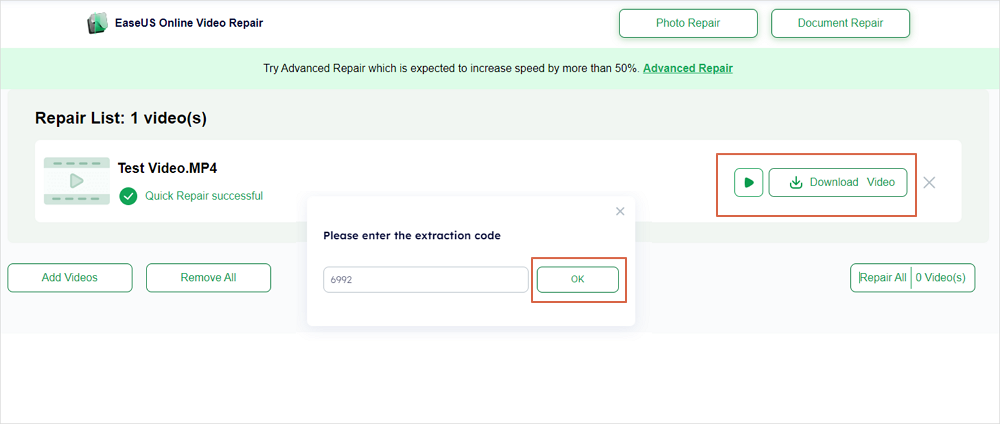 Method 1. Fix issue on Computer (Manual Ways)
1. Check network connection
If you continue to have YouTube issues, check if your device is connected to a stable internet connection. Resetting your router or restarting your device can sometimes solve this issue with Youtube videos.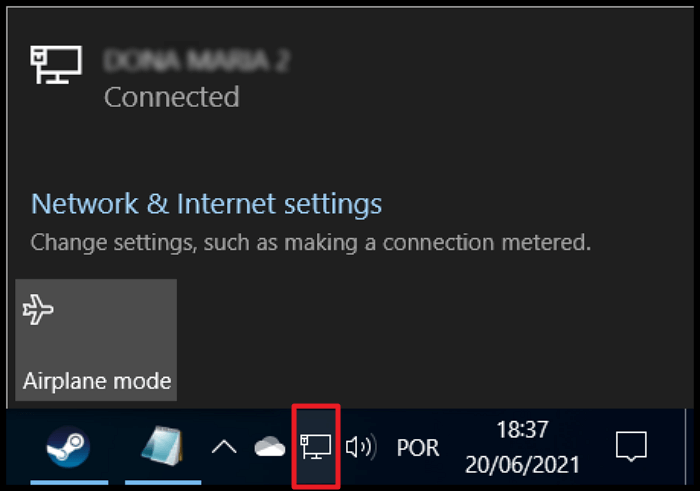 2. Change DNS server address
An unknown DNS server is often the cause of this YouTube issue. Go to your Network Settings and choose your current network, from the list of all networks. Then, go to Properties > Networking and select IPv4. Change its DNS server to 8.8.8.8 and its alternate address to 8.8.4.4.
Learn below all the steps to change your DNS server address.
Step 1. Go to the search box in Windows 10 and type "control panel".
Step 2. Select Control Panel from the search results.
Step 3. On the Control Panel, click on Network and Internet.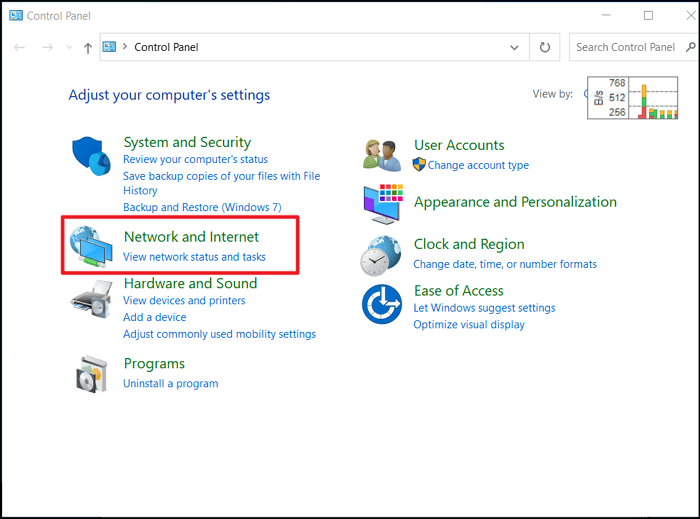 Step 4. Click on Network and Sharing Center.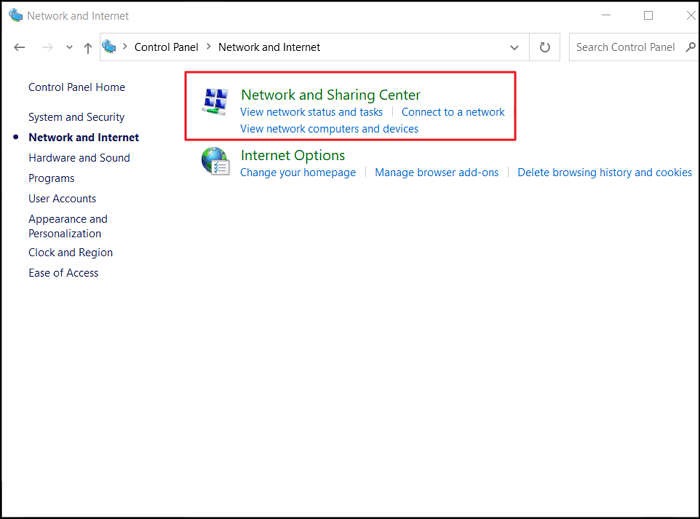 Step 5. Click on Change adapter settings.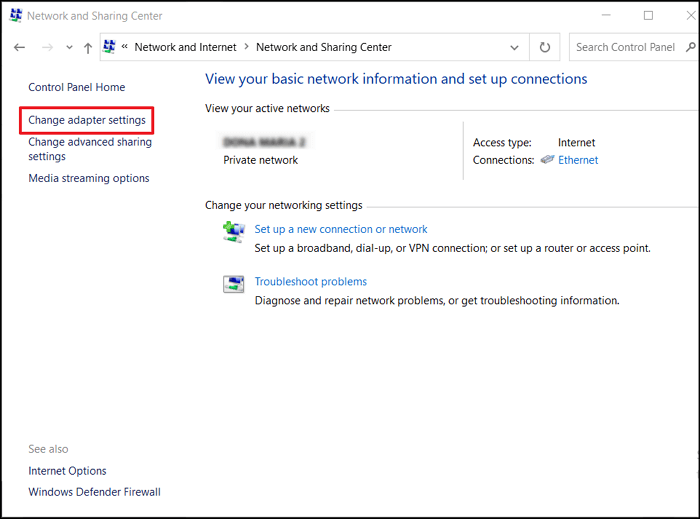 Step 6. Right-Click on the internet connection you want to change the DNS Server, then select Properties.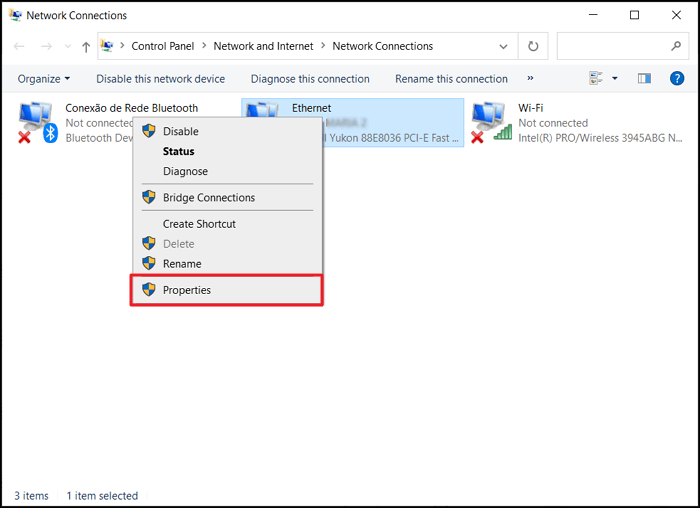 Step 7. Select the IPv4 and then click on Properties.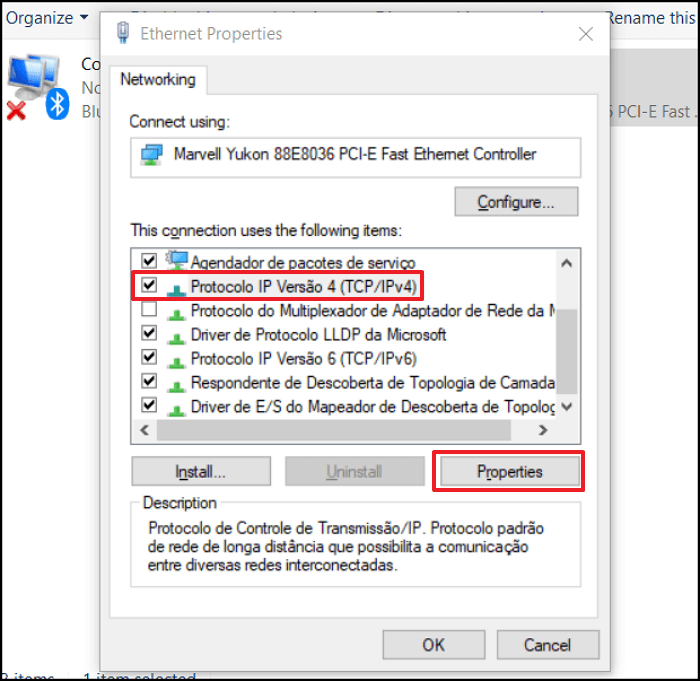 Step 8. Now change the DNS server to 8.8.8.8 and its alternate address to 8.8.4.4, respectively.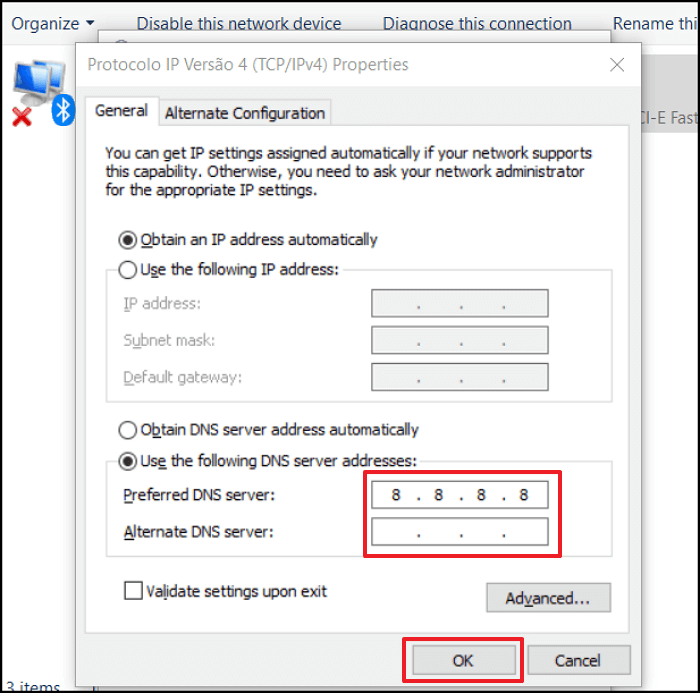 3. Clear cache files
Long-term usage of YouTube puts you at risk of experiencing a variety of YouTube problems. Clearing the cache in the browser app may resolve this issue. 
If you are experiencing problems with Google Chrome, just follow the steps below.
Steps 1. Click on the "Clear browsing data" option under its More > More tools.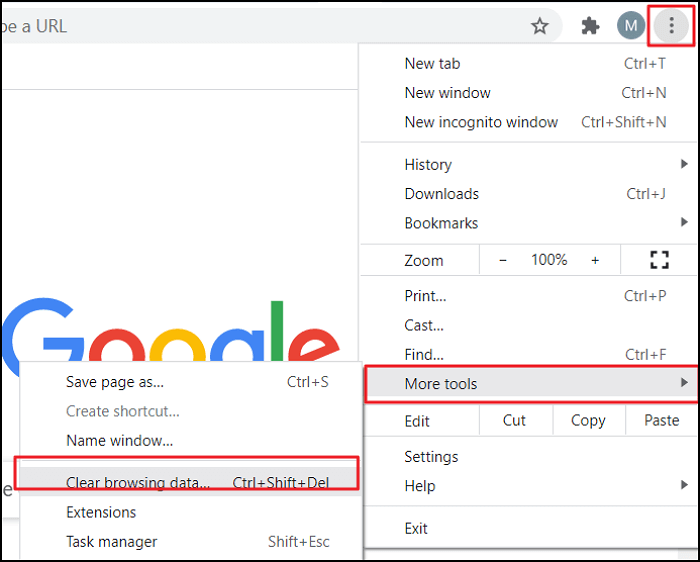 Step 2. To finish it, click on the blue button Clear data.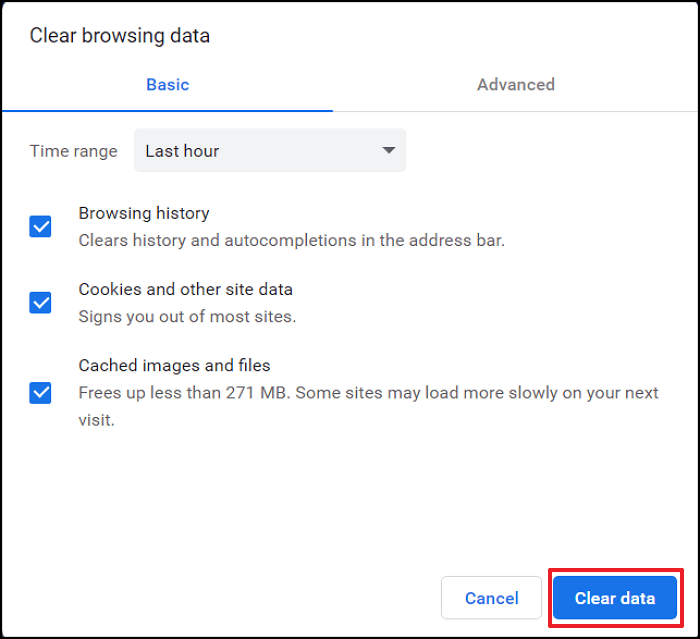 4. Disable hardware acceleration when available
For better GPU performance, Chrome and Mozilla Firefox have native hardware acceleration. However, YouTube videos could flicker or stutter due to it. Simply disable the Hardware Acceleration feature in the browser settings/preferences to resolve this. 
Learn how to do it on Google Chrome by following these steps.
Step 1. Click More > Settings.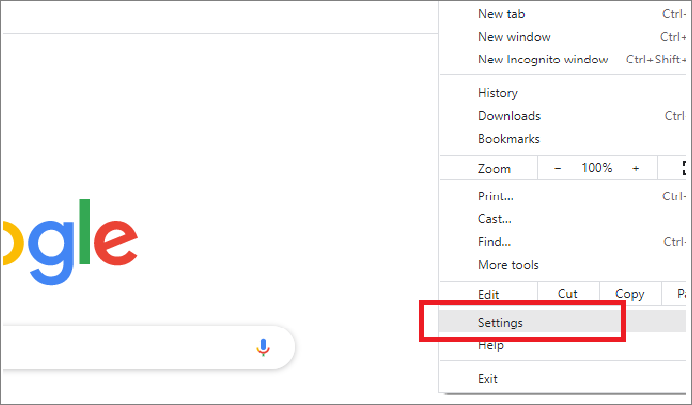 Step 2. Scroll a bit until you find the option Advanced, and click it.

Step 3. Then, scroll more to System, and click on the option Use hardware acceleration when available to deactivate it. Just relaunch the browser to finalize.

Method 2. Fix issue on Android/iPhone (Manual Ways)
1. Restart YouTube App
You can also try reinstalling YouTube if the error persists. Restart the YouTube application deleting it from your device. Then, download it again from its Play or App Store page. Often, the YouTube video issue might be automatically resolved.
Steps: Go to the Play Store, type "youtube" in the search box. Click on the green button Uninstall, then come back again and click Install.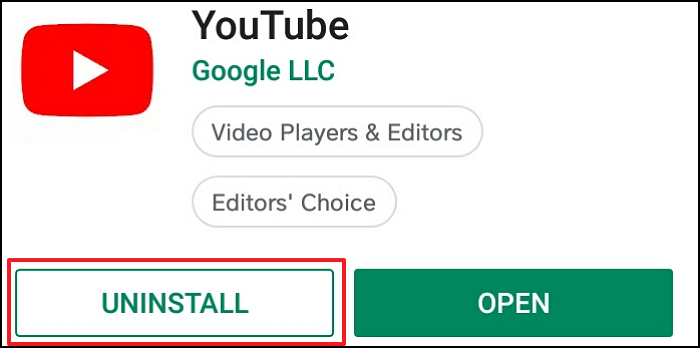 2. Update YouTube App
YouTube problems can occur if you are running an outdated version of the YouTube app. Issues like these can be corrected by updating YouTube to its most recent stable version through your device's App Store/Play Store.
Simply follow the instructions below to keep the YouTube app up-to-date.
Steps: Go to the App Store/Play Store, type "youtube" and then tap on the green button Update.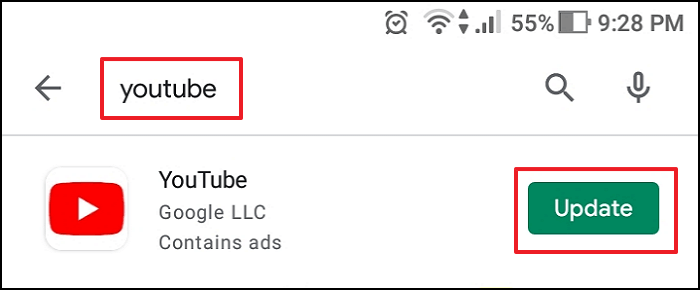 3. Reset Network Settings
Resetting your network settings may be the solution to the YouTube video error on your iOS or Android device. Check below how to reset your network settings in simple steps.
Step 1. Go to Settings and then select More.
Step 2. From here, you can reset your device's network settings. Tap on network reset.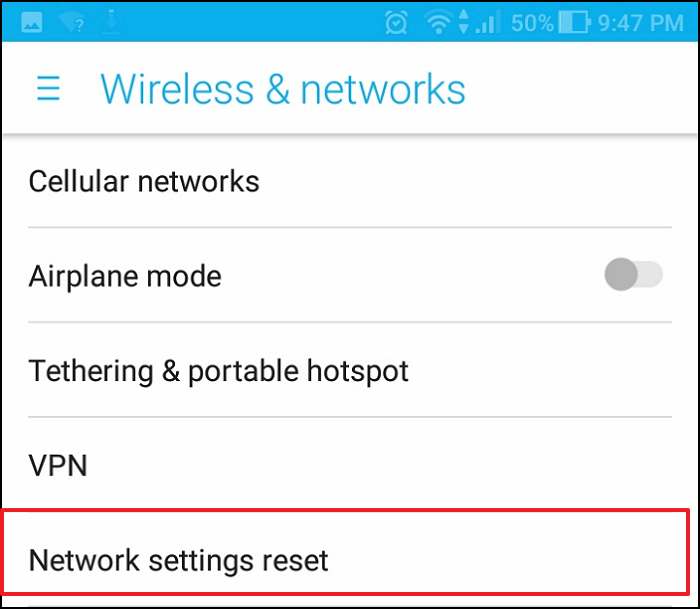 4. Sign out and sign in again
It's possible to fix YouTube not playing some videos by resetting your account. You can sign out of your account by clicking the account icon at the top. Log back into your account after a few moments.
The process is fast and is explained here.
Steps: Tap the avatar icon on Youtube, then select sign out. After that, just open the app again and sign in.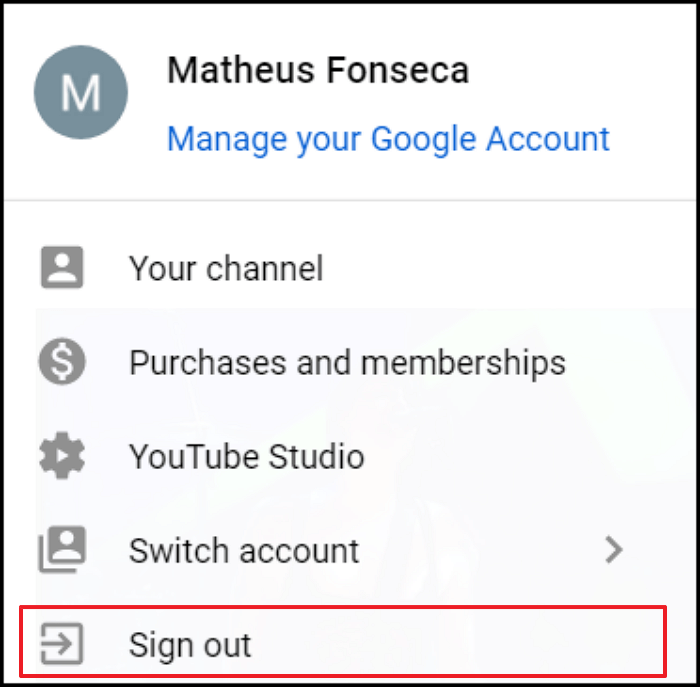 To Sum Up 
This post helped you to fix YouTube problems of all kinds. Above, you have found a list of fixes for YouTube not working dealing with various issues on devices, networks, and apps. Even more, if the video itself is corrupted, you can use an effective tool such as EaseUS RepairVideo. Open it on any device and you'll be able to fix any corrupt YouTube video. Whenever there is an error with a video, the problem can be fixed with a simple click on EaseUS RepairVideo!
Extra Tip: How to Play YouTube Video Correctly 
As a user, you now have the tools to fix your YouTube problems for desktop and mobile. The following recommendations are for using YouTube videos without having to deal with these issues again.
Check the quality of your network. Verify that your device has a stable connection to the Internet. Don't constantly use a VPN or a proxy server constantly to view videos that are restricted by region. Open fewer YouTube tabs at a time to avoid accruing data in your cache.
Stream videos only from YouTube's official website or app (and not from third parties). Installing unknown browser plugins and downloaders from third parties is not advisable for your safety.
Try not to over-change YouTube playback settings or video code, keep your YouTube app updated, and you'll be fine.
Moreover, you may want suggestions about how to play Youtube videos offline. Download your videos from Youtube using trustworthy tools. Play the video files only with a compatible media player that can handle them.
You should not alter the video header or its metadata. Whenever possible, avoid converting your videos forcefully. It is best not to pass the files through video editors or change their properties too many times. Don't restart your computer or shut it off while the video is playing.
About the Author

Roxanne is one of the main contributors to EaseUS and has created multiple posts on digital devices like PCs, Mobile phones, tablets, Mac, etc. She loves to share ideas with people of the same interest.