
Table of Contents

About the Author

Related Posts
Repair Video Files Free | Repair MP4, MOV, MKV, AVI Videos
Brithny
Updated on Oct 22, 2021|
min read
We all record our memories and share them with family and friends via the internet to relive those precious moments. Also, there is a trend of downloading and watching videos from the internet.  
These videos can be viewed on television, smartphones, and even laptops, making it easy for viewers to access these videos. We spend so much time looking at video content. But sometimes, your favorite video can be corrupted, or it can freeze or suddenly stop playing. There can be various reasons that can cause your video file to get damaged including: 
Malware or virus attack 
Repeatedly deleting and downloading the videos 
Unexpected power failure  
Media player crash 
You might think that this video will never be playable again or you need a professional to help you repair your video. No matter what the reason for the corruption of your videos, the good news is that you can still repair or mend your corrupted videos easily without any hassle. 
Now you can repair your corrupt video yourself with simple software. This article will guide you to repair your video for free by using tools that are easily accessible. Moreover, it will provide you with a step-by-step guide so you can do the repair yourself. Now let's take a look at each solution one by one.
How to Repair Video Files for Free? 
You might be wondering how you can repair the videos you thought you would never get to see again.  Without further ado, we will introduce you to solutions for restoring your corrupted videos for free. Below are the two methods you can use even if you are a beginner:
These two video repair options can work like magic for repairing your corrupted video files for errors like blurry videos, missing portions, grainy areas, and sync issues.  Both of these tools are easy to use and quickly repair your video. You can easily access these tools and they'll let you repair your videos free and safely. 
How to Repair Video Files for Free Online via the EaseUS?
EaseUS RepairVideo tool is a top-notch video repair tool. If you have recovered your files but still fail to play them for unknown reasons, you can use the EaseUS RepairVideo tool to repair all your damaged MOV, MP4, and other video files. 
Features
EaseUS RepairVideo is an online video repair software for you to enjoy a seamless video repair experience. It offers some exceptional video repair qualities and features, including: 
It supports all devices like Mac, Windows, iOS, and Android. 
It can repair corrupted JPG/JPEG files. 
It supports all video formats like MP4, MOV, GIF, and other videos. 
It lets you repair your damaged files from USB, SD drive, hard drive, laptops, and PC. 
It can repair your videos from any camera. 
It helps repair all sorts of blurry, freeze, corrupt videos quickly. 
The best part, it's absolutely free!
This software is an easy to use software, and you can repair your corrupted files following just three simple steps: 
In three simple steps, your broken videos can be repaired free online via the EaseUS RepairVideo tool.  Drag and drop any broken video file and get it repaired right away. This tool is completely safe to use as only you can access the file you have uploaded to repair. 
Step 1. Upload your video with the corruption issue. You can click the Upload Video button on the left to select a video file, or simply drag and drop the video to the area on the right.
Step 2. Enter your email address and click the Start Repairing button to instantly start the repair. Here, you must make sure the entered email address is valid to send and receive email messages over the Internet. EaseUS VideoRepair will send you a confidential extraction code to the provided email address. You can only download the repaired video by applying the code you received.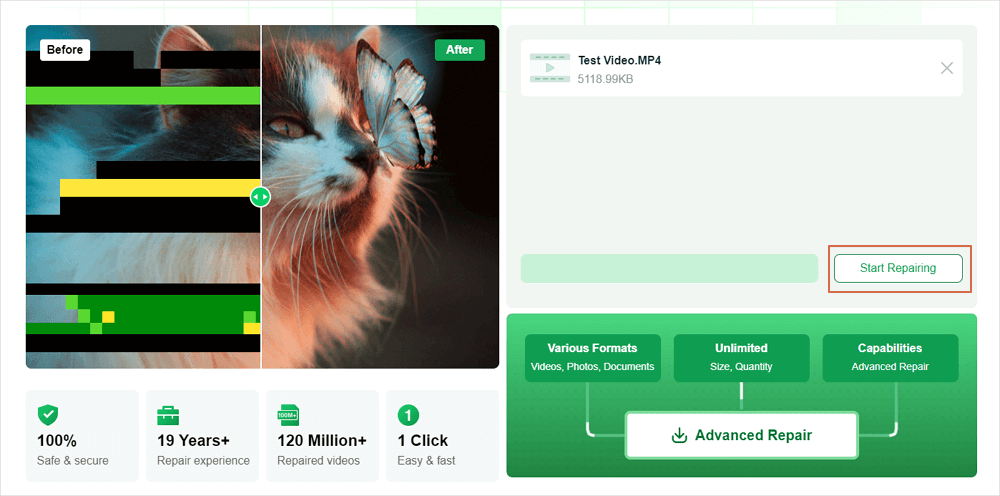 Step 3. The uploading and repairing process goes. You don't necessarily stay all the time waiting because once the session reaches 100% compeletion, you'll receive the extraction code in your mail.
Step 4. In your mail, check the message sent by EaseUS. There you'll remember the extraction code (just leave the page open so you can return to check). Click the View Your Repair button and you'll be guided to the website. Click the Download Video button, then enter the code that is exclusively generated for you, and click OK.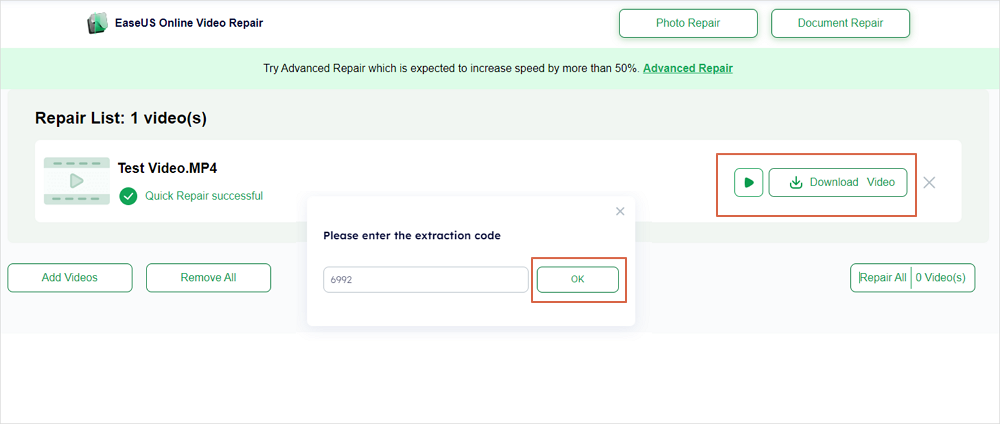 How to Repair Video Files For Free Using VLC?
When nothing works to repair your broken videos, VLC works as a savior. VLC is a media player that lets you repair your damaged video files for free. It is an open-source platform that supports most multimedia files, DVDs, CDs, VCDs, and various streaming protocols. 
The VLC media player can support all media formats, including AVI, MP4, MOV, and QTRM. Some of the best features of this Media Player include: 
Compatible with Windows, Linux, macOS, and other devices. 
Can quickly repair all your corrupted files, corrupted with whatever reasons 
It does not ask for a user tracking id.
It is free and easy to use. 
It does not contain any ads. 
No extra and hidden charges
You can fix your corrupted files using a VLC media player for using the following steps: 
Step 1. Open the VLC media player and select tools. From the drop-down menu that appears, select "Preferences".
Step2. Windows will open; from that tab, find and click on the "Inputs & Codecs" option. 
Step3. After scrolling down a little, you will find "Damaged/incomplete AVI file". When you click on it, you will see an option of "Always fix", select this option and now click on "save". 
Step4. Now click on "save" to save your preferences. 
You can follow these simple steps to repair your broken videos using a VLC media player for free. Currently, VLC only supports AVI format video repair. 
Editor's Pick: Repair Video Files for Free On All Platforms
These two methods mentioned above can effectively fix your videos that are damaged due to different causes. You can pick any one of these as per your preference. Our pick from the two mentioned solutions is the EaseUS RepairVideo tool. This is 100% free, safe, online, and can fix your damaged videos on all devices like Mac, Android, iOS, and Windows. 
EaseUS RepairVideo comes with numerous beneficial features and is highly reliable when it comes to free video repair. It ensures the privacy of your data by asking for your email id before starting video repair. Once the video is repaired, you will be sent an extraction code, so that only you can access the repaired file. How cool is that! Also, you merely need a browser and a working internet to use this software, and you can use it anytime, anywhere without any hassle. Consider giving it a try!
About the Author

Brithny is a technology enthusiast, aiming to make readers' tech life easy and enjoyable. She loves exploring new technologies and writing technical how-to tips. On her spare time, she loves sharing things about her favorite singer - Taylor Swift on her Facebook or Twitter.